Effect of Ta2O5 and Nb2O5 Dopants on the Stable Dielectric Properties of BaTiO3–(Bi0.5Na0.5)TiO3-Based Materials
Department of Materials and Mineral Resources Engineering, National Taipei University of Technology, Taipei 106, Taiwan
†
Current Address: Department of Materials and Mineral Resources Engineering, National Taipei University of Technology, 1, Sec. 3, Chung-Hsiao E. Rd., Taipei 106, Taiwan
*
Author to whom correspondence should be addressed.
Academic Editor: Sheng-Yuan Chu
Received: 4 September 2015 / Revised: 23 October 2015 / Accepted: 2 November 2015 / Published: 16 November 2015
Abstract
In this study, BaTiO
3
–(Bi
0.5
Na
0.5
)TiO
3
ceramics with various amounts of Ta
2
O
5
dopant were investigated for their ability to enhance high-temperature stability to meet X9R specifications. The results were compared to those for ceramics with the common Nb
2
O
5
additive. The best composition appeared to be 0.9BaTiO
3
–0.1(Bi
0.5
Na
0.5
)TiO
3
with 2 mol% Ta
2
O
5
dopant sintered at 1215 °C, which had a dielectric constant of 1386, a tanδ value of 1.8%, temperature coefficients of capacitance (TCCs) of −1.3% and 1.2%, and electrical resistivities of 2.8 × 10
12
and 1.5 × 10
10
Ω·cm at 25 °C and 200 °C, respectively. Its microstructure consisted of fine equiaxed grains with a perovskite structure and an average grain size of 0.46 μm and some rod-like grains of second-phase Ba
6
Ti
17
O
40
with a size of approximately 3.2 μm. The Ta
2
O
5
dopant caused a reduction in the grain size and a slight increase in trapped pores. The temperature dependence of the dielectric constant flattened and the Curie point was dramatically suppressed with the addition of Ta
2
O
5
dopant, leading to smooth dielectric temperature characteristics over a relatively broad temperature range. The X9R formulations and their dielectric properties were highly repeatable in this study.
View Full-Text
►

▼

Figures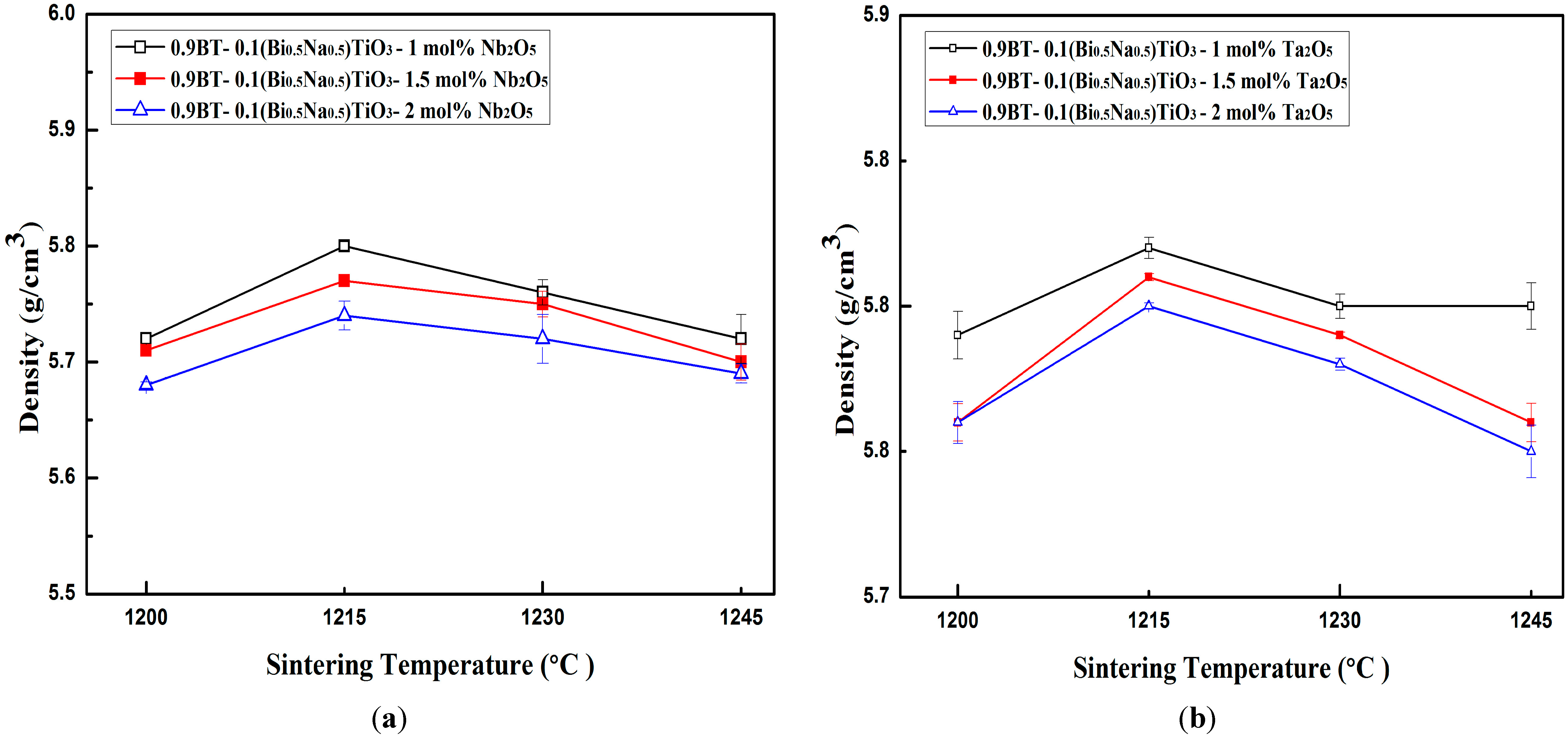 Figure 1
This is an open access article distributed under the
Creative Commons Attribution License
which permits unrestricted use, distribution, and reproduction in any medium, provided the original work is properly cited. (CC BY 4.0).
Share & Cite This Article
MDPI and ACS Style
Wang, S.-F.; Hsu, Y.-F.; Hung, Y.-W.; Liu, Y.-X. Effect of Ta2O5 and Nb2O5 Dopants on the Stable Dielectric Properties of BaTiO3–(Bi0.5Na0.5)TiO3-Based Materials. Appl. Sci. 2015, 5, 1221-1234.
Related Articles
Comments
[Return to top]