Evaluation of Different Gases and Gas Combinations for On-Farm Euthanasia of Pre-Weaned Pigs
1
School of Veterinary Science, Massey University, Palmerston North 4442, New Zealand
2
AgResearch Ltd., Ruakura Research Centre, Hamilton 3240, New Zealand
*
Author to whom correspondence should be addressed.
Received: 31 January 2018 / Revised: 9 March 2018 / Accepted: 14 March 2018 / Published: 16 March 2018
Simple Summary
There are times on a swine farm when pigs become ill or injured and must be euthanised. Blunt force trauma to the head is currently the most commonly employed method for on-farm euthanasia of pre-weaned piglets. When performed correctly, loss of consciousness is rapid, but the potential for delivery of sub-lethal blows, along with aesthetic unacceptability to many operators, has led to the need for alternative methods to be developed. The practice of using carbon dioxide (CO2) to euthanise piglets during the pre-weaning period is becoming more common on-farm in the United States; however, animals may display behavioural and/or physiological signs of stress or aversion in response to CO2 inhalation. Inducing anoxia using argon (Ar) gas may cause less aversion or stress and thus be preferable to using CO2. Therefore, the aim of this research was to evaluate the effects of 100% CO2, 100% Ar or CO2 and Ar combined (60% Ar/40% CO2) on piglet welfare during euthanasia. The results from this research suggest that using CO2, Ar or a 60% Ar/40% CO2 mixture causes stress to piglets prior to loss of consciousness and hence alternative methods of euthanasia need to be evaluated.
Abstract
The aim of this research was to evaluate the welfare of pre-weaned piglets euthanised using three different gas treatments: 100% carbon dioxide (CO
2
), 100% argon (Ar) or a mixture of 60% Ar/40% carbon dioxide (Ar/CO
2
). Two studies (n = 5 piglets/treatment/study) were conducted: (1) behavioural and physiological data were collected from conscious piglets during exposure to test gases via immersion in a pre-filled chamber and (2) electrophysiological data were collected from lightly anaesthetised, intubated and mechanically ventilated piglets exposed to the same test gases. Based on the duration of escape attempts and laboured breathing, piglets exposed to 100% CO
2
experienced more stress than piglets exposed to 100% Ar prior to loss of consciousness, but there appeared to be no advantage of mixing Ar with CO
2
on indices of animal welfare. However, spectral analysis of the electroencephalogram revealed no changes consistent with nociception during exposure to any of the three gas treatments. Based on the behavioural response to gas exposure, all gases tested caused signs of stress prior to piglets losing consciousness and hence alternative methods of euthanasia need to be evaluated.
View Full-Text
►

▼

Figures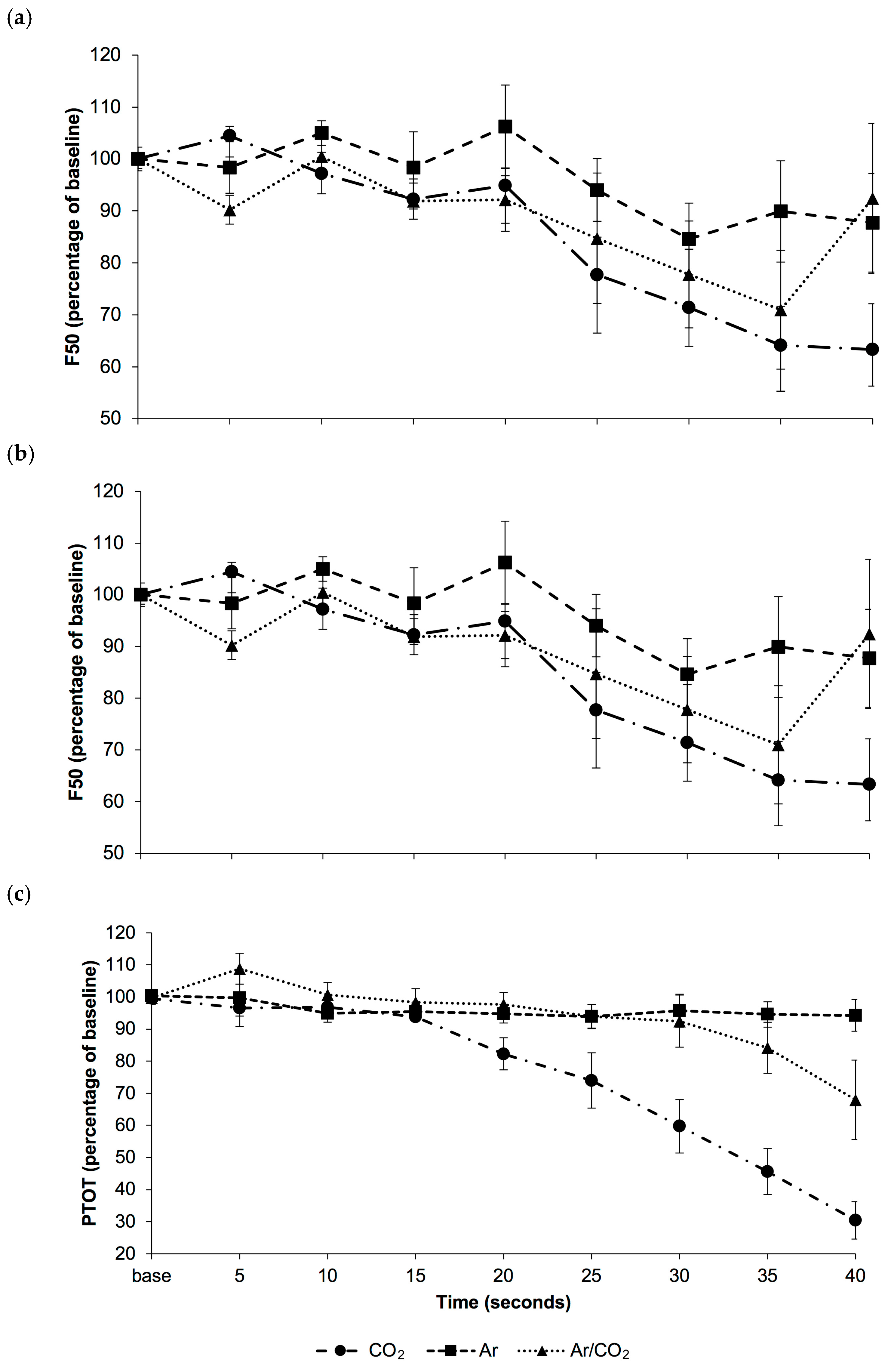 Figure 1
This is an open access article distributed under the
Creative Commons Attribution License
which permits unrestricted use, distribution, and reproduction in any medium, provided the original work is properly cited. (CC BY 4.0).
Share & Cite This Article
MDPI and ACS Style
Kells, N.; Beausoleil, N.; Johnson, C.; Sutherland, M. Evaluation of Different Gases and Gas Combinations for On-Farm Euthanasia of Pre-Weaned Pigs. Animals 2018, 8, 40.
Note that from the first issue of 2016, MDPI journals use article numbers instead of page numbers. See further details here.
Related Articles
Comments
[Return to top]