Biology of the Marine Heterotrophic Dinoflagellate Oxyrrhis marina: Current Status and Future Directions
1
Key Laboratory of Tropical Marine Bio-resources and Ecology, South China Sea Institute of Oceanology, Chinese Academy of Science, Guangzhou 510301, China
2
University of Chinese Academy of Sciences, Beijing 100049, China
3
Department of Marine Sciences, University of Connecticut, Groton, CT 06340, USA
4
Department of Environmental Science, Ocean University of China, Qingdao 266100, China
5
Marine Biodiversity and Global Change Research Center, Xiamen University, Xiamen 361005, China
*
Author to whom correspondence should be addressed.
Received: 2 July 2013 / Revised: 2 September 2013 / Accepted: 8 October 2013 / Published: 21 October 2013
Abstract
Heterotrophic dinoflagellates are prevalent protists in marine environments, which play an important role in the carbon cycling and energy flow in the marine planktonic community.
Oxyrrhis marina
(Dinophyceae), a widespread heterotrophic dinoflagellate, is a model species used for a broad range of ecological, biogeographic, and evolutionary studies. Despite the increasing research effort on this species, there lacks a synthesis of the existing data and a coherent picture of this organism. Here we reviewed the literature to provide an overview of what is known regarding the biology of
O
.
marina
, and identify areas where further studies are needed. As an early branch of the dinoflagellate lineage,
O
.
marina
shares similarity with typical dinoflagellates in permanent condensed chromosomes, less abundant nucleosome proteins compared to other eukaryotes, multiple gene copies, the occurrence of
trans
-splicing in nucleus-encoded mRNAs, highly fragmented mitochondrial genome, and disuse of ATG as a start codon for mitochondrial genes. On the other hand,
O. marina
also exhibits some distinct cytological features (e.g., different flagellar structure, absence of girdle and sulcus or pustules, use of intranuclear spindle in mitosis, presence of nuclear plaque, and absence of birefringent periodic banded chromosomal structure) and genetic features (e.g., a single histone-like DNA-associated protein,
cob
-
cox3
gene fusion, 5′ oligo-U cap in the mitochondrial transcripts of protein-coding genes, the absence of mRNA editing, the presence of stop codon in the fused
cob
-
cox3
mRNA produced by post-transcriptional oligoadenylation, and vestigial plastid genes). The best-studied biology of this dinoflagellate is probably the prey and predators types, which include a wide range of organisms. On the other hand, the abundance of this species in the natural waters and its controlling factors, genome organization and gene expression regulation that underlie the unusual cytological and ecological characteristics are among the areas that urgently need study.
View Full-Text
►

▼

Figures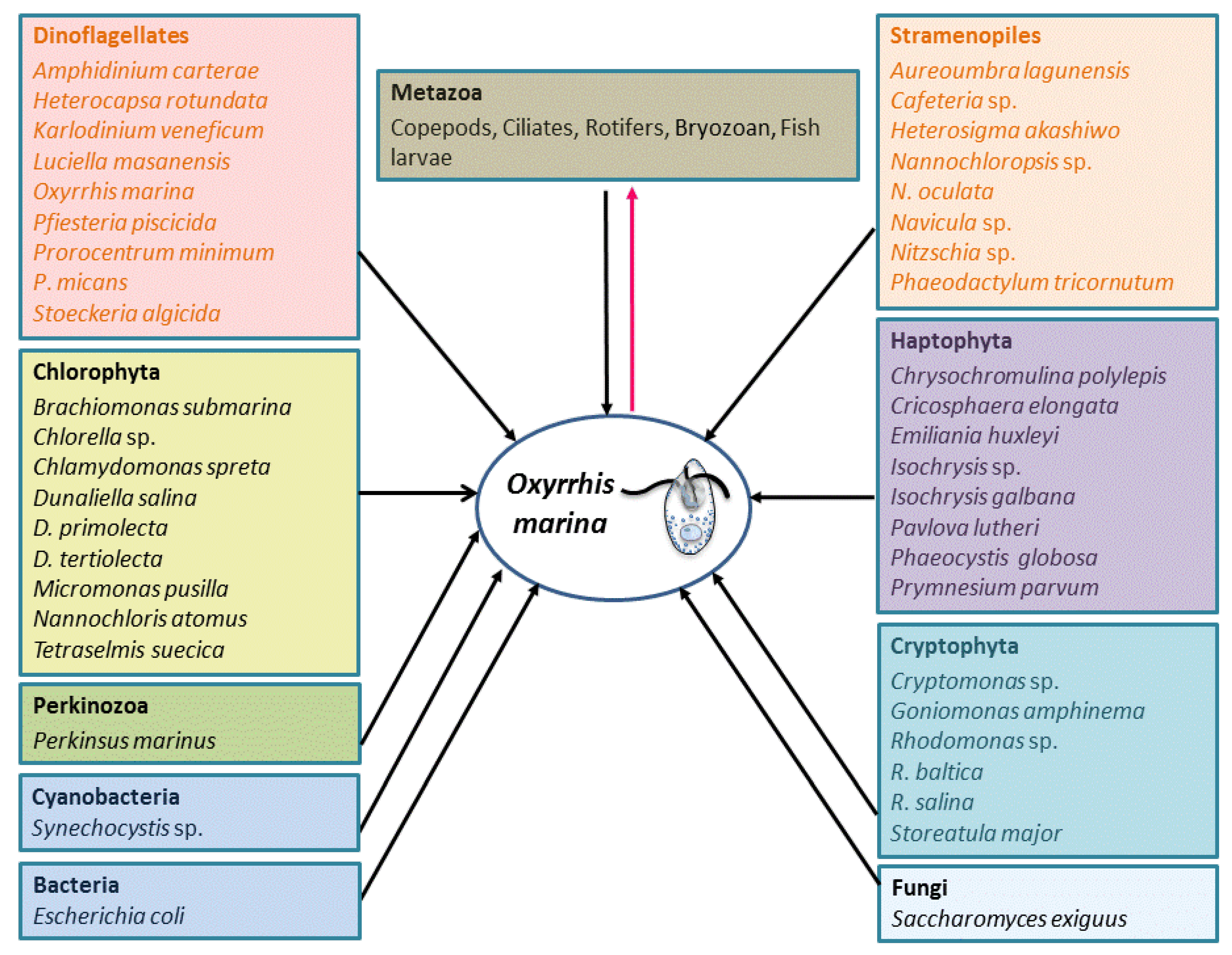 Figure 1
Share & Cite This Article
MDPI and ACS Style
Guo, Z.; Zhang, H.; Liu, S.; Lin, S. Biology of the Marine Heterotrophic Dinoflagellate Oxyrrhis marina: Current Status and Future Directions. Microorganisms 2013, 1, 33-57.
Related Articles
Comments
[Return to top]