On the Transition from Static to Dynamic Boundary Friction of Lubricated PEEK for a Spreading Adhesive Contact by Macroscopic Oscillatory Tribometry
Fraunhofer IWM MikroTribologie Centrum, Wöhlerstr. 11, 79108 Freiburg, Germany
*
Author to whom correspondence should be addressed.
Academic Editor: James E Krzanowski
Received: 19 May 2017 / Revised: 22 June 2017 / Accepted: 27 June 2017 / Published: 29 June 2017
Abstract
The tribology of lubricated poly(ether ether ketone) (PEEK)—steel tribosystems was investigated in the static and boundary friction regime. Pentaerythrite ester and trimellitic acid ester were used as lubricants. The lubricants differed in their molecular structure but showed only minor differences in their rheological and cohesive energetic properties. In order to investigate the effect of the lubricants on static and dynamic friction, macroscopic oscillatory tribometry experiments and gliding experiments were carried out. The surface and interfacial energies of PEEK, lubricant, and steel, which can be used to determine e.g. the spreading tendency of the lubricant, were employed to explain the tribological characteristics of the system. The gliding experiments exhibited a velocity dependence of the coefficient of friction which indicates a "rate-and-state" type of friction. Trimellitic acid ester resulted in the lowest static and dynamic friction values due to its high tendency to spread. A different static friction behavior was found for pentaerythrite ester, which indicates a possible lubricant-induced mobilization of the polymer surface chains. This finding was supported by an increased interaction energy measured by contact angle measurements. The macroscopic oscillatory tribometry was shown to be a unique and precise method to investigate the transition from static to dynamic friction and to quantify macroscopic adhesive friction. Both types of experiments used a polished steel surface as a frictional partner, which favors the adhesive component of friction. However, the results for the lubricated contacts of polished steel surfaces in the boundary lubrication regime can give some insight into effects of the polymer transfer to rough steel surfaces in the mixed lubrication regime.
View Full-Text
►

▼

Figures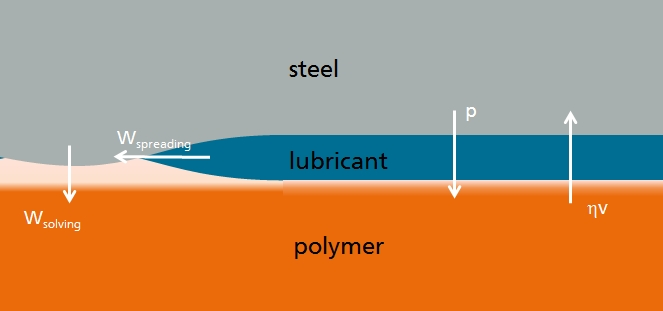 This is an open access article distributed under the
Creative Commons Attribution License
which permits unrestricted use, distribution, and reproduction in any medium, provided the original work is properly cited. (CC BY 4.0).
Share & Cite This Article
MDPI and ACS Style
Abdel-Wahed, S.A.; Koplin, C.; Jaeger, R.; Scherge, M. On the Transition from Static to Dynamic Boundary Friction of Lubricated PEEK for a Spreading Adhesive Contact by Macroscopic Oscillatory Tribometry. Lubricants 2017, 5, 21.
Note that from the first issue of 2016, MDPI journals use article numbers instead of page numbers. See further details here.
Related Articles
Comments
[Return to top]