Assessing Boundary Film Forming Behavior of Phosphonium Ionic Liquids as Engine Lubricant Additives
1
Department of Design and Engineering, Bournemouth University, Poole BH12 5BB, UK
2
Department of Construction and Manufacturing Engineering, University of Oviedo, 33203 Gijón, Asturias, Spain
3
Department of Marine Science and Technology, University of Oviedo, 33203 Gijón, Asturias, Spain
4
Royal National Lifeboat Institution, Headquarter, Poole, BH15 1HZ, UK
*
Author to whom correspondence should be addressed.
Academic Editor: James E. Krzanowski
Received: 18 February 2016 / Revised: 12 April 2016 / Accepted: 10 May 2016 / Published: 30 May 2016
Abstract
The reduction of friction and wear losses in boundary lubrication regime of a piston ring-cylinder liner tribo-system has always been a challenge for engine and lubricant manufacturers. One way is to use lubricant additives, which can form boundary film quickly and reduce the direct contact between asperities. This article focuses on the assessment of boundary film forming behavior of two phosphonium-based ionic liquids (ILs) as additives in engine-aged lubricant to further improve its film forming capabilities and hence reduce friction and wear of contacting surfaces. A reciprocating piston ring segment-on-flat coupon under fully flooded lubrication conditions at room temperature (approx. 25 °C) was employed. The trihexyltetradecyl phosphonium bis(2-ethylhexyl) phosphate and trihexyltetradecyl phosphonium bis(2,4,4-tri-methylpentyl) phosphinate ionic liquids were used as additives in 6 vol. % quantity. Benchmark tests were conducted using fully formulated new lubricant of same grade (with and without ILs). Results revealed that the addition of phosphonium ILs to engine-aged lubricant led to quicker initiation of boundary film forming process. In addition, friction and wear performance of engine-aged lubricant improved by the addition of both ILs and these mixtures outperformed the fresh fully formulated oil. Chemical analysis showed higher concentration of phosphorus element on the worn surface indicating presence of ILs in the formed tribofilms.
View Full-Text
►

▼

Figures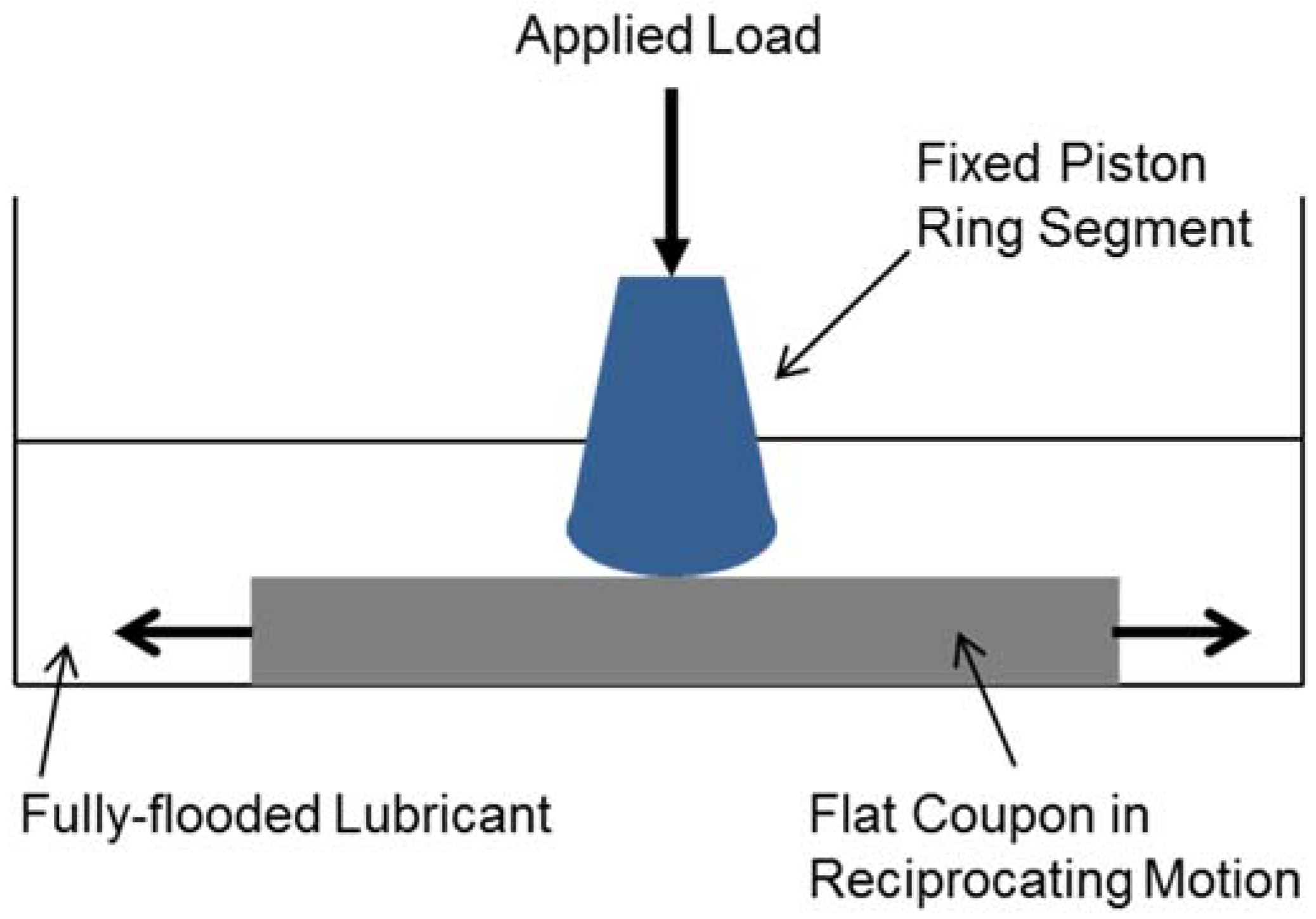 Figure 1
This is an open access article distributed under the
Creative Commons Attribution License
which permits unrestricted use, distribution, and reproduction in any medium, provided the original work is properly cited. (CC BY 4.0).
Share & Cite This Article
MDPI and ACS Style
Anand, M.; Hadfield, M.; Viesca, J.-L.; Thomas, B.; González, R.; Cantrill, R.; Hernández Battez, A. Assessing Boundary Film Forming Behavior of Phosphonium Ionic Liquids as Engine Lubricant Additives. Lubricants 2016, 4, 17.
Note that from the first issue of 2016, MDPI journals use article numbers instead of page numbers. See further details here.
Related Articles
Comments
[Return to top]