Long-Term Monitoring of Bright Blazars in the Multi-GeV to TeV Range with FACT
1
TU Dortmund, Experimental Physics 5, Otto-Hahn-Str. 4, 44221 Dortmund, Germany
2
ETH Zurich, Institute for Particle Physics, Otto-Stern-Weg 5, 8093 Zurich, Switzerland
3
ISDC Data Center for Astrophysics, University of Geneva, Chemin d'Ecogia 16, 1290 Versoix, Switzerland
4
Institute for Theoretical Physics and Astrophysics, Universität Würzburg, Emil-Fischer-Str. 31, 97074 Würzburg, Germany
*
Author to whom correspondence should be addressed.
Academic Editors: Jose L. Gómez, Alan P. Marscher and Svetlana G. Jorstad
Received: 14 July 2016 / Revised: 2 January 2017 / Accepted: 2 February 2017 / Published: 20 February 2017
Abstract
Blazars like Markarian 421 or Markarian 501 are active galactic nuclei (AGN), with their jets orientated towards the observer. They are among the brightest objects in the very high energy (VHE) gamma ray regime (>100 GeV). Their emitted gamma-ray fluxes are extremely variable, with changing activity levels on timescales between minutes, months, and even years. Several questions are part of the current research, such as the question of the emission regions or the engine of the AGN and the particle acceleration. A dedicated longterm monitoring program is necessary to investigate the properties of blazars in detail. A densely sampled and unbiased light curve allows for observation of both high and low states of the sources, and the combination with multi-wavelength observation could contribute to the answer of several questions mentioned above. FACT (First G-APD Cherenkov Telescope) is the first operational telescope using silicon photomultiplier (SiPM, also known as Geigermode—Avalanche Photo Diode, G-APD) as photon detectors. SiPM have a very homogenous and stable longterm performance, and allow operation even during full moon without any filter, leading to a maximal duty cycle for an Imaging Air Cherenkov Telescope (IACT). Hence, FACT is an ideal device for such a longterm monitoring of bright blazars. A small set of sources (e.g., Markarian 421, Markarian 501, 1ES 1959+650, and 1ES 2344+51.4) is currently being monitored. In this contribution, the FACT telescope and the concept of longterm monitoring of bright blazars will be introduced. The results of the monitoring program will be shown, and the advantages of densely sampled and unbiased light curves will be discussed.
View Full-Text
►

▼

Figures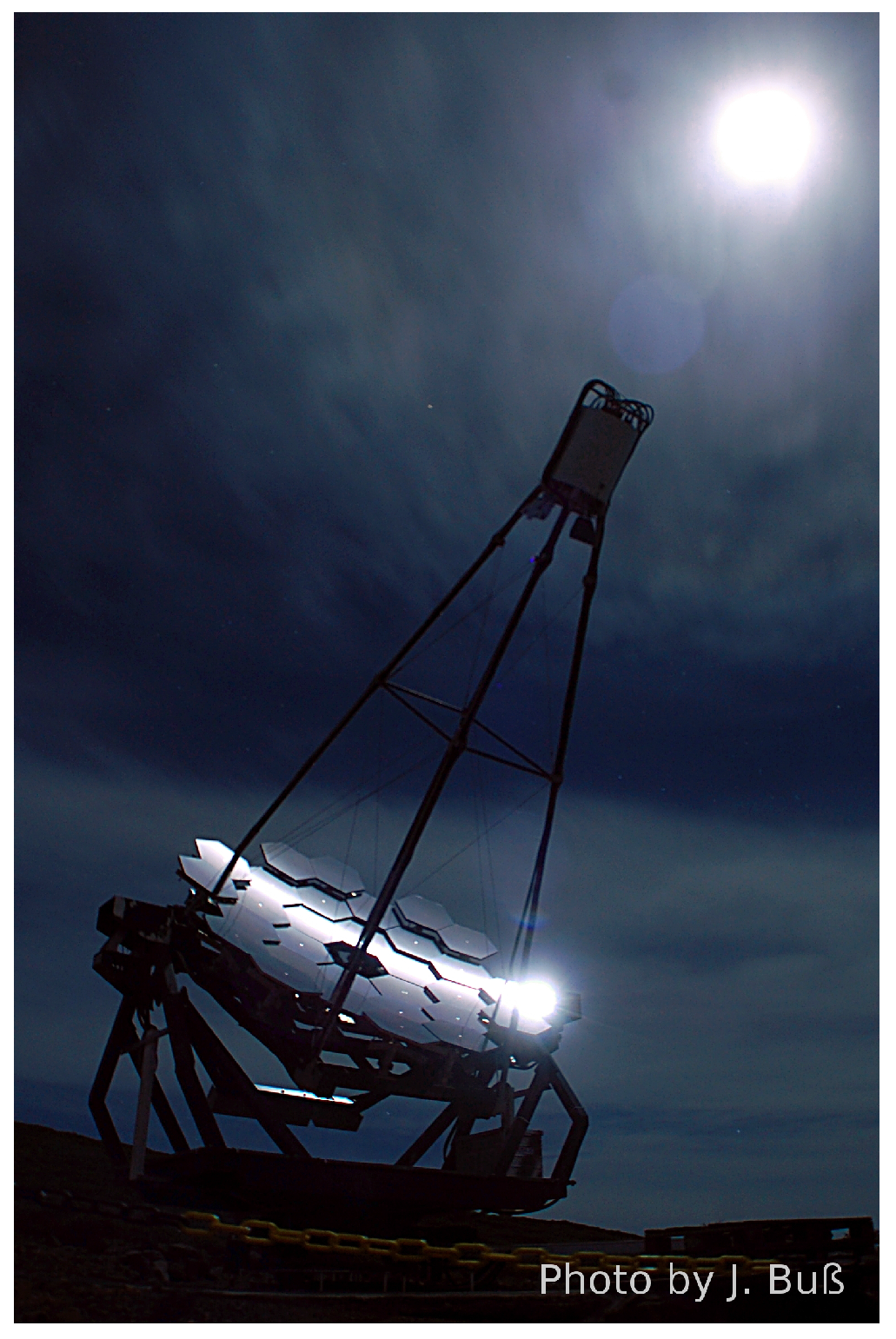 Figure 1
This is an open access article distributed under the
Creative Commons Attribution License
which permits unrestricted use, distribution, and reproduction in any medium, provided the original work is properly cited. (CC BY 4.0).
Share & Cite This Article
MDPI and ACS Style
Temme, F.; Adam, J.; Ahnen, M.L.; Baack, D.; Balbo, M.; Bergmann, M.; Biland, A.; Blank, M.; Bretz, T.; Brügge, K.A.; Buss, J.; Dmytriiev, A.; Dorner, D.; Einecke, S.; Hempfling, C.; Hildebrand, D.; Hughes, G.; Linhoff, L.; Mannheim, K.; Müller, S.; Neise, D.; Neronov, A.; Nöthe, M.; Paravac, A.; Pauss, F.; Rhode, W.; Shukla, A.; Thaele, J.; Walter, R. Long-Term Monitoring of Bright Blazars in the Multi-GeV to TeV Range with FACT. Galaxies 2017, 5, 18.
Note that from the first issue of 2016, MDPI journals use article numbers instead of page numbers. See further details here.
Related Articles
Comments
[Return to top]