LA-ICP-MS U-Th-Pb Dating and Trace Element Geochemistry of Allanite: Implications on the Different Skarn Metallogenesis between the Giant Beiya Au and Machangqing Cu-Mo-(Au) Deposits in Yunnan, SW China
1
School of Marine Sciences, Sun Yat-sen University, Guangzhou 510006, China
2
Guangdong Provincial Key Laboratory of Marine Resources and Coastal Engineering, Guangzhou 510275, China
3
School of Earth Science and Engineering, Sun Yat-sen University, Guangzhou 510275, China
4
Faculty of Science, University of Brunei Darussalam, Gadong BE1410, Brunei Darussalam
5
ARC Centre for Excellence in Ore Deposits (CODES), University of Tasmania, Hobart 7001, Australia
*
Author to whom correspondence should be addressed.
Received: 30 October 2017 / Revised: 13 December 2017 / Accepted: 15 December 2017 / Published: 19 December 2017
Abstract
The giant Beiya Au skarn deposit and Machangqing porphyry Cu-Mo-(Au) deposit are located in the middle part of the Jinshajiang–Ailaoshan alkaline porphyry metallogenic belt. The Beiya deposit is the largest Au skarn deposit in China, whilst the Machangqing deposit comprises a well-developed porphyry-skarn-epithermal Cu-Mo-(Au) mineral system. In this paper, we present new allanite U-Th-Pb ages and trace element geochemical data from the two deposits and discuss their respective skarn metallogenesis. Based on the mineral assemblage, texture and Th/U ratio, the allanite from the Beiya and Machangqing deposits are likely hydrothermal rather than magmatic. Laser ablation-inductively coupled plasma-mass spectrometry (LA-ICP-MS) allanite U-Th-Pb dating has yielded Th-Pb isochron ages of 33.4 ± 4.6 Ma (MSWD = 0.22) (Beiya) and 35.4 ± 9.8 Ma (MSWD = 0.26) (Machangqing), representing the retrograde alteration and magnetite skarn mineralization age of the two deposits. The Beiya and Machangqing alkali porphyry-related mineralization are synchronous and genetically linked to the magmatic hydrothermal activities of the Himalayan orogenic event. Major and trace element compositions reveal that the Beiya allanite has higher Fe
3+
/(Fe
3+
+ Fe
2+
) ratios, U content and Th content than the Machangqing allanite, which indicate a higher oxygen fugacity and F content for the ore-forming fluids at Beiya. Such differences in the ore-forming fluids may have contributed to the different metallogenic scales and metal types in the Beiya and Machangqing deposit.
View Full-Text
►

▼

Figures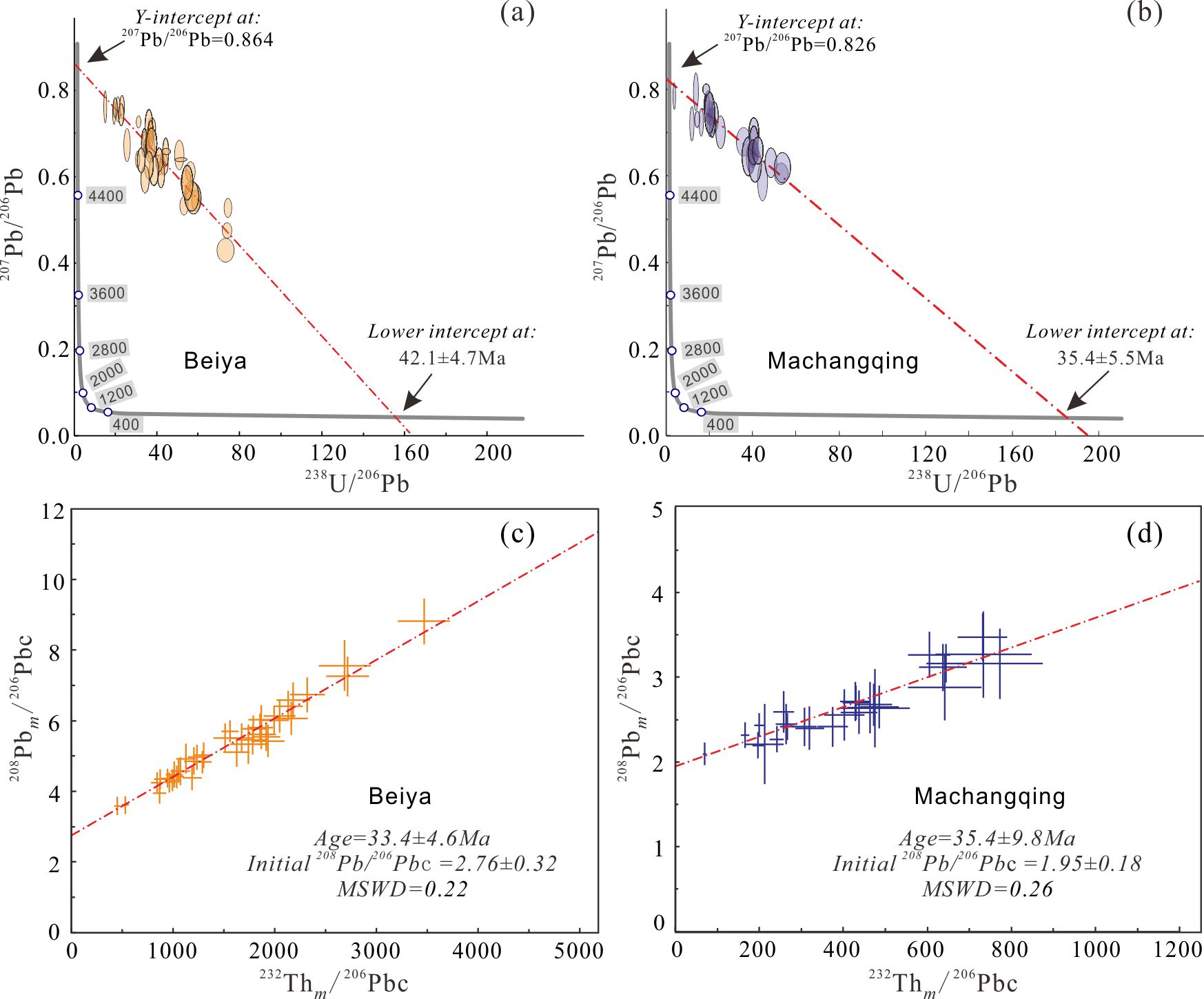 This is an open access article distributed under the
Creative Commons Attribution License
which permits unrestricted use, distribution, and reproduction in any medium, provided the original work is properly cited. (CC BY 4.0).
Share & Cite This Article
MDPI and ACS Style
Fu, Y.; Sun, X.; Li, D.; Lin, H.; Lai, C. LA-ICP-MS U-Th-Pb Dating and Trace Element Geochemistry of Allanite: Implications on the Different Skarn Metallogenesis between the Giant Beiya Au and Machangqing Cu-Mo-(Au) Deposits in Yunnan, SW China. Minerals 2017, 7, 251.
Note that from the first issue of 2016, MDPI journals use article numbers instead of page numbers. See further details here.
Related Articles
Comments
[Return to top]