Fibrous Platinum-Group Minerals in "Floating Chromitites" from the Loma Larga Ni-Laterite Deposit, Dominican Republic
1
Departament de Mineralogia, Petrologia i Geologia Aplicada, Facultat de Ciències de la Terra, Universitat de Barcelona (UB), Martí i Franquès s/n, Barcelona 08028, Spain
2
Faculty of Engineering, Universidad Católica Tecnológica del Cibao (UCATECI), Ave. Universitaria, esq. Ave. Pedro Rivera, P.O. Box 401, La Vega, Dominican Republic
*
Author to whom correspondence should be addressed.
Academic Editor: Maria Economou-Eliopoulos
Received: 8 August 2016 / Revised: 10 November 2016 / Accepted: 16 November 2016 / Published: 30 November 2016
Abstract
This contribution reports on the observation of enigmatic fibrous platinum-group minerals (PGM) found within a chromitite body included in limonite ("floating chromitite") from Ni-laterites in the Dominican Republic. Fibrous PGM have a Ru-Os-Ir-Fe dominated composition and are characterized by fibrous textures explained by grain-forming fibers which are significantly longer (1–5 µm) than they are wide (~100 nm). Back-scattered electron (BSE) images suggest that these nanofibers are platinum-group elements (PGE)-bearing and form <5 µm thick layers of bundles which are oriented orthogonal to grains' surfaces. Trace amounts of Si are most likely associated with PGE-bearing nanofibers. One characteristic fibrous PGM was studied in detail: XRD analyses point to ruthenian hexaferrum. However, the unpolished fibrous PGM shows numerous complex textures on its surface which are suggestive for neoformation processes: (i) features suggesting growth of PGE-bearing nanofibers; (ii) occurrence of PGM nanoparticles within film material (biofilm?) associated with PGE-bearing nanofibers; (iii) a Si-rich and crater-like texture hosting PGM nanoparticles and an Ir-rich accumulation of irregular shape; (iv) complex PGM nanoparticles with ragged morphologies, resembling sponge spicules and (v) oval forms (<1 µm in diameter) with included PGM nanoparticles, similar to those observed in experiments with PGE-reducing bacteria. Fibrous PGM found in the limonite may have formed due to supergene (bio-)weathering of fibrous Mg-silicates which were incorporated into desulphurized laurite during stages of serpentinization.
View Full-Text
►

▼

Figures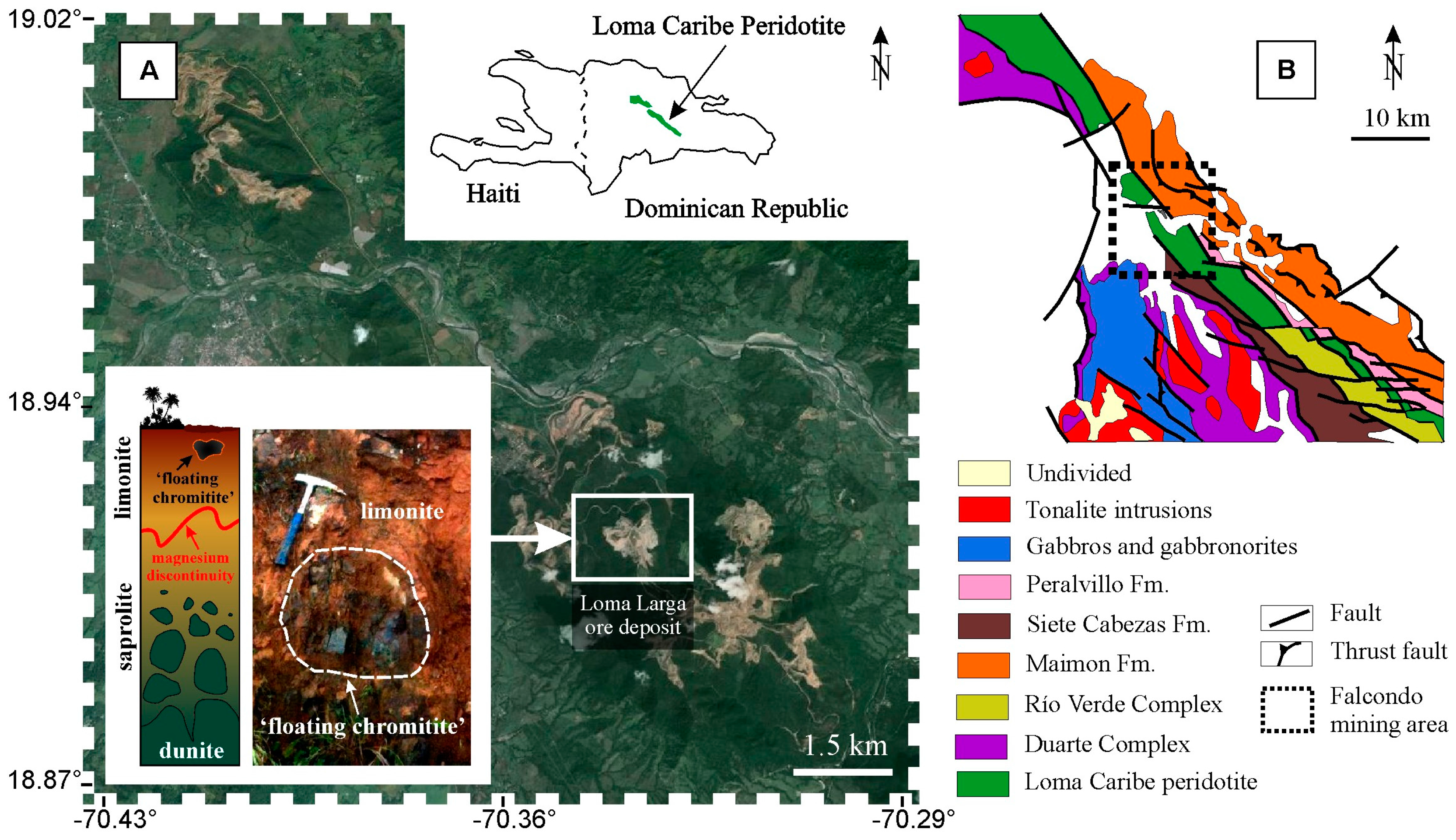 Figure 1
This is an open access article distributed under the
Creative Commons Attribution License
which permits unrestricted use, distribution, and reproduction in any medium, provided the original work is properly cited. (CC BY 4.0).
Share & Cite This Article
MDPI and ACS Style
Aiglsperger, T.; Proenza, J.A.; Longo, F.; Font-Bardia, M.; Galí, S.; Roqué, J.; Baurier-Aymat, S. Fibrous Platinum-Group Minerals in "Floating Chromitites" from the Loma Larga Ni-Laterite Deposit, Dominican Republic. Minerals 2016, 6, 126.
Note that from the first issue of 2016, MDPI journals use article numbers instead of page numbers. See further details here.
Related Articles
Comments
[Return to top]