Geological Controls on Mineralogy and Geochemistry of an Early Permian Coal from the Songshao Mine, Yunnan Province, Southwestern China
1
College of Geoscience and Surveying Engineering, China University of Mining and Technology (Beijing), Beijing 100083, China
2
State Key Laboratory of Coal Resources and Safe Mining, China University of Mining and Technology (Beijing), Beijing 100083, China
Academic Editor: Thomas N. Kerestedjian
Received: 13 April 2016 / Revised: 28 June 2016 / Accepted: 29 June 2016 / Published: 5 July 2016
Abstract
This paper discusses the content, distribution, modes of occurrence, and enrichment mechanism of mineral matter and trace elements of an Early Permian coal from Songshao (Yunnan Province, China) by means of coal-petrological, mineralogical, and geochemical techniques. The results show that the Songshao coal is characterized by high total and organic sulfur contents (3.61% and 3.87%, respectively). Lithium (170.39 μg/g) and Zr (184.55 μg/g) are significantly enriched in the Songshao coal, and, to a lesser extent, elements such as Hg, La, Ce, Nd, Th, Sr, Nb, Sn, Hf, V, and Cr are also enriched. In addition to Hg and Se that are enriched in the roof and floor strata of the coal seam, Li, La, Ce, Pr, Nd, Sm, Gd, Y, Cd, and Sb are slightly enriched in these host rocks. Compared to the upper continental crust, rare earth elements and yttrium in the host rocks and coal samples are characterized by a light-REE enrichment type and have negative Eu, positive Ce and Gd anomalies. Major minerals in the samples of coal, roof, and floor are boehmite, clay minerals (kaolinite, illite, and mixed layer illite-smectite), pyrite, and anatase. Geochemical and mineralogical anomalies of the Songshao coal are attributed to hydrothermal fluids, seawater, and sediment-source rocks.
View Full-Text
►

▼

Figures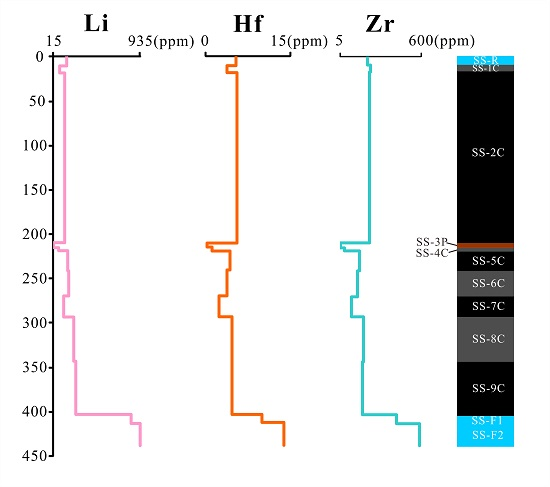 This is an open access article distributed under the
Creative Commons Attribution License
which permits unrestricted use, distribution, and reproduction in any medium, provided the original work is properly cited. (CC BY 4.0).
Share & Cite This Article
MDPI and ACS Style
Wang, R. Geological Controls on Mineralogy and Geochemistry of an Early Permian Coal from the Songshao Mine, Yunnan Province, Southwestern China. Minerals 2016, 6, 66.
Note that from the first issue of 2016, MDPI journals use article numbers instead of page numbers. See further details here.
Related Articles
Comments
[Return to top]