Lead-Antimony Sulfosalts from Tuscany (Italy). XX. Members of the Jordanite–Geocronite Series from the Pollone Mine, Valdicastello Carducci: Occurrence and Crystal Structures
1
Dipartimento di Scienze della Terra, Università di Pisa, Via Santa Maria 53, I-56126 Pisa, Italy
2
Istituto di Geoscienze e Georisorse, CNR, Via Moruzzi 1, I-56124 Pisa, Italy
3
Institut des Matériaux Jean Rouxel, UMR 6502, CNRS, Université de Nantes, 2 rue de la Houssinière, F-44322 Nantes Cedex 3, France
4
Resource Mineralogy, University of Leoben, Peter Tunner Str. 5, A-8700 Leoben, Austria
*
Author to whom correspondence should be addressed.
Academic Editor: Thomas N. Kerestedjian
Received: 13 January 2016 / Revised: 4 February 2016 / Accepted: 14 February 2016 / Published: 19 February 2016
Abstract
A crystal-chemical study of historical specimens as well as new ones belonging to the jordanite–geocronite series from the Pollone baryte + pyrite ± (Pb-Zn-Ag) ore deposit (Valdicastello Carducci, Apuan Alps, Tuscany, Italy) has been performed. These crystals were collected in quartz extension veins embedded in three different occurrences: (i) baryte + pyrite orebodies; (ii) schist layers interbedded between baryte + pyrite orebodies; and (iii) schists at the contact with pyrite-poor baryte orebodies. Electron-microprobe data indicated the occurrence of three distinct groups of compositions within the sample suite. These correspond to As-bearing geocronite, Sb-rich jordanite, and Sb-bearing jordanite, with mean compositions Pb
14
Sb
3.8
As
2.2
S
23
, Pb
14
Sb
2.9
As
3.1
S
23
, and Pb
14
Sb
2.6
As
3.4
S
23
, respectively. Crystals representative of these different compositions have been investigated through single-crystal X-Ray diffraction studies and their crystal structures have been solved to
R
1
= 0.078, 0.069, and 0.033, respectively. The unit-cell volume decreases passing through As-bearing geocronite (
V
= 2149.5(3) Å
3
) to Sb-bearing jordanite (
V
= 2132.3(3) Å
3
). The As-to-Sb substitution takes place preferentially at the Sb4 site; through the increasing of the Sb content, Sb can substitute As also at the As6 site. According to the structural study of the ore deposit, formation of jordanite–geocronite is subordinated to a late Alpine deformative D
2
stage, which permitted
in situ
remobilization of preexisting sulfide ore in small quartz extension veins. Such a local recrystallization would explain the variability of the As/(As + Sb) ratio of the members of the jordanite series, reflecting the heterogeneity of the orebody.
View Full-Text
►

▼

Figures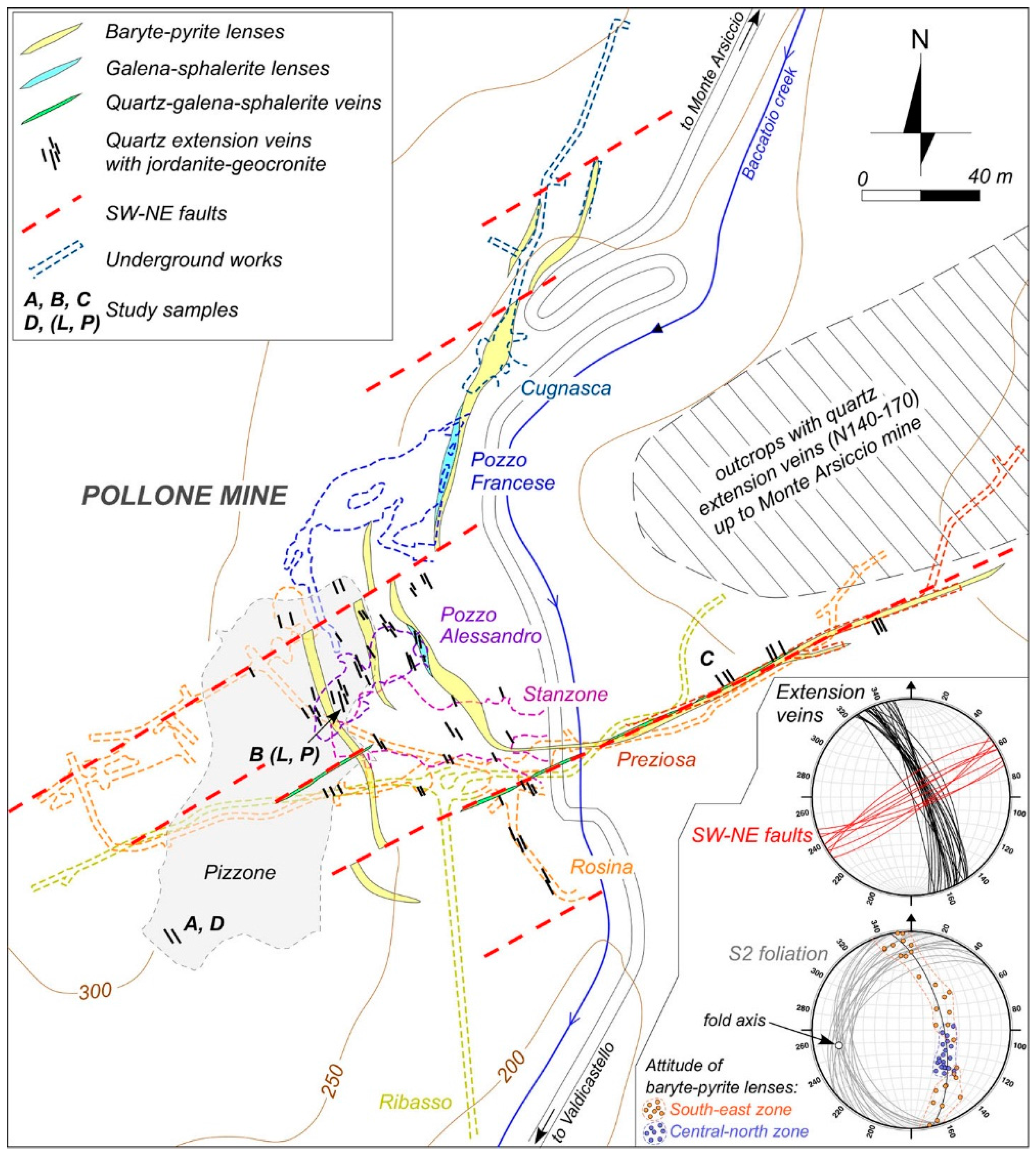 Figure 1
This is an open access article distributed under the
Creative Commons Attribution License
which permits unrestricted use, distribution, and reproduction in any medium, provided the original work is properly cited. (CC BY 4.0).
Share & Cite This Article
MDPI and ACS Style
Biagioni, C.; Dini, A.; Orlandi, P.; Moëlo, Y.; Pasero, M.; Zaccarini, F. Lead-Antimony Sulfosalts from Tuscany (Italy). XX. Members of the Jordanite–Geocronite Series from the Pollone Mine, Valdicastello Carducci: Occurrence and Crystal Structures. Minerals 2016, 6, 15.
Note that from the first issue of 2016, MDPI journals use article numbers instead of page numbers. See further details here.
Related Articles
Comments
[Return to top]