Ancient DNA from Giant Panda (Ailuropoda melanoleuca) of South-Western China Reveals Genetic Diversity Loss during the Holocene
1
State Key Laboratory of Biogeology and Environmental Geology, China University of Geosciences, Wuhan 430074, China
2
Institute for Biochemistry and Biology, University of Potsdam, Karl-Liebknecht-Strasse 24-25, 14476 Potsdam, Germany
3
Australian Centre for Ancient DNA, School of Earth & Environmental Sciences, University of Adelaide, Adelaide, SA 5000, Australia
4
Yunnan Cultural Relics and Archaeology Institute, 15-1, Chunmingli, Chunyuanxiaoqu, Kunming 650118, China
5
Department of Anthropology, 409 Carpenter Building, The Pennsylvania State University, University Park, PA 16802, USA
6
Jiangsu Key Laboratory for Biodiversity and Biotechnology, College of Life Sciences, Nanjing Normal University, Nanjing 210023, China
7
International Joint Research Center for Karstology, Yunnan University, Kunming 650223, China
8
Department of Human Evolutionary Biology, Harvard University, 11 Divinity Avenue, Cambridge, MA 02138, USA
9
Baoshan Museum, Baoshan 678000, China
10
Natural History Museum of Denmark, University of Copenhagen, Øster Voldgade 5-7, DK-1350 Copenhagen K, Denmark
*
Authors to whom correspondence should be addressed.
Received: 24 February 2018 / Revised: 26 March 2018 / Accepted: 27 March 2018 / Published: 6 April 2018
Abstract
The giant panda was widely distributed in China and south-eastern Asia during the middle to late Pleistocene, prior to its habitat becoming rapidly reduced in the Holocene. While conservation reserves have been established and population numbers of the giant panda have recently increased, the interpretation of its genetic diversity remains controversial. Previous analyses, surprisingly, have indicated relatively high levels of genetic diversity raising issues concerning the efficiency and usefulness of reintroducing individuals from captive populations. However, due to a lack of DNA data from fossil specimens, it is unknown whether genetic diversity was even higher prior to the most recent population decline. We amplified complete cyt
b
and 12s rRNA, partial 16s rRNA and
ND1
, and control region sequences from the mitochondrial genomes of two Holocene panda specimens. We estimated genetic diversity and population demography by analyzing the ancient mitochondrial DNA sequences alongside those from modern giant pandas, as well as from other members of the bear family (Ursidae). Phylogenetic analyses show that one of the ancient haplotypes is sister to all sampled modern pandas and the second ancient individual is nested among the modern haplotypes, suggesting that genetic diversity may indeed have been higher earlier during the Holocene. Bayesian skyline plot analysis supports this view and indicates a slight decline in female effective population size starting around 6000 years B.P., followed by a recovery around 2000 years ago. Therefore, while the genetic diversity of the giant panda has been affected by recent habitat contraction, it still harbors substantial genetic diversity. Moreover, while its still low population numbers require continued conservation efforts, there seem to be no immediate threats from the perspective of genetic evolutionary potential.
View Full-Text
►

▼

Figures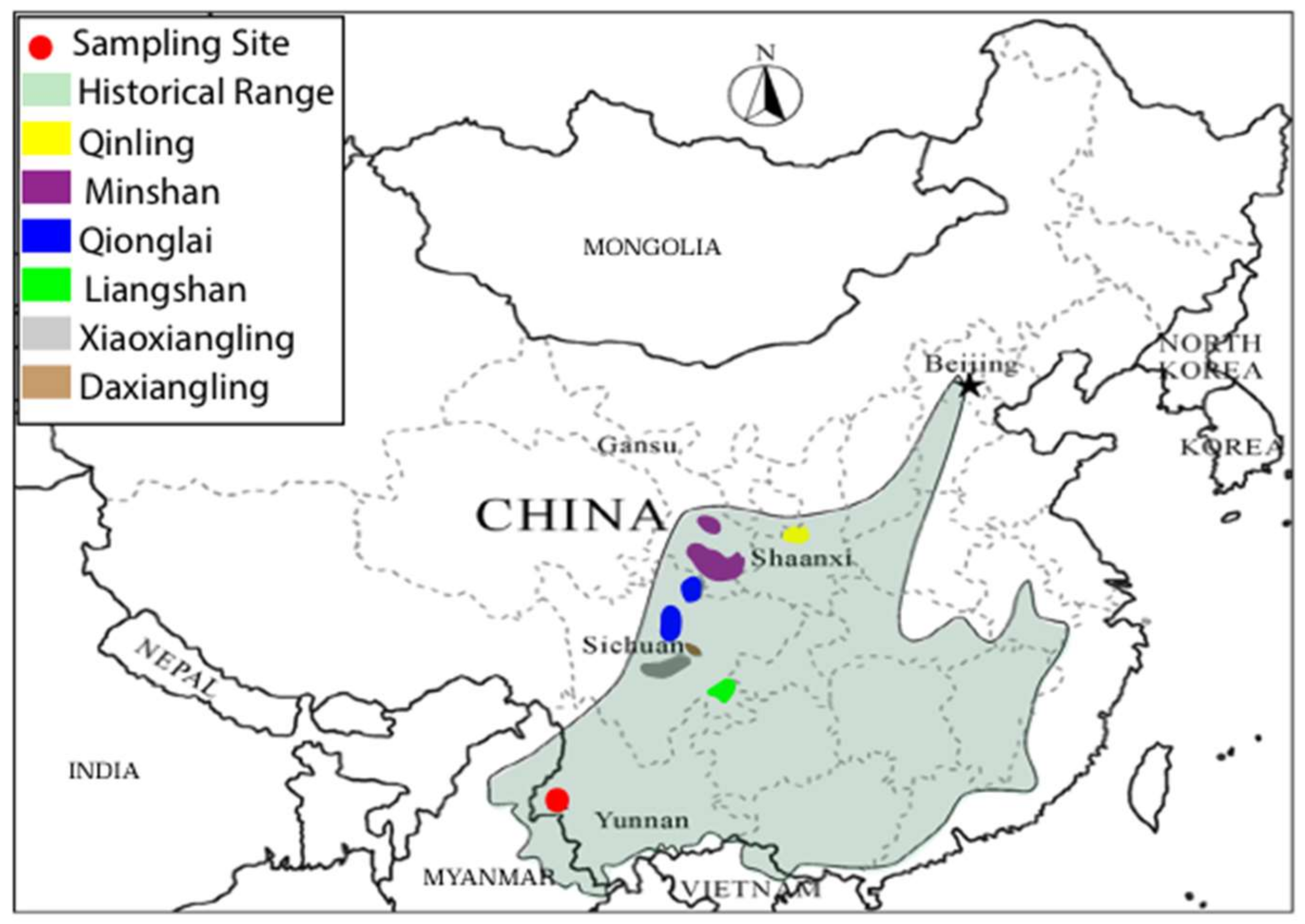 Figure 1
This is an open access article distributed under the
Creative Commons Attribution License
which permits unrestricted use, distribution, and reproduction in any medium, provided the original work is properly cited. (CC BY 4.0).
Share & Cite This Article
MDPI and ACS Style
Sheng, G.-L.; Barlow, A.; Cooper, A.; Hou, X.-D.; Ji, X.-P.; Jablonski, N.G.; Zhong, B.-J.; Liu, H.; Flynn, L.J.; Yuan, J.-X.; Wang, L.-R.; Basler, N.; Westbury, M.V.; Hofreiter, M.; Lai, X.-L. Ancient DNA from Giant Panda (Ailuropoda melanoleuca) of South-Western China Reveals Genetic Diversity Loss during the Holocene. Genes 2018, 9, 198.
Note that from the first issue of 2016, MDPI journals use article numbers instead of page numbers. See further details here.
Related Articles
Comments
[Return to top]