Cytomegalovirus (CMV)-Specific Perforin and Granzyme B ELISPOT Assays Detect Reactivation of CMV Infection in Inflammatory Bowel Disease
1
Department of Medicine B, University of Münster, Münster 48149, Germany
2
Cellular Technology Limited, Shaker Heights, OH 44122-5350, USA
3
Medical Care Center Portal 10, Münster 48155, Germany
*
Author to whom correspondence should be addressed.
Received: 22 March 2012 / Revised: 12 April 2012 / Accepted: 16 April 2012 / Published: 23 April 2012
Abstract
The role of cytomegalovirus (CMV) infection in the pathogenesis and exacerbation of Inflammatory Bowel Disease (IBD) has been unresolved. Typically, the CMV genome remains dormant in infected cells, but a breakdown of immune surveillance can lead to re-activation of viral replication in the gut mucosa, which is not necessarily associated with viremia or changes in antibody titers. We hypothesized that the detection of CMV-specific CD8 effector T cells should permit the distinction between dormant and active CMV infection. As CD8 effector T cells, unlike memory CD8 T cells, have perforin (PFN) and granzyme B (GzB) preformed in their cytoplasmic granules, we employed single cell resolution ELISPOT assays to measure the CMV antigen-triggered release of these molecules by CD8 T cells isolated from subjects with IBD, and age-matched healthy controls. The frequencies of CMV-specific (GzB) and PFN-producing CD8 T cells were increased in IBD patients compared to healthy controls. Furthermore, the increased CMV reactivity was associated with active IBD disease and with longer disease duration. Notably, PCR on serum frequently failed to detect CMV DNA during flares. The data show that during active IBD there is a flare of CD8 T cell activity against CMV in a substantial proportion of IBD patients, suggesting CMV reactivation that serum PCR does not detect. While it remains open whether CMV reactivation is a cause or consequence of IBD, our data suggest that monitoring CMV antigen-specific effector CD8 T cells with GzB and PFN ELISPOT analysis can provide novel insights into the role of CMV infection in IBD. Additionally, our data have implications for the fields of transplantation, HIV, cancer, and autoimmune diseases, in all of which patient care critically depends on sensitive and reliable detection of a reactivation of CMV infection.
View Full-Text
►

▼

Figures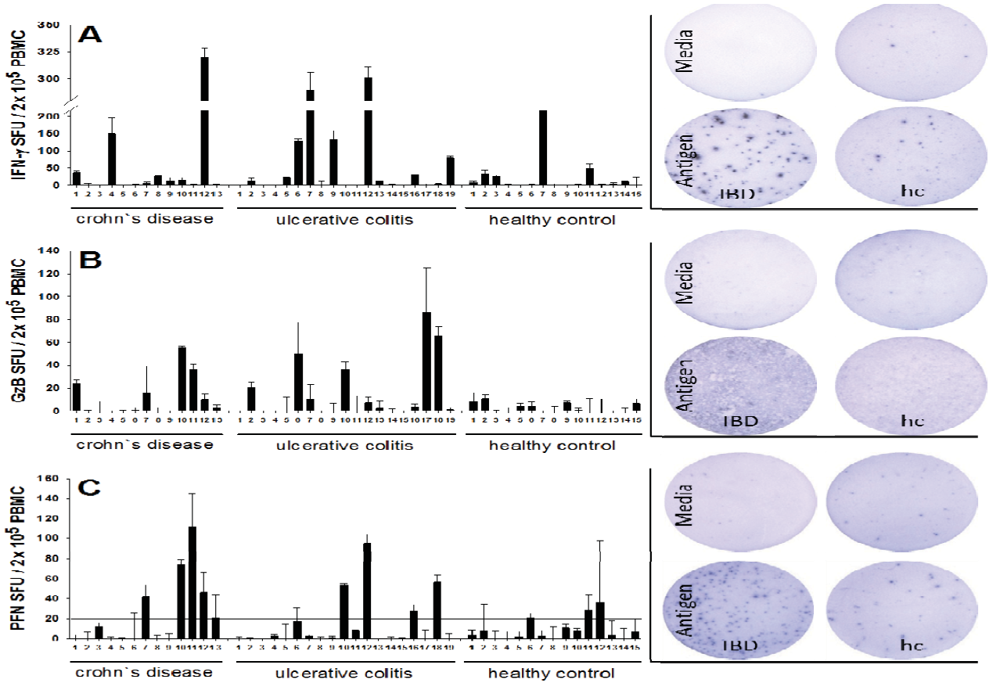 Figure 1
Share & Cite This Article
MDPI and ACS Style
Nowacki, T.M.; Bettenworth, D.; Ross, M.; Heidemann, J.; Lehmann, P.V.; Lügering, A. Cytomegalovirus (CMV)-Specific Perforin and Granzyme B ELISPOT Assays Detect Reactivation of CMV Infection in Inflammatory Bowel Disease. Cells 2012, 1, 35-50.
Related Articles
Comments
[Return to top]