pH-Responsive Tumor-Targetable Theranostic Nanovectors Based on Core Crosslinked (CCL) Micelles with Fluorescence and Magnetic Resonance (MR) Dual Imaging Modalities and Drug Delivery Performance
Chinese Academy of Sciences Key Laboratory of Soft Matter Chemistry, Department of Polymer Science and Engineering, University of Science and Technology of China, Hefei 230026, China
*
Author to whom correspondence should be addressed.
Academic Editor: Sebastien Lecommandoux
Received: 18 April 2016 / Revised: 30 May 2016 / Accepted: 2 June 2016 / Published: 7 June 2016
Abstract
The development of novel theranostic nanovectors is of particular interest in treating formidable diseases (e.g., cancers). Herein, we report a new tumor-targetable theranostic agent based on core crosslinked (CCL) micelles, possessing tumor targetable moieties and fluorescence and magnetic resonance (MR) dual imaging modalities. An azide-terminated diblock copolymer,
N
3
-POEGMA-
b
-P(DPA-
co
-GMA), was synthesized via consecutive atom transfer radical polymerization (ATRP), where OEGMA, DPA, and GMA are oligo(ethylene glycol)methyl ether methacrylate, 2-(diisopropylamino)ethyl methacrylate, and glycidyl methacrylate, respectively. The resulting diblock copolymer was further functionalized with DOTA(
Gd
) (DOTA is 1,4,7,10-tetraazacyclododecane-1,4,7,10-tetrakisacetic acid) or benzaldehyde moieties via copper(I)-catalyzed alkyne-azide cycloaddition (CuAAC) chemistry, resulting in the formation of DOTA(
Gd
)-POEGMA-
b
-P(DPA-
co
-GMA) and benzaldehyde-POEGMA-
b
-P(DPA-
co
-GMA) copolymers. The resultant block copolymers co-assembled into mixed micelles at neutral pH in the presence of tetrakis[4-(2-mercaptoethoxy)phenyl]ethylene (TPE-4SH), which underwent spontaneous crosslinking reactions with GMA residues embedded within the micellar cores, simultaneously switching on TPE fluorescence due to the restriction of intramolecular rotation. Moreover, camptothecin (CPT) was encapsulated into the crosslinked cores at neutral pH, and tumor-targeting pH low insertion peptide (pHLIP, sequence: AEQNPIYWARYADWLFTTPLLLLDLALLVDADEGTCG) moieties were attached to the coronas through the Schiff base chemistry, yielding a theranostic nanovector with fluorescence and MR dual imaging modalities and tumor-targeting capability. The nanovectors can be efficiently taken up by A549 cells, as monitored by TPE fluorescence. After internalization, intracellular acidic pH triggered the release of loaded CPT, killing cancer cells in a selective manner. On the other hand, the nanovectors labeled with DOTA(
Gd
) contrast agents exhibited increased relaxivity (
r
1
= 16.97 mM
−1
·s
−1
) compared to alkynyl-DOTA(
Gd
) small molecule precursor (
r
1
= 3.16 mM
−1
·s
−1
). Moreover,
in vivo
MRI (magnetic resonance imaging) measurements revealed CCL micelles with pHLIP peptides exhibiting better tumor accumulation and MR imaging performance as well.
View Full-Text
►

▼

Figures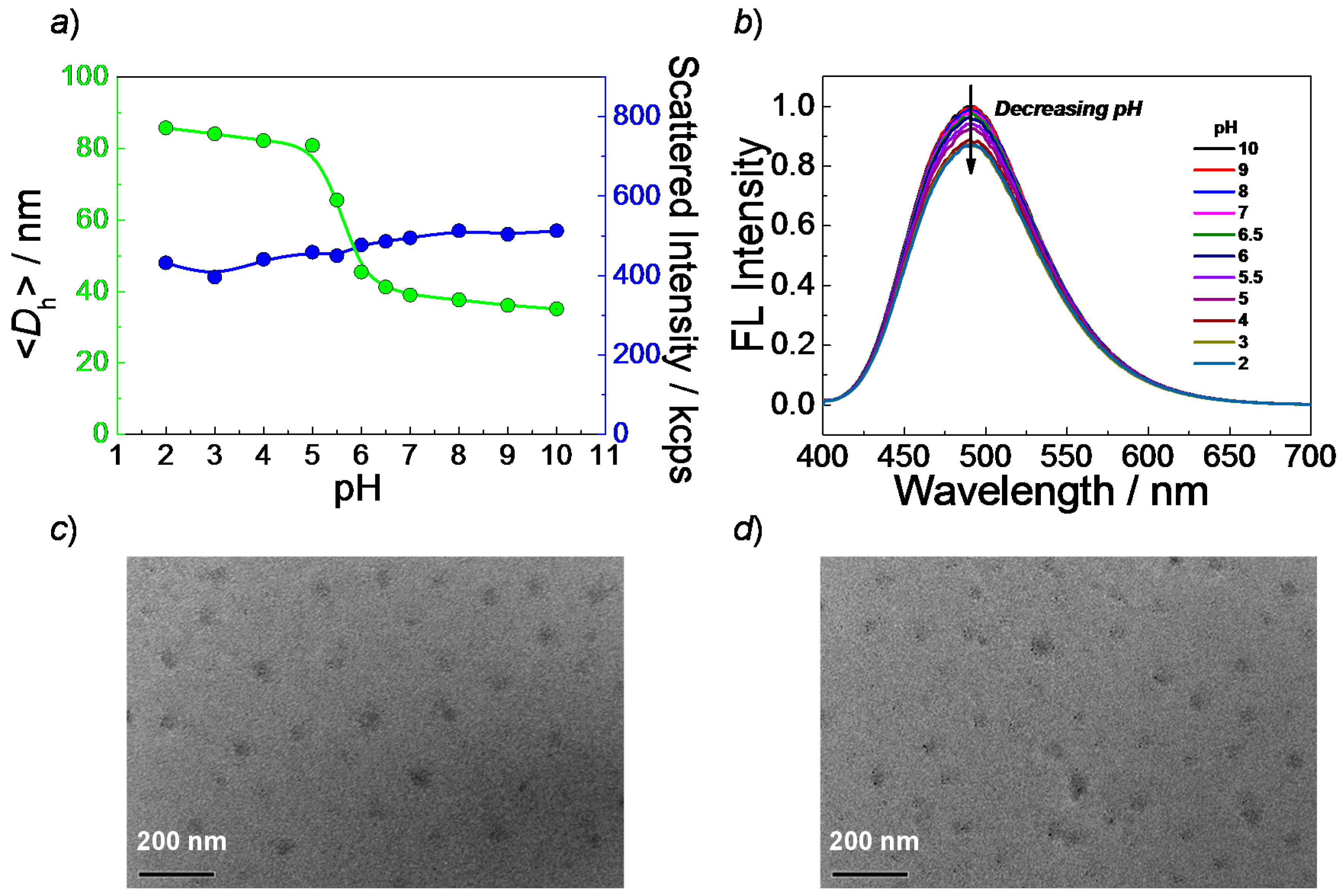 Figure 1
This is an open access article distributed under the
Creative Commons Attribution License
which permits unrestricted use, distribution, and reproduction in any medium, provided the original work is properly cited. (CC BY 4.0).
Share & Cite This Article
MDPI and ACS Style
Tian, S.; Liu, G.; Wang, X.; Zhang, G.; Hu, J. pH-Responsive Tumor-Targetable Theranostic Nanovectors Based on Core Crosslinked (CCL) Micelles with Fluorescence and Magnetic Resonance (MR) Dual Imaging Modalities and Drug Delivery Performance. Polymers 2016, 8, 226.
Note that from the first issue of 2016, MDPI journals use article numbers instead of page numbers. See further details here.
Related Articles
Comments
[Return to top]