Open Access This article is
freely available
re-usable
Article
Growth by the μ-PD Method and Visible Laser Operation of a Single-Crystal Fiber of Pr3+:KY3F10
1
Dipartimento di Fisica, Università di Pisa, Largo B. Pontecorvo 3, 56127 Pisa, Italy
2
State Key Laboratory of Crystal Materials, Shandong University, 27 South Shanda Road, Jinan 250100, China
3
Dipartimento di Scienze Fisiche, della Terra e dell'Ambiente—Sezione di Fisica, Università di Siena, Via Roma 56, 53100 Siena, Italy
4
NEST, Istituto Nanoscienze—CNR, Piazza S. Silvestro 12, 56127 Pisa, Italy
5
PSL Research University, Chimie ParisTech, CNRS, Institut de Recherche de Chimie Paris, 11 Rue Pierre et Marie Curie, 75005 Paris, France
*
Author to whom correspondence should be addressed.
Academic Editor: Michel Ferriol
Received: 28 April 2017 / Accepted: 29 June 2017 / Published: 2 July 2017
Abstract
:
We report on the first growth, spectroscopy, and visible laser operation of a single-crystal fiber (SCF) of KY3F10 (KYF) grown by the micro-pulling-down (μ-PD) method, doped with Pr3+ ions. This material has a cubic lattice, which makes it appealing for use in the industry. However, KYF crystals are considered difficult to grow with high optical quality, even with well-established methods. Nevertheless, we grew a 50-mm-long SCF of Pr:KYF, which was transparent in its inner part. We studied the spectroscopic features of it in comparison with existing literature and with samples of the same crystal grown by the Czochralski method, and we did not notice any large differences. These characterizations confirmed that is indeed possible to grow high-quality crystals of Pr:KYF by the μ-PD method. Unfortunately, the crystal proved to be more brittle than typical KYF and especially difficult to polish, leading to rough and irregular facets, as evidenced by transmission measurements. Despite these issues, we obtained continuous-wave laser operation in the orange, red, and deep red regions, using a sample carved from the SCF as active medium and an InGaN-based laser diode as pump source, though with lower performances than in existing reports on this crystal.
Keywords:
solid-state lasers; visible lasers; single-crystal fibers; spectroscopy; micro-pulling-down; crystal growth; diode-pumped lasers; laser materials; praseodymium-based lasers
Acknowledgments
The authors wish to acknowledge I. Grassini for her competence in preparing the samples. J. S. acknowledges the financial support from the China Scholarship Council (CSC, No.201506220065).
Author Contributions
J.S. performed the structural analyses and the spectroscopic characterizations; A.S. and M.T. conceived this work and designed the experimental setups; E.D. and A.S. built the resonator, performed the laser experiments, analyzed the data, and wrote the paper; Z.Z. performed the crystal growth of the SCF; M.T. contributed with materials and analysis equipment, designed the growth apparatus, and provided the facilities employed.
Conflicts of Interest
The authors declare no conflict of interest.
Abbreviations
The following abbreviations are used in this manuscript:
| | |
| --- | --- |
| SCF | Single-crystal fiber |
| KYF | Potassium triyttrium decafluoride (KY3F10) |
| CZ | Czochralski |
| μ-PD | Micro-pulling-down |
| CW | Continuous-wave |

Figure 1. (a) Picture of the as-grown Pr-doped KY3F10 (KYF) (Pr:KYF) single crystal fiber (SCF). (b) Transverse cross-section of a 25-mm-long section of the same fiber, seen through a microscope.


Figure 2. Scheme of the setup employed for laser operation. The components are described in the text. LD: laser diode; CL: collimator; CYL: cylindrical lenses; HW: /2-plate; PBS: polarizing beam-splitter cube; FL: achromatic lens; M1,M2: mirrors; PM: power meter.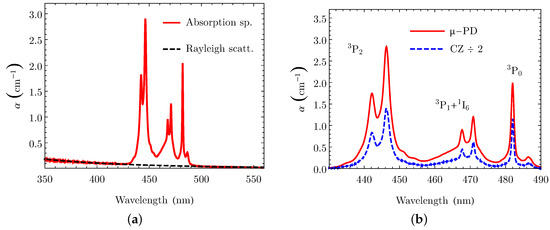 Figure 3. (a) Absorption spectrum of the Pr:KYF SCF in the blue, green, and yellow regions. The dashed curve shows the fit of the background Rayleigh scattering. (b) Corrected absorption spectrum of the SCF in comparison with a crystal grown by the Czochralski (CZ) method (scaled for clarity). μ-PD: micro-pulling-down.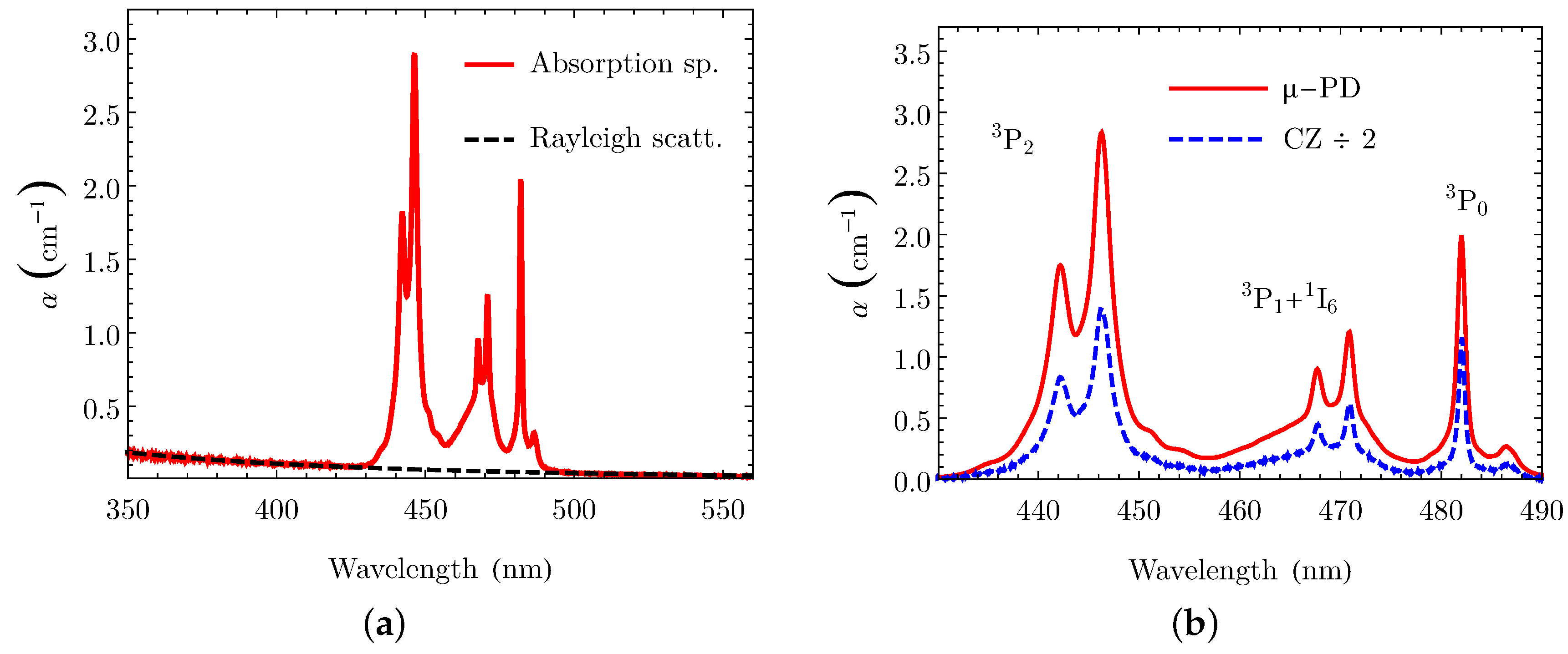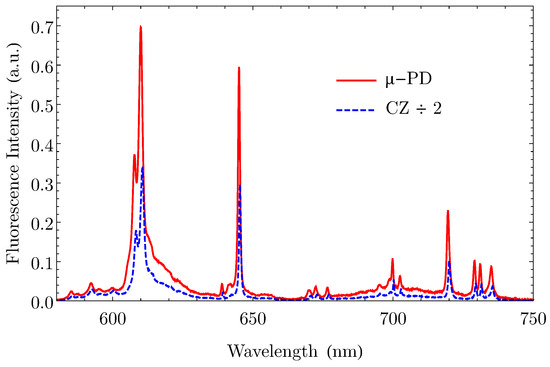 Figure 4. Fluorescence spectrum of our Pr:KYF SCF in the orange, red, and deep red regions, in comparison with a crystal grown by the CZ method. The spectrum of the CZ sample is scaled for clarity.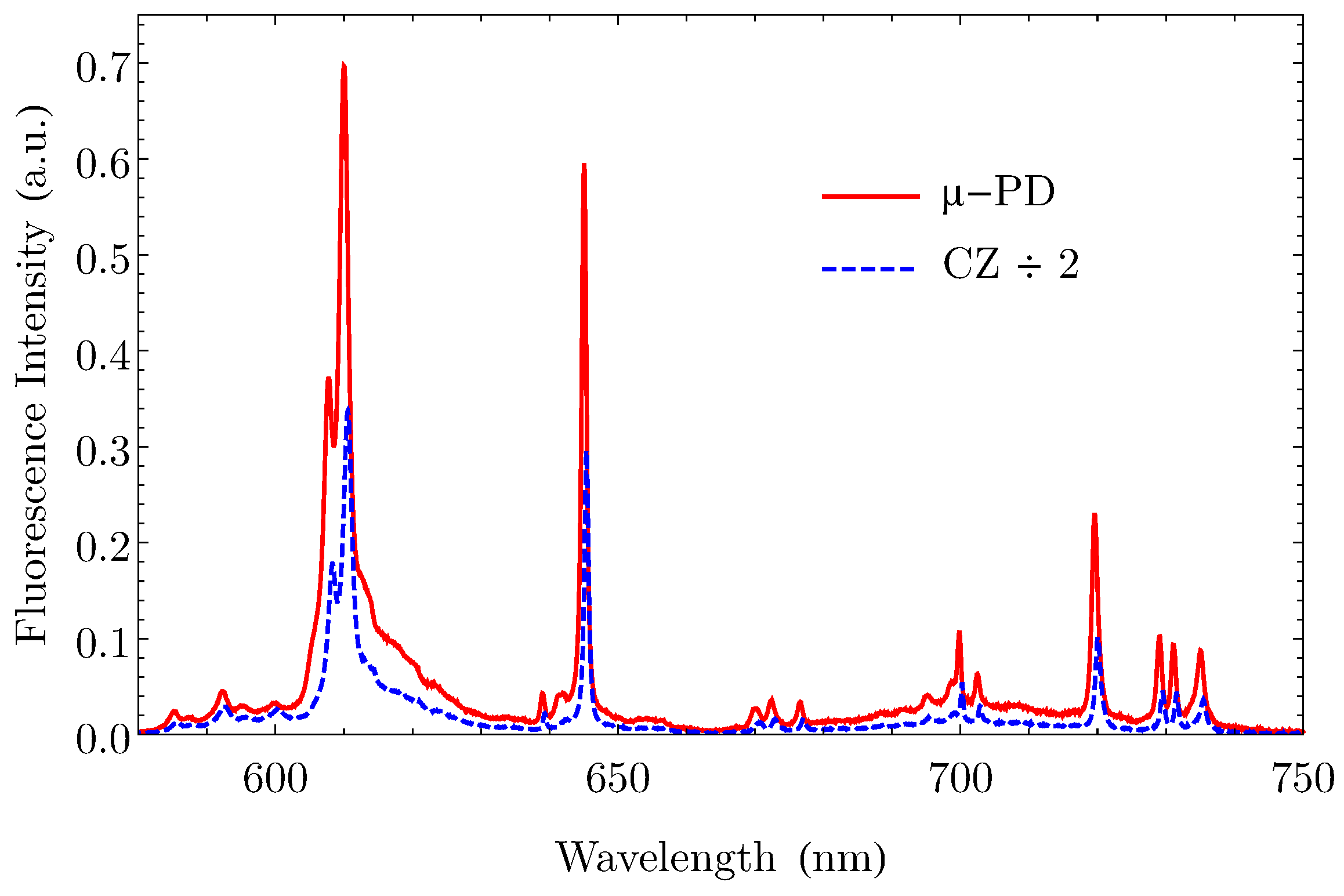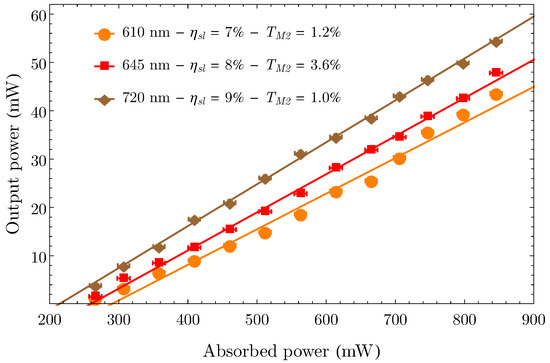 Figure 5. Output powers as functions of the absorbed pump power for three laser transitions of the Pr:KYF SCF, in the orange, red, and deep red regions.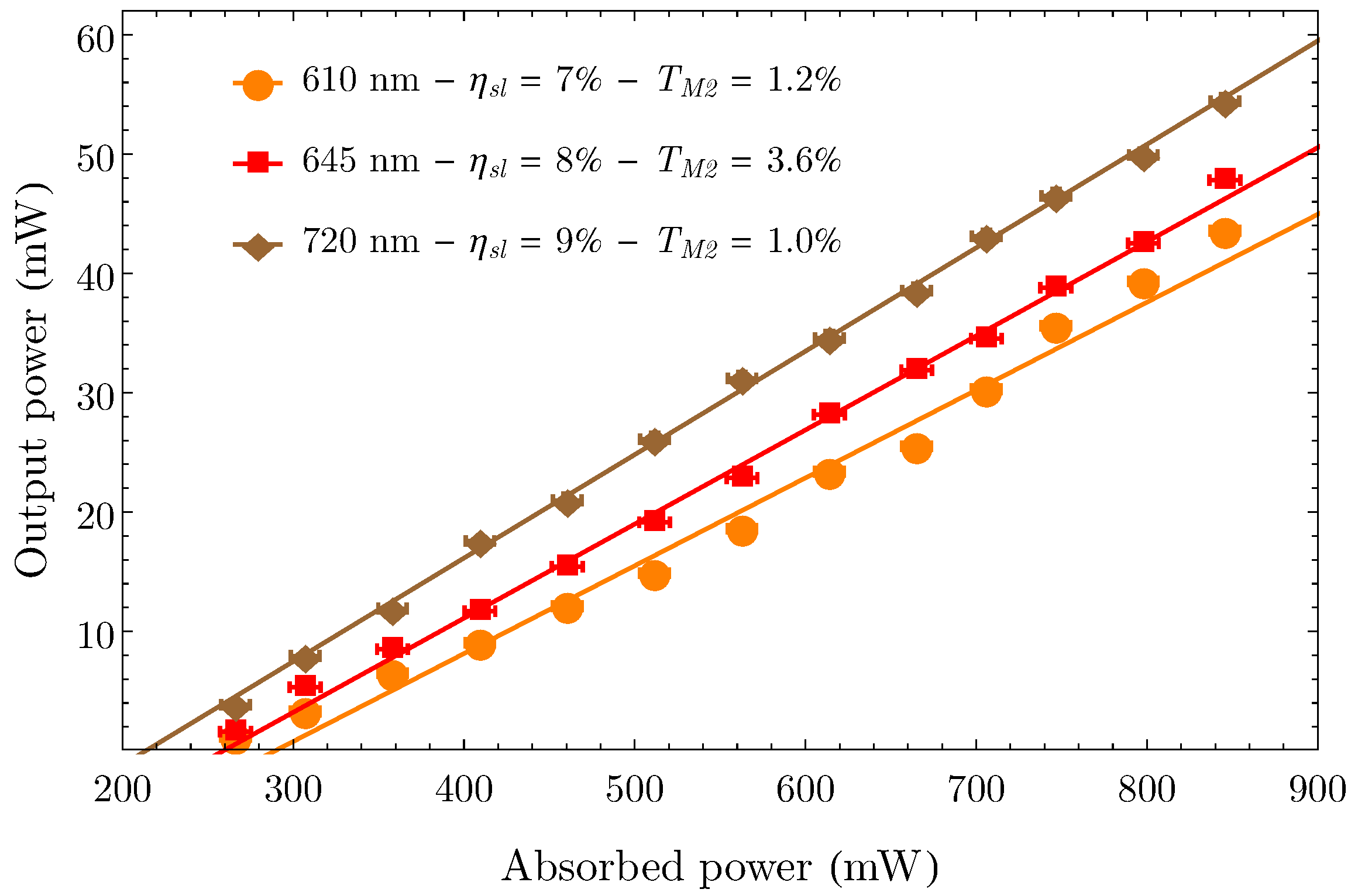 Table 1. Laser parameters for the transitions under investigation.
T
P
P
610 nm
1.2%
7%
204 mW
43 mW
645 nm
0.5%
3%
128 mW
17 mW
1.8%
6%
134 mW
39 mW
3.6%
8%
171 mW
47 mW
720 nm
1.0%
9%
186 mW
54 mW
© 2017 by the authors. Licensee MDPI, Basel, Switzerland. This article is an open access article distributed under the terms and conditions of the Creative Commons Attribution (CC BY) license (http://creativecommons.org/licenses/by/4.0/).