Zintl Salts Ba2P7X (X = Cl, Br, and I): Synthesis, Crystal, and Electronic Structures
Department of Chemistry, University of California, Davis, One Shields Avenue, Davis, CA 95616, USA
*
Author to whom correspondence should be addressed.
Received: 1 June 2013 / Revised: 16 July 2013 / Accepted: 6 August 2013 / Published: 26 August 2013
Abstract
Two
barium phosphide halides, Ba
2
P
7
Br and Ba
2
P
7
I, were synthesized and structurally characterized by single crystal X-ray diffraction. Both compounds crystallize in the monoclinic space group
P
2
1
/
m
(No. 11) and are isostructural to Ba
2
P
7
Cl. The crystal structures of Ba
2
P
7
X (X = Cl, Br, I) feature the presence of heptaphosphanortricyclane P
7
3−
clusters along with halogen anions and barium cations. According to the Zintl concept, Ba
2
P
7
X compounds are electron-balanced semiconductors. Quantum-chemical calculations together with UV-Visible spectroscopy confirm the title compounds are wide bandgap semiconductors. The bonding in the P
7
3−
clusters was analyzed by means of electron localization function. The elemental compositions were confirmed using energy dispersive X-ray spectroscopy.
View Full-Text
►

▼

Figures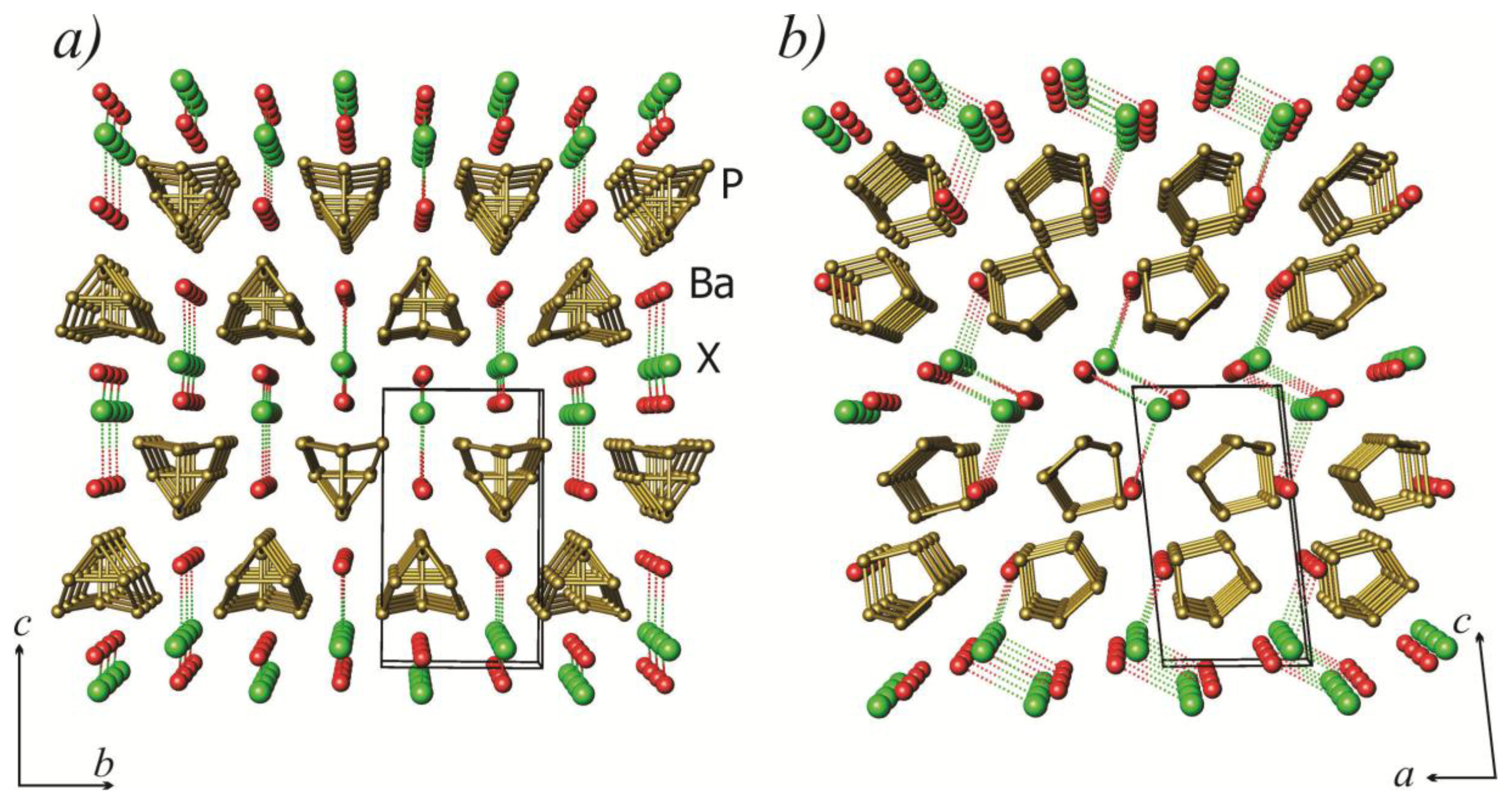 Figure 1
Share & Cite This Article
MDPI and ACS Style
Dolyniuk, J.-A.; Kovnir, K. Zintl Salts Ba2P7X (X = Cl, Br, and I): Synthesis, Crystal, and Electronic Structures. Crystals 2013, 3, 431-442.
Related Articles
Comments
[Return to top]