Open Access This article is
freely available
re-usable
Article
Continuous-Flow Monolithic Silica Microreactors with Arenesulphonic Acid Groups: Structure–Catalytic Activity Relationships
1
Institute of Chemical Engineering Polish Academy of Sciences, Bałtycka 5, 44-100 Gliwice, Poland
2
Department of Chemical Engineering and Process Design, Silesian University of Technology, Ks. M. Strzody 7, 44-100 Gliwice, Poland
*
Author to whom correspondence should be addressed.
Academic Editors: Tian-Yi Ma, Jian-Rong (Jeff) Li and Cláudia Gomes Silva
Received: 11 July 2017 / Accepted: 28 August 2017 / Published: 30 August 2017
Abstract
:
The performance of monolithic silica microreactors activated with sulphonic acid groups and a packed bed reactor with Amberlyst 15 resin were compared in the esterification of acetic acid with n-butanol. The monolithic microreactors were made of single silica rods with complex pore architecture, differing in the size of mesopores, and in particular, flow-through macropores which significantly affected the flow characteristic of the continuous system. The highest ester productivity of 105.2 mol·molH+−1·h−1 was achieved in microreactor M1 with the largest porosity, characterized by a total pore volume of 4 cm3·g−1, mesopores with 20 nm diameter, and large flow-through macropores 30–50 μm in size. The strong impact of the permeability of the monoliths on a reaction kinetics was shown.
Keywords:
silica monoliths; continuous-flow microreactors; acid centres; structure/catalytic activity relationships
2. Results
2.1. Characterization of the Silica Monoliths
2.2. Catalytic Performance
The performance of continuous-flow monolithic microreactors and the packed bed reactor with Amberlyst 15 resin was compared in the esterification of acetic acid with n-butanol. Catalytic tests were performed for at least 6 h, at a flow rate of 0.06 cm
3
·min
−1
(representative graph for M1-A is shown in
Figure 6
). The flow rate was selected to achieve conversion smaller than 50% to discriminate efficacy of different structure.
One of the key factors in continuous flow reactors' performance is the residence time (τ) of a reactant molecule in the active zone. According to Sachse et al. [
32
], for the monolithic reactor τ may be determined from the following expression:
where x is monolith length, m is a weight per cm (g·cm
−1
), and F is the flow rate (cm
3
·min
−1
).
Thus, the more open the structure (as found in M1), the longer the residence time (
Table 2
) for the same flow rate.
The productivity—expressed in mol of product formed per kg of catalyst per h—was calculated from conversion (
Conv
) and initial concentration of reactant (C
0
) using the equation:
The value of productivity calculated for all microreactors was similar and of ca. 68 mol·kg
cat
−1
·h
−1
(
Table 3
). However, if the productivity was related to the concentration of active centers (mmol of product per mmol of active centers per hour), the M1-A microreactor showed superior performance. This can be ascribed to: (i) enhanced mass transfer from a core of reactants to the skeleton's surface, and (ii) easier access of reactants to active sites embedded in much larger mesopores of M1-A than in M2-A and M3-A. On the other hand, a greater density of active sites in M2-A and M3-A enabled compensation for the higher activity of the M1-A catalytic sites. However, M1 monoliths revealed the largest permeability of liquids (
Table 2
), and this bears directly on pressure drop and hence power/energy input and also safety. Thus, bearing in mind all factors, we consider the M1-A microreactor as the most effective solution.
The productivity in the reactor packed with Amberlyst 15 was about 86% of the M1-A microreactor, despite a similar conversion as in M-type reactors. It is important to emphasize that in the case of monolithic microreactors, higher conversions can be achieved by increasing the length of the microreactor or by applying numbering-up approach [
5
]. For example, by connecting two the M1-A reactors in series, a conversion of 62% was reached (data not shown here).
The M1-A performance also most favourably compares with other studies reported previously (
Table 4
).
3. Materials and Methods
3.1. Monoliths Synthesis and Activation
Three silica monoliths (M1–M3) in the form of rods with diameter of 4.5 mm were prepared using Nakanishi approach [
13
,
14
] with minor modifications [
26
,
27
]. In brief, polyethylene glycol (PEG 35000, Sigma-Aldrich, St. Louis, MO, USA) was dissolved in aqueous HNO
3
(Avantor, 65%, Gliwice, Poland), after which tetraethoxysilane (TEOS, ABCR, 99%, Karlsruhe, Germany) was added slowly to the PEG solution in an ice bath followed by the addition of cetyltrimethylammonium bromide (CTAB, Sigma-Aldrich) (sample M1). Details of the composition of the reagents are given in
Table 5
.
After treatment with ammonia (Avantor, 25%), the samples were washed with deionized water and dried for 3 days at 40 °C. Finally, the samples were calcined at 550 °C for 8 h (ramp 1 °C·min−1).
Single silica rods (ca. 4 cm long) were embedded into heat-shrinkable Teflon tubes, equipped with connectors to obtain a microreactor suitable for a continuous operation. Subsequently, silica monoliths were functionalized under flow (48 h, 60 °C) with arenesulphonic acid groups using solution of 2-(4-chlorosulfonylphenyl)ethyltrimethoxysilane (CSPTMS; 50 wt % solution in CH2Cl2, ABCR) dissolved in anhydrous ethanol. The functionalized monoliths were designated as M1-A, M2-A, and M3-A. The nominal content of organic groups was 1.5 mmol·g−1. After activation, the material was washed extensively with ethanol (Avantor, 99.8%) to remove a non-bonding precursor.
3.2. Characterization of Materials
The mesoporous textural properties of the materials were determined from low-temperature nitrogen sorption (Micromeritics ASAP 2020, Norcross, GA, USA). The samples were outgassed in a vacuum for 24 h at 200 °C prior to the analysis. The specific surface area S
BET
was determined using a standard BET method [
36
]. The mesopore volume and pore size distribution were calculated from the desorption branch of the isotherm using BJH model [
37
]. The macroporous network of pores in the silica monoliths was investigated by mercury porosimetry (PoreMaster 60, Quantachrome, Boynton Beach, FL, USA) and by scanning electron microscopy (TM 30000, Hitachi, Tokyo, Japan). Thermal properties and the amount of acidic groups attached to the silica carrier were studied by thermogravimetric analysis (STAR 853, Mettler Toledo, Greifensee, Switzerland). The type and strength of acid centres were determined using pyridine as a probe molecule and a FTIR-DRIFT spectrometer (NICOLET 6700, Thermo Fisher Scientific, Waltham, MA, USA) equipped with high temperature/vacuum chamber with ZnSe windows.
3.3. Catalytic Tests
The catalytic tests were performed in the esterification of acetic acid (Avantor, p.a) with n-butanol (Avantor, p.a) in a continuous-flow monolithic microreactor fabricated using monoliths M1–M3 and a packed bed reactor filled with Amberlyst 15 resin (particle size of 0.7 ± 0.1 mm, Sigma-Aldrich). The esterification process was examined for the molar ratio of substrates 1:1 and at 75 °C using flow rate of 0.06 cm3·min−1. The catalytic tests were carried out for 6 h. The progress of the reaction was monitored by gas chromatography (Agilent 7890 A; FID detector; HP-5 column, Agilent Technologies, Palo Alto, CA, USA).
4. Conclusions
The presented studies clearly showed that the performance of the continuous-flow monolithic microreactors strongly depended on the silica structure both on meso- and macro-scale. It was shown that slight changes in the synthesis procedure strongly affected the structure of monoliths, which translated directly into a significant effect of their flow characteristic. The extremely high pressure drop was recorded when decreasing the size of the macropores from ca. 50 μm to 1.3 μm. Furthermore, smaller mesopores were detected in monoliths with small macropores, which resulted in a considerable increase (ca. 60% of specific surface area). Consequently, a larger concentration of arenesulphonic groups (up to 50%) was identified in these monoliths. However, the microreactors with much larger macroporosity appeared to be the most effective; i.e., they were characterized by a lower pressure drop and higher productivity in the esterification process despite the smaller concentration of active groups. The studied microreactors have strong Brönsted acid sites and they can operate up to 300 °C. Moreover, the performance of the best microreactor appeared to be significantly better than that found for the reactor packed with Amberlyst 15.
Acknowledgments
This work was financed by the National Science Centre Project no DEC-2014/15/N/ST8/03171.
Author Contributions
A.C., K.M. and J.M.-B. conceived and designed the experiments, analysed the data and wrote the paper; J.J.M. wrote part of the manuscript.
Conflicts of Interest
The authors declare no conflict of interest.


Figure 2. (a) N2 adsorption/desorption isotherms and pore size distribution in monoliths and Amberlyst 15; (b) Cumulative pore volume curves determined by mercury porosimetry.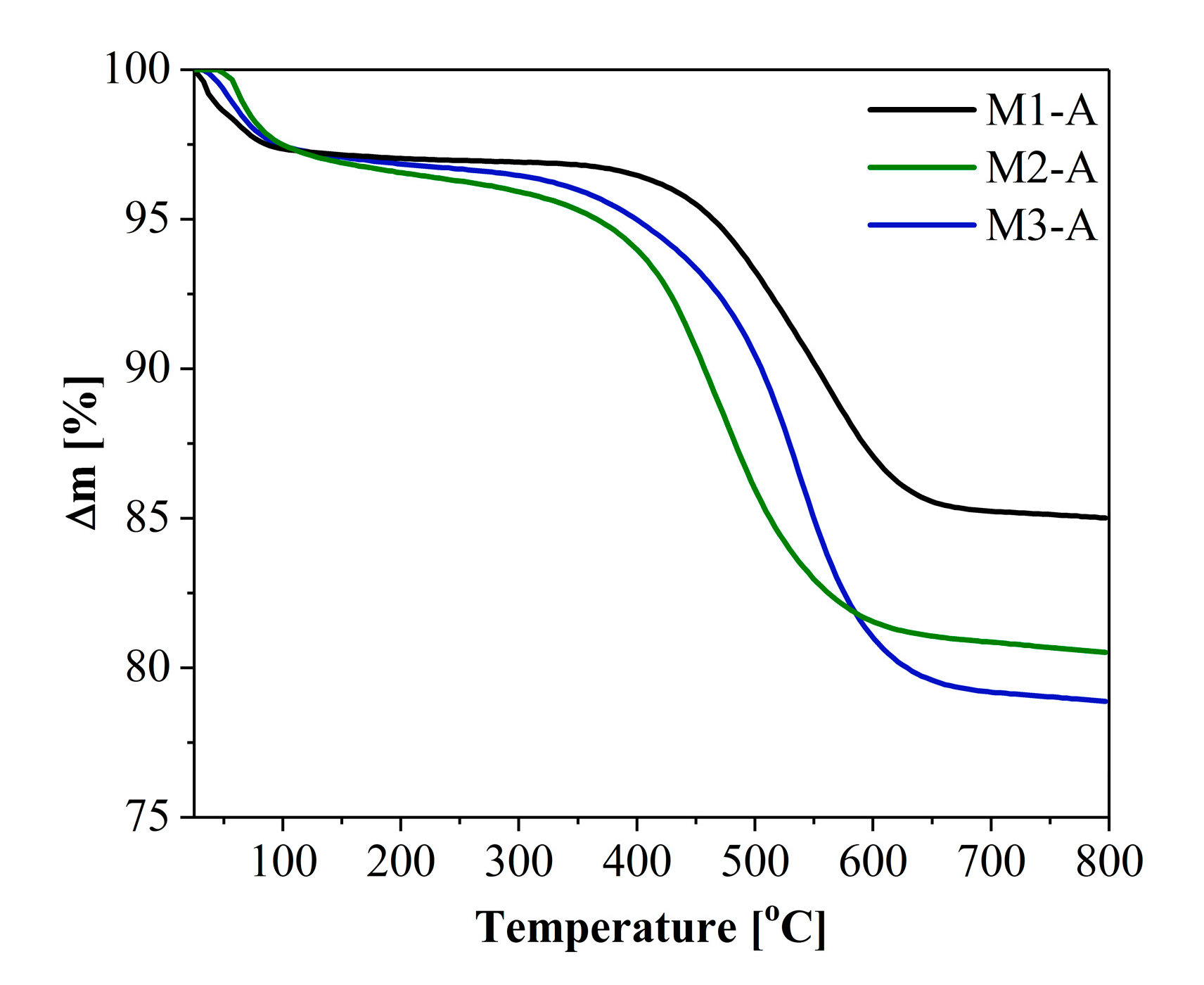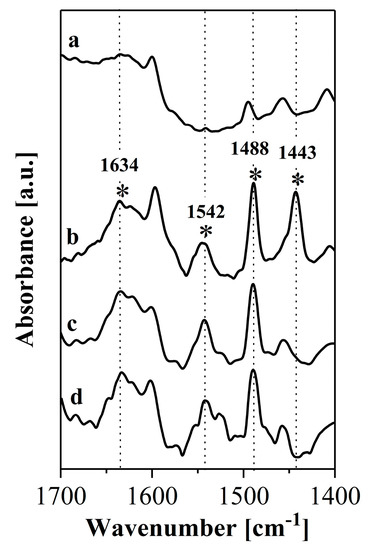 Figure 4. Fourier transform infrared (FTIR) spectra of M1-A: (a) before and (b) after pyridine adsorption, and after evacuation at (c) 150 °C and (d) 200 °C.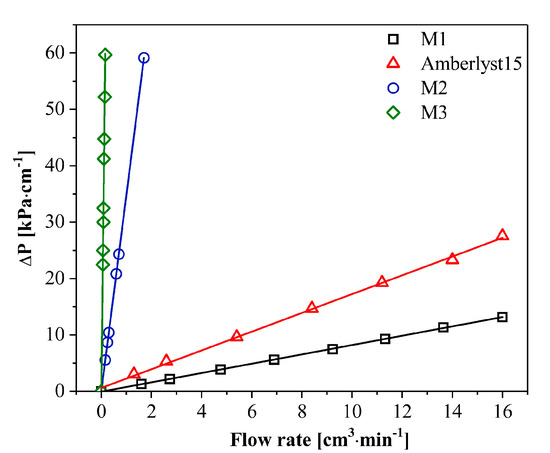 Figure 5. Pressure drop vs. flow rate in microreactors and the packed bed reactor with Amberlyst 15.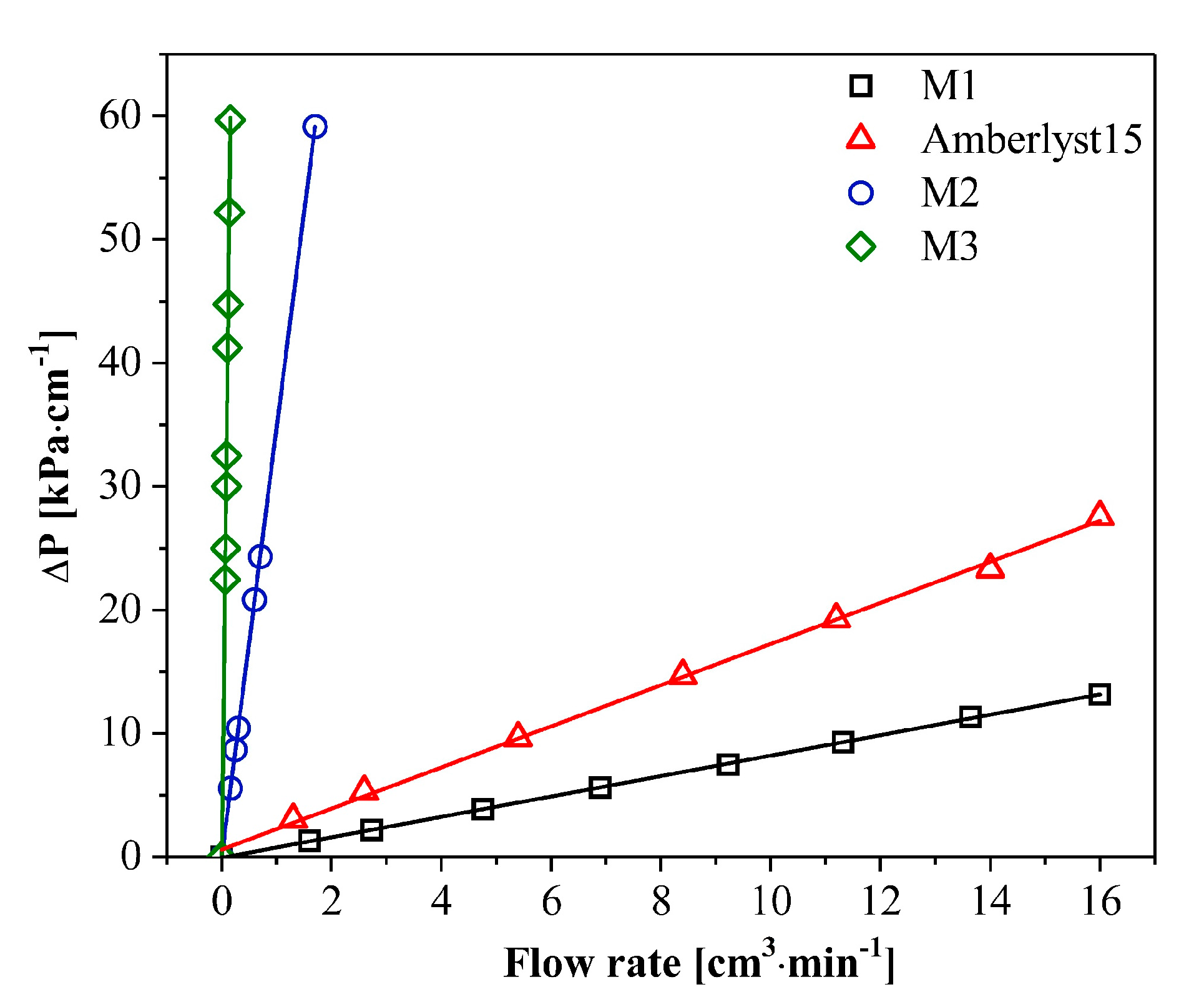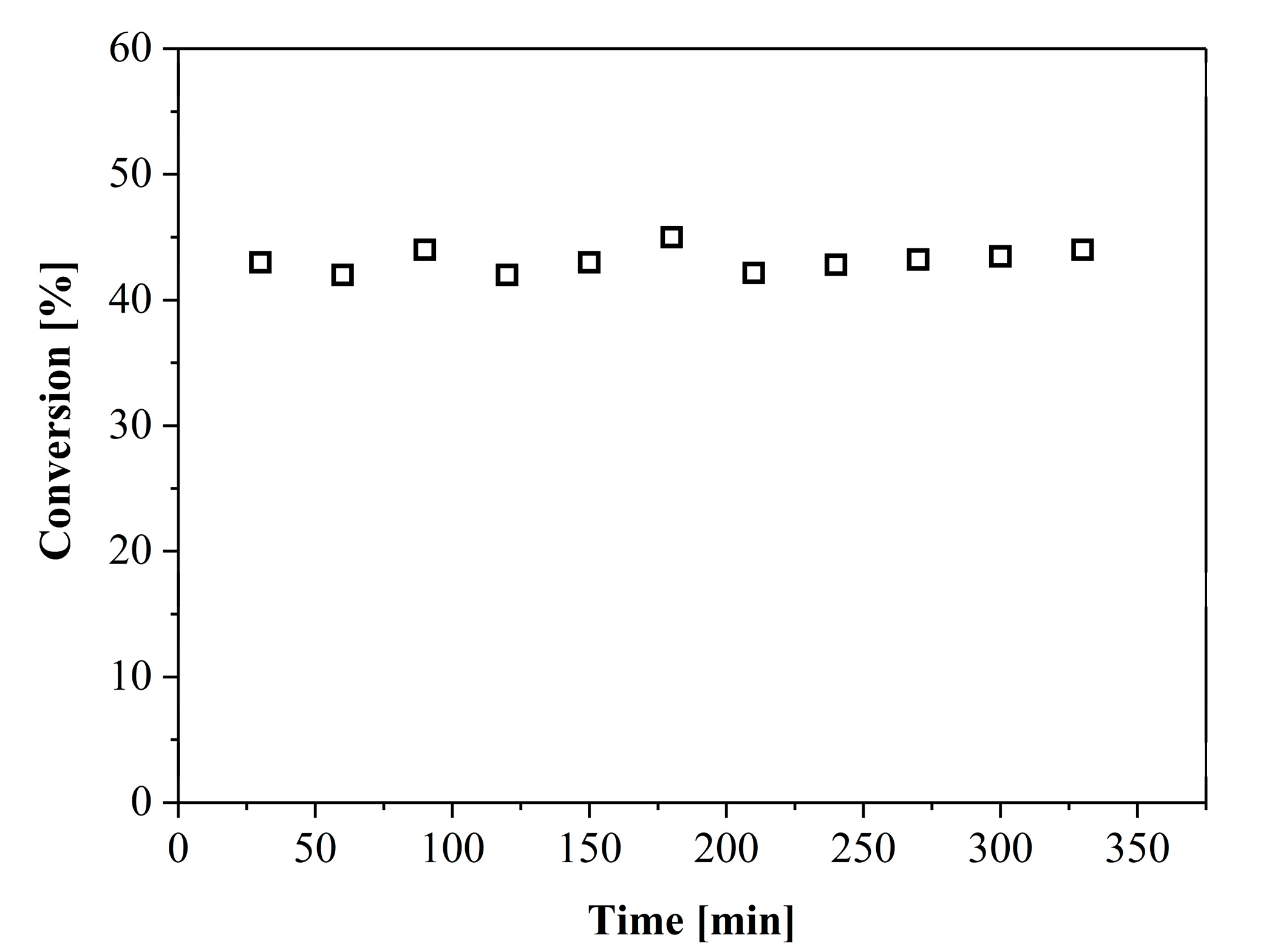 Table 1. Structural and acidic properties of the materials.
Sample
SBET
(m2·g−1)
Vpmes
(cm3·g−1)
VT
(cm3·g−1)
Dmac
(μm)
Dmes 1
(nm)
H+
(mmol·g−1)
A200/A150 4
M1
328
1.15
4
30–50
2.5/20
0.65
0.9
(245) 2
(0.91)
(3.72)
(30–50)
(20)
M2
413
1.12
3.27
4–6
15
0.85
0.9
(316)
(0.91)
3.01
4–6
(14.9)
M3
575
1.04
2.98
1.3
8.7
0.97
0.8
(427)
(0.74)
2.65
1.3
(7.9)
Amberlyst
40
0.33
-
-
31
4.7 3
n/a
1 a maximum of the pore size distribution curve by BJH; 2 in parentheses, texture parameters after functionalization with acidic groups; 3 manufacturer's data; 4 relative strength of Brönsted acid sites (BAS).
Table 2. Permeability of silica monoliths and Amberlyst 15.

| Sample | Permeability K·1012 (m2) |
| --- | --- |
| M1 | 11.3 |
| M2 | 0.27 |
| M3 | 0.025 |
| Amberlyst 15 | 5.4 |
Table 3. Results from catalytic experiments.
Sample
Conversion
(%)
τ
(min)
Productivity
(mol·kgcat−1·h−1)
Productivity
(mol·molH+−1·h−1)
M1-A
42
10
68.4
105.2
M2-A
41
8
67.2
79.2
M3-A
42
7.5
68.4
70.8
Amberlyst 15
38
4.2
61.8
13.2
Table 4. Comparison of acetic acid esterification with n-butanol in flow (entries 1–2) and batch (entries 3–5) reactors.
Table 4. Comparison of acetic acid esterification with n-butanol in flow (entries 1–2) and batch (entries 3–5) reactors.
Entry
Catalyst
Conversion (%)
Productivity
(mol·kgcat−1·h−1)
Temp.
(°C)
Time
(min)
Ref.
1
M1-A
42
68.4
75
10 2
This work
2
Amberlyst 15 1
70
30
80
10 2
[33]
3
Al-MCM-41
50
29.4
150
360
[34]
4
H-USY-20
35
13.8
75
360
[35]
5
Smopex-101
65
37.8
75
360
[35]
1 packed-bed column; 2 residence time; molar ratio of substrates—1:1.
Table 5. Composition of reagents for monolith synthesis and conditions during ammonia aqueous solution treatment of monoliths prior to drying. PEG: polyethylene glycol.
Table 5. Composition of reagents for monolith synthesis and conditions during ammonia aqueous solution treatment of monoliths prior to drying. PEG: polyethylene glycol.
Sample
TEOS
(cm3)
PEG
(g)
H2O
(cm3)
HNO3
(cm3)
CTAB
(g)
Aging
(Days)
Ammonia Treatment
Conc.
(M)
Time
(h)
Temp.
(°C)
M1
26.1
2.73
30.10
2.18
1.2
7
1
8
90
M2
26.1
3.31
31.44
2.04
0
3
1
24
80
M3
26.1
3.32
32.05
2.39
0
3
0.1
20
40
© 2017 by the authors. Licensee MDPI, Basel, Switzerland. This article is an open access article distributed under the terms and conditions of the Creative Commons Attribution (CC BY) license (http://creativecommons.org/licenses/by/4.0/).