Open Access This article is
freely available
re-usable
Article
Sulfur Tolerant Magnesium Nickel Silicate Catalyst for Reforming of Biomass Gasification Products to Syngas
NexTech Materials, Ltd., 404 Enterprise Drive, Lewis Center, OH 43035, USA; Email:
*
Author to whom correspondence should be addressed; Email: Tel.: +1-614-842-6606; Fax: +1-614-842-6607.
Received: 17 January 2012; in revised form: 15 February 2012 / Accepted: 26 March 2012 / Published: 17 April 2012
Abstract
: Magnesium nickel silicate (MNS) has been investigated as a catalyst to convert tars and light hydrocarbons to syngas (CO and H2) by steam reforming and CO2 reforming in the presence of H2S for biomass gasification process at NexTech Materials. It was observed that complete CH4 conversion could be achieved on MNS catalyst granules at 800–900 °C and a space velocity of 24,000 mL/g/h in a simulated biomass gasification stream. Addition of 10–20 ppm H2S to the feed had no apparent impact on CH4 conversion. The MNS-washcoated monolith also showed high activities in converting methane, light hydrocarbons and tar to syngas. A 1200 h test without deactivation was achieved on the MNS washcoated monolith in the presence of H2S and/or NH3, two common impurities in gasified biomass. The results indicate that the MNS material is a promising catalyst for removal of tar and light hydrocarbons from biomass gasified gases, enabling efficient use of biomass to produce power, liquid fuels and valuable chemicals.
Keywords:
biomass gasification; tar reforming; sulfur; ammonia; magnesium nickel silicate; Ni catalyst; syngas
1. Introduction
As renewable energy, biomass conversion has gained more interest in recent years because of concerns related to global warming, gradual decreases in the known reserves of fossil fuels and increases in fossil fuel consumption. Gasification is an attractive route to convert biomass to syngas (CO + H2), which can be used in internal/external combustion engines, gas turbines and fuel cells for power generation, or further converted into hydrogen and liquid fuels such as methanol, dimethyl ether, ethanol, gasoline and diesel [1,2]. For biomass gasification, efficient cleaning and conditioning of the derived syngas is a significant barrier to commercializing this technology. Raw syngas contains impurities, such as sulfur, ammonia, tars, light hydrocarbons and methane. The methane and light hydrocarbons comprise un-used biomass carbon and hydrogen, which decrease the energy utilization efficiency. The tars mainly consist of polycyclic aromatic compounds with high boiling points, which will condense in the downstream process equipment. Therefore, these contaminants (e.g., tars) need to be removed from the gasification product gases.
Currently, two approaches are widely used for cleaning tars from biomass gasification product gases: liquid scrubbing and catalytic reforming. Liquid scrubbing removes tar in a condensed form. This approach requires the gasification products to be cooled to low temperatures, resulting in a loss of thermal efficiency. It also creates a liquid waste which needs to be further treated for disposal. In comparison, catalytic reforming of tar to syngas at high temperatures is a promising approach from an economic standpoint as it can utilize the sensible heat in the syngas, decrease the capital cost with simpler cooling systems, and enhance overall energy efficiency. It also converts the tar, methane and light hydrocarbons to syngas, increasing the fuel value.
Many catalysts have been reported to be active for tar reforming in the literature [3,4,5,6,7,8,9,10,11,12,13,14,15,16,17,18,19,20,21,22,23,24,25,26,27,28,29,30,31,32,33,34,35]. The types of catalysts depend on whether the catalysts are located within the gasifier, or in a secondary bed after the gasifier exit. For the former approach, particulate catalysts such as dolomite (a calcium carbonate based mineral) have been used in fluidized bed gasifiers [3,4,5,6,7]. Issues encountered include attrition of dolomite into smaller particles (which cannot be retained in the fluidized bed) and deactivation of the dolomite via carbon deposition. More recently, olivine-based minerals (modified with nickel) have been utilized for the same purpose [8,9,10,11,12,13,14,15], with benefits being the higher attrition resistance of olivine and its relatively high catalytic activity for tar reforming. A challenge in this case is that the chemical composition (and thus catalytic performance) of olivine mineral varies widely depending on location of the mine. This issue can be addressed by modifying the olivine composition in a separate step, but this would add cost and could potentially compromise the attrition resistance property of the olivine.
Alternatively, synthetic catalysts, especially Ni, Fe and Co, have been widely investigated for tar reforming due to the higher activity than the minerals [13,16,17,19,20,23,25,26,27,28,29,30,31,32,33,34,35,36,37]. It is known that Ni-based catalysts have been commercialized for steam methane reforming to produce CO and H2. These catalysts were also found to be very active for the tar reforming. For instance, Caballero et al. investigated several commercial Ni catalysts from ICI, UCI, BASF and Haldor-Topsoe for tar reforming and found that nearly 100% tar conversion could be achieved at 840 °C and 0.2–0.3 s residence time [27,28]. Other commercial Ni-based catalysts were also tested for biomass tar reforming [29]. For Ni-based catalysts, it is likely that the use of support plays an important role in tar conversion. In many cases, Al2O3 is used as the main support. Addition of MgO to Al2O3 is found to enhance catalyst activity and stability. On a series of supported Ni catalysts, such as Ni/MgO, Ni/γ-Al2O3, Ni/α-Al2O3, Ni/SiO2 and Ni/ZrO2, the activity of CO2 reforming of toluene (a model tar compound) was found to depend on Ni particle size, which is related to the interaction between Ni and the support [23]. The best catalytic performance was obtained on the Ni/MgO due to the strong interaction between NiO and MgO within the NiO-MgO solid solution. Precious metals are also active for the tar reforming reaction. On a series of precious metal supported CeO2-SiO2 catalysts, Tomishige et al. reported that the activity decreased in a sequence of Rh > Pt > Pd (≈Ni) > Ru [21]. However, precious metal catalysts are expensive, making them less practical for tar reforming applications.
Although transition metal and precious metal based catalysts are active in converting tar to syngas, most of the testing data in the literature were reported in the absence of sulfur [2,33]. It is known that sulfur exists in biomass gasification gases. Tolerance to H2S is critical for tar reforming catalysts because sulfur is difficult to be removed at gasification temperatures. In this work, we have developed a magnesium nickel silicate (MNS) catalyst for reforming of biomass gasification products at NexTech Materials. This MNS catalyst is found to be tolerant to H2S and immune to NH3. This MNS catalyst can convert tars and light hydrocarbons to syngas by steam reforming and CO2 reforming at high temperatures in the presence of sulfur, enabling efficient use of biomass to produce power, liquid fuels and valuable chemicals.
2. Results and Discussion
3. Experimental Section
3.1. Catalyst Preparation and Characterization
Magnesium nickel silicate (MNS) catalyst was prepared by solid-state reaction. The as-prepared material had a BET surface area of 4 m2/g. For catalyst activity testing, the powders were pressed, crushed and sieved to 35–60 mesh.
In addition, the MNS catalyst was extruded to form a 0.75 in (O.D.) × 1.5 in (length) monolith with 400 cells per square inch (CPSI), followed by calcination 1300 °C for 1 h. The formed monolith had strength of 82.5 MPa/cm. The MNS powders were washcoated on the MNS-extruded monolith and a cordierite monolith (400 CPSI, 0.75 in (O.D.) × 1.5 in (length), obtained from Applied Ceramics) by dip coating. The washcoated monoliths were calcined at 1000 °C for 4 h. The catalyst loading in the monolith was 180 g per liter.
BET surface area was measured with a Micromeritics TriStar system. X-ray diffraction (XRD) analysis was performed with a Scintag XDS2000 instrument. Catalyst reducibility was analyzed by H2-TPR (temperature programmed reduction), using a Micromeritics AutoChem 2910 system. 50 mg sample was heated to 850 °C at 10 °C/min in 5% H2/Ar at a flow rate of 50 SCCM. A thermal conductivity detector (TCD) was used to measure H2 consumption amount during heating.
3.2. Catalyst Performance Testing
Catalyst granules (35–60 mesh) were evaluated for reforming of methane to CO + H2 in a simulated biomass gasification product stream. The feed gas had a composition of 3.7% H2, 8.4% CO, 13.8% CO2, 7.8% CH4, 43.3% N2, 23.0% H2O and 10–20 ppm H2S (when used). 0.5 g catalyst was loaded in a 0.25 inch stainless steel reactor. The total gas flow rate was 200 mL/min and the gas hourly space velocity was 24,000 mL/g/h.
The MNS extruded monolith and washcoated monoliths were tested for reforming of methane, light hydrocarbons and tar (using naphthalene as a model compound) to syngas in a simulated biomass gasification product stream. The monoliths were loaded in one inch (OD) stainless steel reactors for the testing. A vaporizer produced steam from a liquid feed supplied by an Eldex 2HM pump. The vaporizer consisted of an initial section operated at 150 °C and second section held at 300 °C. After exit of the second section, the steam was mixed with CO, CO2, CH4, H2 and N2. The mixed feed was then introduced into a pre-heater that operated at 900 °C. A 0.25 inch stainless steel Tee between the pre-heater and the reactor furnace allowed for various hydrocarbons, ammonia, and H2S to be added into the synthetic biomass composition. All of these components were controlled by Sierra MFCs. The complete feed then entered the monolith reactor. The exit of the reactor fed into a condenser to knock out the water from the gaseous stream. The condenser was operated at 6 °C and the condensate accumulation was released by a level controlled solenoid valve. Removing the water from the stream enabled more accurate and consistent data to be taken using a gas chromatograph (GC). A scheme of the catalyst performance testing system is shown in Figure 10.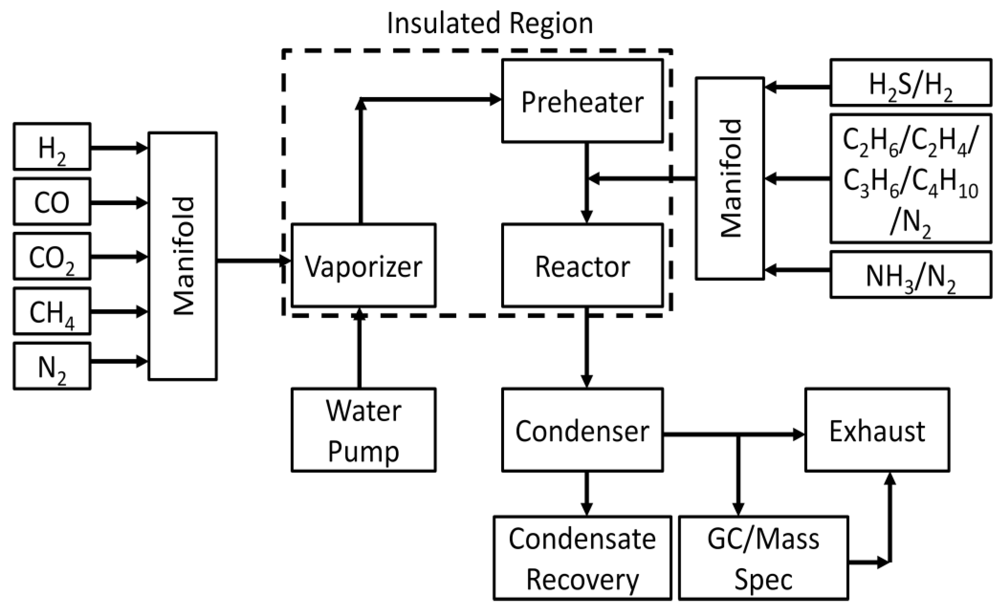 The GC for analyzing the gas compositions was an SRI 8610C Multiple Gas Analyzer No. 1. This instrument contained a 6-foot silica gel column and a 6-foot 13× molecular sieve column to separate a wide range of molecules. The GC had a thermal conductivity detector and a flame ionization detector with a methanation system. The standard setup was modified by adding copper before the methanation system to prevent H2S from poisoning the methanation catalyst. The carrier gas was Argon at a pressure of 28 PSIG. For each injection, the column temperature was held at 30 °C for 6 min and then increased to 300 °C at 10 °C/min heating rate. Finally the temperature was held at 300 °C for 20 min to bake out all gases. The GC was calibrated prior to each testing using standard mixing gases. CH4 and C2+ hydrocarbon conversions were calculated by the difference in their flow rates before the reaction and after the reaction. CO selectivity was determined as [CO]/([CO] + [CO2]) in the product. The carbon balance in this work was 100 ± 5%.
4. Conclusions
Based on the above testing data, it can be concluded that:
Granulated MNS catalysts achieved complete methane conversion at 900 °C and a space velocity of 24,000 mL/g/h in a simulated biomass gasification stream. Addition of 10–20 ppm H2S to the stream did not significantly change the catalyst performance.

The MNS-extruded monolith exhibited poor activity in biomass reforming, which was attributed to a significant decrease in surface area during the monolith manufacturing process.

The MNS catalyst washcoated on MNS-extruded monolith achieved 90–100% CH4 conversion at 850–900 °C and a space velocity of 10,000 h−1 in a simulated biomass gasification stream without H2S.

On a MNS-washcoated cordierite monolith, the addition of 22 ppm H2S to a simulated biomass gasification stream decreased the initial activity at 900 °C, but the activity was constant for 1200 h in the presence of H2S.

On the MNS washcoated monolith, the reforming activity decreased in a sequence of C3 hydrocarbons > C2 hydrocarbons > methane.

On the MNS-washcoated monolith, complete C2+ hydrocarbon conversion could be achieved at 900 °C and a GHSV of 5000 h−1 in the presence of H2S.

The addition of 1000 ppm NH3 did not impact the catalytic performance at 900 °C in the presence and absence of H2S, indicating the MNS catalyst was immune to NH3.
Acknowledgements
This work was supported by the U.S. Department of Energy (Contract No. DE-FG36-04GO14314) and by the National Science (Contract Numbers 0740809 and IIP-0848877).
© 2012 by the authors; licensee MDPI, Basel, Switzerland. This article is an open-access article distributed under the terms and conditions of the Creative Commons Attribution license (http://creativecommons.org/licenses/by/3.0/).