Epithelial-to-Mesenchymal Transition and MicroRNAs in Lung Cancer
1
INSERM UMR-S1147, CNRS SNC 5014, Saints-Pères Research Center, 45 rue des Saints-Pères Paris-Descartes University, Sorbonne Paris Cité University, 75006 Paris, France
2
Thoracic Surgery and Lung Transplantation Department, Georges Pompidou European Hospital, 20 rue Leblanc, Assistance Publique-Hôpitaux de Paris, 75015 Paris, France
3
Medical Thoracic Oncology Department, Georges Pompidou European Hospital, 20 rue Leblanc, Assistance Publique-Hôpitaux de Paris, 75015 Paris, France
4
INSERM UMR-S1162, 27 rue Juliette Dodu, 75010 Paris, France
5
Pathology Department, Georges Pompidou European Hospital, 20 rue Leblanc, Assistance Publique-Hôpitaux de Paris, 75015 Paris, France
6
INSERM UMR-S970, Paris Centre de Recherche Cardiovasculaire, Georges Pompidou European Hospital, 20 rue Leblanc, 75015 Paris, France
7
Molecular Biology Department, Georges Pompidou European Hospital, 20 rue Leblanc, Assistance Publique-Hôpitaux de Paris, 75015 Paris, France
*
Author to whom correspondence should be addressed.
Academic Editor: Joëlle Roche
Received: 24 June 2017 / Revised: 17 July 2017 / Accepted: 26 July 2017 / Published: 3 August 2017
Abstract
Despite major advances, non-small cell lung cancer (NSCLC) remains the major cause of cancer-related death in developed countries. Metastasis and drug resistance are the main factors contributing to relapse and death. Epithelial-to-mesenchymal transition (EMT) is a complex molecular and cellular process involved in tissue remodelling that was extensively studied as an actor of tumour progression, metastasis and drug resistance in many cancer types and in lung cancers. Here we described with an emphasis on NSCLC how the changes in signalling pathways, transcription factors expression or microRNAs that occur in cancer promote EMT. Understanding the biology of EMT will help to define reversing process and treatment strategies. We will see that this complex mechanism is related to inflammation, cell mobility and stem cell features and that it is a dynamic process. The existence of intermediate phenotypes and tumour heterogeneity may be debated in the literature concerning EMT markers, EMT signatures and clinical consequences in NSCLC. However, given the role of EMT in metastasis and in drug resistance the development of EMT inhibitors is an interesting approach to counteract tumour progression and drug resistance. This review describes EMT involvement in cancer with an emphasis on NSCLC and microRNA regulation.
View Full-Text
►

▼

Figures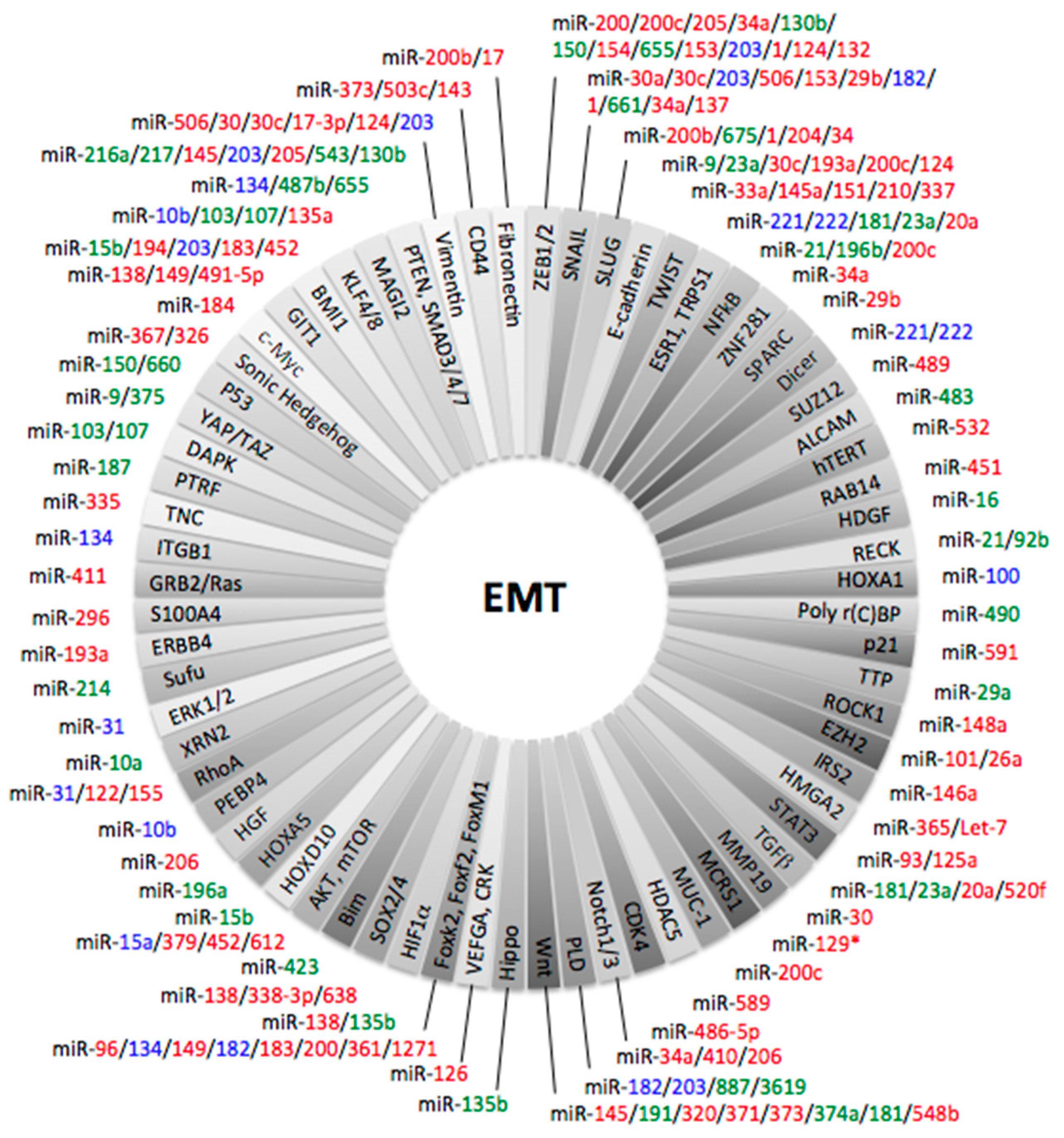 Figure 1
This is an open access article distributed under the
Creative Commons Attribution License
which permits unrestricted use, distribution, and reproduction in any medium, provided the original work is properly cited. (CC BY 4.0).
Share & Cite This Article
MDPI and ACS Style
Legras, A.; Pécuchet, N.; Imbeaud, S.; Pallier, K.; Didelot, A.; Roussel, H.; Gibault, L.; Fabre, E.; Le Pimpec-Barthes, F.; Laurent-Puig, P.; Blons, H. Epithelial-to-Mesenchymal Transition and MicroRNAs in Lung Cancer. Cancers 2017, 9, 101.
Note that from the first issue of 2016, MDPI journals use article numbers instead of page numbers. See further details here.
Related Articles
Comments
[Return to top]