Current and Prospective Protein Biomarkers of Lung Cancer
1
Laboratory for Biomolecular and Medical Technologies, Krasnoyarsk State Medical University named after prof. V.F. Voino-Yaseneckii, 1 P. Zheleznyaka, Krasnoyarsk 660022, Russia
2
Departments of Physiology, Krasnoyarsk State Medical University named after prof. V.F. Voino-Yaseneckii, 1 P. Zheleznyaka, Krasnoyarsk 660022, Russia
3
Federal Research Center, Siberian Branch of the Russian Academy of Science, 50/24 Akademgorodok, Krasnoyarsk 660036, Russia
4
Departments of Oncology and Radiation Theraphy, Krasnoyarsk State Medical University named after prof. V.F. Voino-Yaseneckii, 1 P. Zheleznyaka, Krasnoyarsk 660022, Russia
5
Krasnoyarsk Regional Clinical Cancer Center named after A.I. Kryzhanovsky, Krasnoyarsk 660133, Russia
6
Departments of Polyclinic therapy and Family Medicine, Krasnoyarsk State Medical University named after prof. V.F. Voino-Yaseneckii, 1 P. Zheleznyaka, Krasnoyarsk 660022, Russia
7
Independent Researcher Vancouver, 207-2145 York Avenue, Vancouver, BC V6K 1C4, Canada
8
Department of Chemistry and Biomolecular Sciences, University of Ottawa, Ottawa, ON K1N6N5, Canada
9
Departments of Pharmacology, Krasnoyarsk State Medical University named after prof. V.F. Voino-Yaseneckii, 1 P. Zheleznyaka, Krasnoyarsk 660022, Russia
*
Author to whom correspondence should be addressed.
Received: 12 October 2017 / Revised: 2 November 2017 / Accepted: 6 November 2017 / Published: 13 November 2017
Abstract
Lung cancer is a malignant lung tumor with various histological variants that arise from different cell types, such as bronchial epithelium, bronchioles, alveoli, or bronchial mucous glands. The clinical course and treatment efficacy of lung cancer depends on the histological variant of the tumor. Therefore, accurate identification of the histological type of cancer and respective protein biomarkers is crucial for adequate therapy. Due to the great diversity in the molecular-biological features of lung cancer histological types, detection is impossible without knowledge of the nature and origin of malignant cells, which release certain protein biomarkers into the bloodstream. To date, different panels of biomarkers are used for screening. Unfortunately, a uniform serum biomarker composition capable of distinguishing lung cancer types is yet to be discovered. As such, histological analyses of tumor biopsies and immunohistochemistry are the most frequently used methods for establishing correct diagnoses. Here, we discuss the recent advances in conventional and prospective aptamer based strategies for biomarker discovery. Aptamers like artificial antibodies can serve as molecular recognition elements for isolation detection and search of novel tumor-associated markers. Here we will describe how these small synthetic single stranded oligonucleotides can be used for lung cancer biomarker discovery and utilized for accurate diagnosis and targeted therapy. Furthermore, we describe the most frequently used in-clinic and novel lung cancer biomarkers, which suggest to have the ability of differentiating between histological types of lung cancer and defining metastasis rate.
View Full-Text
►

▼

Figures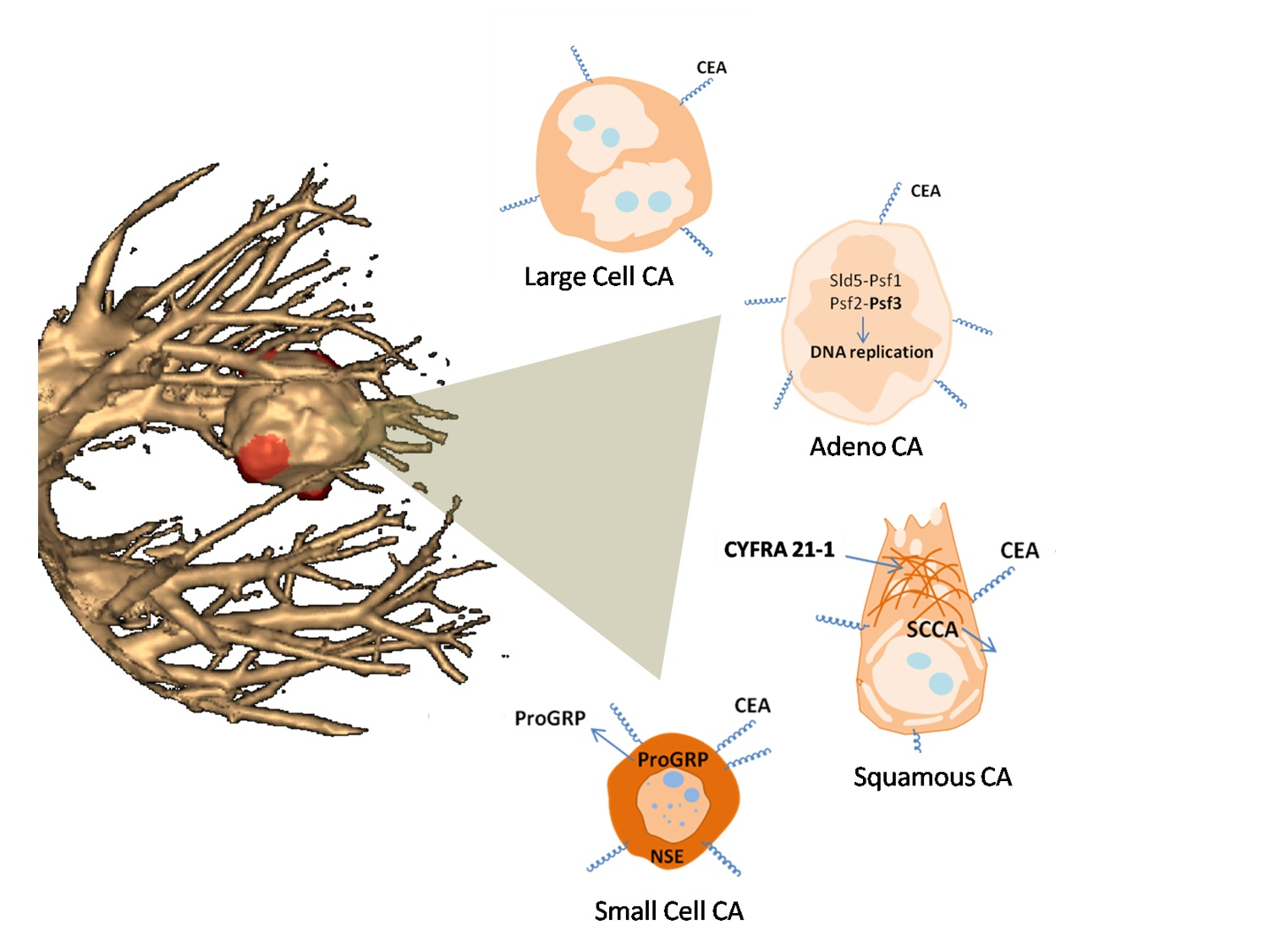 This is an open access article distributed under the
Creative Commons Attribution License
which permits unrestricted use, distribution, and reproduction in any medium, provided the original work is properly cited. (CC BY 4.0).
Share & Cite This Article
MDPI and ACS Style
Zamay, T.N.; Zamay, G.S.; Kolovskaya, O.S.; Zukov, R.A.; Petrova, M.M.; Gargaun, A.; Berezovski, M.V.; Kichkailo, A.S. Current and Prospective Protein Biomarkers of Lung Cancer. Cancers 2017, 9, 155.
Note that from the first issue of 2016, MDPI journals use article numbers instead of page numbers. See further details here.
Related Articles
Comments
[Return to top]