Identification of Serum Biomarkers for Biliary Tract Cancers by a Proteomic Approach Based on Time-of-Flight Mass Spectrometry
1
Department of Molecular Biology for Public Health, Shanghai Municipal Center for Disease Control and Prevention, 1380 Zhong Shan Xi Road, Shanghai, 200336, China
2
Department of Epidemiology, Shanghai Cancer Institute, 2200/25 Xie Tu Road, Shanghai, 200032, China
3
Department of Epidemiology, School of Public Health; Key Laboratory of Public Health Safety, Ministry of Education, Fudan University,138 Yi Xue Yuan Road, Shanghai, 200032, China
4
Department of Pathology, MD Anderson Cancer Center, Houston, TX, USA
5
Division of Cancer Epidemiology and Genetics, Department of Health and Human Services, National Cancer Institute, Bethesda, MD 20892-7234, USA
*
Author to whom correspondence should be addressed.
Received: 21 June 2010 / Revised: 5 August 2010 / Accepted: 16 August 2010 / Published: 18 August 2010
Abstract
Biliary tract cancers (BTCs) are lethal malignancies currently lacking satisfactory methods for early detection and accurate diagnosis. Surface-enhanced laser desorption/ionization time-of-flight mass spectrometry (SELDI-TOF-MS) is a promising diagnostic tool for this disease. In this pilot study, sera samples from 50 BTCs and 30 cholelithiasis patients as well as 30 healthy subjects from a population-based case-control study were randomly grouped into training set (30 BTCs, 20 cholelithiasis and 20 controls), duplicate of training set, and blind set (20 BTCs, 10 cholelithiasis and 10 controls); all sets were analyzed on Immobilized Metal Affinity Capture ProteinChips via SELDI-TOF-MS. A decision tree classifier was built using the training set and applied to all test sets. The classification tree constructed with the 3,400, 4,502, 5,680, 7,598, and 11,242 mass-to-charge ratio (
m/z
) protein peaks had a sensitivity of 96.7% and a specificity of 85.0% when comparing BTCs with non-cancers. When applied to the duplicate set, sensitivity was 66.7% and specificity was 70.0%, while in the blind set, sensitivity was 95.0% and specificity was 75.0%. Positive predictive values of the training, duplicate, and blind sets were 82.9%, 62.5% and 79.2%, respectively. The agreement of the training and duplicate sets was 71.4% (Kappa = 0.43, u = 3.98, P < 0.01). The coefficient of variations based on 10 replicates of one sample for the five differential peaks were 15.8–68.8% for intensity and 0–0.05% for m/z. These pilot results suggest that serum protein profiling by SELDI-TOF-MS may be a promising approach for identifying BTCs but low assay reproducibility may limit its application in clinical practice.
View Full-Text
►

▼

Figures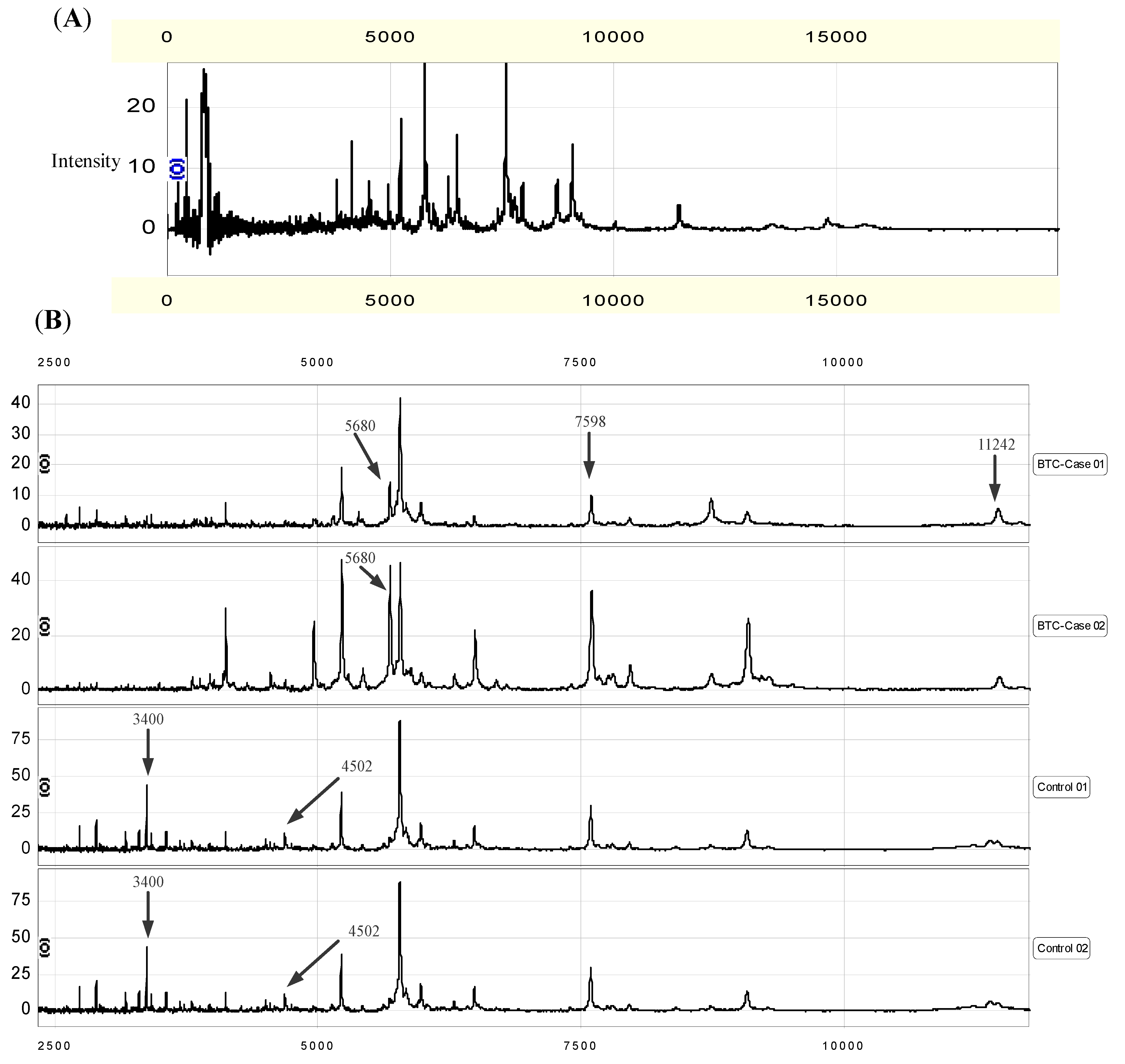 Figure 1
Share & Cite This Article
MDPI and ACS Style
Wang, W.-J.; Xu, W.-H.; Liu, C.-Z.; Rashid, A.; Cheng, J.-R.; Liao, P.; Hu, H.; Chu, L.W.; Gao, Y.-T.; Yu, K.; Hsing, A.W. Identification of Serum Biomarkers for Biliary Tract Cancers by a Proteomic Approach Based on Time-of-Flight Mass Spectrometry. Cancers 2010, 2, 1602-1616.
Related Articles
Comments
[Return to top]