Review on Mycotoxin Issues in Ruminants: Occurrence in Forages, Effects of Mycotoxin Ingestion on Health Status and Animal Performance and Practical Strategies to Counteract Their Negative Effects
1
Institute of Feed & Food Science and Nutrition, Università Cattolica del Sacro Cuore, Piacenza 29122, Italy
2
Department of Systems Biology, Technical University of Denmark, Building 221, Kgs. Lyngby DK-2800, Denmark
*
Author to whom correspondence should be addressed.
Academic Editor: Paola Battilani
Received: 15 June 2015 / Revised: 30 July 2015 / Accepted: 31 July 2015 / Published: 12 August 2015
Abstract
Ruminant diets include cereals, protein feeds, their by-products as well as hay and grass, grass/legume, whole-crop maize, small grain or sorghum silages. Furthermore, ruminants are annually or seasonally fed with grazed forage in many parts of the World. All these forages could be contaminated by several exometabolites of mycotoxigenic fungi that increase and diversify the risk of mycotoxin exposure in ruminants compared to swine and poultry that have less varied diets. Evidence suggests the greatest exposure for ruminants to some regulated mycotoxins (aflatoxins, trichothecenes, ochratoxin A, fumonisins and zearalenone) and to many other secondary metabolites produced by different species of
Alternaria
spp. (e.g., AAL toxins, alternariols, tenuazonic acid or 4Z-infectopyrone),
Aspergillus flavus
(e.g., kojic acid, cyclopiazonic acid or β-nitropropionic acid),
Aspergillus fuminatus
(e.g., gliotoxin,
agroclavine,
festuclavines or fumagillin),
Penicillium roqueforti
and
P. paneum
(e.g., mycophenolic acid,
roquefortines,
PR toxin
or marcfortines) or
Monascus ruber
(citrinin and monacolins) could be mainly related to forage contamination. This review includes the knowledge of mycotoxin occurrence reported in the last 15 years, with special emphasis on mycotoxins detected in forages, and animal toxicological issues due to their ingestion. Strategies for preventing the problem of mycotoxin feed contamination under farm conditions are discussed.
View Full-Text
►

▼

Figures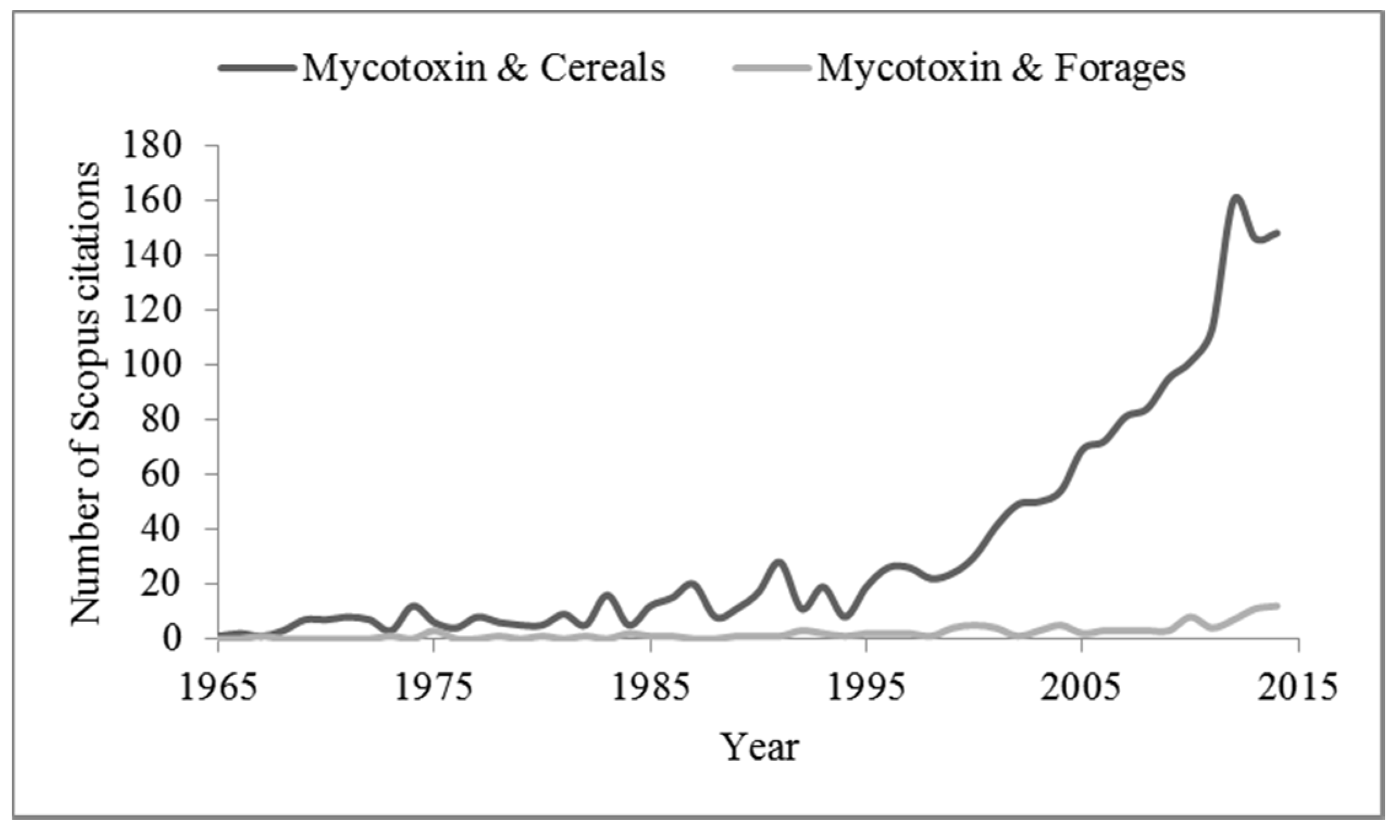 Figure 1
This is an open access article distributed under the
Creative Commons Attribution License
which permits unrestricted use, distribution, and reproduction in any medium, provided the original work is properly cited. (CC BY 4.0).
Share & Cite This Article
MDPI and ACS Style
Gallo, A.; Giuberti, G.; Frisvad, J.C.; Bertuzzi, T.; Nielsen, K.F. Review on Mycotoxin Issues in Ruminants: Occurrence in Forages, Effects of Mycotoxin Ingestion on Health Status and Animal Performance and Practical Strategies to Counteract Their Negative Effects. Toxins 2015, 7, 3057-3111.
Related Articles
Comments
[Return to top]