S‐Allylmercaptocysteine Attenuates Cisplatin‐Induced Nephrotoxicity through Suppression of Apoptosis, Oxidative Stress, and Inflammation
1
School of Pharmaceutical Sciences, Shandong University, 44 West Wenhua Road, Jinan 250012, China
2
Shandong Provincial Key Laboratory of Mucosal and Transdermal Drug Delivery Technologies, Shandong Academy of Pharmaceutical Sciences, 989 Xinluo Street, Jinan 250101, China
*
Authors to whom correspondence should be addressed.
Received: 13 November 2016 / Accepted: 18 January 2017 / Published: 20 February 2017
Abstract
Cisplatin is a potent chemotherapeutic agent, but its clinical usage is limited by nephrotoxicity. S‐allylmercaptocysteine (SAMC), one of the water‐soluble organosulfur garlic derivatives, has antioxidant and anti‐inflammatory properties and plays an important role in protecting cells from apoptosis. This study aims to examine the protective effects of SAMC on cisplatin nephrotoxicity and to explore the mechanism of its renoprotection. Rats were treated with cisplatin with or without pre‐treatment with SAMC. Renal function, histological change, oxidative stress markers and antioxidant enzyme activities were investigated. Apoptotic marker, nuclearfactor (NF)‐κB activity, expression of nuclear factor erythroid 2‐related factor 2 (Nrf2), NAD(P)H:quinone oxidoreductase 1 (NQO1) and inflammatory cytokines were also examined. The effect of SAMC on cell viability and apoptosis was examined in cultured human kidney (HK‐2) cells. SAMC was confirmed to significantly attenuate cisplatin‐induced renal damage by using histological pathology and molecular biological method. Pre‐treatment with SAMC reduced NF‐κB activity, up‐regulated Nrf2 and NQO1 expression and down‐regulated inflammatory cytokine levels after cisplatin administration. Cisplatin‐induced apoptosis in HK‐2 cells was significantly attenuated by SAMC. Thus our results suggest that SAMC could be a potential therapeutic agent in the treatment of the cisplatin‐induced nephrotoxicity through its anti‐apoptotic, anti‐oxidant and anti‐inflammatory effects.
View Full-Text
►

▼

Figures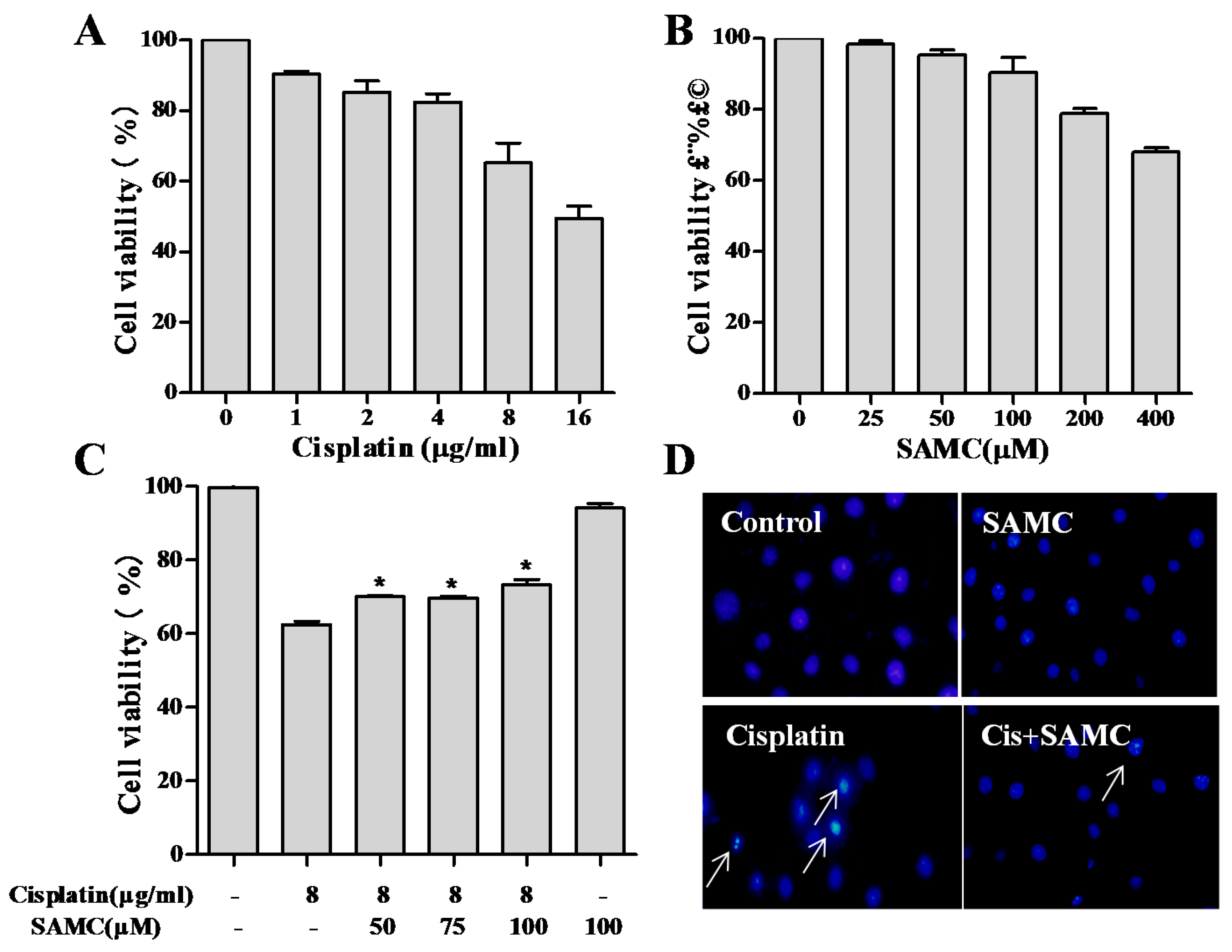 Figure 1
This is an open access article distributed under the
Creative Commons Attribution License
which permits unrestricted use, distribution, and reproduction in any medium, provided the original work is properly cited. (CC BY 4.0).
Share & Cite This Article
MDPI and ACS Style
Zhu, X.; Jiang, X.; Li, A.; Zhao, Z.; Li, S. S‐Allylmercaptocysteine Attenuates Cisplatin‐Induced Nephrotoxicity through Suppression of Apoptosis, Oxidative Stress, and Inflammation. Nutrients 2017, 9, 166.
Note that from the first issue of 2016, MDPI journals use article numbers instead of page numbers. See further details here.
Related Articles
Comments
[Return to top]