Dietary Patterns in Relation to Cardiovascular Disease Incidence and Risk Markers in a Middle-Aged British Male Population: Data from the Caerphilly Prospective Study
1
Division of Human Nutrition, Wageningen University, 6700AA Wageningen, The Netherlands
2
Hugh Sinclair Unit of Human Nutrition, Department of Food and Nutritional Sciences and Institute for Cardiovascular and Metabolic Research (ICMR), University of Reading, Reading RG6 6AP, UK
3
School of Sport, Exercise and Health Sciences, Loughborough University, Loughborough LE11 3TU, UK
4
Centre for Food, Nutrition and Health, Faculty of Life Sciences, University of Reading, Reading RG6 6AP, UK
*
Author to whom correspondence should be addressed.
Received: 18 November 2016 / Revised: 22 December 2016 / Accepted: 12 January 2017 / Published: 18 January 2017
Abstract
Dietary behaviour is an important modifiable factor in cardiovascular disease (CVD) prevention. The study aimed to identify dietary patterns (DPs) and explore their association with CVD incidence and risk markers. A follow-up of 1838 middle-aged men, aged 47–67 years recruited into the Caerphilly Prospective Cohort Study at phase 2 (1984–1988) was undertaken. Principal component analysis identified three DPs at baseline, which explained 24.8% of the total variance of food intake. DP1, characterised by higher intakes of white bread, butter, lard, chips and sugar-sweetened beverages and lower intake of wholegrain bread, was associated with higher CVD (HR 1.35: 95% CI: 1.10, 1.67) and stroke (HR 1.77; 95% CI: 1.18, 2.63) incidence. DP3, characterised by higher intakes of sweet puddings and biscuits, wholegrain breakfast cereals and dairy (excluding cheese and butter) and lower alcohol intake, was associated with lower CVD (HR 0.76; 95% CI: 0.62, 0.93), coronary heart disease (HR: 0.68; 95% CI: 0.52, 0.90) and stroke (HR: 0.68; 95% CI: 0.47, 0.99) incidence and a beneficial CVD profile at baseline, while DP1 with an unfavourable profile, showed no clear associations after 12 years follow-up. Dietary pattern 2 (DP2), characterised by higher intake of pulses, fish, poultry, processed/red meat, rice, pasta and vegetables, was not associated with the aforementioned outcomes. These data may provide insight for development of public health initiatives focussing on feasible changes in dietary habits.
View Full-Text
►

▼

Figures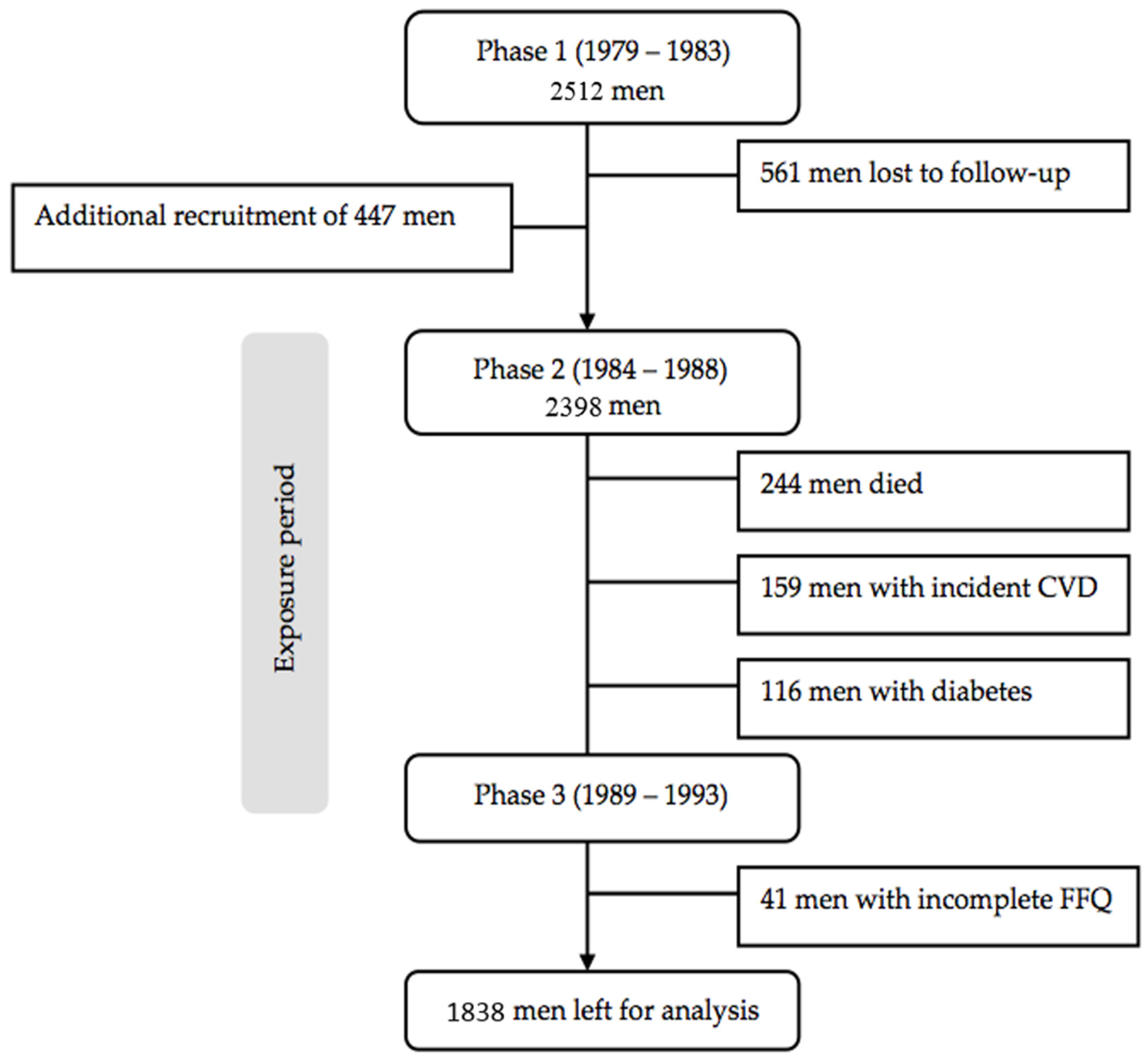 Figure 1
This is an open access article distributed under the
Creative Commons Attribution License
which permits unrestricted use, distribution, and reproduction in any medium, provided the original work is properly cited. (CC BY 4.0).
Share & Cite This Article
MDPI and ACS Style
Mertens, E.; Markey, O.; Geleijnse, J.M.; Givens, D.I.; Lovegrove, J.A. Dietary Patterns in Relation to Cardiovascular Disease Incidence and Risk Markers in a Middle-Aged British Male Population: Data from the Caerphilly Prospective Study. Nutrients 2017, 9, 75.
Note that from the first issue of 2016, MDPI journals use article numbers instead of page numbers. See further details here.
Related Articles
Comments
[Return to top]