The Distribution of Obesity Phenotypes in HIV-Infected African Population
1
Non-Communicable Diseases Research Unit, South African Medical Research Council, Cape Town 7505, South Africa
2
Department of Medicine, University of Cape Town, Cape Town 7935, South Africa
3
United Nations Population Fund (UNFPA), Mildmay Uganda PO Box 24985, Lweza, Uganda
4
Department of Biomedical Sciences, Faculty of Health and Wellness Science, Cape Peninsula University of Technology, Cape Town 7535, South Africa
5
Global Evaluation Science, Vancouver, BC V6H 3X4, Canada
*
Author to whom correspondence should be addressed.
Received: 21 March 2016 / Revised: 27 April 2016 / Accepted: 29 April 2016 / Published: 2 June 2016
Abstract
The distribution of body size phenotypes in people with human immunodeficiency virus (HIV) infection has yet to be characterized. We assessed the distribution of body size phenotypes overall, and according to antiretroviral therapy (ART), diagnosed duration of the infection and CD4 count in a sample of HIV infected people recruited across primary care facilities in the Western Cape Province, South Africa. Adults aged ≥ 18 years were consecutively recruited using random sampling procedures, and their cardio-metabolic profile were assessed during March 2014 and February 2015. They were classified across body mass index (BMI) categories as normal-weight (BMI < 25 kg/m
2
), overweight (25 ≤ BMI < 30 kg/m
2
), and obese (BMI ≥ 30 kg/m
2
), and further classified according to their metabolic status as "metabolically healthy"
vs.
"metabolically abnormal" if they had less than two
vs.
two or more of the following abnormalities: high blood glucose, raised blood pressure, raised triglycerides, and low HDL-cholesterol. Their cross-classification gave the following six phenotypes: normal-weight metabolically healthy (NWMH), normal-weight metabolically abnormal (NWMA), overweight metabolically healthy (OvMH), overweight metabolically abnormal (OvMA), obese metabolically healthy (OMH), and obese metabolically abnormal (OMA). Among the 748 participants included (median age 38 years (25th–75th percentiles: 32–44)), 79% were women. The median diagnosed duration of HIV was five years; the median CD4 count was 392 cells/mm
3
and most participants were on ART. The overall distribution of body size phenotypes was the following: 31.7% (NWMH), 11.7% (NWMA), 13.4% (OvMH), 9.5% (OvMA), 18.6% (OMH), and 15.1% (OMA). The distribution of metabolic phenotypes across BMI levels did not differ significantly in men
vs.
women (
p =
0.062), in participants below
vs.
those at or above median diagnosed duration of HIV infection (
p
= 0.897), in participants below
vs.
those at or above median CD4 count (
p
= 0.447), and by ART regimens (
p
= 0.205). In this relatively young sample of HIV-infected individuals, metabolically abnormal phenotypes are frequent across BMI categories. This highlights the importance of general measures targeting an overall improvement in cardiometabolic risk profile across the spectrum of BMI distribution in all adults with HIV.
View Full-Text
►

▼

Figures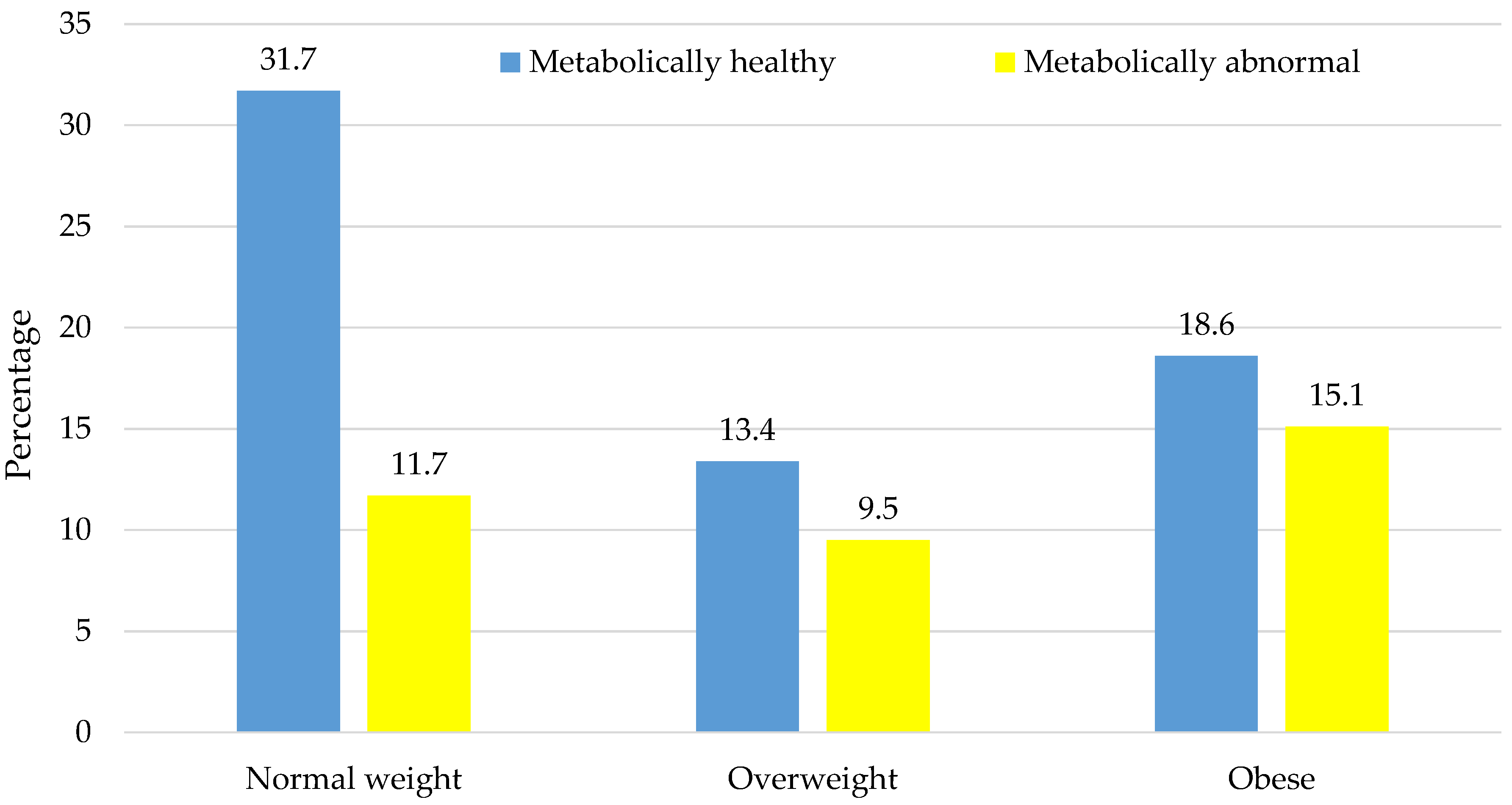 Figure 1
This is an open access article distributed under the
Creative Commons Attribution License
which permits unrestricted use, distribution, and reproduction in any medium, provided the original work is properly cited. (CC BY 4.0).
Share & Cite This Article
MDPI and ACS Style
Nguyen, K.A.; Peer, N.; de Villiers, A.; Mukasa, B.; Matsha, T.E.; Mills, E.J.; Kengne, A.P. The Distribution of Obesity Phenotypes in HIV-Infected African Population. Nutrients 2016, 8, 299.
Note that from the first issue of 2016, MDPI journals use article numbers instead of page numbers. See further details here.
Related Articles
Comments
[Return to top]