Open Access This article is
freely available
re-usable
Review
Metabolic Inflammation-Differential Modulation by Dietary Constituents
Nutrigenomics Research Group, UCD Conway Institute of Biomolecular and Biomedical Research and UCD Institute of Food and Health, University College Dublin, Belfield, Dublin 4, Ireland
*
Correspondence: Tel.: +353-1-716-6845
Received: 3 February 2016 / Accepted: 21 April 2016 / Published: 27 April 2016
Abstract
: Obesity arises from a sustained positive energy balance which triggers a pro-inflammatory response, a key contributor to metabolic diseases such as T2D. Recent studies, focused on the emerging area of metabolic-inflammation, highlight that specific metabolites can modulate the functional nature and inflammatory phenotype of immune cells. In obesity, expanding adipose tissue attracts immune cells, creating an inflammatory environment within this fatty acid storage organ. Resident immune cells undergo both a pro-inflammatory and metabolic switch in their function. Inflammatory mediators, such as TNF-α and IL-1β, are induced by saturated fatty acids and disrupt insulin signaling. Conversely, monounsaturated and polyunsaturated fatty acids do not interrupt metabolism and inflammation to the same extent. AMPK links inflammation, metabolism and T2D, with roles to play in all and is influenced negatively by obesity. Lipid spillover results in hepatic lipotoxicity and steatosis. Also in skeletal muscle, excessive FFA can impede insulin's action and promote inflammation. Ectopic fat can also affect pancreatic β-cell function, thereby contributing to insulin resistance. Therapeutics, lifestyle changes, supplements and dietary manipulation are all possible avenues to combat metabolic inflammation and the subsequent insulin resistant state which will be explored in the current review.
Keywords:
nutrition; metabolic-inflammation; diet; insulin resistance; fatty acids; adipose tissue; liver; muscle; pancreas
1. Introduction
Obesity is caused by chronic energy imbalance, wherein calorie intake exceeds calorie expenditure, leading to weight gain over time. Overweight is defined as a body mass index (BMI) greater than 25 kg/m
2
, with a BMI greater than 30 kg/m
2
being defined as obese. The obese state is associated with chronic low-grade inflammation within the metabolic tissues, often referred to as metabolic-inflammation, or "meta-inflammation" [
1
]. Several events trigger and propagate this sub-acute, chronic inflammatory state which is characteristic of obesity. Exposure to free fatty acids (FFA) which initiate inflammatory signaling, immune cell infiltration and a shift in inflammatory cell populations contribute to inflammation in metabolic tissues. Under normal weight conditions, adipose tissue has the capacity to store FFA effectively. However, in the obese state, the storage capacity of adipose tissue is exceeded. In this case FFA "spill over" and accumulate in metabolic tissues such as skeletal muscle, liver and pancreas causing lipotoxicity [
2
]. Excess FFA in turn can activate inflammatory pathways and impair normal cell signaling within immune cells, adipose tissue, liver and muscle, causing cellular dysfunction [
3
]. Consequently, metabolic disorders such as insulin resistance and type 2 diabetes (T2D) can develop, as illustrated in
Figure 1
.
Adipose tissue is the main storage organ involved in energy homeostasis and it also functions as an endocrine organ. The adipose tissue is composed of adipocytes and the smaller, albeit equally important stromal vascular fraction (SVF), which contains a range of immune cells, fibroblasts and pre-adipocytes. Other organs that play a vital role in metabolism are liver, muscle and the pancreas. The liver is the main site of glucose production and the muscle the main site of glucose disposal. Critical to the regulation of glucose uptake is the hormone insulin, produced and secreted by the pancreas. Obesity acts as a nutritional stressor not only modifying adipose metabolism, but also by substantial lipid spill over into the other metabolic organs, the culmination of which leads to insulin resistance and T2D. In obesity, the immune cell compartment in adipose plays a critical role in the development of metabolic disease. The immune system is pivotal to this whole process and the link between nutrition (with a specific focus of fatty acid composition), inflammation and metabolism will be the focus of this review.
2. Mechanisms of Metabolic-Inflammation in Adipose Tissue
2.1. Immune Cell Infiltration
Immune cells are paramount to the initiation and propagation of metabolic-inflammation, with the adipose tissue acting as the initial site of obesity-induced inflammation. With increasing weight, the adipose tissue expands to deal with the need to store excess nutrients. Adipose tissue expansion can occur in two ways, with hyperplasia or hypertrophy, an increase in adipocyte number or size, respectively. Hypertrophic obesity is associated with expansion of existing adipocyte size, wherein the morphology shows greater adipocyte volume. Hypertrophic obesity is usually associated with insulin resistance. Hyperplasic adipose is associated with insulin sensitivity. The adipocytes increase in number, and are therefore better equipped to deal with the demand for excess energy/lipid storage. Enhanced adipogenesis, the process wherein adipocytes are formed, is associated with hyperplasic adipose. Adipogenesis is impeded by inflammatory mediators, such as caspase-1 and interleukin-1 beta (IL-1β) [
5
]. Casp1−/− animals fed a high-fat diet (HFD) display smaller adipocytes, with reduced adipose mass. In addition, the composition of the HFD may affect adipose morphology. We showed that a saturated fatty acid (SFA) enriched HFD, derived from palm oil, induced hypertrophic adipose. In contrast, a monounsaturated fatty acid (MUFA) enriched HFD derived from oleate was associated with a hyperplasic adipocytes and improved insulin sensitivity [
6
]. This highlights the concept that adipose morphology may confer differential functionality.
Resident mast immune cells help facilitate growth through extracellular remodeling [
7
]. Along with the help of adipose tissue macrophages (ATM) and endothelial cells [
8
], mast cells provide increased angiogenesis to ensure the tissue has adequate vasculature and blood supply to complete the expansion process [
9
]. Adipocytes can become stressed with the increased workload, leading to obesity-induced adipocyte cell death, a process correlated to increased adipocyte size [
10
]. Within this context, the initial infiltration of immune cells from the periphery into the adipose tissue [
11
] is thought to be a protective mechanism. Their role is to clear the necrotic adipocytes, as indicated by their localization in crown-like structures (CLS), surrounding these cells in a syncytia containing the scavenged free lipid of the adipocyte [
8
,
12
].
Adipose tissue secretes a range of chemokines, which supports its role as an endocrine organ. This "immuno-phenotype" reflects the infiltration and proliferation of several immune cells. Monocyte chemoattractant protein 1 (MCP-1) recruits immune cells and acts as a beacon leading their way to sites of infection and inflammation [
13
]. Immune cell number is positively correlated with increasing adiposity [
11
]. Increasing macrophage and T cell infiltration is also observed in the skeletal muscle [
14
] of obese humans and in the liver [
15
] of mice with diet-induced obesity (DIO). Immune cell infiltration is one of the earliest events observed in the obese setting, with pro-inflammatory gene expression preceding hyperinsulinemia [
12
]. Nishimura and colleagues demonstrated that pro-inflammatory CD8+ T cells, followed by macrophages, entered the adipose tissue as early as four weeks on a HFD. Adipose tissue itself can activate T cells [
8
], which are necessary for the migration, differentiation and activation of macrophages. Upon HFD feeding, the antigen presenting dendritic cells (DC) infiltrate the adipose tissue and display an increased activation state [
16
]. There is also a subsequent decrease in the numbers of anti-inflammatory cells, such as T regulatory (Treg) and anti-inflammatory macrophages [
8
,
17
]. As the immune cells do not have a real target to overcome, they remain in the adipose tissue long after they are needed, contributing to the chronic low-grade inflammation, one of the characteristic hallmarks of metabolic dysregulation. Weight loss has been shown to reduce immune cell number within this depot [
18
], indicating that obesity itself is one of the main drivers of immune cell infiltration.
2.2. Adipose Tissue Macrophages (ATM)
ATMs are vital components of metabolic-inflammation. The ATM population increases from 10%–15% to 45%–60% with the progression of obesity [
11
]. Macrophages were once thought to have either an M1 pro-inflammatory or M2 anti-inflammatory phenotype [
19
], but are now believed to exist across a spectrum. With obesity existing, resident immune cells in adipose tissue undergo a phenotypic switch from M2 to M1, resulting in a pro-inflammatory immuno-phenotype. The nature of macrophage polarization can be affected by fatty acid composition. For example, saturated fatty acids (e.g., palmitic acid (PA)) activate pro-inflammatory M1 genes (tumor necrosis factor alpha (Tnfα), interleukin-6 (Il6)). In contrast, MUFA (e.g., palmitoleate (PO)), activates and promotes the pro-resolving M2 (arginiase-1 (Arg1), interleukin-10 (Il10)) phenotype [
20
]. Interestingly, Kratz
et al
. identified a distinct population of metabolically activated macrophages (MMe), following palmitate, glucose and insulin challenge [
21
]. Mme macrophages displayed M2 markers of lipid metabolism, adenosine triphosphate (ATP)-binding cassette transporter (ABCA1), cluster of differentiation 36 (CD36) and perilipn 2 (PLIN2), They also secreted similar levels of pro-inflammatory cytokines to that of M1 classical macrophages. However, typical M2 markers, mannose receptor (CD206), and M1 cell surface markers, cluster of differentiation (CD38), were absent in the MMe. ATM from obese human subjects and mice had a similar profile to that of MMe demonstrating their existence
in vivo
and a positive correlation with increased adiposity. Peroxisome proliferator-activated receptor gamma (PPARγ) and sequestome-1 (p62) were responsible for promotion of the cell surface receptors of MMe and restrict the secretion of pro-inflammatory cytokines, such as IL-1β. M2 macrophages are responsible for maintaining the adipose tissue in an insulin sensitive state, through the anti-inflammatory action of IL-10 and signal transducer and activator of transcription 3 (STAT3) pathways [
19
], whereas M1 secrete pro-inflammatory cytokines contributing to insulin resistance. Also, our work demonstrated that the immuno-phenotype of ATM can differ in response to HFDs, despite equal ATM numbers. Adipose cytokine secretion was markedly attenuated despite a HFD in IL-1RI−/− mice with equivalent ATM number, compared to wild-type (WT) [
22
]. Hence, both the ATM numbers and the nature of the metabolic agonist can define the nature and functionality of ATM in obesity.
2.3. Differential Modulation of Inflammatory Mediators in Obesity
2.4. Integration of Metabolism and Immune Responses
2.5. Role of AMPK in Metabolic Inflammation
3. Consequence of "Meta-Inflammation" in Metabolic Organs
3.1. Liver
The liver plays a central role in maintaining metabolic homeostasis, regulating the processes of lipogenesis, gluconeogenesis and cholesterol metabolism. However, obesity induced lipotoxicity and associated metabolic inflammation negatively impacts on hepatic lipid and glucose metabolism [
54
]. Lipotoxicity refers to the adverse effect of lipid accumulation on glucose and insulin metabolism [
55
]. Hepatic lipotoxicity develops when the liver exceeds its capacity to store and use fatty acids in the form of TAG. TAG stored in the liver are inert, however, when the liver's storage capacity is exceed TAG are hydrolyzed back to fatty acyl CoA at a rate that exceeds the cells' oxidative requirements [
56
]. This drives the formation of other potentially harmful lipid species such as ceramides, acyl CoAs,
etc.
[
57
]. Hepatic lipotoxicity may also reflect dysregulated fatty acid oxidation with the formation of ROS; disturbances in cellular membrane fatty acid and phospholipid composition; alterations of cholesterol content and through ceramide signaling [
58
]. Lipotoxicity drives the development of non-alcoholic fatty liver disease (NAFLD) by inducing a cascade of events including: hepatocellular death; activating Kupffer cells and an inflammatory response; and impaired insulin signaling; ultimately resulting in hepatic insulin resistance [
58
]. Hepatic insulin resistance is further driven by steatosis which impairs insulins ability to inhibit hepatic glucose production and stimulate glycogen synthesis [
59
]. Steatosis activates I kappa B kinase complex β (IKK-β) and NF-κB which upregulates IL-6 secretion [
60
]. IL-6 again in turn induces hepatocyte insulin resistance [
61
].
Excessive hepatic lipid accumulation is caused by an increase in endogenous fatty acid synthesis and FFA overflow from adipocytes into the liver [
54
]. The progression of NAFLD to non-alcoholic steatohepatitis (NASH) has been well reviewed elsewhere [
62
,
63
]. While there are numerous mechanisms implicated in the development of NASH, as in obesity, low adiponectin and increased TNF-α levels are hallmarks of the condition [
63
,
64
]. Hepatic lipotoxicity is an important pathophysiology associated with metabolic inflammation, which future therapeutics need to target. Therapies which improve insulin signaling and prevent the development of insulin resistance remain important strategies for reducing hepatic lipotoxicity and associated diseases such as NAFLD. Even moderate weight loss can result in improvements in hepatic insulin sensitivity [
65
].
3.2. Muscle
Skeletal muscle is responsible for approximately 80% of the glucose uptake in the body following insulin stimulation [
66
]. Therefore, conditions which impair insulin signaling, such as obesity induced metabolic inflammation, also impair skeletal muscle glucose metabolism. Lipotoxicity, with excessive intra-myocellular lipid accumulation, inhibits skeletal muscles ability to adequately respond to insulin signaling [
67
]. Again, lipid "overspill" from adipose tissue which has reached its storage capacity is stored in skeletal muscle in the form of TAG and other FFA. Excess FFA cause lipotoxicity and negatively impact on skeletal muscle insulin sensitivity [
68
]. The hypothesis that excess FFA induces insulin resistance is well established [
69
,
70
].
In vitro
, treatment of myotubes with FFA decreases glycogen synthesis and glucose uptake and impedes insulin receptor signaling through Akt [
71
].
In vivo
, lipid infusions drive skeletal muscle insulin resistance by decreasing insulin stimulated glucose metabolism and inhibiting IRS-1-associated phosphoinositide 3-kinase (PI3K) activity [
69
,
72
]. Itani and colleagues [
73
] show that acutely increasing plasma FFA levels during a hyperinsulinemic-euglycaemic clamp induces insulin resistance in human muscle. This induction of insulin resistance is associated with an increase in total membrane-associated PKC activity, translocation of the protein kinase C-β (PKC-β) and δ from the cytosol to the cell membrane, an increase in diacylglycerol (DAG) mass and a 70% decrease in the abundance of IκB-α, an inhibitor of NF-κB [
73
].
SFA derived from a HFD or LPS derived from the gut can impair insulin signaling through TLR4 to activate the NF-κB pathway [
24
,
74
] and prime the Nlrp3 inflammasome [
16
]. In this way, increased FFA plasma levels inhibit insulin signaling leading to reduced glucose transport activity which ultimately causes skeletal muscle insulin resistance [
72
]. Lipid induced insulin resistance in humans also results in alterations in DAG/PKC signaling [
73
]. Activation of PKC could induce insulin resistance through numerous mechanisms; one such mechanism is by increasing oxidative stress and activating the IKK-β/IκB-α/NF-κB pathway further driving inflammation and disrupting insulin signaling [
73
]. Other fatty acid derivatives, such as ceramides, also play a role in the development of insulin resistance. Obesity is associated with increased ceramide content in muscle which coincides with reduced insulin stimulated Akt phosphorylation [
75
]. Increased ceramide content can reduce insulin stimulated glucose uptake, the deleterious effects probably also reflect other FFA derivatives such as fatty acyl CoA or DAG [
75
].
Insulin signaling is not only important in terms of skeletal muscle glucose metabolism but also in terms of amino acid metabolism. Insulin also regulates muscle protein synthesis via activation of the mammalian target of rapamycin (mTOR) pathway [
76
]. Insulin resistance in skeletal muscle blunts its ability to adequately synthesize new protein in response to anabolic stimuli, such as amino acids [
77
]. Obesity impairs both skeletal muscle protein synthesis and whole body anabolic response to hyperinsulinemia and hyperaminoacidemia [
78
,
79
]. Stephens and colleagues [
77
] have shown that excess lipid availability can impede skeletal muscle glucose metabolism and amino acid metabolism, characteristic of insulin resistance and anabolic resistance, respectively. These findings were consistent irrespective of physical activity and diet-induced alterations in body composition. Overall DIO and the resulting state of chronic metabolic-inflammation negatively impact on skeletal muscle metabolism through a variety of mechanisms. Therefore, targeting the source of the problem—excess FFA and inflammation—seems an obvious approach, however, the best manner in which to target this approach is difficult to determine.
3.3. Pancreas
Similar to the liver and skeletal muscle, the pancreas is a metabolic organ negatively impacted by obesity induced lipotoxicity and glucotoxicity. Glucotoxicity in this case refers to the deleterious effect of chronic hyperglycemia on the pancreatic beta (β)-cells [
80
]. Obesity associated insulin resistance increases the metabolic demand on pancreatic β-cells. Excess FFA signal an increase in β-cell mass, insulin biosynthesis and insulin secretion in order to maintain normoglycemia and cellular homeostasis [
81
]. Eventually, the β-cells are unable to continue this compensatory mechanism and hyperglycemia ensues, driven by the elevated FFA levels [
82
]. The combined deleterious effects of glucotoxicity and lipotoxicity, referred to as glucolipotoxicity, eventually causes β-cell failure characteristic of T2D [
82
]. Chronic hyperglycemia as in obesity induced insulin resistance drives the development of glucotoxicity. Glucotoxicity results in a decrease in insulin gene expression in the pancreatic β-cells, characterized by a decrease in insulin synthesis and secretion [
83
]. ROS produced during glucose metabolism results in chronic oxidative stress which poses another potential mechanism for the development of glucotoxicity [
84
].
Interestingly, there seems to be a difference in the potential detrimental effects of different fatty acids on β-cell health. Elevated glucose and PA synergize to induce β-cell toxicity and caspase-3 mediated apoptosis [
85
] in a pancreatic cell line and isolated human islets [
86
]. Although linoleic acid (LA) induced cytotoxicity to some degree, this did not reach significance. Interestingly, OA was non-toxic, even at elevated glucose concentrations. In a similar study, but in human islets, PO or OA prevented PA/glucose induced β-cell death. OA and PO had other beneficial effects, increasing β-cell proliferation, reducing anti-apoptotic markers; increasing insulin content and secretory capacity of the β-cell [
85
]. OA and LA amplified glucose stimulated-insulin secretion through G-protein coupled receptor 40 (GPR40) [
87
].
In vivo
, feeding a MUFA-HFD was capable of significantly increasing insulin secretion in response to a glucose challenge in a mouse model of obesity-induced insulin resistance compared to SFA-HFD [
6
]. Glucose was shown to inhibit fatty acid oxidation in islets, indicating that partitioning toward oxidation and away from esterification may be a protective mechanism [
86
]. Activation of AMPK with either metformin or AICAR inhibited the PA-induced cell death, demonstrating another of the pleiotropic roles that AMPK has within fatty acid induced metabolic dysfunction [
86
].
Islet amyloid polypeptide (IAPP) is a peptide secreted from the pancreas with insulin, which forms aggregates in T2D and can have inflammatory consequences. Human amyloidogenic IAPP activates the Nlrp3 inflammasome to release pro-inflammatory IL-1β from immune cells present in the pancreatic islets [
88
]. Sufficient glucose metabolism is required for the priming step in this process, as 2-deoxy-
d
-gluocse (2-DG) treatment inhibited the IAPP-induction of IL-1β. HFD feeding in a mouse model with a transgenic form of IAPP confirmed that it could activate IL-1β in an
in vivo
setting [
88
]. Nlrp3 was further implicated in causing obesity-induced pancreatic damage in a mouse model of obesity [
89
]. Interestingly, Nlrp3−/− and ASC−/− mice on a HFD for one year had increased insulin levels but were still protected against insulin resistance, displaying β-cell compensatory protective mechanisms at play. Nlrp3 also had roles in causing islet fibrosis and β-cell death, common occurrences in obesity-induced pancreatic damage. Given the important role that obesity and different dietary constituents play in causing obesity associated metabolic-inflammation, we next describe the various therapeutic and dietary changes that can be used to improve the phenotype in humans.
4. Therapies to Improve Inflammation and Metabolic Health
5. Future Perspectives and Conclusions
As discussed throughout this review, metabolic-inflammation in the metabolic and immune cells of adipose, liver, pancreas and skeletal muscle contributes to the development of obesity induced insulin resistance and T2D. Hypertrophic adipose tissue occurs in obesity with reduced adipogenesis and the inability to maintain insulin sensitivity. Initial immune cell infiltration is a protective mechanism, but with increasing adiposity, immune cell number and chemokine secretion proportionally increase. The immune cells undergo a phenotypic switch from M2 anti-inflammatory to M1 pro-inflammatory, with the Mme in between the two. SFA, namely PA, induce the former, with MUFA and PUFA influencing the latter phenotypes. Inflammatory mediators can inhibit insulin signaling and glucose transport and worsen the already established inflammation within the metabolic tissues. TNF-α and IL-1β are two of the major players in this event. Inflammation and diet combined can determine the metabolic pathway utilized by the cell. Inflammation undergoes metabolic reprogramming, with a switch from energy efficient oxidative phosphorylation to the less efficient glycolysis. Downstream metabolites from this can then feedback and cause further inflammation and oxidative stress. The energy sensor, AMPK, has been shown to be involved in metabolic fatty acid oxidation, while having an anti-inflammatory effect induced by OA and PO. Conversely, pAMPK is decreased in obesity and with SFA. Lipid "spillover" from the expanding adipose tissue ends up causing lipotoxicity and hepatic steatosis within the liver, which is ill equipped to deal with excess FFA. The skeletal muscles' inability to respond effectively to insulin is a direct result of lipid accumulation within this tissue. Furthermore, PA can activate the NF-κB pathway exacerbating the situation. The pancreas is sensitive to hyperglycemia and develops glucotoxicity as a result. This can lead to β-cell dysfunction and eventual failure, with the pancreas being the instrumental organ in insulin secretion. Obesity
per se
is a nutritional stressor at the heart of the metabolic-inflammatory environment. Lifestyle interventions and weight loss are effective but difficult to maintain. There are many therapeutics available, however, their incomplete effects or side effects mean there is no one cure for all the symptoms of metabolic-inflammation and insulin resistance. Dietary manipulation of fat quality is an attractive option but mixed results make it hard to enforce.
Discrepancies between
in vitro
, animal and human studies make it difficult to ascertain the exact mechanisms at play and, more importantly, how best to treat them. Although
in vitro
and animal studies provide an opportunity for mechanistic examination of the pathways involved using genetic deletion, inhibition with drugs, treatments with individual dietary components and use of elaborate techniques; these are not all possible in human studies. The lack of translation between these models and humans is understandable; however, the lack of consistency and findings among human studies is harder to accept. Various factors including differences in study design, doses of nutrients and drugs utilized, combination of nutrients within a human diet, lifestyle, and many other aspects could be confounding the results from human intervention studies. The interplay between different fatty acids, inflammatory cytokines, metabolic pathways and nutrient and pathogen sensing pathways further complicate the field. Further investigation is required to decipher if dietary fatty acids affect the metabolic switch in immune cells and how metabolites can affect the immune and metabolic tissues. Metabolism and inflammation have not yet been effectively demonstrated in human studies and warrant further research. More combination studies are required as different inflammatory mediators interact and synergize with one other, the same of which is true for dietary constituents. Regression of the insulin resistant phenotype needs more attention as, realistically, this is the scenario we are attempting to address in the human setting. The complexity of all these pathways in obesity leading to adipose tissue expansion, lipotoxicity, glucotoxicity, inhibition of insulin signaling, and low-grade chronic inflammation means there are multiple sites that require targeting. Given the specificity, high cost and adverse effects of pharmaceuticals, perhaps, nutrient therapies are the better option. Nutritional interventions allow for easier combination therapies, with fewer side effects, and also allow for longer term treatment. A whole body approach is required which involves weight loss, and use of anti-inflammatories, insulin sensitizers and anti-oxidants in order to fully combat obesity-induced metabolic-inflammation and its subsequent diseases.
Acknowledgments
C.L.L. and H.M.R. are supported by the Science Foundation Ireland Principal Investigator Award (SFI PI 11/PI/1119). E.B.K. and H.M.R. are supported by Enterprise Ireland (TC2013-0001). H.M.R. is supported by the Irish Department of Agriculture, Food and the Marine (13/F/514, "GrassBeef").
Author Contributions
C.L.L. and E.B.K. wrote the review. H.M.R. advised on content, wrote and critically evaluated the manuscript. All authors approved the final submission.
Conflicts of Interest
The authors declare no conflict of interest.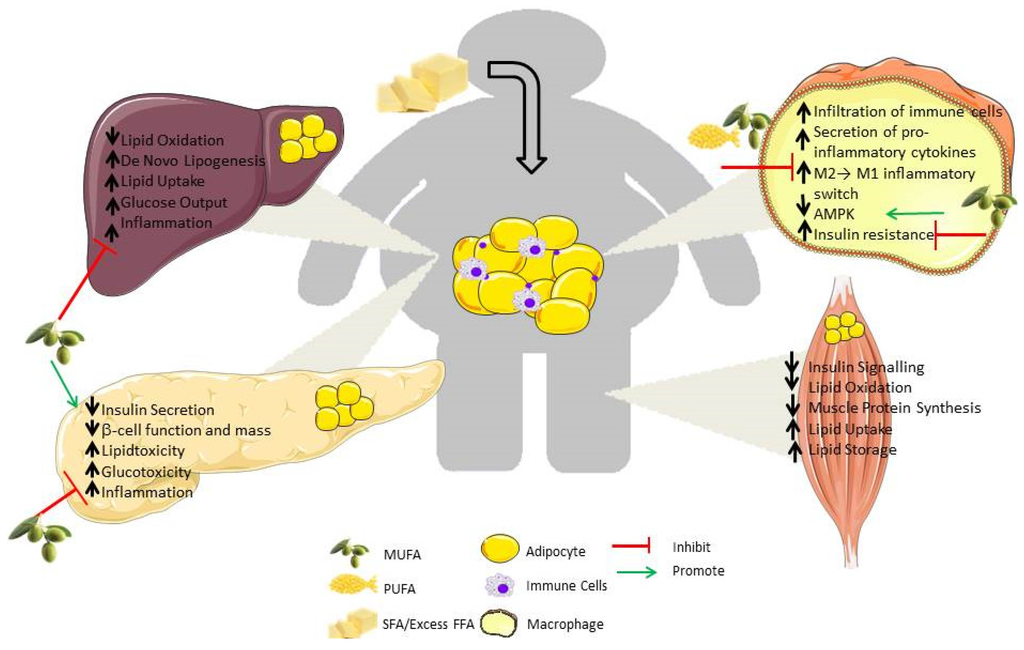 Figure 1.
Metabolic-inflammation: Implication of free fatty acid (FFA) driven insulin resistance on the major metabolic organs. As adipose tissue expands due to excess nutrients, immune cells infiltrate causing chronic low-grade inflammation and metabolic changes. Ectopic lipid spill-over from the adipose to the liver, muscle and pancreas results in glucotoxicity and lipotoxicity. All of these disruptions culminate in impaired insulin signaling, dysregulated glucose homeostasis and development of insulin resistance and type 2 diabetes (T2D). Differential modulation by fatty acids occurs, whereby saturated fatty acids (SFA) exacerbate the situation, while monounsaturated fatty acids (MUFA) and polyunsaturated fatty acids (PUFA) reduce this metabolic inflammatory state. (This figure was prepared using the Servier medical art website [
4
].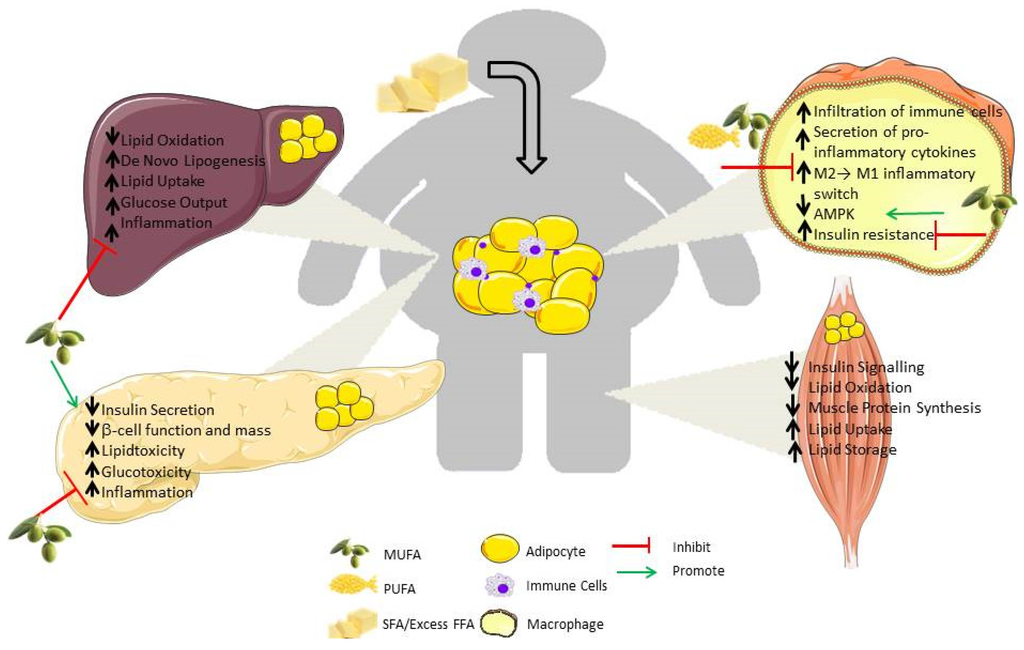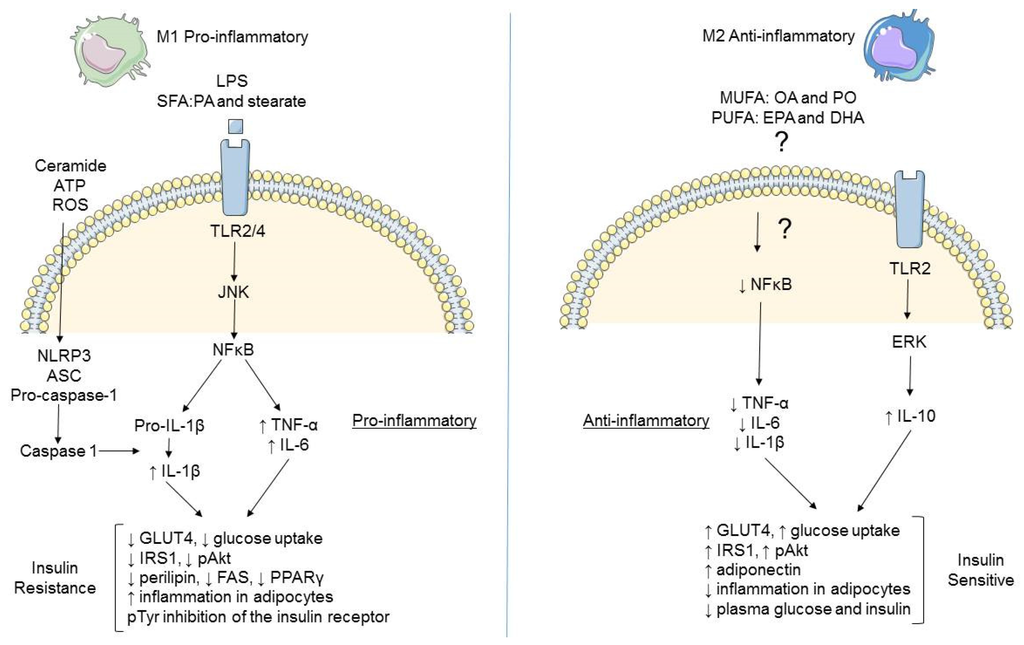 Figure 2.
Inflammatory pathways in M1 and M2 macrophages. M1 pro-inflammatory macrophages are induced by saturated fatty acids (SFA) and lipopolysaccharide (LPS) to generate pro-inflammatory signaling through nuclear factor kappa B (NFkB) to produce tumour necrosis factor alpha (TNF-α) and interleukin-6 (IL-6). Subsequent stimulation by ceramides, adenosine triphosphate (ATP) or reactive oxygen species (ROS) leads to assembly of the nod-like receptor (Nlrp3) inflammasome and processing of pro-interleukin-1 beta (IL1β) to active IL-1β through cleavage by caspase-1. Pro-inflammatory cytokines negatively impact glucose homeostasis and insulin signaling, resulting in insulin resistance in neighbouring cells. M2 anti-inflammatory macrophages are induced by monounsaturated fatty acids (MUFA) and polyunsaturated fatty acids (PUFA) acting via receptors, which are currently unidentified, with increased interleukin-10 (IL-10) secretion along with a reduction in pro-inflammatory markers. This results in improved insulin sensitivity and a less inflammatory environment. TLR = toll-like receptor, ASC = apoptosis like speck protein, GLUT4 = glucose transporter type 4, IRS = insulin receptor substrate, FAS = fatty acid synthase. PPARγ = peroxisome proliferator activated receptor gamma, OA = oleic acid, PO = palmitoleate, EPA = eicosapentaenoic acid, DHA = docosahexaenoic, ERK = extracellular regulated kinase. (This figure was prepared using the Servier medical art website [
4
]).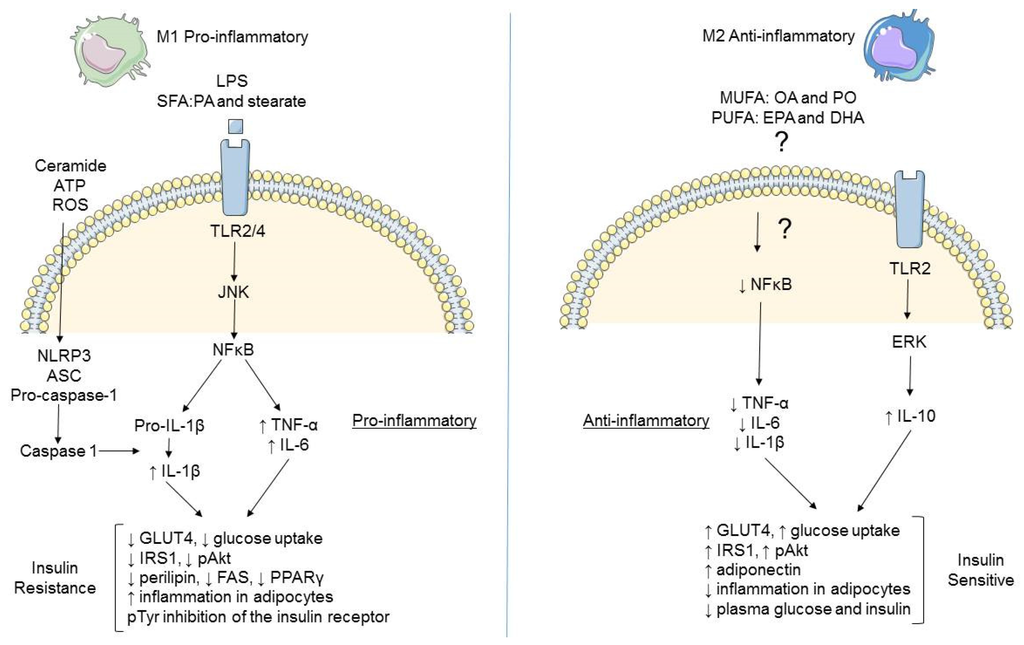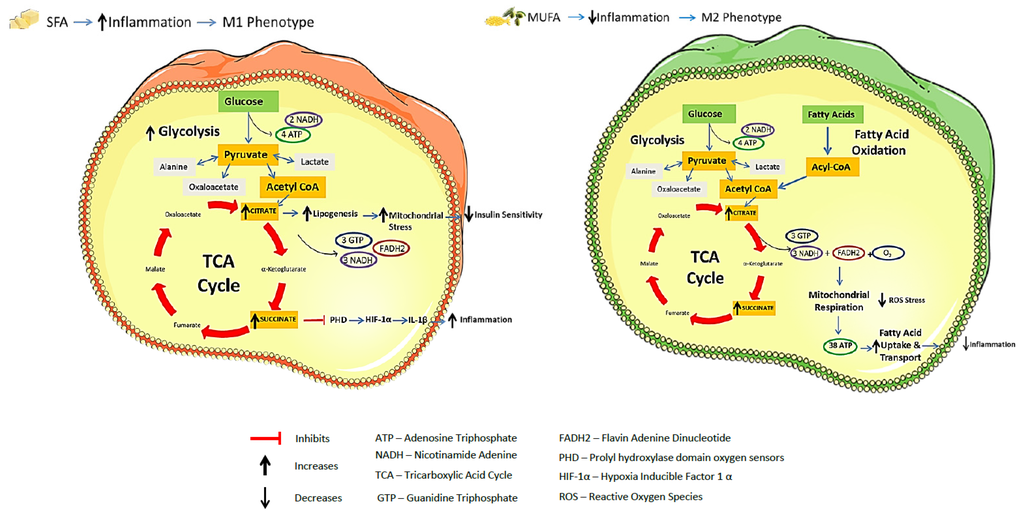 Figure 3.
Integration of metabolism and immune responses. Obesity and SFA drive an M1 pro-inflammatory phenotype in macrophages which favours glycolysis for ATP generation and leads to TCA cycle fragmentation with a break at the succinate dehydrogenase step. This break in the TCA cycle results in increased succinate and citrate accumulation. Citrate accumulation impedes insulin sensitivity by increasing lipogenesis and mitochondrial stress. Succinate inhibits PHD, stabilizing HIF-1α leading to activation of the pro-inflammatory cytokine IL-1β. While MUFA and PUFA drive an anti-inflammatory M2 phenotype which favours the more energy efficient process of oxidative phosphorylation, with increased fatty acid oxidation and glutamine metabolism. (This figure was prepared using the Servier medical art website [
4
]).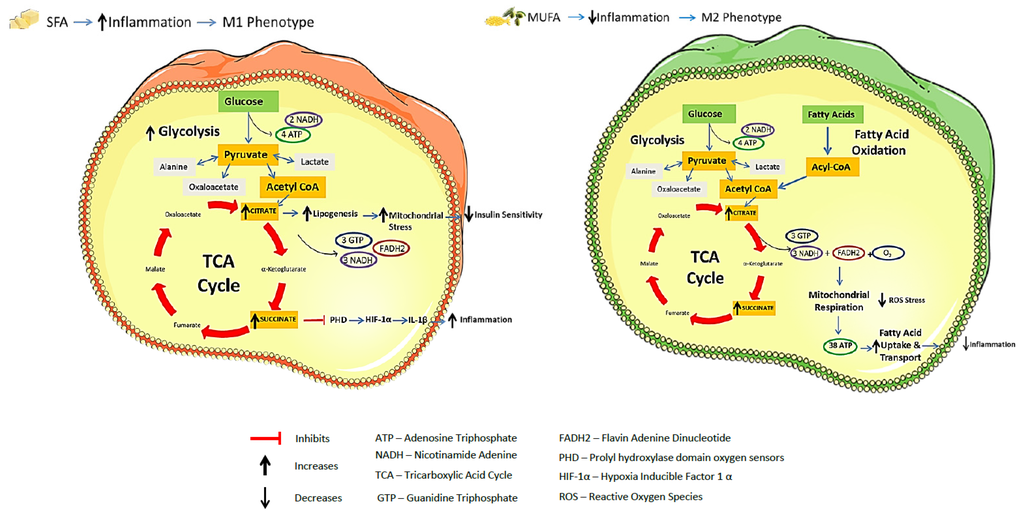 © 2016 by the authors; licensee MDPI, Basel, Switzerland. This article is an open access article distributed under the terms and conditions of the Creative Commons Attribution (CC-BY) license (http://creativecommons.org/licenses/by/4.0/).