Docosahexaenoic Acid Ameliorates Fructose-Induced Hepatic Steatosis Involving ER Stress Response in Primary Mouse Hepatocytes
1
School of Public Health and Management, Chongqing Medical University, Research Center for Medicine and Social Development, Innovation Center for Social Risk Governance in Health, Chongqing 400016, China
2
Laboratory of Lipid & Glucose Metabolism, The First Affiliated Hospital of Chongqing Medical University, Chongqing 400016, China
*
Authors to whom correspondence should be addressed.
Received: 5 December 2015 / Revised: 13 January 2016 / Accepted: 14 January 2016 / Published: 20 January 2016
Abstract
The increase in fructose consumption is considered to be a risk factor for developing nonalcoholic fatty liver disease (NAFLD). We investigated the effects of docosahexaenoic acid (DHA) on hepatic lipid metabolism in fructose-treated primary mouse hepatocytes, and the changes of Endoplasmic reticulum (ER) stress pathways in response to DHA treatment. The hepatocytes were treated with fructose, DHA, fructose plus DHA, tunicamycin (TM) or fructose plus 4-phenylbutyric acid (PBA) for 24 h. Intracellular triglyceride (TG) accumulation was assessed by Oil Red O staining. The mRNA expression levels and protein levels related to lipid metabolism and ER stress response were determined by real-time PCR and Western blot. Fructose treatment led to obvious TG accumulation in primary hepatocytes through increasing expression of fatty acid synthase (FAS) and acetyl-CoA carboxylase (ACC), two key enzymes in hepatic
de novo
lipogenesis. DHA ameliorates fructose-induced TG accumulation by upregulating the expression of carnitine palmitoyltransferase 1A (CPT-1α) and acyl-CoA oxidase 1 (ACOX1). DHA treatment or pretreatment with the ER stress inhibitor PBA significantly decreased TG accumulation and reduced the expression of glucose-regulated protein 78 (GRP78), total inositol-requiring kinase 1 (IRE1α) and p-IRE1α. The present results suggest that DHA protects against high fructose-induced hepatocellular lipid accumulation. The current findings also suggest that alleviating the ER stress response seems to play a role in the prevention of fructose-induced hepatic steatosis by DHA.
View Full-Text
►

▼

Figures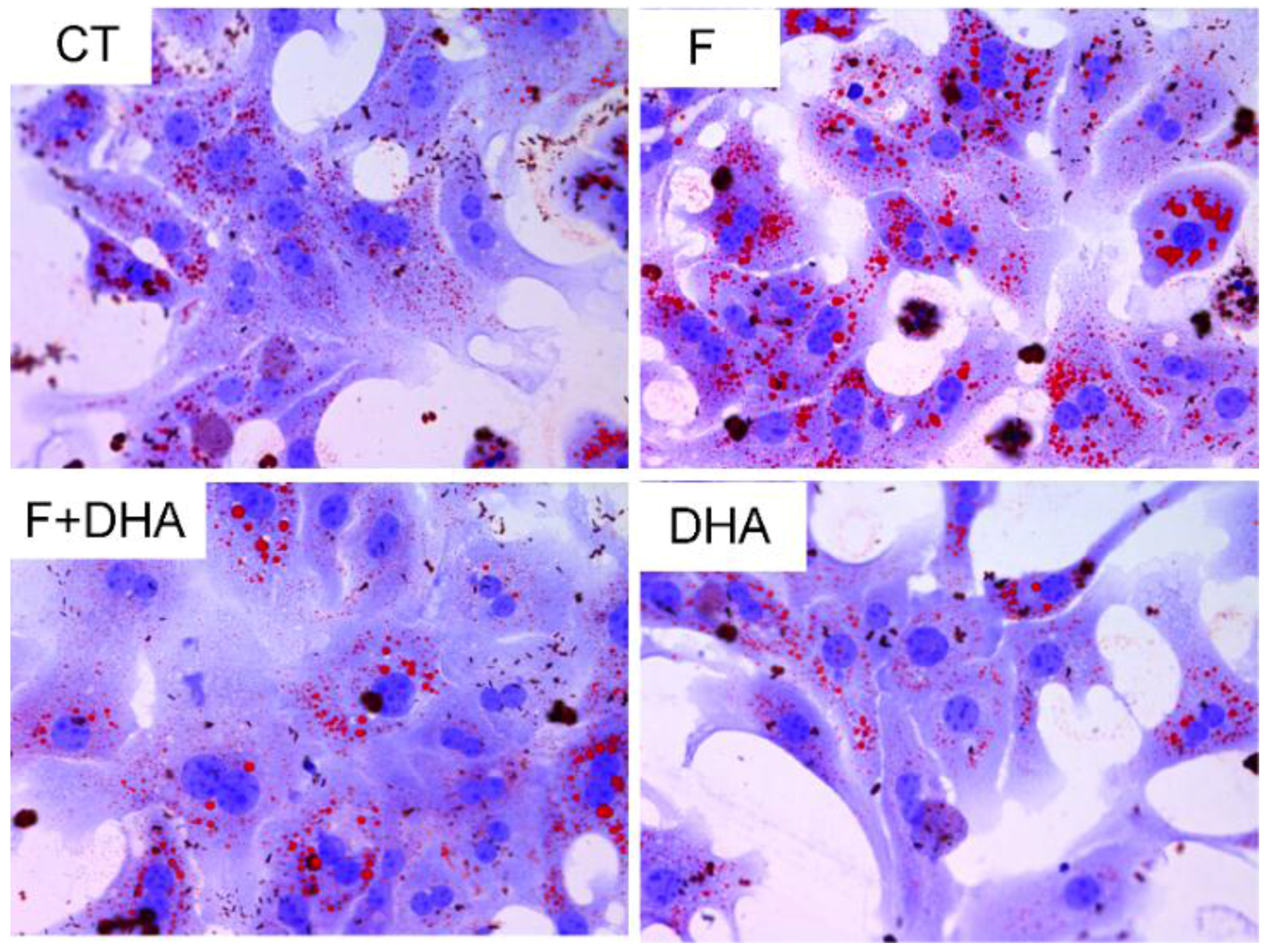 Figure 1
This is an open access article distributed under the
Creative Commons Attribution License
which permits unrestricted use, distribution, and reproduction in any medium, provided the original work is properly cited. (CC BY 4.0).
Share & Cite This Article
MDPI and ACS Style
Zheng, J.; Peng, C.; Ai, Y.; Wang, H.; Xiao, X.; Li, J. Docosahexaenoic Acid Ameliorates Fructose-Induced Hepatic Steatosis Involving ER Stress Response in Primary Mouse Hepatocytes. Nutrients 2016, 8, 55.
Note that from the first issue of 2016, MDPI journals use article numbers instead of page numbers. See further details here.
Related Articles
Comments
[Return to top]