Reasons Low-Income Parents Offer Snacks to Children: How Feeding Rationale Influences Snack Frequency and Adherence to Dietary Recommendations
1
Department of Family and Consumer Sciences, California State University, Long Beach, 1250 Bellflower Blvd, FCS FA-15, Long Beach, CA 90840, USA
2
Department of Nutrition, Harvard T.H. Chan School of Public Health, 665 Huntington Ave, Building 2, Boston, MA 02115, USA
3
Department of Public Health, Center for Obesity Research and Education, Temple University College of Public Health, 3223 N. Broad Street, Suite 175, Philadelphia, PA 19140, USA
4
Division of General Academic Pediatrics, Department of Pediatrics, MassGeneral Hospital for Children, 100 Cambridge Street, 15th floor, Boston, MA 02114, USA
5
Department of Social and Behavioral Sciences, Harvard T.H. Chan School of Public Health, Kresge 718, 677 Huntington Ave, Boston, MA 02115, USA
6
Office of Data Management and Outcomes Assessment, Massachusetts Department of Public Health, Boston, MA 02108, USA
*
Author to whom correspondence should be addressed.
Received: 2 May 2015 / Revised: 2 May 2015 / Accepted: 8 July 2015 / Published: 21 July 2015
Abstract
Although American children snack more than ever before, the parental role in promoting snacking is not well understood. In 2012–2013 at baseline in an intervention study to prevent childhood obesity in low-income Massachusetts communities,
n =
271 parents of children aged 2–12 years completed surveys regarding nutritive and non-nutritive reasons they offered children snacks, demographics, and dietary factors. An analysis of variance demonstrated that parents reported offering snacks (mean/week; standard deviation (SD)) for nutritive reasons like promoting growth (x̄ = 2.5; SD 2.2) or satisfying hunger (x̄ = 2.4; SD 2.1) almost twice as often as non-nutritive reasons like keeping a child quiet (x̄ = 0.7; SD 1.5) or celebrating events/holidays (x̄ = 0.8; SD 1.1). Parents reported giving young children (2–5 years) more snacks to reward behavior (1.9
vs.
1.1,
p <
0.001), keep quiet (1.0
vs.
0.5,
p <
0.001), and celebrate achievements (1.7
vs.
1.0,
p <
0.001) than parents of older children (6–12 years). Multivariable logistic regression models were used to obtain adjusted odds ratios, which indicated reduced child
adherence to dietary recommendations when parents offered snacks to reward behavior (Odds Ratio (OR) = 0.83; 95% Confidence Interval (CI) 0.70–0.99), celebrate events/holidays (OR = 0.72; 95% CI 0.52–0.99), or achievements (OR = 0.82; 95% CI 0.68–0.98). Parental intentions around child snacking are likely important targets for obesity prevention efforts.
View Full-Text
►

▼

Figures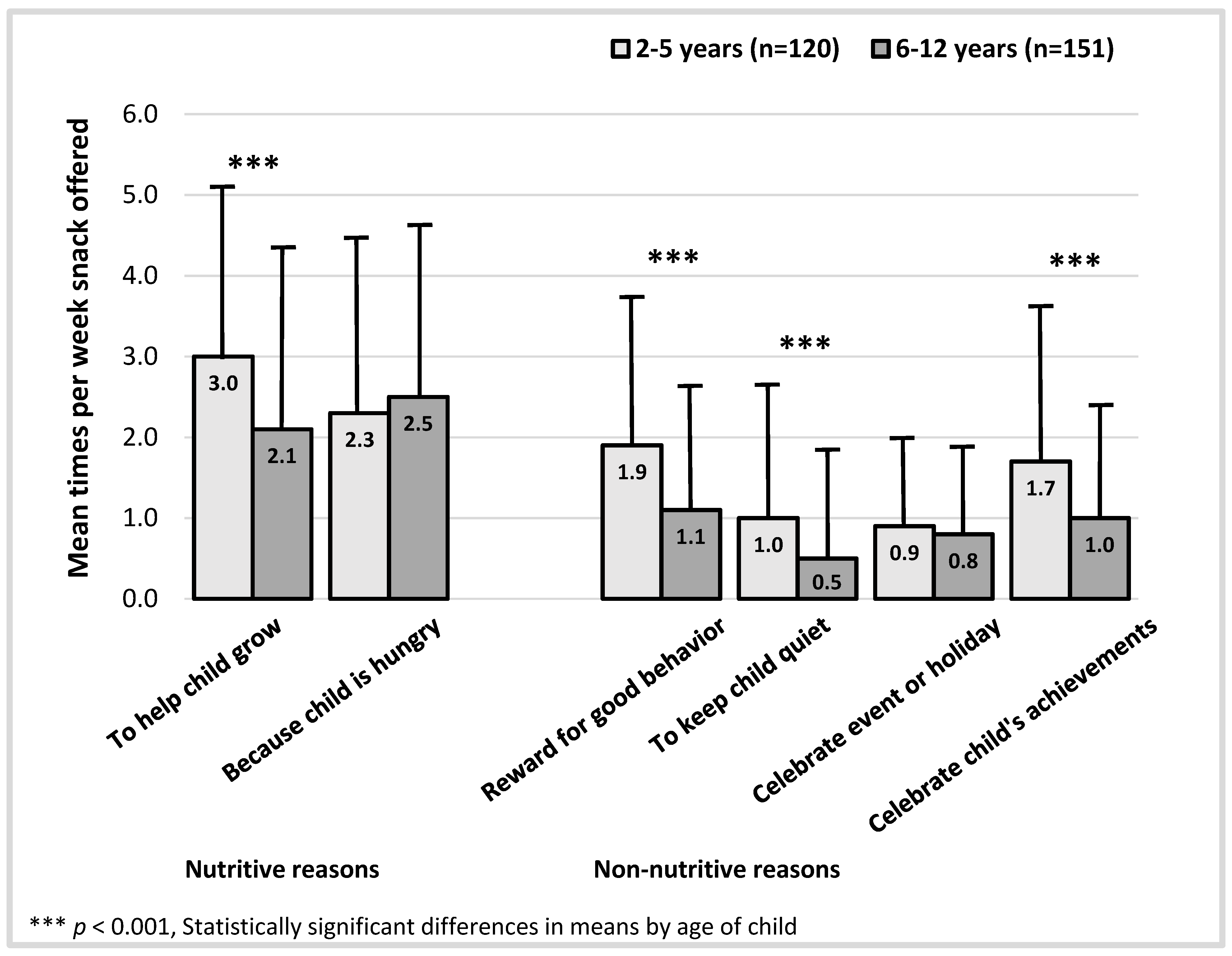 Figure 1
This is an open access article distributed under the
Creative Commons Attribution License
which permits unrestricted use, distribution, and reproduction in any medium, provided the original work is properly cited. (CC BY 4.0).
Share & Cite This Article
MDPI and ACS Style
Blaine, R.E.; Fisher, J.O.; Taveras, E.M.; Geller, A.C.; Rimm, E.B.; Land, T.; Perkins, M.; Davison, K.K. Reasons Low-Income Parents Offer Snacks to Children: How Feeding Rationale Influences Snack Frequency and Adherence to Dietary Recommendations. Nutrients 2015, 7, 5982-5999.
Related Articles
Comments
[Return to top]