DHA in Pregnant and Lactating Women from Coastland, Lakeland, and Inland Areas of China: Results of a DHA Evaluation in Women (DEW) Study
1
Institute of Reproductive and Child Health/Ministry of Health Key Laboratory of Reproductive Health, Peking University Health Science Center, 38 Xueyuan Rd, Beijing 100191, China
2
Department of Epidemiology and Biostatistics, School of Public Health, Peking University Health Science Center, 38 Xueyuan Rd, Beijing 100191, China
3
Department of Pediatrics, NYU School of Medicine, 227 East 30th Street, Room 735, New York, NY 10016, USA
4
Department of Obstetrics and Gynaecology, the First Affiliated Hospital of Baotou Medical School, 41 Linyin Rd, Baotou 014000, China
5
Department of Obstetrics and Gynaecology, Weihai Maternal and Child Health Hospital, 51 Guangming Rd, Weihai 264200, China
6
Department of Pediatrics, Yueyang Maternal and Child Health Hospital, 693 Baling Middle Rd, Yueyang 414000, China
7
Wyeth Nutrition Science Center, 582 Wuzhong Rd, Shanghai 201103, China
†
These authors contributed equally to this work.
*
Author to whom correspondence should be addressed.
Received: 13 August 2015 / Revised: 13 October 2015 / Accepted: 14 October 2015 / Published: 21 October 2015
Abstract
Few studies have examined docosahexaenoic acid (DHA) in pregnant and lactating women in developing countries like China, where DHA-enriched supplements are increasingly popular. We aimed to assess the DHA status among Chinese pregnant and lactating women residing areas differing in the availability of aquatic products. In total, 1211 women in mid-pregnancy (17 ± 2 weeks), late pregnancy (39 ± 2 weeks), or lactation (42 ± 7 days) were enrolled from Weihai (coastland), Yueyang (lakeland), and Baotou (inland) city, with approximately 135 women in each participant group by region. DHA concentrations were measured using capillary gas chromatography, and are reported as weight percent of total fatty acids.
Mean plasma DHA concentrations were higher in coastland (mid-pregnancy 3.19%, late pregnancy 2.54%, lactation 2.24%) and lakeland women (2.45%, 1.95%, 2.26%) than inland women (2.25%, 1.67%, 1.68%) (
p
values < 0.001). Similar differences were observed for erythrocyte DHA. We conclude that DHA concentrations of Chinese pregnant and lactating women are higher in coastland and lakeland regions than in inland areas. DHA status in the study population appears to be stronger than populations from other countries studied to date.
View Full-Text
►

▼

Figures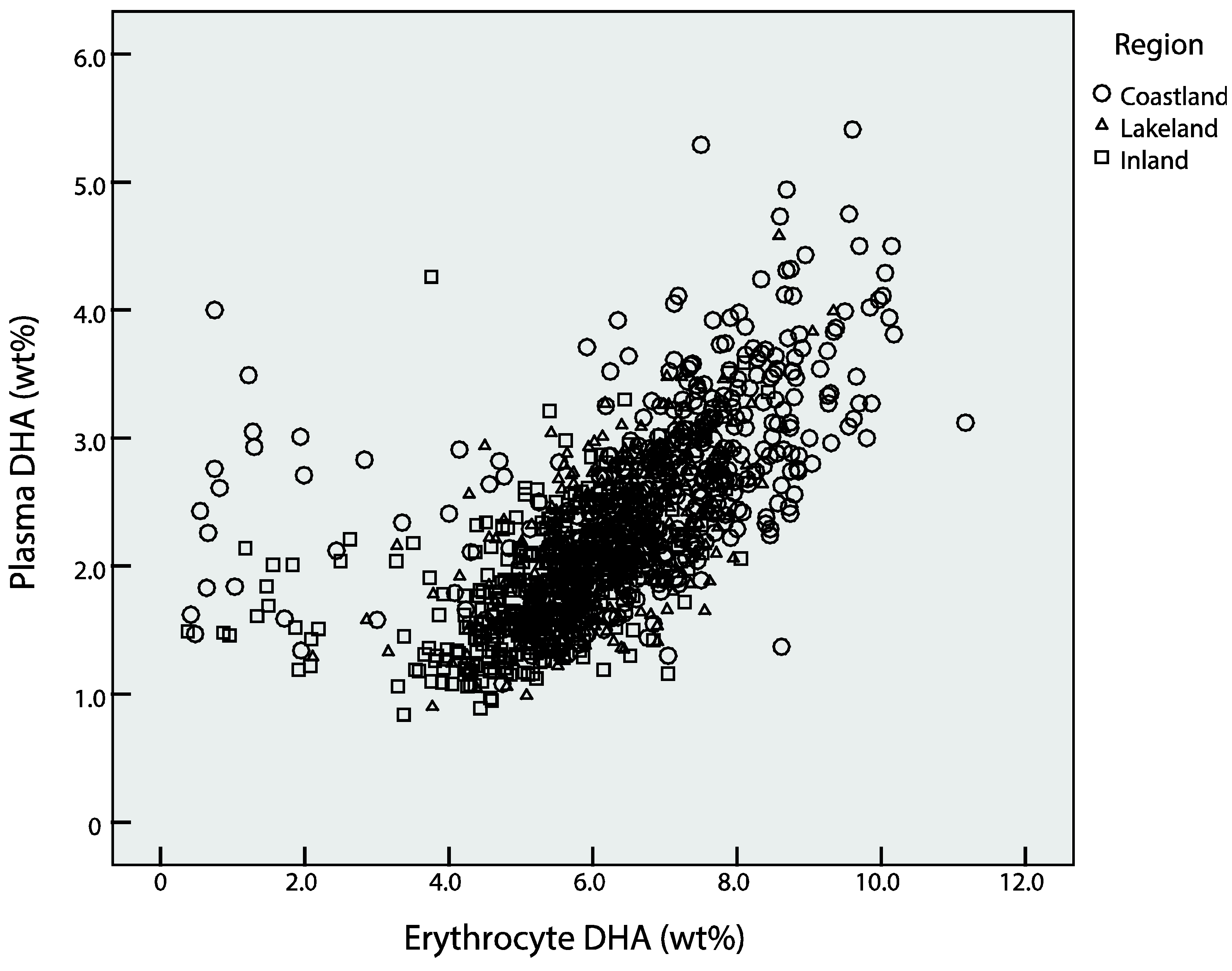 Figure 1
This is an open access article distributed under the
Creative Commons Attribution License
which permits unrestricted use, distribution, and reproduction in any medium, provided the original work is properly cited. (CC BY 4.0).
Share & Cite This Article
MDPI and ACS Style
Li, Y.; Li, H.-T.; Trasande, L.; Ge, H.; Yu, L.-X.; Xu, G.-S.; Bai, M.-X.; Liu, J.-M. DHA in Pregnant and Lactating Women from Coastland, Lakeland, and Inland Areas of China: Results of a DHA Evaluation in Women (DEW) Study. Nutrients 2015, 7, 8723-8732.
Related Articles
Comments
[Return to top]