Disaggregation of SMOS Soil Moisture to 100 m Resolution Using MODIS Optical/Thermal and Sentinel-1 Radar Data: Evaluation over a Bare Soil Site in Morocco
1
isardSAT, ParcTecnològic Barcelona Activa, Carrer de Marie Curie, 8, 08042 Barcelona, Spain
2
Environment and Soil Science Department, University of Lleida, 25003 Lleida, Spain
3
Soil Sciences Department, Faculty of Agriculture, Cairo University, Gamaa Street 6, 12613 Giza, Egypt
4
LP2M2E, Dèpartment de Physique Appliquèe, Facultè des Sciences et Techniques, Universitè Cadi Ayyad, 40000 Marrakech, Morocco
5
LMME, Dèpartment de Physique, Facultè des Sciences Semlalia, Universitè Cadi Ayyad, 40000 Marrakech, Morocco
6
CESBIO, Université de Toulouse, IRD, UPS, CNRS, CNES, 31400 Toulouse, France
*
Author to whom correspondence should be addressed.
Received: 28 September 2017 / Revised: 30 October 2017 / Accepted: 7 November 2017 / Published: 10 November 2017
Abstract
The 40 km resolution SMOS (Soil Moisture and Ocean Salinity) soil moisture, previously disaggregated at a 1 km resolution using the DISPATCH (DISaggregation based on Physical And Theoretical scale CHange) method based on MODIS optical/thermal data, is further disaggregated to 100 m resolution using Sentinel-1 backscattering coefficient (
σ
°). For this purpose, three distinct radar-based disaggregation methods are tested by linking the spatio-temporal variability of
σ
° and soil moisture data at the 1 km and 100 m resolution. The three methods are: (1) the weight method, which estimates soil moisture at 100 m resolution at a certain time as a function of
σ
° ratio (100 m to 1 km resolution) and the 1 km DISPATCH products of the same time; (2) the regression method which estimates soil moisture as a function of
σ
° where the regression parameters (e.g., intercept and slope) vary in space and time; and (3) the Cumulative Distribution Function (CDF) method, which estimates 100 m resolution soil moisture from the cumulative probability of 100 m resolution backscatter and the maximum to minimum 1 km resolution (DISPATCH) soil moisture difference. In each case, disaggregation results are evaluated against in situ measurements collected between 1 January 2016 and 11 October 2016 over a bare soil site in central Morocco. The determination coefficient (R
2
) between 1 km resolution DISPATCH and localized in situ soil moisture is 0.31. The regression and CDF methods have marginal effect on improving the DISPATCH accuracy at the station scale with a R
2
between remotely sensed and in situ soil moisture of 0.29 and 0.34, respectively. By contrast, the weight method significantly improves the correlation between remotely sensed and in situ soil moisture with a R
2
of 0.52. Likewise, the soil moisture estimates show low root mean square difference with in situ measurements (RMSD= 0.032 m
3
m
−3
).
View Full-Text
►

▼

Figures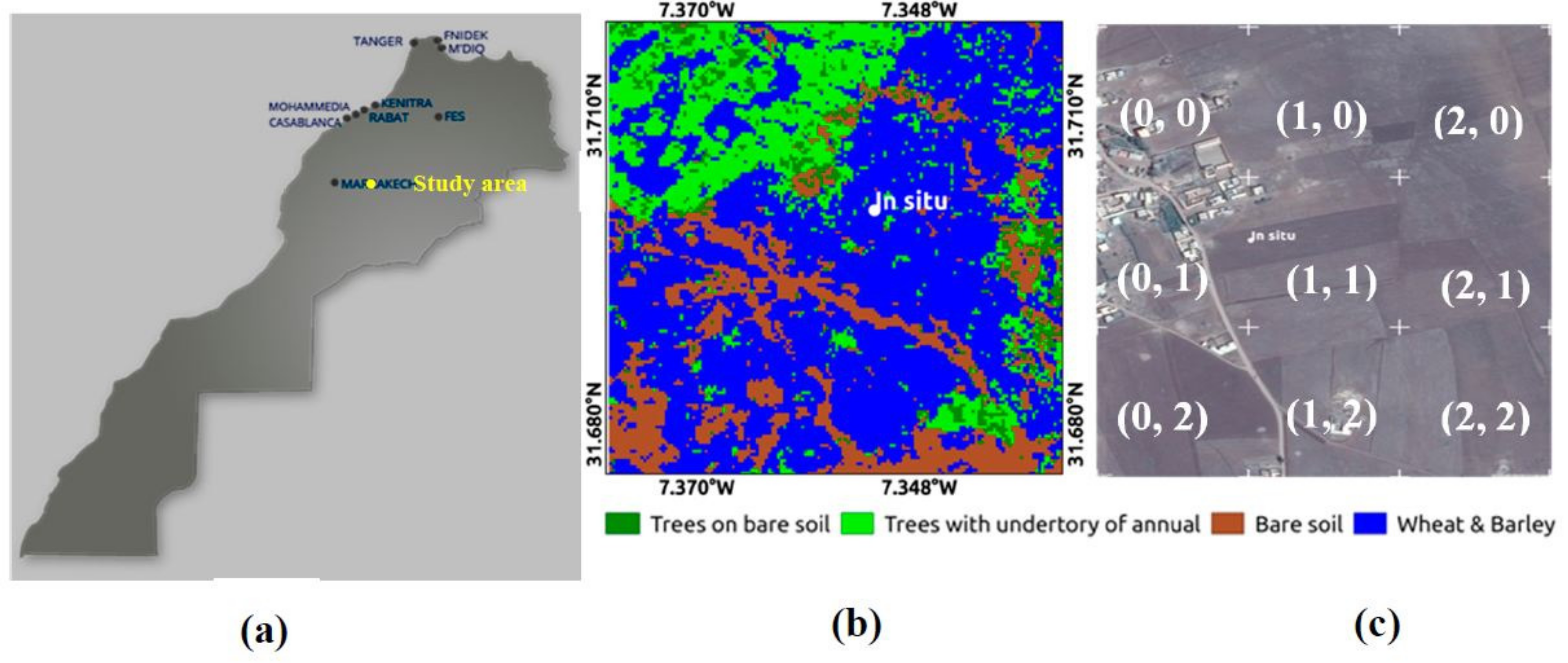 Figure 1
This is an open access article distributed under the
Creative Commons Attribution License
which permits unrestricted use, distribution, and reproduction in any medium, provided the original work is properly cited. (CC BY 4.0).
Share & Cite This Article
MDPI and ACS Style
Eweys, O.A.; Escorihuela, M.J.; Villar, J.M.; Er-Raki, S.; Amazirh, A.; Olivera, L.; Jarlan, L.; Khabba, S.; Merlin, O. Disaggregation of SMOS Soil Moisture to 100 m Resolution Using MODIS Optical/Thermal and Sentinel-1 Radar Data: Evaluation over a Bare Soil Site in Morocco. Remote Sens. 2017, 9, 1155.
Note that from the first issue of 2016, MDPI journals use article numbers instead of page numbers. See further details here.
Related Articles
Comments
[Return to top]