Open Access This article is
freely available
re-usable
Review
Biomass Energy Technological Paradigm (BETP): Trends in This Sector
1
Uncertainty Decision-Making Laboratory, Sichuan University, Chengdu 610064, China
2
Institute of New Energy and Low-Carbon Technology, Sichuan University, Chengdu 610064, China
*
Correspondence: Tel.: +86-28-8541-8191
Academic Editor: Tomonobu Senjyu
Received: 24 February 2017 / Accepted: 6 April 2017 / Published: 8 April 2017
Abstract
:
Renewable energy plays a significant role in the world for obvious environmental and economic reasons with respect to the increasing energy crisis and fossil fuel environmental problems. Biomass energy, one of the most promising renewable energy technologies, has drawn increasing attention in recent years. However, biomass technologies still vary without an integrated framework. Considering the theory of a technological paradigm and implementing a literature analysis, biomass technological development was found to follow a three-stage technological paradigm, which can be divided into: BETP (biomass energy technological paradigm) competition, BETP diffusion, and BETP shift. Further, the literature review indicates that waste, like municipal solid waste (MSW), has the potential to be an important future trend in the world and waste-to-energy (WTE) is designed for sustainable waste management. Among WTE, anaerobic digestion has the potential to produce energy from waste sustainably, safely, and cost-effectively. The new BETP technological framework proposed in this paper may offer new research ideas and provide a significant reference for scholars.
Keywords:
biomass energy; literature analysis; technological paradigm; municipal solid waste
2. Literature Analysis
In a systematic review of the literature, the current findings are discussed in relation to a particular research question. Scientific knowledge which is based on text usually has its own evolution in the life cycle. By analyzing the evolution patterns, the foci and trends in scientific literature can be found, and it has been an important research direction in the field of text mining in recent years [
29
,
30
]. Pang put forward a research method of multi-feature co-occurrence and visualization in 2012, and through the above analysis, scientific research development in scientific literature can be discovered, to a certain extent, from multidimensional observation [
31
]. In the present paper, we created an advanced data analysis system (DAS) to evaluate all relevant scientific papers. First, an introduction is given to the key technology and software in this system, and then the research process and results from the analysis will be described.
2.1. The Introduction of the DAS
In this part, relevant technologies and software packages used for keyword foci trend analysis are briefly introduced. The organization of the advanced data analysis system (DAS) is shown in
Figure 2
, two relevant software packages are on the left, which are the Web of Science (WOS) and CiteSpace, separately, and the specific procedures used in this system are on the right. The data collection module is to obtain the most relevant information through the initial literature database. The visualization module gives a specific process description of CiteSpace.
The requirement of the data format of CiteSpace is based on the standard of the Web of Science database, and it is updated with the change of the data format in the ISI (Institute for Scientific Information) database [
20
]. Web of Science, a comprehensive multidisciplinary citation index database spanning manuscripts back to 1900, is the world's leading citation index database, including three libraries: the Science Citation Index Expanded (SCI-Expanded), Social Sciences Citation Index (SSCI), and Arts and Humanities Citation Index (A&HCI) [
32
]. The Web of Science
TM
Core Collection Indexes was selected in this paper in order to increase the accuracy. It includes the most influential core journals which can ensure the quality of information. Web of Science has stronger coverage than Scopus (produced by Elsevier), which goes back to 1990, and most of its journals are written in English. However, Scopus covers a superior number of journals, but with lower impact, and is limited to recent articles [
33
]. With a strong retrieval and analysis function, Web of Science can ensure full and accurate information retrieval, can discover the hidden trends in a research field, and can also find the latest developments [
34
,
35
].
Mapping knowledge domains is a kind of graph which can visually display knowledge resources and their associations [
36
], which helps to understand and predict the fronts and dynamics of science, and tap new frontiers. CiteSpace, a free Java application for visualizing and analyzing citations and contents in scientific literature, is applied in this paper as the main analysis tool to detect and visualize emerging trends [
19
]. It can be applied to the analysis of multiple, time-sharing, and dynamic complex networks, and to detect the hotspots and evolution in a certain field [
37
]. At present, this software has been widely used in the detection and analysis of the trends in the research frontier.
2.2. Keywords Foci Trend Analysis
In order to discover the development of biomass energy technology, and trace its research focus, we should not only retrieve relevant research articles in SCI-Expanded, SSCI, A&HCI, and other databases, but also grasp the research status to understand the current situation and development trends by some analysis methods. Therefore, it is necessary to clarify the relevant aspects of the literature to explore the research foci, for example, the keywords, abstract, publication time, and so on, which explain the research status in fields from different perspectives [
38
]. Foci and co-occurrence analysis of keywords can directly reflect the research hotspot and frontier in a certain field [
39
].
To ensure the bibliographic references and research topics were highly relevant, a variety of search strings were tried. The final search strings were ((X OR Y) AND Z) using topic retrieval [
40
,
41
], for which X represented keywords that referred to 'biomass energy', Y represented 'bioenergy', and Z was the collection of all 'technology' expressions. An advanced search was used, and when the search was complete, article type of ARTICLE OR PROCEEDINGS PAPER OR REVIEW were selected, then 3512 research papers were identified. These articles were downloaded directly to CiteSpace, and then relevant parameters were set. Firstly, the Time Span is 1990-2017, and the Slice Length is one year. The term source includes 'Title', 'Abstract', 'Author Keywords' and 'Keywords Plus'. Then what should be analyzed was finally selected, and here are 'Keywords'. In order to simplify the network and highlight the important structural features, the Minimal Spanning Tree is selected to prune the network. At this step, a keyword co-occurrence graph is generated. Subsequently, according to the spectral clustering algorithm for automatic clustering and by using the TF*IDF (term frequency-inverse document frequency) weighted algorithm to extract the cluster label, the keyword co-occurrence and its cluster graph are shown in
Figure 3
.
In the keyword co-occurrence graph, the circular node represents the keyword itself, and the size of the node represents the frequency of occurrence. Additionally, the label of the keyword is proportional to the frequency of its occurrence. The degree of connection between nodes reflects the cooperative relationship between the keywords. CiteSpace provides three options for visualization, in which the default is the cluster view (the right of
Figure 3
), which focuses on the structural features of the clusters. Through automatic labeling, 25 clusters were found, then according to the two indices-silhouette and size-also considering the relevant keywords in clusters, we chose some important clusters and their containing keywords are shown in
Figure 4
.
The silhouette value is used to measure the homogeneity of a cluster; the closer to 1, the higher the homogeneity. Similarly, the greater the size value, the better the cluster. Mean (year) is the average year of the formation of topic items, and label (TF*IDF) is the value of the cluster label keyword, emphasizing the mainstream of research. It is found that these three clusters are related to the development of biomass energy technology.
ID = 2: cluster label is the 'critical factor', size = 24 and silhouette = 0.625, mean year = 1998, label (TF*IDF) = 13.23; keywords: combustion, scale boiler burner, combustion technology and modeling (Group I).

ID = 4: cluster label is 'iea bioenergy task', size = 23 and silhouette = 0.643, mean year = 2004, label (TF*IDF) = 9.94; keywords: gasification, pyrolysis, fermentation and fluidized-bed (Group II).

ID = 3: cluster label is 'anaerobic biotechnological approach', size = 23 and silhouette = 0.522, mean year = 2006, label (TF*IDF) = 13.23; keywords: biogas waste-water, anaerobic digestion, municipal solid wastes, landfill, land-use and residues (Group III).
3. The Three Stages of BETP
3.1. BETP Competition
(1) Stove Combustion
(2) Boiler Combustion
(3) Biomass Briquettes Combustion
3.2. BETP Diffusion
Due to the low thermal efficiency and pollution problems of direct combustion in the competition stage, the main biomass technological developments in the phase of BETP competition need a more suitable biomass technology to encourage this evolution. Due to the increasing market demand and industrial competition, the BETP diffusion stage emerges gradually. With the transition from old to newer technologies, new biomass technological applications were developed, such as thermochemical conversion and biological conversion, which became the dominant designs in the BETP diffusion stage. Therefore, from technological paradigmatic evolutionary theory, thermochemical conversion and biological conversion matured and developed a stable product structure.
3.2.1. Thermochemical Conversion
(1) Gasification
(2) Pyrolysis
3.2.2. Biochemical Conversion
(1) Anaerobic fermentation biogas
(2) Bioethanol
(3) Biodiesel
3.3. BETP Shift
The technological paradigm moves into the shift phase because of the emergence of disruptive technologies [
109
] and technological limitations [
110
]. Above, two main reasons emerge, led by full competition and market demand. Since there is an urgency to ensure environmental and societal problems, like land and food, we need to discover a new kind of biomass technology to achieve a sustainable world, which is in the BETP shift stage. From our foci trend analysis, waste, a potential biomass resource, can be used and developed in this phase. In this paper, urban organic waste is discussed because it is a serious environmental problem nowadays.
Urban organic waste refers mainly to the solid waste generated from the daily life and services of the city and its residents, which is referred to as municipal solid waste (MSW) [
111
]. With the rapid development of economies and the improvement in general living standards, the amount of MSW has gradually increased. In China, for example, annual generation of MSW is constantly increasing and expected to reach 172 and 200 million tons by 2013 and 2020 [
112
], respectively, causing harm to the ecology through the pollution of water, farmland, soil, and the atmosphere, which result in a restriction of social and economic development. However, MSW can be used as a kind of renewable energy resource [
113
]. MSW has been shown to contain one-third to one-half the energy of coal per tonne which is enough to power a plant with the excess being sold to the national grid [
114
,
115
]. Therefore, as an efficient new source, the development of MSW treatment technology is necessary to realize the sustainable development of cities, and it is a good alternative energy technology for the future [
116
,
117
].
There are a variety of treatment methods for biodegradable MSW. We can bury it, which means landfilling; burn it, which means incineration; and bio-digest it, which means either composting or anaerobic digestion. Others include gasification, pyrolysis, compression molding, and pouring into the sea, all of which are being promoted and used all over the world [
118
]. The EPA developed the non-hazardous materials and waste management hierarchy which ranks the various management strategies from most to least environmentally preferred [
119
,
120
]. The hierarchy places emphasis on reducing, reusing, and recycling as key to sustainable materials management. Combining this hierarchy framework with MSW treatment technologies, like landfill, incineration, composting, and anaerobic digestion, the comparison of the above technologies from some aspects are shown in
Figure 9
, and red font in figure indicates positive impact. Additionally, a schematic representation of the above four processes is shown in
Figure 10
, which are inputs and outputs of landfill, incineration, composting, and anaerobic digestion. A detailed description of each process is represented as follows.
4. Discussion
Renewable energy plays a central role not only for the environment, but also for social and economic development at all levels, from families, to communities, to regional and national levels. Renewable energy sources combined with other factors can increase health equity, reduce poverty, and build societies that live within set environmental limits. According to REN21 reports, renewable energy has set up a competitive mainstream position in many countries around the world [
154
]. The report predicts that global renewable energy investment reached $7,800 trillion between now and 2040, and most investments in renewable energy will be concentrated in India and other emerging markets in Asia. The report also points out that with the growth of investment, technology progress, and cost reduction, the employment opportunities have increased. At present, a total of 8,100,000 people are working in the field of renewable energy, the steady increase in the rate of employment in the renewable energy industry is in sharp contrast to the sluggish labor market in the overall energy sector.
4.1. Trends from Literature Analysis
Our literature analysis has shown that a great deal of the research in this area has been focused on sustainable and environmentally-friendly energy from biomass to replace conventional fossil fuels, as biomass is considered the best alternative and has the largest potential to meet requirements and insure fuel supplies in the future. According to the report "Key World Energy Statistics 2016" from the International Energy Agency (IEA) shows that biomass energy accounts for roughly 10% (50 EJ) of the world total primary energy supply today [
155
]. Over the last few years, biomass and its related biofuels have gained worldwide interest because of their potential to reduce GHG (greenhouse gas) emissions, improve energy security, and enhance rural development. Further, there are significant socioeconomic advantages from the use of renewable resources for power generation compared to conventional generation technologies.
In order to alleviate the contradiction between economic development and energy and the environment, it is necessary to find the bioenergy technology which has the best potential for sustainable development. One novel method which was discussed above applies a social network analysis to determine the literature research focus. In the above literature analysis, CiteSpace also supports a timezone view to highlight temporal patterns between a research front and its intellectual base. Consisting of an array of vertical strips as time zones, the time zones are arranged chronologically from left to right so that a research front points back to its intellectual base [
20
]. Therefore, a timezone view is shown in
Figure 11
, which emphasizes the temporal relationships and make a specialty easily recognizable.
In the figure, the 'Timezone-Keywords' graph represents the keyword trends with time. From these points, we can highlight keywords about waste in blue font, which is shown in the 'Timezone Trends Analysis-Waste Trends' graph. This reveals that waste is the foci trend as time goes on, and it is the focus point in recent years, especially with respect to municipal solid waste. Therefore, from the literature analysis results, we can see that MSW is the core topic studied in most biomass literature in recent years. Recent research attention has also turned to the use of dedicated feedstocks for biofuel production, such as MSW. As a special biomass feedstock, MSW resources grow along with economic development, urbanization, and improvements in living standards. Therefore, on one hand, in order to solve this urban environmental issue, and on the other hand, to ensure enough land for food crops, problems which underline the BETP shift, MSW is expected to be have the most potential as a biomass resource. Biomass waste management as a new environmentally-friendly technology, can not only reduce environmental pollution and ease the pressure on the environment, it can also alleviate the global energy crisis, fully embodying the concept of harmonious development and sustainable development.
4.2. Sustainable MSW Management
In the BETP shift stage, there are four main technologies of MSW disposal. However, either MSW compost or landfill will make land resources more tense. Thus, a careful classification and sorting of municipal solid waste should be adopted. Then, according to the different properties after sorting, respectively using appropriate methods, different types of MSW can be used, so as to achieve the reduction of volume. It is necessary to treat and handle the problems of MSW with a positive attitude and the concept of sustainable development, and realize the waste to energy as soon as possible; that is, through reasonable disposal of MSW resources to prevent and control pollution, maintain the balance of the ecosystem and realize a sustainable use of resources.
5. Conclusions
Biomass is a renewable energy source not only because the energy in it comes from the sun, but also because biomass can re-grow over a relatively short period of time compared with the hundreds of millions of years that it took for fossil fuels to form. Through the process of photosynthesis, chlorophyll in plants captures the sun's energy by converting carbon dioxide from the air and water from the ground into carbohydrate-complex compounds composed of carbon, hydrogen, and oxygen. When these carbohydrates are burned, they turn back into carbon dioxide and water and release the energy they captured from the sun. There are many types of biomass that can be used to derive fuels, chemicals, and power—such as plants, agricultural and forestry residues, organic components of garbage (municipal solid waste), and algae. This broad diversity of suitable biomass has resulted in increased research and development of technologies to produce fuels, products, and power at an industrial scale.
The development of bioenergy technology varies with time and will be affected by many factors, such as technical, environmental, economic, and social concerns, which include infrastructure, facilities, cost, price, geography, transportation, competitors, and so on. Up to now, there has not been a paradigmatic framework for biomass energy technologies, though various works have been conducted on a low-carbon economy. Therefore, in order to discover bioenergy technology development trends, some methods should be used to study this framework. Similar to the gradual evolutionary process of life, the technological paradigm evolves under the driving forces of market demand and industrial competition. The technological paradigm is proposed to solve problems based on natural science principles, which became a classic concept in the innovation and technological change literature.
To focus on bioenergy technology evolution, an advanced data analysis system (DAS) was created based on bibliometrics and certain visual methods, which allows for a comprehensive literature analysis to determine that this focus trends. CiteSpace, as expressed by the keywords and clusters, is applied in this paper as the main analysis tool to detect and visualize emerging trends. The analysis results of foci trends were in accordance with the technological paradigm theory first defined by Dosi. Therefore, through the technological paradigm theory and a literature analysis, three distinct phases of bioenergy technologies were identified. Additionally, a bioenergy technological paradigm (BETP) was proposed to describe the evolution and provide a method for an investigation of past trends and a prediction of future possibilities.
BETP includes BFDP competition, BFDP diffusion, and BFDP shift. Different key technologies are in the above three stages. Direct combustion is in the BFDP competition stage, which contains stove combustion, boiler combustion, and biomass briquette combustion. These technologies seems immature and have low thermal efficiency and pollution problems. According to demand-pull and technology-push theories, technological innovation of bioenergy will go to next stage, which is BETP diffusion. Thermochemical conversion and biological conversion became the dominant designs in the BETP diffusion stage, which matured and developed a stable product structure. Gasification and pyrolysis are two thermochemical conversion technologies, and anaerobic fermentation of biogas, bioethanol, and biodiesel are biological conversion technologies. These technologies have the advantages of low energy consumption, high conversion rates, easy industrialization, and have significant environmental benefits. However, threats to forests and biodiversity, food price increases, and the competition for water resources are the key negative impacts of these technologies. Therefore, at the end of the BETP diffusion phase, there is a need to develop more paths, which can contribute to BFDP shift stages.
The emerging MSW technology in the BFDP shift stage has the potential to promote sustainable development. This is also because the problems of waste management arose with the start of urbanization, bringing people to live together in larger communities. Nowadays, the global quantities of waste, continuously increasing with the increasing world population, pose serious challenges to waste management, especially in urban areas. MSW technology includes landfill, incineration, composting and anaerobic digestion. However, in order to treat and handle MSW positively and realize the waste to energy as soon as possible, Waste-to-energy are designed for sustainable waste management. Among WTE, anaerobic digestion has the potential to produce energy from waste sustainably, safely, and cost-effectively. To minimize the amount of waste we generate and wring the most value out of the trash we create requires a mix of smart science, practical policy, and appropriate technology. To achieve the goal of sustainable waste management, we will have to work with our waste more than ever.
Acknowledgments
This research is supported by the Program of the Social Science Foundation of Sichuan (Grant No. SC16C010) and the Research Funding of Sichuan University (Grant No. skqy201640; 2016SCU11036).
Author Contributions
Meihui Li conceived and designed the review and wrote the paper; Na Luo and Yi Lu contributed literature mining and mapping; Meihui Li, Na Luo and Lu Yi revised the paper.
Conflicts of Interest
The authors declare no conflict of interest.
Abbreviations
The following abbreviations are used in this manuscript:
| | |
| --- | --- |
| BETP | Biomass energy technological paradigm |
| MSW | Municipal solid waste |
| WTE | Waste-to-energy |
| DAS | Data analysis system |
| WOS | Web of Science |
| ISI | Institute for Scientific Information |
| SCI-Expanded | Science Citation Index Expanded |
| SSCI | Social Sciences Citation Index |
| A&HCI | Arts & Humanities Citation Index |
| TF*IDF | Term frequency-inverse document frequency |
| AD | Anaerobic digestion |
| LFG | Landfill gas |
| BTU | British Thermal Unit |
| GT | Gas turbines |
| ICE | Internal combustion engine |
| CCP | Combined anaerobic/aerobic Composting Process |
| OFMSW | Organic part of municipal solid waste |
| IEA | International Energy Agency |
| GHG | Greenhouse gas |
| 3E | Energy, economy and environmental |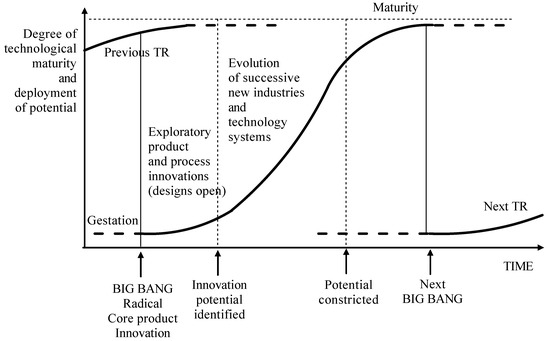 Figure 1.
The evolution of the technological paradigm [
28
].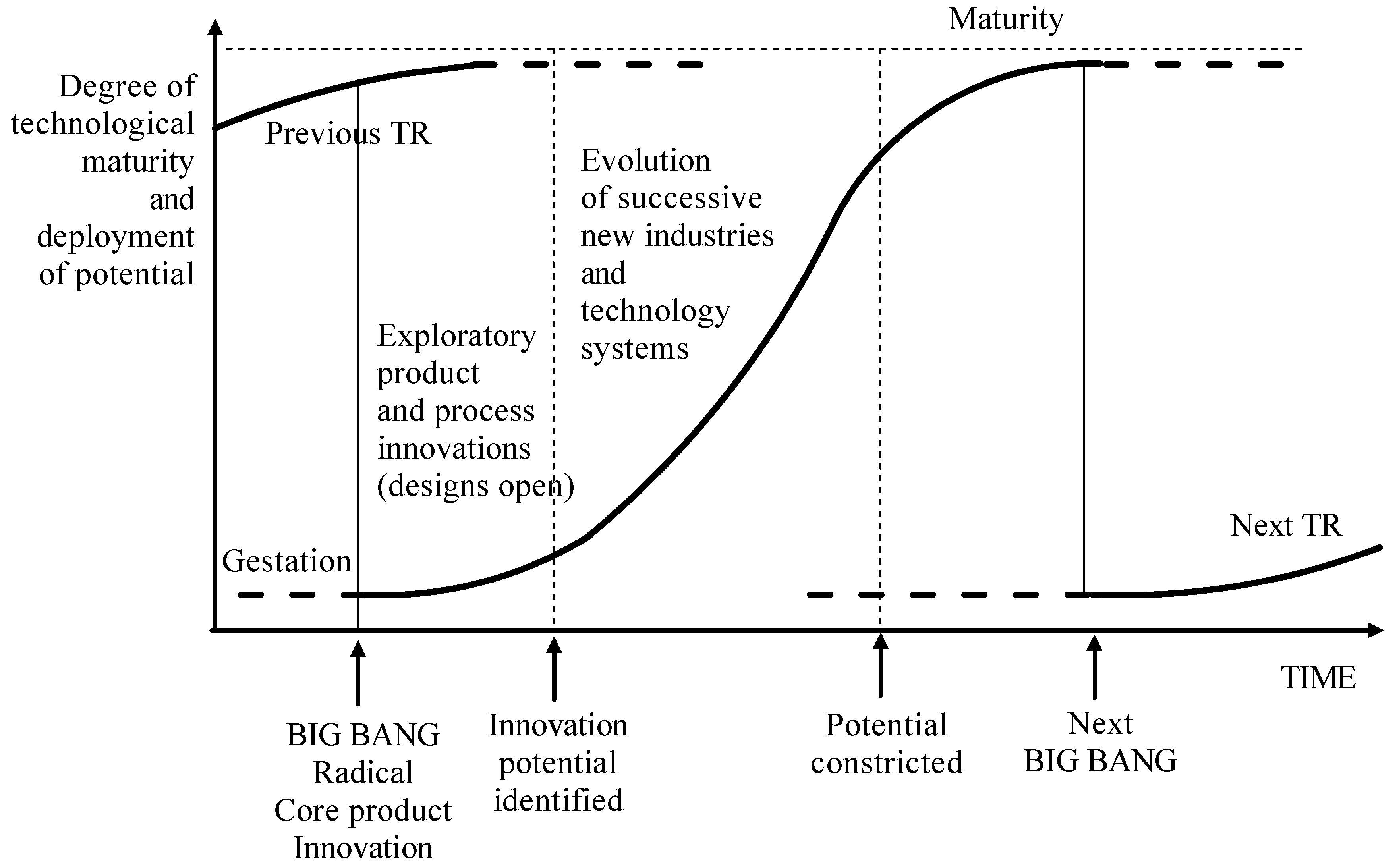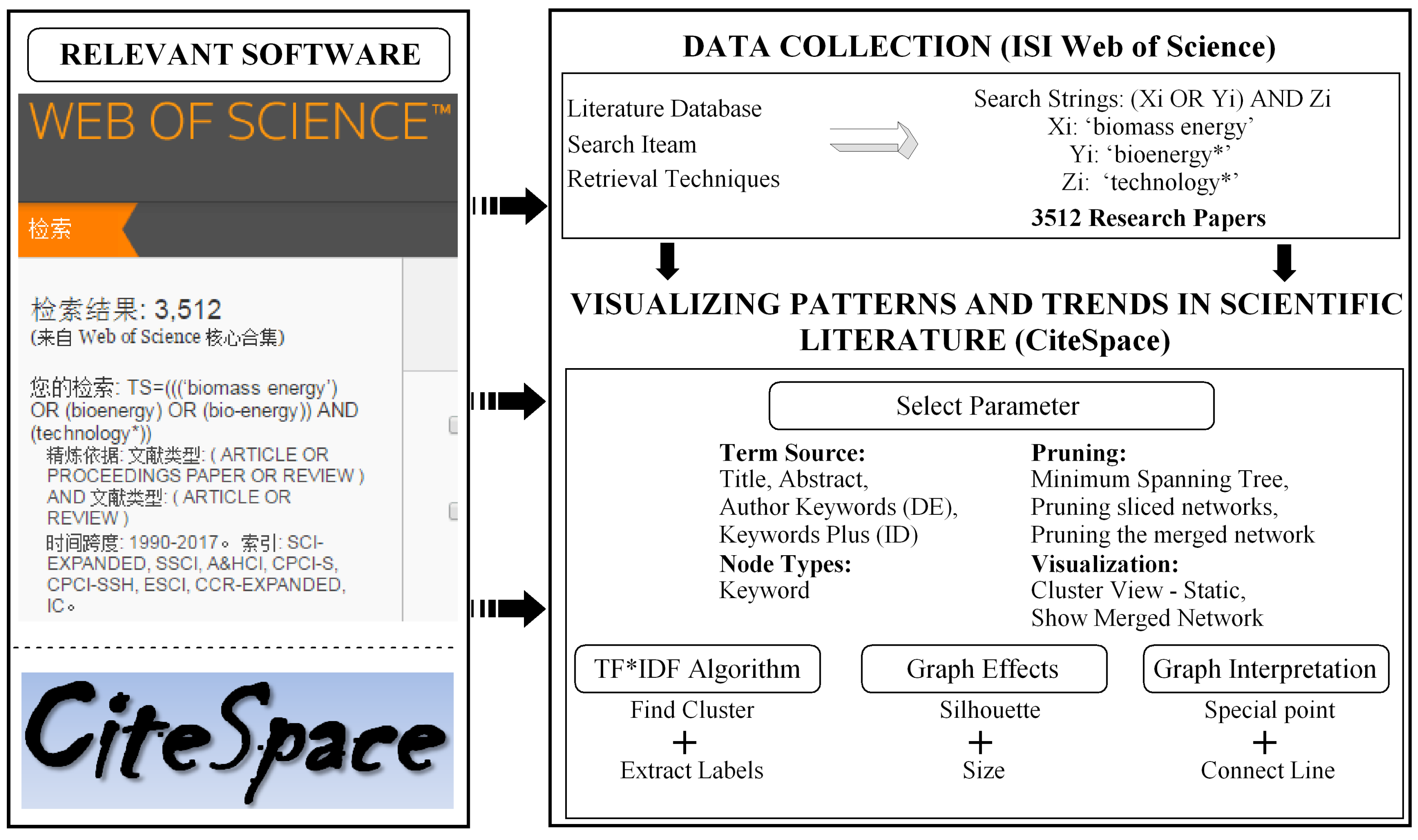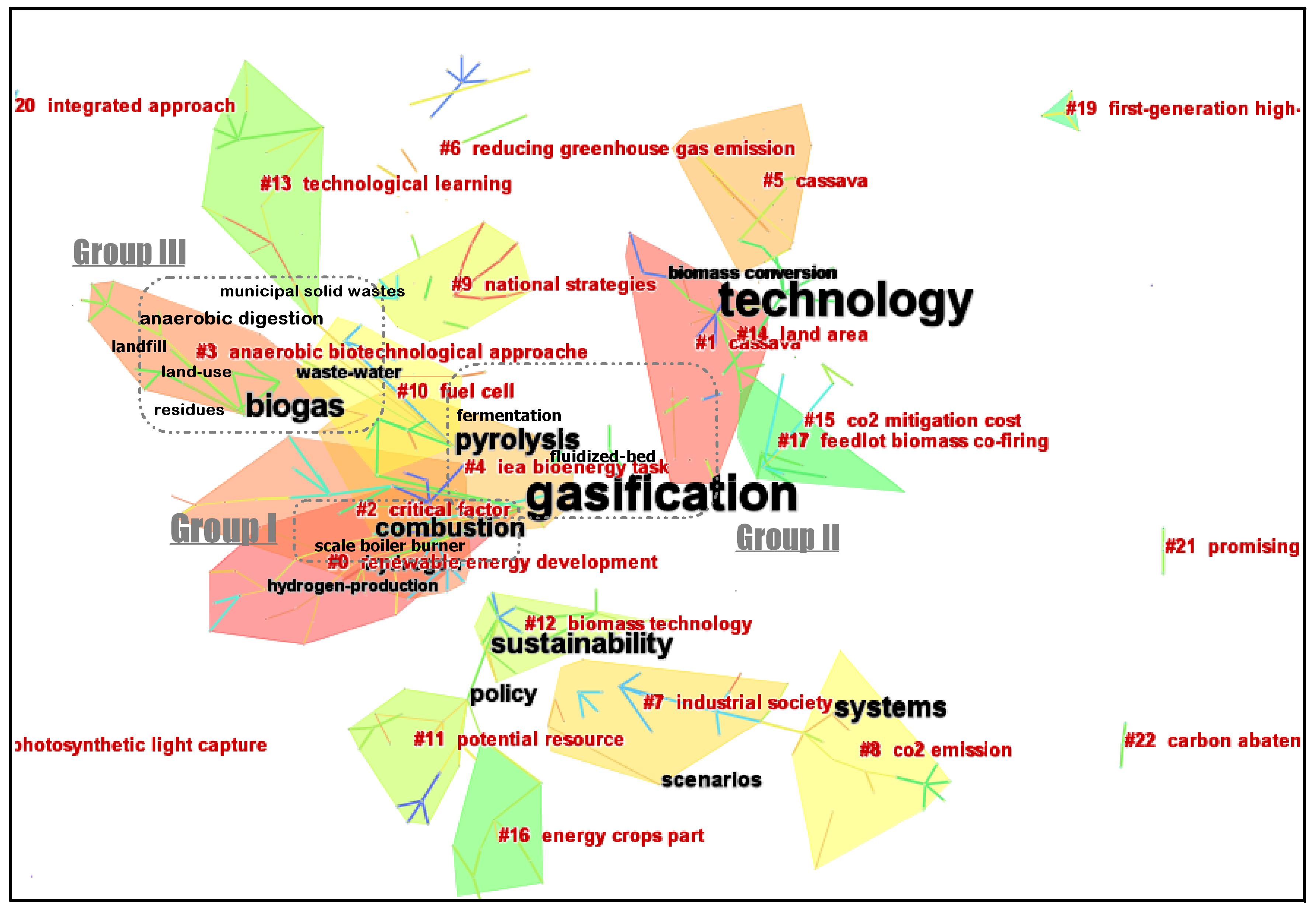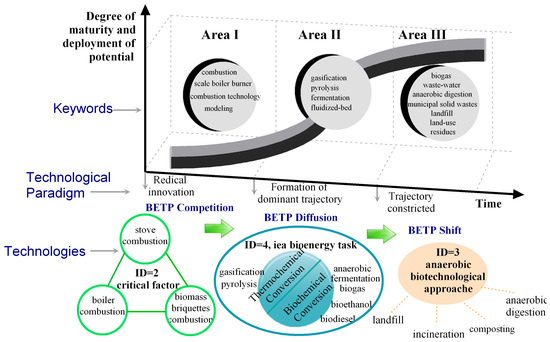 Figure 5. Biomass energy technological paradigm (BETP) evolution based on the technological paradigm.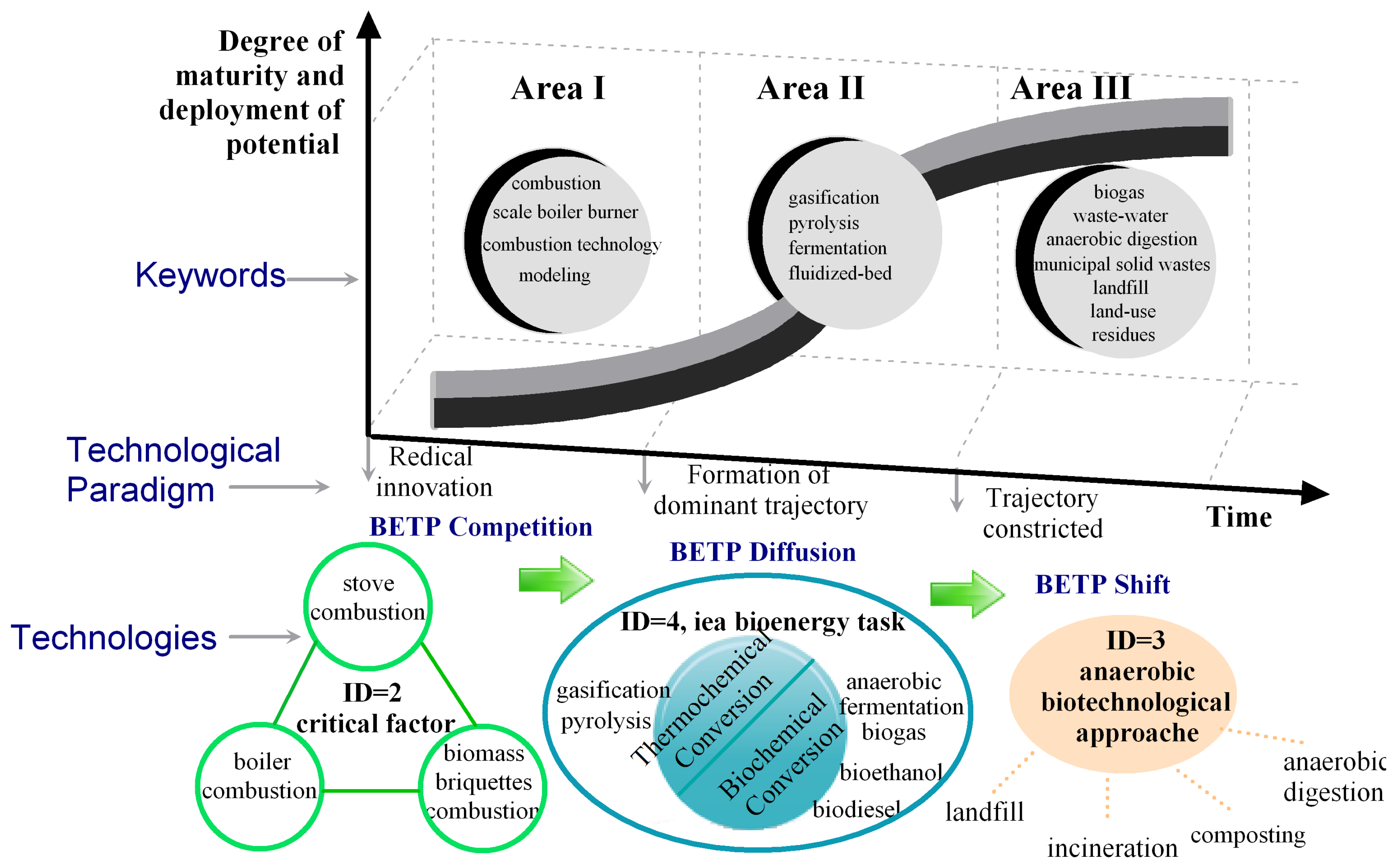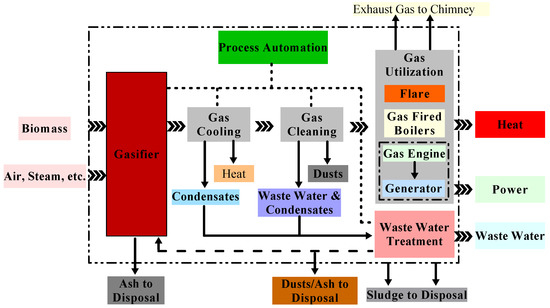 Figure 8.
Typical biomass gasification process [
66
].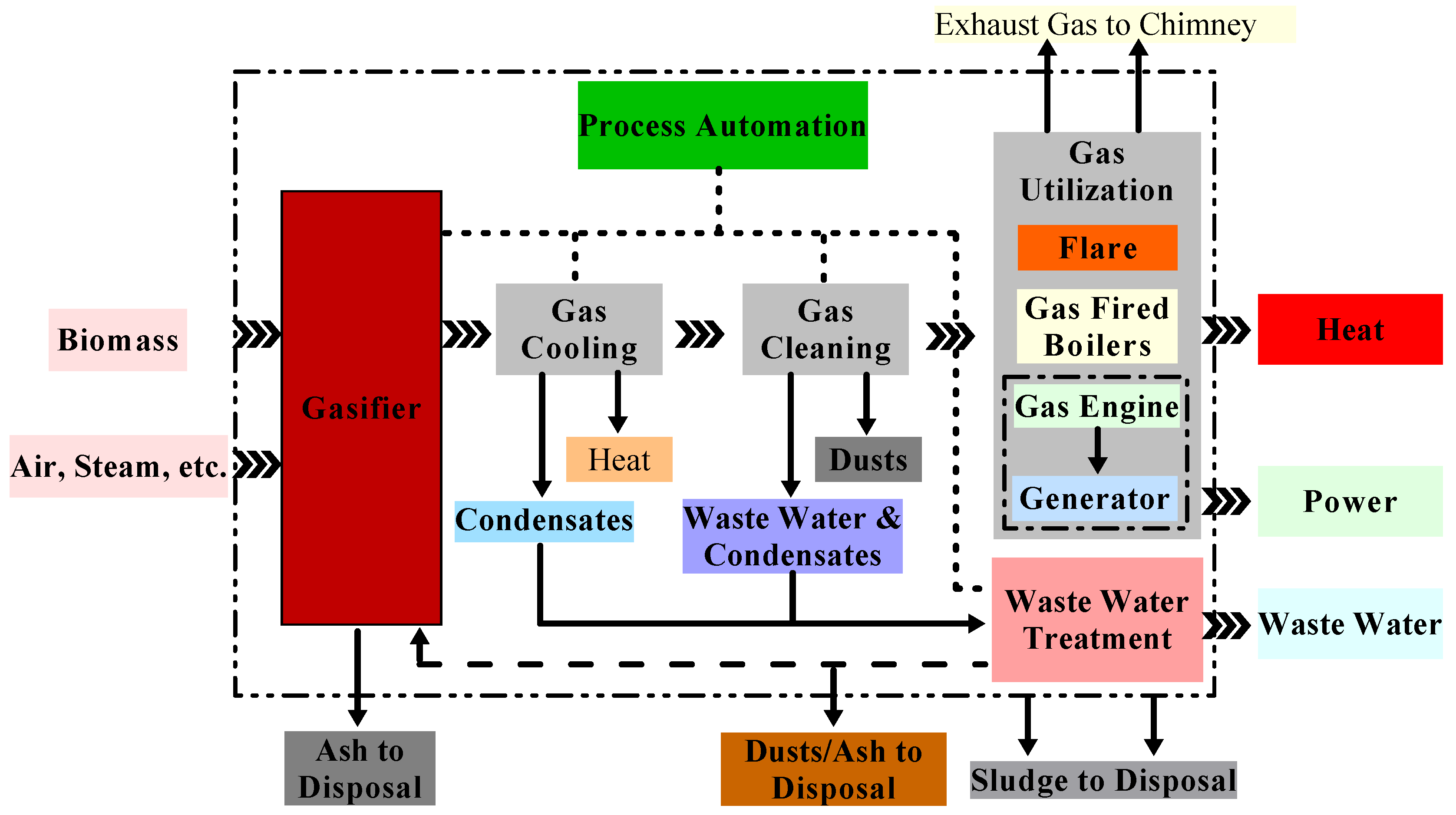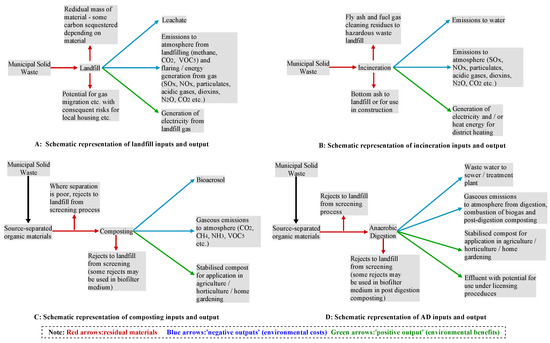 Figure 10.
A schematic representation of landfill, incineration, composting, and anaerobic digestion [
123
].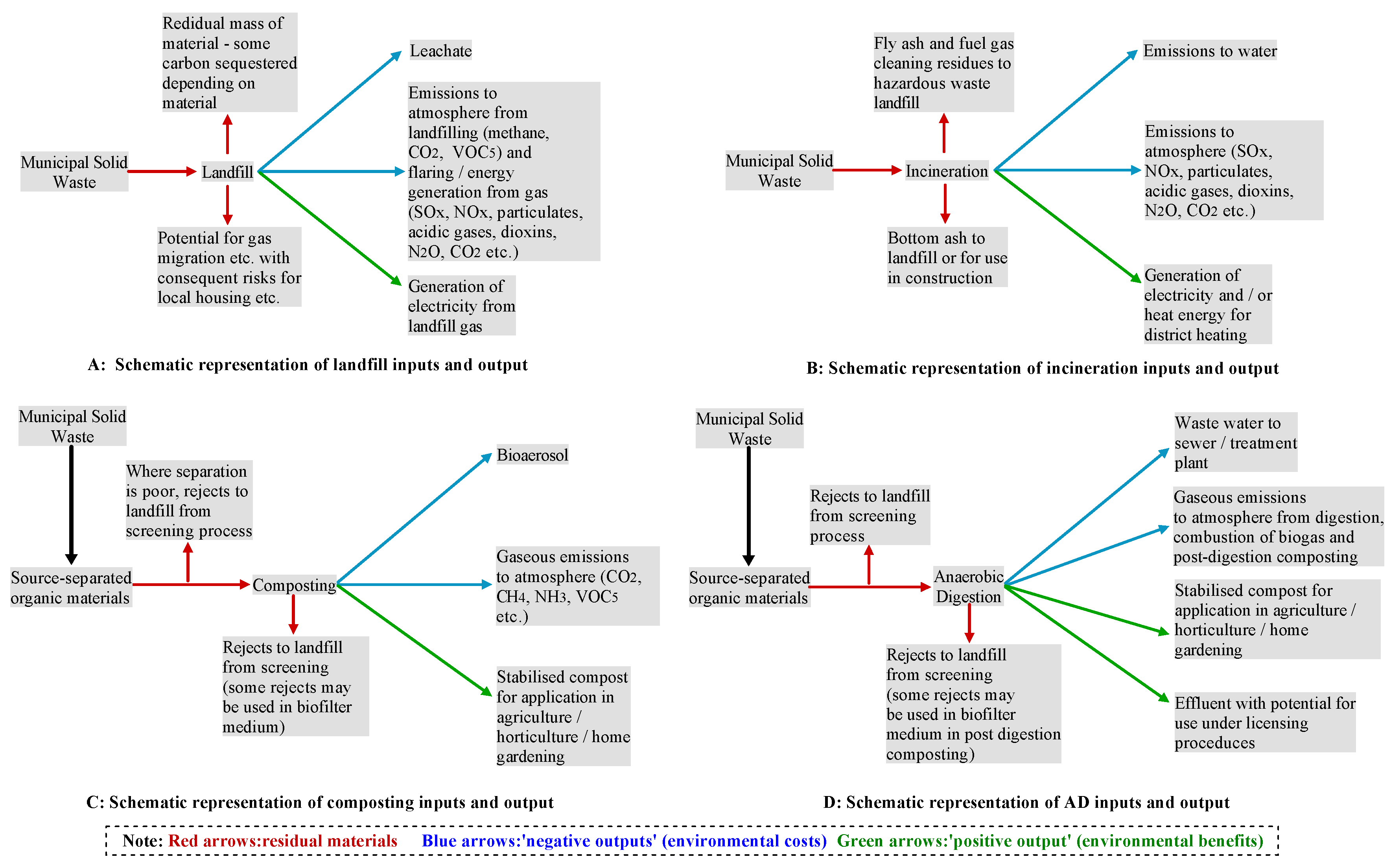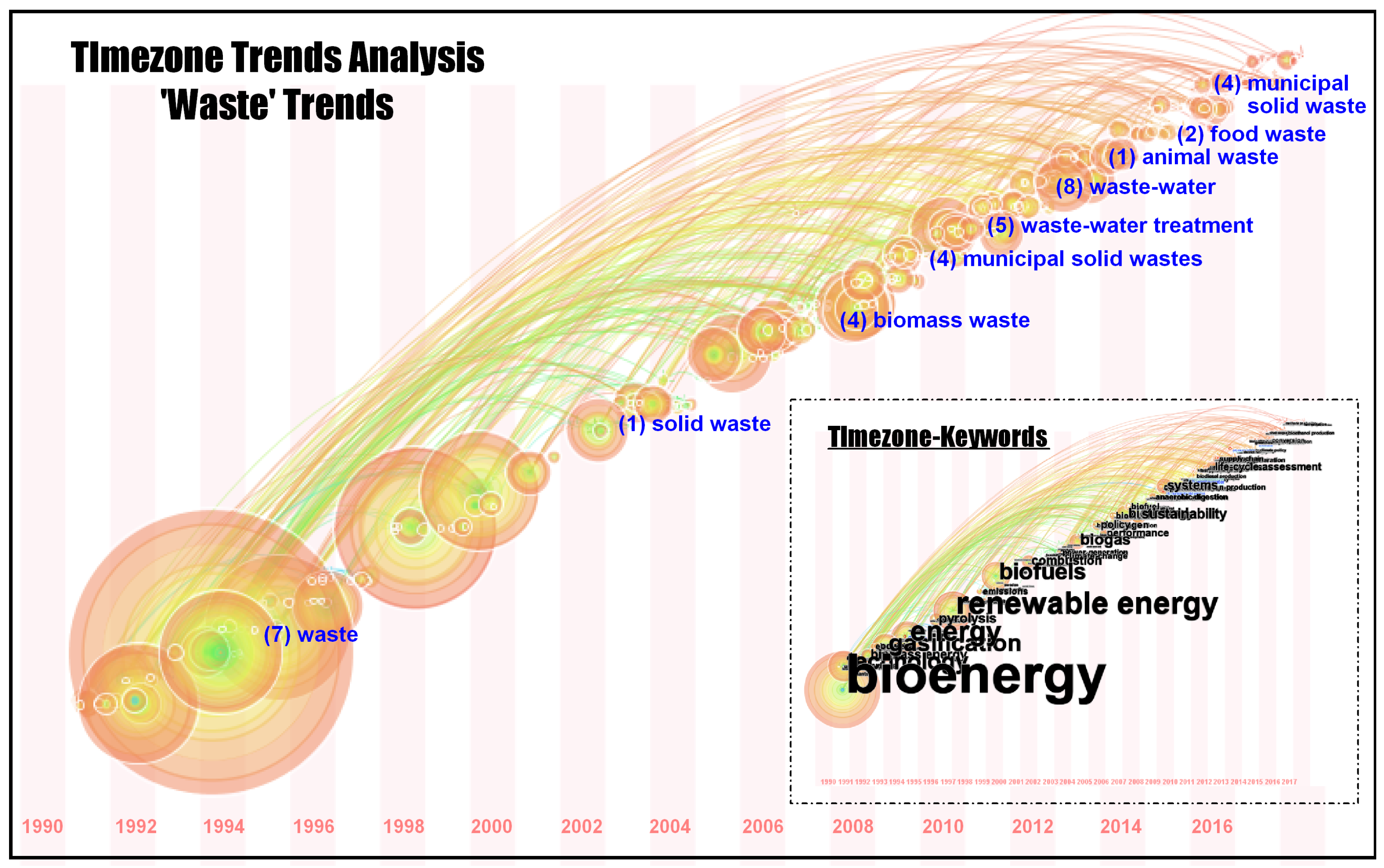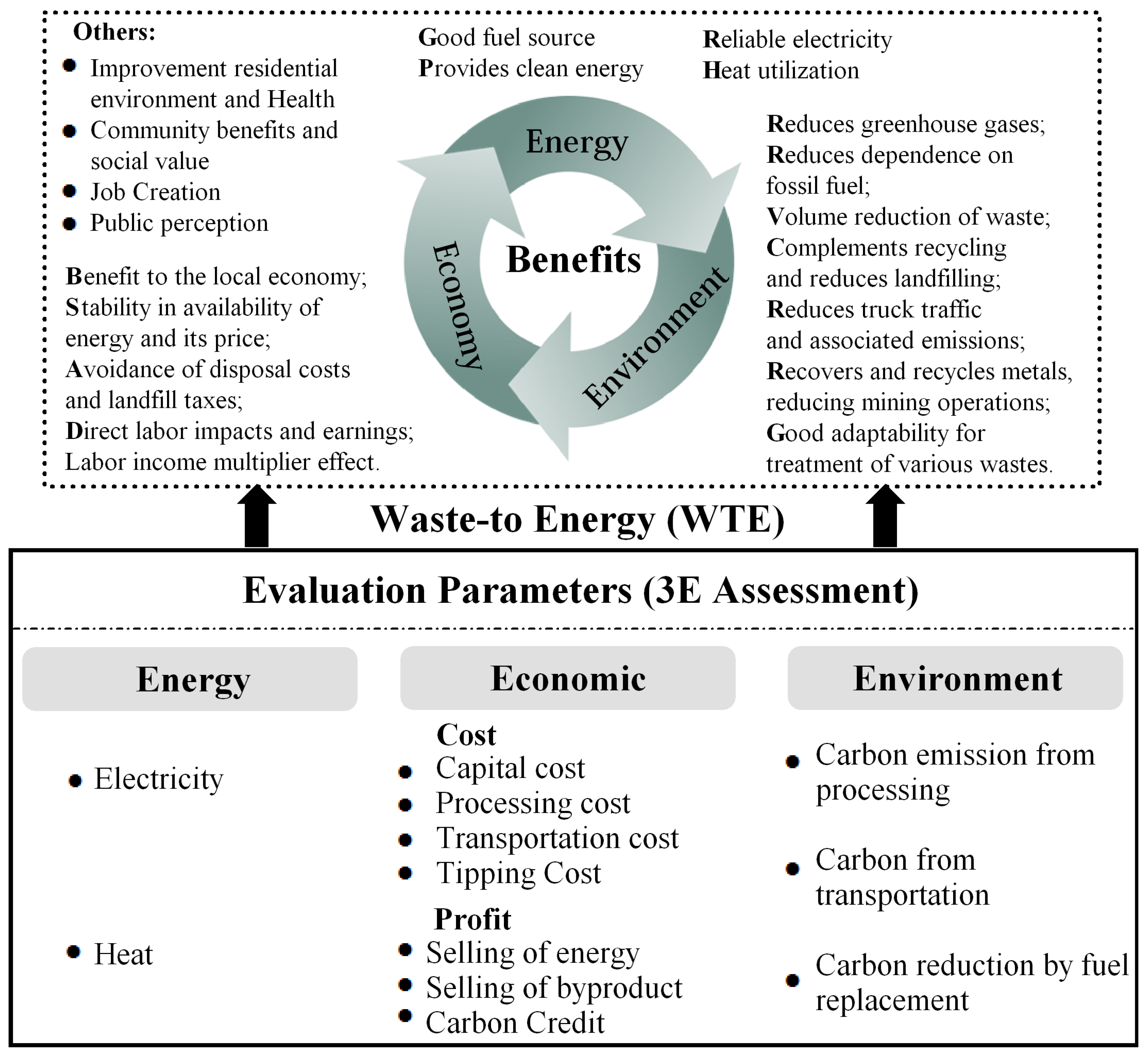 Table 1. Characteristics of biomass pyrolysis processes [78,79,80].
Process
Retention
Heating
Maximum
Main
Type
Period
Rate
Temperature
Products
Slow pyrolysis
Carbonization
Few hours∼several days
Extremely low
400 °C
Charcoal
Convention
5∼30 min
Low
600 °C
Gas, oil, charcoal
Fast pyrolysis
Fast
0.5∼5 s
Relatively high
650 °C
Oil
Flash (oil)
<1 s
High
<650 °C
Oil
Flash (gas)
<1 s
High
>650 °C
Gas
Extremely fast
<0.5 s
Extremely high
1000 °C
Gas
Vacuum
<2∼30 s
Middle
400 °C
Oil
Reactive thermal cracking
Hydrogenation pyrolysis
<10 s
High
500 °C
Oil
Methane pyrolysis
0.5∼10 s
High
1050 °C
Chemicals
© 2017 by the authors. Licensee MDPI, Basel, Switzerland. This article is an open access article distributed under the terms and conditions of the Creative Commons Attribution (CC BY) license ( http://creativecommons.org/licenses/by/4.0/).