An Expert-Based Assessment Model for Evaluating Habitat Suitability of Pond-Breeding Amphibians
1
Department of Horticulture, National Chung Hsing University, Taichung City 402, Taiwan
2
Department of Ecosystem Science & Management, Texas A&M University, College Station, TX 77843, USA
*
Author to whom correspondence should be addressed.
Academic Editor: Iain Gordon
Received: 8 November 2016 / Revised: 9 February 2017 / Accepted: 10 February 2017 / Published: 16 February 2017
Abstract
Farm ponds are important habitats for amphibians, birds, and other wildlife. In Taiwan, artificial ponds were originally created on farmlands for irrigation purposes and the needs of the domestic water supply. Although pond creation is a typical farming practice, it also provides habitats for pond-breeding amphibians. Thus, it is essential to understand the current status of habitats and their vulnerability regarding urgent conservation needs for target species. Günther's frog (
Hylarana guentheri
), a pond-breeding amphibian, has a high sensitivity towards surrounding environmental changes, and can be used as an indicator species to assess habitat suitability. The purpose of this study is to establish a systematic framework to assess the habitat suitability of pond-breeding amphibians by using Günther's frog as a pilot-study species. First, we collected frog survey data from Chiayi, Taiwan, from winter 2013 to spring 2015, and investigated the present status of the environmental conditions around the ponds. Next, expert questionnaires and the fuzzy Delphi method were applied to establish the hierarchical evaluation criteria regarding the habitat suitability assessment. Four indicators: the aquatic environments of farm ponds; the terrestrial environments around ponds; landscape connectivity; and the conservation perceptions of the residents, were determined as first-layer factors in the assessment criteria, while ten other indicators were defined as second-layer factors. Based on the established assessment criteria, we performed in situ habitat suitability evaluations on 69 selected sites and surveyed the perceptions of the residents using questionnaires. Results revealed that 19% of locations were rich in frog species with a high habitat suitability. However, 67% of locations showed signs of habitat degradation, which may imply a higher need in practicing habitat improvement or restoration. The Kappa value was 0.6061, which indicated a high reliability of the habitat suitability assessment model. In brief, the proposed method can be applied, not only to assess the sustainability of frog habitats and degradation risks, but also to determine which locations may require future attention regarding conservation implementation. Furthermore, findings in this study provide useful background knowledge to all associated stakeholders when designing and implementing plans of wildlife habitat management and restoration at farm ponds.
View Full-Text
►

▼

Figures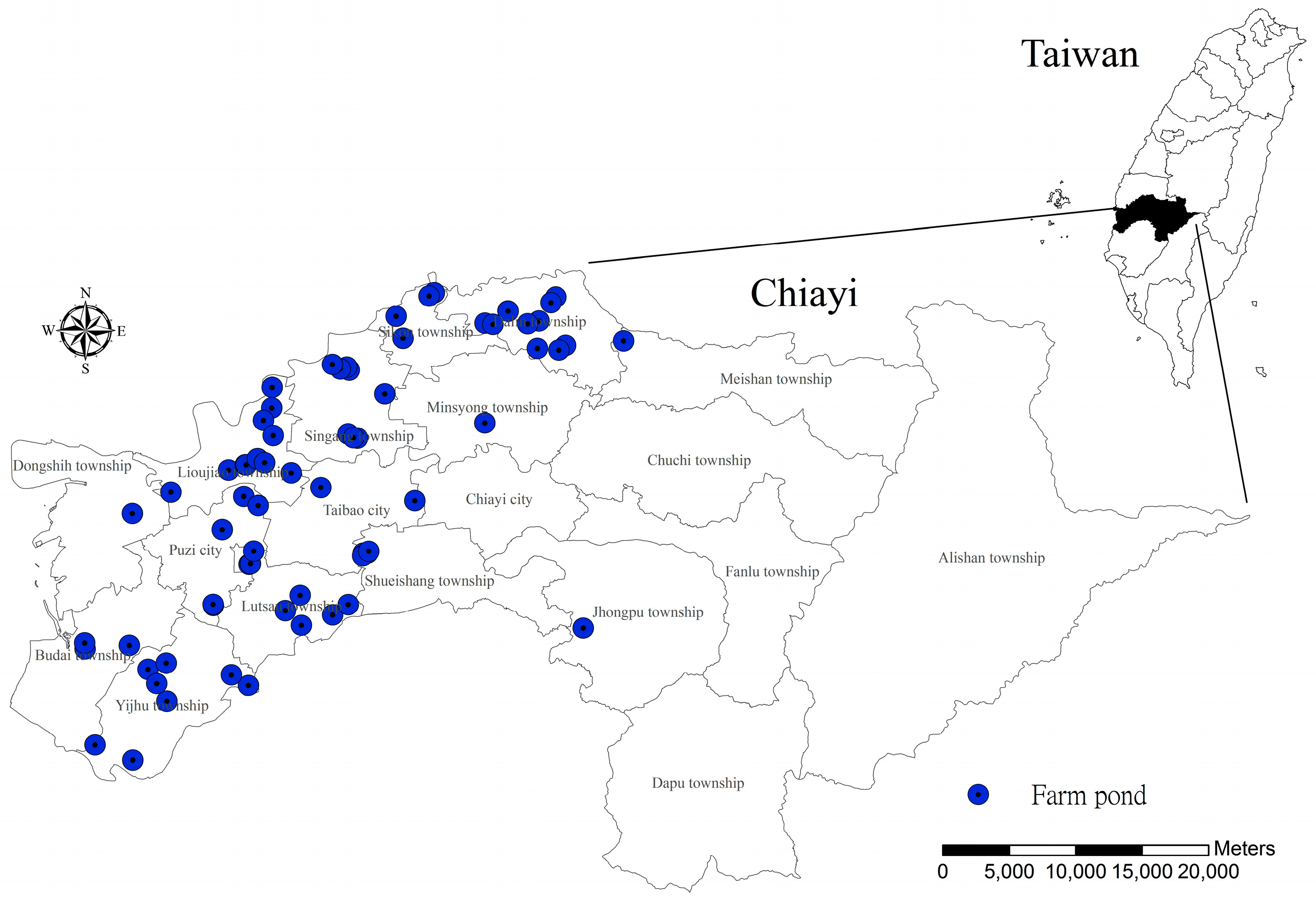 Figure 1
This is an open access article distributed under the
Creative Commons Attribution License
which permits unrestricted use, distribution, and reproduction in any medium, provided the original work is properly cited. (CC BY 4.0).
Share & Cite This Article
MDPI and ACS Style
Juang, S.-R.; Chen, S.-H.; Wu, C.-F. An Expert-Based Assessment Model for Evaluating Habitat Suitability of Pond-Breeding Amphibians. Sustainability 2017, 9, 278.
Note that from the first issue of 2016, MDPI journals use article numbers instead of page numbers. See further details here.
Related Articles
Comments
[Return to top]