Open Access This article is
freely available
re-usable
Article
Heterogeneous Value of Water: Empirical Evidence in South Korea
1
Department of International Economics and Trade & Global Sustainable Development Economics Institute, Sunmoon University, Asan 31460, Korea
2
Korea Research Institute for Human Settlements, 5 Gukchaegyeonguwon-ro, Sejong 30149, Korea
3
Korea Environment Institute, 370 Sicheong-daero, Sejong 30147, Korea
4
National Assembly Research Service, Seoul 07233, Korea
5
Program in Environmental Technology and Policy, Department of Environmental Engineering, Korea University, Sejong 30019, Korea
*
Author to whom correspondence should be addressed.
Received: 6 September 2017 / Accepted: 26 September 2017 / Published: 29 September 2017
Abstract
:
Anthropogenic pressures have exacerbated self-sustaining river services, and growing concerns over sustaining river system become global problematic issues that lead us to implement river restoration projects. Of those projects, governing diverse needs and desires from stakeholders for those who have various water values are key elements of identifying the success of the project. In fact, the Korean government has had concern over restoring the rivers which brings to construct 16 weirs in four major rivers and may fail to achieve main goal of the project, which is to ameliorate water quality. In this study, principle component analysis and multinomial logit model were executed to investigate major socioeconomic variables to influence water values in terms of sustainability in Korea. Evitable evidences have been found that age, income, education level, and city dwelling are the most effective variables to estimate water values. In addition, a monotonous water development project and a myopic view could cause major dejection across the nation and may lead to the failure of water governance. Unfortunately, the latter may be observed in Korea as one of the reasons for the recent amplification of major conflicts.
Keywords:
multinomial logit model; principle component analysis; river; sustainable development; water value
1. Introduction
Considering the characteristics of water resources in terms of an implementing water resource management strategy for the future, a number of critical research questions have been brought up. For planning and implementing a mega project such as the four major rivers restoration project in Korea, should we consider different water values and demands among regions or stakeholders? If so, what variables will affect the water value? How can we categorize the water values in different perspectives, i.e., in terms of sustainable development? What should we consider for future water resource management plans?
2. Case Study and Application
2.1. The Four Major Rivers Restoration Project
The annual average precipitation in the Korean Peninsula is about four times greater than the world average, but two-third of its rainfall is concentrated during the monsoon season (June to September), and there is little rain during the rest of the year. Due to its unbalanced precipitation pattern, Korea is categorized as a water-stressed country, and annually repeated water-related disasters such as droughts and floods are commonplace [
12
]. To eradicate these natural disasters, the Korean government decided to implement the "four major rivers restoration project" as a part of the "Green New Deal" policy in 2008. The four rivers are the Han, Nakdong, Geum, and Yeongsan rivers (
Figure 1
). The main objective of the project was to restore those four rivers and enhance water security, flood control, and ecosystem vitality by constructing 16 weirs. In addition, the project was designed to promote historical and cultural tourism [
13
]. The expected outcomes of the project were to improve water quality, to secure water resources, to restore ecosystems, to create multipurpose riverside spaces, and to accelerate the regional economy. The project was designed to construct 16 weirs by dredging 570 million m
3
of sediment and graveling almost 700 km of riverbed. It was the costliest construction projects in recent Korean history [
12
]. The total budget for this mega project was approximately $17.3 billion dollars, but Lee et al. [
5
] concluded that the economic value created by the project was extremely smaller than its cost. This might be the result of the failure of reflecting various stakeholders' demands and desires of water value or ignoring the trend of river restoration concept in terms of sustainability.
2.2. Survey Design and Data
National-level water demand and value survey in terms of sustainability was conducted to collect information from 20 cities and provinces, i.e., Han (including Chuncheon, Gapyeong, Namyangju, Seoul, Yeoju, Chungju), Nakdong (Yecheon, Andong, Sangju, Daegu, Yangsan, Jinju), Geum (Cheongwon, Gongju, Daejeon, Nonsan), and Yeongsan (Damyang, Gwangju, Naju, Hwasun) river watersheds where these cities and provinces are the best representatives watershed areas directly influenced by the four major rivers restoration project. Considering demographic characteristics, 2850 samples were collected by a professional survey company from August 2012 to November 2012. Highly trained interviewers conducted telephone surveys through random digital dialing during a given time period and explained about the value of water for the purposes of this survey.
Followed by Pahl-Wastl et al. [
10
] and Tàbara et al. [
14
], the main questionnaire consisted of seven parts: (1) cognizance on function of rivers, (2) problem awareness of rivers, (3) policy awareness of rivers, (4) cognizance on possible value of rivers, (5) awareness of conflicts among each value created by water, (6) cognizance on complementary relationships among each water value, and (7) cognizance on river restoration policy direction and governance problems. These questions were intended to categorize water demand and values into three dimensions: (1) environmental (or ecological) value, (2) social value including historical and cultural value, and (3) economic value.
Table 1
illustrates the description of variables and summary of statistics.
3. Model Specification
3.1. The Multinomial Logit Model
The multinomial logit model is one of the well-known conventional methods for dealing with a discrete choice among a set of alternatives in economics [
15
]. For instance, Hensher [
16
], McFadden [
17
], and many other economists have applied this method to estimate the travel mode of urban commuters. Schmidt and Strauss [
18
] and Boskin [
19
] have used an unordered multinomial logit model to analyze occupational choice among multiple alternatives. Since our study is based on the national water value cognizance survey 2012, the data set can be defined as unordered and individual specific. Therefore, analyzing data with a multinomial logit model is adequate. The unordered choice model can be originated by a random utility model, which can be written as follows:
where is individual utility, is observed individual, is th consumer's choice among alternatives, is regressors, is coefficient, and
ε
is error term. If the individual chose choice in particular, then it is assumed that is maximized utilities among the utilities. Hence, the statistical probability model can be driven as follows:
In general, two models can be considered: probit and logit. Because of the need to calculate multiple integrals of the normal distribution, the probit model has a limited availability, unlike the binomial case. The logit, however, has a more relaxed assumption in this case. McFadden [
17
] has shown that if and only if the disturbances are independent and identically distributed (iid) with Gumbel distribution, multinomial logit model can be written as follows:
where is a priority cognizance of water value driven from the PCA score for th observed individual and is a matrix of regressors (e.g., socioeconomic factors). Before proceeding, we selected the base result (), which is the most chosen cognizance of water value from the data set and defined for any vector [
15
]. In general, because the parameters of multinomial models are hard to interpret directly, the marginal effect (ME) can be used for alternative explanations [
20
]. Functional form can be as follows:
In addition, we can also compute log-odd ratios, as follows:
Finally, the log-likelihood function can be written as follows:
One of the well-known problems of the aforementioned model is that the logistic model becomes unstable due to the strong dependence among predictors [
21
]. It seems that no one variable is important when all the others are included in the model which causes a high-dimensional multicollinearity problem. Like many other regression method, the logistic regression usual to have a very high number of predictor variables so that a reduction dimension method is needed to improve accuracy of the logistic estimation [
22
]. The following data reduction technique, principal component analysis (PCA), can be introduced to correct this problem.
3.2. Principal Component Analysis
Principal component analysis (PCA) is a well-established multivariate statistical analysis for dimensionality reduction, and numerous applications can be found in the field of data compression [
23
]. The key feature of this method is that it allows relatively straightforward projection of data from higher to lower dimensional space without any assumption on the data distribution [
24
]. In principal, PCA can be applied various social science field as an orthogonal linear transformation, allowing the data to a new coordinate system. For a set of observed data matrix, X, with zero mean, where each of the
n
rows indicates a different individual and each of the
p
columns gives a water value cognizance from an individual. According to Jolliffe [
25
], mathematical formation of the aforementioned statement can be written as follows.
The transformation is defined by a set of
p
-dimensional vectors of loadings that map each row vector of X to a new vector of principal component scores , given by , where t considered over the data set successively inherit the maximum possible variance from X with each loading vector W constrained to be a unit vector. Then the first component can be derived as follows:
Since has been assumed as a unit vector,
where the first component, , can have a score .
By applying the above procedure, the
k
th component can be found by subtracting the first
k
− 1 principal component from X, then the loading vector that extracts the maximum variance from a new data matrix can be written as follows:
where .
We applied this ubiquitous decomposition technique to estimate multiple choices from national water value cognizance survey.
4. Empirical Results
For the marginal effect on alternatives of cognizance on water value, one unit of age increase people tend to perceive more social and economic value, 0.001 and 0.002 probabilities, respectively, rather than environmental value in −0.004 chances. Similarly, one unit of household income increases the probability of choosing social value of water rather than environmental or economic value of water by 0.005. However, increased household income leads to a less likely probability (0.007) of choosing the environmental value of water to other alternatives. The city dummy indicates that city dwellers are highly statistically likely to cognize the environmental value of water (0.077 probability) and are less likely to cognize the social and economic value of water (0.042 and 0.036, respectively). More educated people prefer the environmental value of water (0.013) over the economic value of water (0.015).
5. Conclusions
In 2008, the Korean government decided to construct a sequence of weirs in four major rivers to provide better river system services including water quality improvement, local cultural promotion, and local economic activity invigoration as a part of implementing the green growth strategy. This "four major rivers restoration project" was completed almost five years ago after spending approximately $17 billion dollars for construction. Like many public mega infrastructure construction projects, this project was advertised as remarkably successful. However, all those positive effects of this project on local communities are questionable because it was designed without any global consensus of various stakeholders and may not reflect their needs and desires in term of water value in a sustainable manners. Moreover, recent water quality degradation (e.g., Algal bloom) may mean that this mega project failed to achieve its main goal.
In this sense, this research tried to investigate the various value of water in term of sustainability among residents across the four major rivers in Korea and analyze how this value varies in those four watersheds. Although methods of valuing the water have been developed the literature, few have attempted to estimate heterogeneous value of water in a quantitative manner by collecting data from a national-level survey.
In this paper, principal component analysis was conducted to classify the value of water in sustainable terms by using 2850 samples across those four rivers, and the multinomial logit model was applied to characterize dwellers' selection behavior among water values. Furthermore, parameter coefficients for the multinomial logit model is difficult to interpret directly, so the marginal effect analysis was also conducted to estimate the impacts of explanatory variables unit changes on selected water value. Our estimation results clearly indicate that age, education level, and household income are the most significant variables to influence water values. In addition, city dwellers are the most environmental water value seekers, as we can assume. However, the four major rivers restoration project was a monotonous implementing plan ignoring the fact that residences of Korea have various needs and desires for water usage and may exacerbate individual utilities in many dimensions. This bureaucratic authoritarianism and myopic point of view may lead to the failure of the main goal of the project.
The results of this study can be interpreted into several water development policy perspectives: (1) people with higher age and higher household income tend to prefer the social and local cultural demand on water value to its environmental value; (2) individual education level has a significant positive influence on environmental value of water, but negative on economics value; (3) city dwellers have the highest marginal effect on all water values, positive to environmental value and negative to its social and economic value; and (4) gender, job, and upstream-downstream relation have insignificant marginal effects on all water values, meaning that conventional assumptions of upstream-downstream development agenda do not apply in four major rivers. Policymakers should realize these results and apply them when there is a plan for water policy reform and in the event future costly mega construction project like the four major rivers restoration project. Suffice to say that monotonous development plans and myopic views can cause national dejections, especially if policymakers fail to implement sound water governance. Although this paper has some limitations, such as that the survey only covered major cities and provinces in the four rivers watersheds and the study does not calculate social benefits of the mega project, it clearly envisions an inevitable pathway for the future water development project in Korea by revealing individuals' characteristics in terms of sustainability dimensions.
Acknowledgments
This work was supported by the National Research Foundation of Korea Grant funded by the Korean Government (NRF-2014S1A5A2A03064796). This manuscript is also based upon work supported in part by the Korea Environment Institute (No. 2012-02-01).
Author Contributions
Yoon Lee and Yongsuk Hong contributed to the design and development of this research. The manuscript was primarily written by Yoon Lee and Yongsuk Hong. Haejin Han and Kyoungmin Kim provided data. Sungchul Cho prepared the drafts.
Conflicts of Interest
The authors declare no conflict of interest.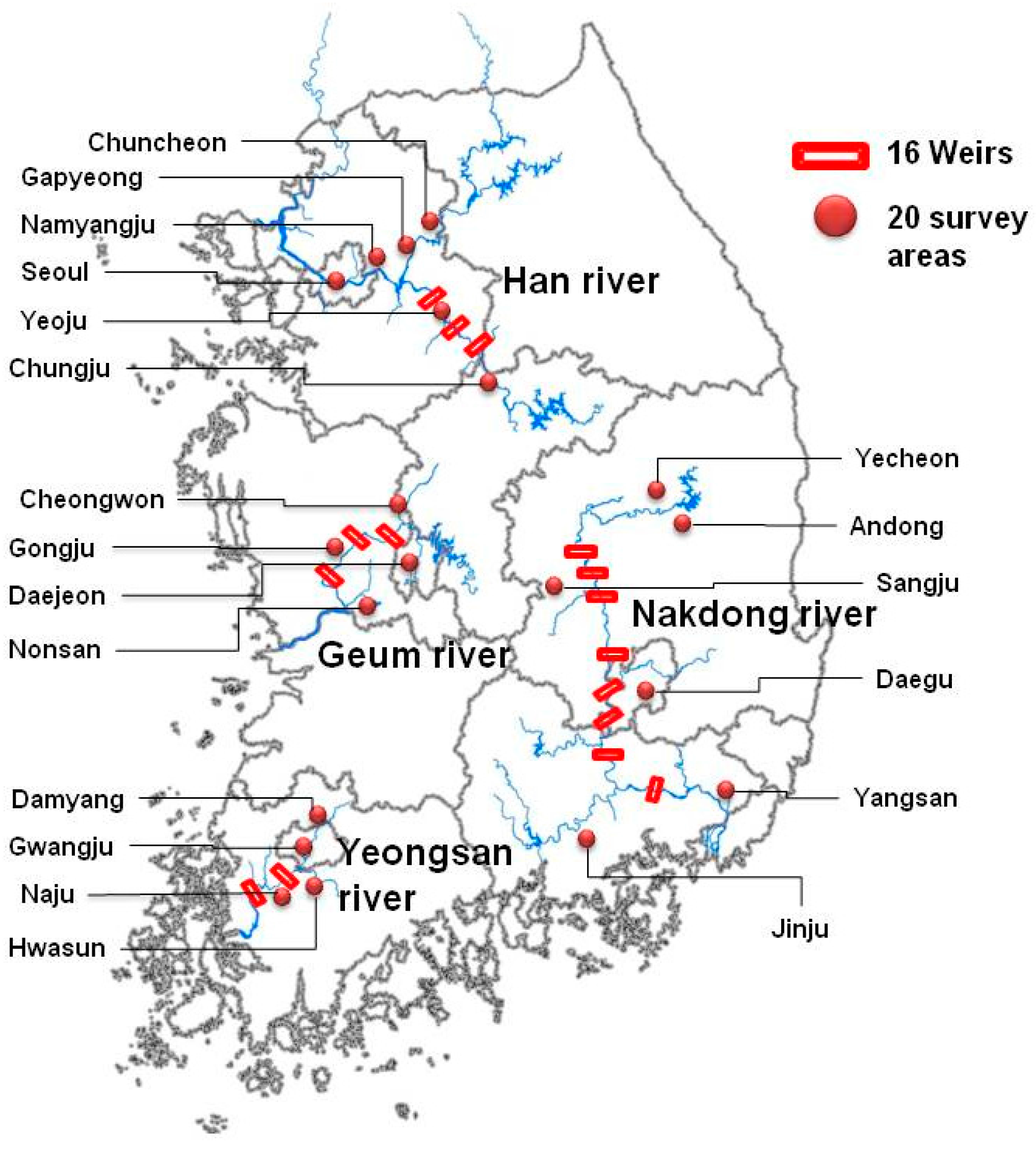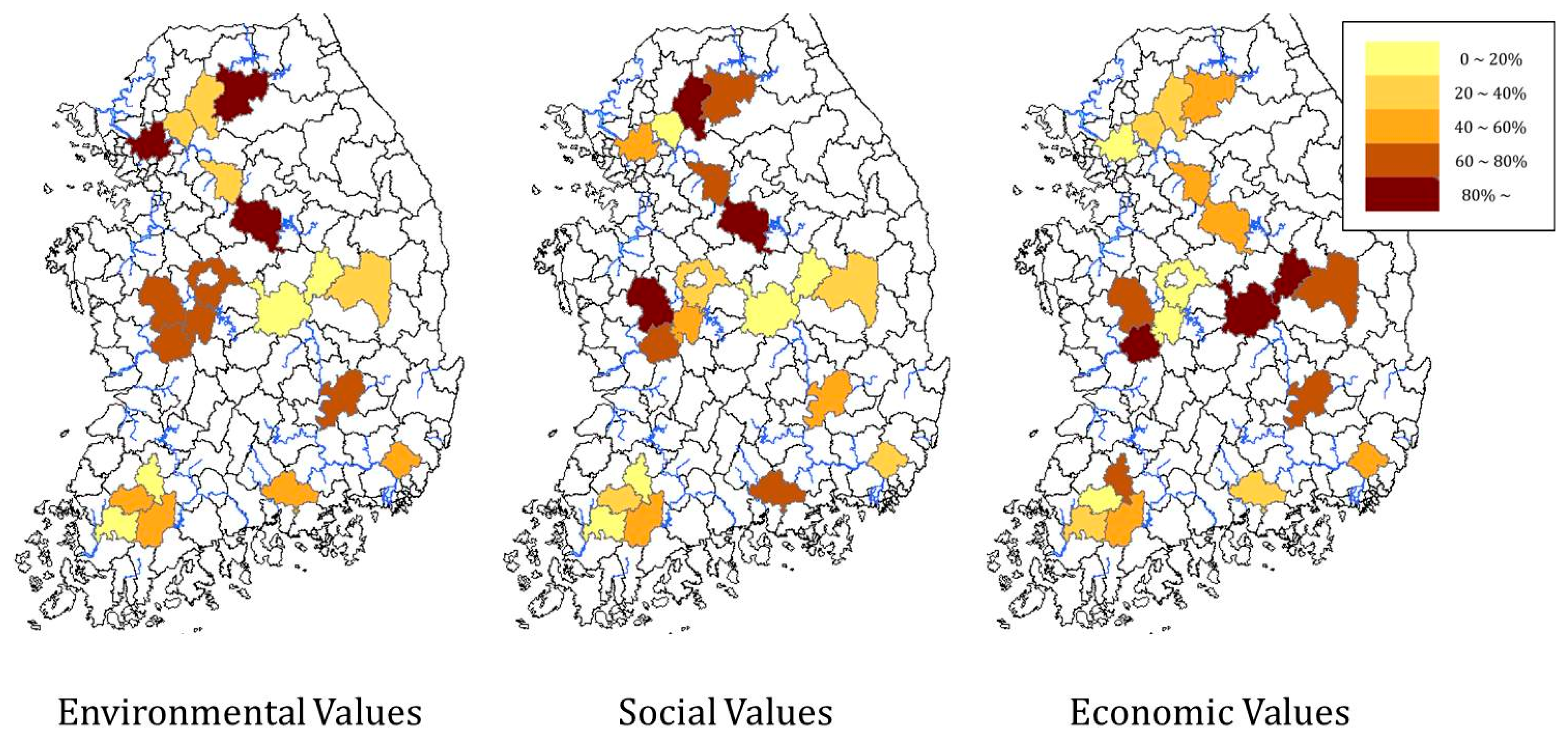 Table 1. Variable description and summary statistics.
Variables
Description
Mean
95% Confidence Interval
Sample
Sample size for each rivers
(Quota sampling based on demographic and regional characteristics of population)
2850
(Han, 900; Nakdong, 850; Geum, 550; Yeongsan, 550)
Gender
Male 1, Female 0
0.490
(0.009)
0.471
0.508
Age
Year
49.721
(0.311)
49.111
50.331
Job
White-color 1, otherwise 0
0.603
(0.135)
0.336
0.870
Education
Under elementary 1, under middle 2, under high school 3, college 4, college graduate 5, above college 6, otherwise 7
3.554
(0.034)
3.487
3.621
Household Income
<$2000 1, <$3000 2, <$4000 3, <$5000 4, <$6000 5, <$7000 6, <$8000 7, >$8000 8, Otherwise 9
4.347
(0.060)
4.229
4.465
Upstream dummy
Upstream 1, otherwise 0
0.596
(0.009)
0.578
0.614
City dummy
City 1, otherwise 0
0.438
(0.009)
0.420
0.456
Note: Numbers are mean and in parentheses are standard errors.
Table 2. Estimates of factor loadings from principal component analysis (PCA).

| Questionnaire | Environmental Value | Social Value | Economic Value |
| --- | --- | --- | --- |
| River is an ecological place to animals and plants for their living | 0.585 | | |
| River ecology needs to restore urgently | 0.467 | | |
| River development should be conducted environmental friendly way | 0.692 | | |
| Environmental friendly river development can provide environmental shelter for human | 0.602 | | |
| River ecology will be degraded by outbound tourists | 0.473 | | |
| River is a place for local history and culture | | 0.621 | |
| Conservation of local river culture and modern succession are urgent issues | | 0.578 | |
| River development should reflect local history and culture faithfully | | 0.699 | |
| Historical river development can enhance local brand power | | 0.583 | |
| Local river culture can be destroyed by a commercial development logic | | 0.465 | |
| River should be a place for local economic benefits | | | 0.602 |
| River development is urgent for a local economy vitalization | | | 0.684 |
| River development should be supplement local economy | | | 0.704 |
| Economic river development can create more jobs and increase a household income | | | 0.645 |
| Economic river development can be delayed by emphasizing environmental and social river development | | | 0.552 |
| Total explained variance | 32.49% | 35.29% | 40.93% |
Table 3. PCA scores for each city and province.
River
Cities/Provinces
Environmental Value
Social Value
Economics Value
Han
Chuncheon
0.26
0.07
0.05
Gapyeong
−0.12
0.18
−0.02
Namyangju
−0.16
−0.20
−0.07
Seoul
0.18
0.04
−0.10
Yeoju
−0.15
0.09
0.04
Chungju
0.19
0.18
0.03
Mean
0.07
0.04
−0.02
Nakdong
Yecheon
−0.34
−0.12
0.28
Andong
−0.13
−0.04
0.11
Sangju
−0.25
−0.14
0.14
Daegu
0.04
0.04
0.06
Yangsan
0
−0.08
0
Jinju
−0.02
0.13
−0.06
Mean
−0.05
−0.05
0.06
Geum
Cheongwon
0.03
−0.07
−0.19
Gongju
0.10
0.14
0.09
Daejeon
0.11
−0.03
−0.09
Nonsan
0.11
0.07
0.42
Mean
0.08
0.05
0.00
Yeongsan
Damyang
−0.31
−0.19
0.08
Gwangju
−0.01
−0.08
−0.17
Naju
−0.28
−0.12
−0.06
Hwasun
−0.08
0.03
0.05
Mean
−0.12
−0.05
−0.07
Table 4. Multinomial logit model estimates for cognizance on water value.
Variable
Coefficient
rrr
std. err.

P

>
Environmental Value
(Base Outcome)
Social Value
Intercept
−1.252
0.285
0.072
0.000 **
Gender
−0.012
0.988
0.010
0.907
Age
0.017
1.017
0.003
0.000 **
Job
0.007
1.007
0.007
0.351
Education
−0.033
0.966
0.029
0.260
Household Income
0.051
1.052
0.017
0.002 **
Upstream Dummy
0.004
1.121
0.124
0.303
City Dummy
−0.405
0.666
0.074
0.000 **
Economic Value
Intercept
−0.523
0.592
0.132
0.020 **
Gender
0.050
1.051
0.093
0.574
Age
0.018
1.018
0.002
0.000 **
Job
0.008
1.008
0.006
0.190
Education
−0.077
0.925
0.025
0.004 **
Household Income
0.020
1.020
0.015
0.160
Upstream Dummy
0.073
1.076
0.103
0.446
City Dummy
−0.313
0.730
0.070
0.001 **
Log likelihood = −3004.0026
Number of Observation = 2850; LR (14) = 110.58; prob > = 0.000; Pseudo R2 = 0.0181
Note: ** indicates the significance at the 5% level.
Table 5. Results of marginal effect.
Variable
Environmental Value
Social Value
Economic Value
dy/dx

P

>
dy/dx

P

>
dy/dx

P

>
Gender
−0.006
0.736
−0.007
0.656
0.013
0.479
Age
−0.004
0.000 **
0.001
0.013 **
0.002
0.000 **
Job
−0.002
0.197
0.000
0.720
0.001
0.280
Education
0.013
0.012 **
0.002
0.730
−0.015
0.007 **
Household Income
−0.007
0.019 **
0.007
0.005 **
−0.001
0.961
Upstream Dummy
−0.019
0.320
0.013
0.445
0.006
0.754
City Dummy
0.077
0.000 **
−0.042
0.017 **
−0.036
0.082 *
Note: * and ** indicates the significance at the 10% and 5% level, respectively.
© 2017 by the authors. Licensee MDPI, Basel, Switzerland. This article is an open access article distributed under the terms and conditions of the Creative Commons Attribution (CC BY) license (http://creativecommons.org/licenses/by/4.0/).