Open Access This article is
freely available
re-usable
Article
Implementation of Responsible Research and Innovation (RRI) Practices in Industry: Providing the Right Incentives
1
Department of Philosophy, Faculty of Behavioural Sciences, University of Twente, P.O. Box 217, 7500 AE Enschede, The Netherlands
2
Value-Driven Decision Making, VTT Technical Research Centre of Finland Ltd., Tekniikankatu 1, 33720 Tampere, Finland
*
Author to whom correspondence should be addressed.
Received: 1 July 2017 / Accepted: 18 September 2017 / Published: 28 September 2017
Abstract
:
Responsible Research and Innovation (RRI) is a term used by policy-makers and academics to refer to research and innovation that is ethically acceptable and socially desirable. Despite the fact that the vast majority of research and innovation (R&I) is funded and produced by industry, companies tend to have no awareness or recognition of this concept. This is unfortunate, as the RRI paradigm could be mutually beneficial for both business and society: it could help businesses realise competitive opportunities while also leading to positive economic, societal and environmental impacts. This paper investigates how industry can be incentivised to engage in research and innovation following the approach of RRI. We propose a matrix of incentives for stimulating the adoption of RRI. We categorise incentives according to three dichotomies: external and internal, instrumental and non-instrumental, direct and indirect. The incentives are formalised in a causal loop diagram, which can be used to demonstrate the sound character of investing in RRI from a business perspective. We discuss examples of incentives, including corporate reputation and critical consumerism, certification, employee engagement, and governance. Lastly, to ensure effective implementation of RRI, we outline factors for the realisation of successful incentives for RRI in industry.
Keywords:
responsible research and innovation; incentives; industry; corporate social responsibility; stakeholders
1. Introduction
Methodology
Our study includes empirical investigations, literature review and synthesis, and the development of conceptual tools. To verify the effectiveness of RRI incentives, we need a systematic method that incorporates an understanding of the nature of incentives and a system for characterising incentives. We develop a conceptual tool for categorising and analysing incentives: an incentives matrix. The system of characterising incentives that we develop assists us in organising, analysing and synthetizing data. It also allows for the characterisations of conditions in which different types of incentives are likely to be effective. The matrix was developed based on a review and synthesis of different category systems of incentives.
Our study uses system dynamics to produce a causal loop diagram (CLD) to visualise the main causal relationships concerning the adoption of RRI in industry. System dynamics is a method that aims to enhance the understanding of complex systems by identifying interconnections and feedbacks that determine the behaviour and the structure of the system under examination. Because RRI in industry is a complex network of relationships, system dynamics was chosen to improve the understanding of the relevant incentives. The information for the CLD was gathered mainly by a literature review because the paper aims to create a general model that utilises existing theories related to RRI and its effects on business processes. The definition of RRI and empirical studies, in the form of discussions, interviews and workshops with Responsible Industry project partners, informed the guidelines for the literature review. The explanation and reasoning of the CLD is presented in
Section 3
.
To map a variety of potentially effective incentives, the paper derives from the results of the Responsible Industry (RI) Project. The Project used empirical studies to identify incentives that are typically effective. A first methodology used by RI was stakeholder dialogues, a commonly accepted methodology to develop better solutions acceptable to all parties, by incorporating public values and concerns into decision making. Stakeholder dialogues were held in May 2015 and May 2016, with the aim of bringing together stakeholders in order to enable discussions and gather concrete feedback on the progress of RI and questions surrounding the RRI concept, the importance of RRI for both industry and society [
14
]. The stakeholder dialogues allowed us to identify a number of incentives that participants agreed were typically effective. To verify the results of the stakeholder dialogue, we used the Delphi method, a technique for structuring group communication, to collect and synthesise opinions and to achieve a degree of convergence on RRI perception. Using an anonymised, iterative, multistage survey process, the opinions of all participants helped us to assess attitudes, expectations and opinions of a large number of relevant stakeholders [
15
].
2. Outlining the Field: RRI and CSR
3. Defining Incentives and Our Approach
Furthermore, to ensure the effectiveness of incentives, our research recognises the differences between the addressees of the incentives. These differences are captured in the second layer of analysis—factors affecting the implementation of RRI in industry. Given that companies vary in size, each will face its own distinct challenges. Different incentives should, therefore, be created and applied to large enterprises and SMEs. Moreover, the diversity of industry sectors should be addressed. Companies from the health care sector would require different incentives than information technology or telecommunication services. Consequently, our approach is based on the principle "one does not fit all".
In the following sections, we analyse the effective implementation of RRI in industry according to the matrix. First, we discuss the initial layer of the matrix: incentives. Second, we analyse factors that affect the implementation of RRI among companies, namely the size of a company and type of industry.
4. Incentives for RRI in Industry
A profitable company is able to invest in the business development and pay the owners. This implies that the more the company makes profit the more it has resources for business development. Profit can be defined as total revenue minus total expenses. Thus, every investment or payment for the owners reduces the current profit. However, successful investment will increase the profit in future. The return of investment (ROI) depends on the type and the execution of the investment decision.
4.1. RRI Stakeholders
The stakeholders should be identified in a structured and exhaustive way [
63
] derived from the stakeholder theory [
64
]. To be able to identify stakeholders, it is crucial to define "a stakeholder", e.g., in the form of a stakeholder classification model. Moreover, how the actual stakeholders fit within these classes and how they are determined accordingly have to be taken into consideration [
63
]. In this paper, we define a stakeholder for the RRI process as either a group or an individual who potentially affects, or is affected by, RRI and/or has a (vested) interest in the RRI [
63
].
The stakeholders involved in RRI are the same as those involved in any research, development and innovation (R&D&I) process (namely industry, researchers, civil society organisations (CSOs) and policy makers, including representatives from the European Commission, universities and institutions providing policy advice). For the purposes of this study, we divide stakeholders into two main classes: internal and external stakeholders (
Figure 3
). The internal stakeholders include employees, owners and representatives of a company such as managers. The external stakeholders consist of, among others, suppliers, customers, society, governments, creditors and shareholders.
In addition to a stakeholder definition, the stakeholders can also be identified in a proactive way by conceptualising the roles of actors in an RRI process [
63
]. Some of these roles are explicitly mentioned above (e.g., researchers; the representatives from the European Commission). In those cases, "stakeholders" refers to the non-standard roles that have to be identified on a case-by-case basis for RRI projects. For instance, the Responsible Industry Project focuses on information and communication technologies for health and ageing. Therefore, we recognise elderly people as both customers and a stakeholder group in health care projects. However, in a different context, they would probably not be a stakeholder group. Furthermore, a role-based stakeholder classification enables the ad hoc inclusion of other non-standard stakeholders such as other groups of "the society", end-users themselves (not all of them are represented by CSOs or may not always be well represented by "their" CSOs), and other organisations (e.g., churches in stem cell research). Moreover, stakeholders can be determined in terms of their social identities [
68
], which are the markers that groups use to define and distinguish themselves from others [
69
], as well as the different interests, ideologies, values, and expectations these identities bring forward in relation to the company [
68
]. In the next section, we discuss the first category of incentives: external stakeholder incentives.
4.2. External Stakeholder Incentives
In this section, we discuss two examples of incentives for industry that external stakeholders can use to stimulate ethical, responsible and sustainable R&I practices among companies. Firstly, we analyse corporate reputation and critical consumerism, and, secondly, we focus on certification. We also address the conditions for making these incentives effective tools in the context of RRI.
4.2.1. Corporate Reputation and Critical Consumerism
Consumers can play an important role as an RRI incentive for companies. On the one hand, they can actively pressure companies to conduct research and innovate in a responsible way. On the other hand, they are a crucial reference group for companies to better align their products and services to the expectations and needs of consumers. According to the causal loop diagram, the company can attract consumers and increase sales by aligning its business ethics with the ethics of target customer segments, by utilising the positive word of mouth from customers or by marketing. The positive word of mouth is an effect of customer satisfaction and engagement. Thus, customer satisfaction and engagement are attractive incentives for companies. On the other hand, successful marketing and the achievement of desired business ethics goals require information about the preferences and purchasing behaviour of consumers.
4.2.2. Certification
The current proliferation of norms referring to firms' social responsibility can give some light on stimulating implementation of RRI in industry. Many companies use CSR certificates such as Social Accountability 8000 (SA8000) [
91
] focusing on workers' rights and workplace conditions; OHSAS 18001 [
92
] regarding health and safety of employees and minimising the risk of accidents; ISO 14001 and Eco-Management and Audit Scheme (EMAS) [
93
] on environmental management, as well as the EU Ecolabel (or "EU Flower") or B Corporation certification [
94
]. Based on these examples, we claim that a label certified by a third party can signal companies' RRI practices. An RRI label would be granted after a certification procedure has been carried out by an independent, either public or private, agency guaranteeing that the R&I process meets a certain quality threshold. Certification is one of the ways to help companies build reputation and recognition of the company and its products on the market as well as create respect and trust in the company's practices. It can also assist investors and companies to choose business partners who respect the same values and principles. At the same time, certificates and labelling will guide consumers to make informed decisions about a product or service offered by a company. Various studies show a positive effect of CSR certification and labelling, for instance on customers' willingness to purchase and their perception of the company's reputation (Maden et al., 2012 [
71
], Wu and Wang 2014 [
95
], Arikan et al., 2016 [
96
], Gauttier et al., 2017 [
25
]).
Despite clear benefits of certification and labelling, the practices have not escaped criticism. The primary claims against CSR certification are valid as well for a potential RRI certification. Harbaugh et al. (2011) highlight the negative effects of multiple competing labels that can cause uncertainty around the informativeness and authority of labels as well as potential association effects on products when another product with a good or bad reputation displays it [
97
]. Therefore, there is a risk that some companies may strategically apply certificates to manipulate such information spillovers [
97
]. More and more companies are engaging in practices misleading consumers about their environmental performance or the environmental benefits of a product or service [
98
]. These practices are known as "greenwashing", defined as "the intersection of two firm behaviours: poor environmental performance and positive communication about environmental performance" [
98
], or in other words "the practice of making unwarranted or overblown claims of sustainability or environmental friendliness in an attempt to gain market share" [
99
]. Greenwashing raises concern not only about negative effects on consumer confidence in green products, but also about the erosion of the consumer market for green products and services [
98
]. Companies illegitimately purporting to be environmentally friendly lead to the situation when companies true to their environmental mission lose their competitiveness [
100
]. Moreover, as Zimmer et al. (1994) warn, overuse and misuse of the "green" claims can ultimately deprive the greenness of the product of its meaning to the consumer [
101
]. Other problems that certification may cause are the increase of costs, additional bureaucracy, and variance in standards [
25
]. This can be particularly challenging for SMEs lacking resources. However, these threats can be overcome. Consider B Corp Certification, a private certification for B Corps, which are for-profit companies certified by the non-profit B Lab to meet standards of social and environmental performance, accountability, and transparency [
94
]. B Corp Certification is tailored to the size (number of employees), type (sector) of business and its location [
94
]. Fees are annual and they vary depending on a company's annual sales within the range $500 to $50,000 [
102
]. Furthermore, to ensure validity of the certificate, the certification term is two years. After the two-year term, a company must recertify [
94
]. What is particularly interesting and innovative about B Corp Certification is the fact that B Corporation is a vigorous community that offers various benefits for its members such as being part of a movement to "redefine success in business" [
94
]; regular monitoring of activities for continuous improvement; partnering with peers in the network of certified B Corps; distinction on the market; encouraging investors; generating media attention; attracting talents; and raising recognition of the brand among consumers [
94
]. Furthermore, thinking about the affordability of certification particularly for SMEs, it is in fact the case that most B Corporations are privately held SMEs [
103
]. According to Suntae and Schifeling (2016), there are two underlying reasons for companies to seek out B Corporation certification [
104
]. Firstly, for SMEs that have long been committed to social and environmental values, B Corporation certification provides a means to express their authentic commitment to these values [
104
]. They emphasise the need to distinguish themselves in the midst of a "greenwash" revolution and "to help consumers sort through the marketing hype to find businesses and products that are truly socially and environmentally responsible" [
105
]. Secondly, the recent proliferation of B Corporations is a response to the way business is currently done (e.g., greenwashing). Therefore, traditionally ethical, sustainable and responsible companies participate in the movement to unite and initiate changes in the industry environment [
103
]. The success of B Corp Certification lies in a strong marketing strategy and investment in the recognition of the label. The advantage of this approach is also confirmed by the experience of the EU Ecolabel (or "EU Flower"), which is a voluntary ecolabel scheme established in 1982 by the European Commission [
106
,
107
]. The EU Ecolabel experience shows an increase in Ecolabel sales when promotional actions are carried out [
106
]. Furthermore, examples of countries such as Denmark and Austria where broader marketing activities are developed in a more consistent and regular manner show good results in terms of consumer awareness and market uptake [
106
].
The Responsible Industry Project [
13
] has argued that RRI certification can serve as an effective tool for companies to improve R&I management and efficiency, enhance credibility, engage stakeholders, and identify and manage risks associated with social, environmental and ethical factors. However, learning from successful standardisation and certification schemes (e.g., CSR certification, B Corp Certification and EU Ecolabel), we argue that such schemes work only under certain conditions [
108
]. Therefore, we claim that RRI certification should be designed as a flexible tool in order to provide an opportunity to tailor the certification as an individual approach well-suited for the needs of each company. The RRI certification should not cause any additional burden, but instead optimise the existing rules and give visibility to the practices in place [
25
]. To ensure the effectiveness of the RRI certification, it should be created in cooperation with industry and the RRI community to stimulate the shared ownership of the norms of the RRI certification. Moreover, RRI certification should build a community with a strong brand that is attractive for companies (including SMEs) for its prestige, improvement opportunities, recognition in media and among stakeholders, investment and partnering potentials. The RRI certification requires a strong marketing strategy, with meaningful campaigns which measure return on investment to attract companies and boost consumers' recognition. Lastly, the argument supporting RRI certification can be illustrated by the results of the experiment conducted by Etilé and Teyssier (2016) [
109
]. The authors compared the market effect of third-party certification and the free incorporation of CSR attributes into brand-building strategies through unsubstantiated claims [
109
]. Their findings conclude that it will be difficult to bring about CSR development if companies use CSR claims without being certified [
109
]. The authors emphasise that CSR must be incorporated into brand-building strategies through third-party certification [
109
]. The same claim may be valid for RRI; without certification, the enhancement of ethical, responsible and sustainable research and innovation may fail. At the same time, further in-depth study of the RRI certification potential is still required to validate this claim. The literature provides several questions (Roe et al., 2014 [
110
], Waldman and Kerr 2014 [
108
]). Particularly, whether the RRI certification should be voluntary or mandatory and, therefore, what should be the role of the government versus private sector in certification, who should bear the costs of certification (e.g., consumers, producers, taxpayers), and how to balance the costs of certification against the suite of social welfare impacts generated by improved information, altered externalities, modified market structure, etc. [
110
] According to Roe et al. (2014), consumers' willingness to trust a certificate can be associated with the entity certifying the label [
110
]. Who, then, should be more credible and more adequate as a certifying entity in the case of RRI certification? Furthermore, how to address the risk of manipulation from companies, e.g., companies from developed countries using labels as strategic tools to raise rivals' costs, resulting in trade distortions and often leaving poor countries' producers out of the market [
111
,
112
,
113
]? What should be certified (e.g., products or producers), and what evaluation criteria should be used (e.g., outcome-based approach or input-based approach) [
108
]? Finally, new technological solutions are complex and require a variety of components. Therefore, another question is how to ensure the control over a final product and an intermediate product as an input into a final product [
111
,
112
,
113
].
4.3. Internal Stakeholder Incentives
Internal stakeholders play an essential role in a company's ethical, responsible and sustainable behaviour, since they primarily include the employees who actually do the R&I—the workers whose practices should be aligned with RRI. The key to having internal incentives motivate the wilful adoption of RRI is to educate industry on the advantages of doing so (for instance a substantial return-on-investment by means of positive effects on the workforce). In this section, we argue that RRI implementation has a strong positive effect on employee functioning, and, as a result, also on companies' performance. We provide an example of internal stakeholder incentives, which emphasise the relationship between employee engagement and companies' financial performance to show how RRI can affect employees in ways that are detrimental or beneficial for business.
Employee Engagement
The causal loop diagram indicates the effects of employee engagement in the success of a company. Employee engagement is a determinant of productivity, costs and sales, which are the main performance indicators of any company. Furthermore, employee engagement, alongside profit, is included in many self-reinforcing feedback loops, which means that the employee engagement as well as profit tends to increase (or decrease) after the initial push in the right (or wrong) direction. For this reason employee engagement is an attractive incentive for companies and explained thoroughly in this section.
According to the Harvard Business Review (2010), Millennials, which represent roughly 50% of the global workforce, view work as a key part of life and place a strong emphasis on finding work that is personally fulfilling [
114
]. Increasingly companies recognise the need to provide their employees with a supportive working environment and work-life balance that ensures their well-being. There are two reasons for this. Firstly, they want to attract and engage talent. Secondly, as Tehrani et al. (2007) point out, employee well-being "brings benefits for people at all levels inside and outside the workplace. It makes the workplace a more productive, attractive and a corporately responsible place to work" [
115
]. "Well-being" is a multifaceted notion and one of its aspects is well-being at work. It can be defined as "creating an environment to promote a state of contentment which allows an employee to flourish and achieve their full potential for the benefit of themselves and their organisation" [
115
]. Furthermore, it encompasses a number of workplace factors, such as efficient application of work, employee retention, creativity, business outcomes and engagement [
25
,
116
]. According to Suff and Miller (2016) employee well-being consists of five interrelated domains: health, work, values/principles, collective/social and growth [
117
]. Well-being of employees is interconnected with employees' willingness to contribute in the workplace and engagement at work.
One of the important aspects of well-being is employee engagement, sometimes referred to as employee commitment. According to the Corporate Leadership Council, employees with high levels of commitment perform 20% better and are 87% less likely to leave the organisation [
118
]. Employee engagement has been defined as "the extent to which employees commit to something or someone in their organisation, [and] how hard they work and how long they stay as a result of that commitment" [
118
]. Further studies suggest that engaged employees are significantly more productive than their counterparts. For instance, the results of a large meta-analysis of 30 years of Gallup research on employee engagement carried out by Harter et al. (2003), demonstrate that employees in the top quartile of engagement in large companies were significantly more productive than the bottom quartile, and the difference between the two in value was estimated to be as much as $960,000 per year [
116
]. The meta-analysis also shows that employee engagement is strongly associated with "higher business unit customer loyalty, higher profitability, higher productivity and lower rates of turnover" [
116
]. Despite significant evidence suggesting a positive impact of employee engagement on companies' performance, Gallup's findings reveal that only 13% of employees reported a sense of engagement at work, while 24% were actively disengaged [
105
]. Another example of a positive impact of employee engagement is the impact on employee turnover. A company with employees characterised with a high engagement level suffers less from employee turnover (Markos and Sridevi 2010 [
56
], Cook 2008 [
55
], Huselid 1995 [
119
], Gauttier et al., 2017 [
25
]). High turnover causes high recruitment costs because employees that leave the company must be replaced to preserve current production or service levels [
25
]. There is also a cost to the company not only in terms of recruiting and training, but also the risk of the new employees being an unknown quantity and therefore the risk of having to undergo HR processes to manage poor performance or terminate a contract.
Bearing in mind the correlation between employees' well-being and their engagement, the question that arises is how to stimulate well-being and employee engagement. The answer comes with the drivers of employee commitment, which Chalofsky and Krishna (2009) identify as the forces emphasising the congruence between individual and organisational goals and values, and internalisation of organisational values and its mission [
86
]. Furthermore, Grant (2007) concludes that an organisation caring about user needs and societal welfare can spark motivation and positively affect employee's actions and behaviour [
120
]. However, employees' engagement can be compromised by the lack of alignment between organisation policies and practices and a perception that the organisation engages in unethical behaviour or policies [
121
]. As a result, it can cause a negative attitude in the employees towards their employing organisations and lead to a deep deterioration of their mutual commitment and trust [
25
,
121
]. The effective adoption of RRI within a company can help companies through increasing engagement and commitment that employees feel and demonstrate towards their organisation. Furthermore, RRI can assist companies in raising a sense of meaning in their employees' work or a purpose for the overall organisation [
116
]. Ultimately, RRI is about conducting research and innovating in an ethical, responsible and sustainable way for the benefits of the society. This perception of R&I may enhance employees sense of having "meaningful work". To encourage implementation of aforementioned internal stakeholder incentives, we believe it is crucial to educate industry on the advantages of doing so—and these advantages need to be framed in terms of profit maximisation. RRI implementation should be introduced to industry as a business decision likely to generate a substantial return-on-investment by means of positive effects on the workforce.
4.4. Governance
The last example of RRI incentive for industry is governance. Governance touches upon the question of how R&I should be governed in order to ensure sustainability and societal desirability of R&I processes and their marketable products. When developing the governance of RRI systems in industry, two levels of governance have to be taken into account, firstly the internal level of a governance system within a company, e.g., how RRI should be administered within companies by executives, and secondly the external governance system, e.g., the governance of RRI from a political perspective.
5. Factors of Effective Incentives
Despite the variety of incentives that can support implementation of RRI in industry, this research identifies two factors that may affect the process. This section discusses these factors. They are: (1) size of a company; and (2) type of industry and ecosystem. The adequate identification of these factors may help to produce a better alignment of incentives for particular companies and their employees.
5.1. Size of a Company: SMEs vs. Large Corporations
5.2. Type of Industry and Ecosystem
The second factor we have identified as having an impact on RRI incentives is the type of industry and ecosystem. The type of the industry and characteristics of the ecosystem a company is operating in have an impact on the attractiveness of several incentives. A business ecosystem is a large, complex and global network of organisations collaborating and competing to produce offerings to end-point customers [
136
]. Sectoral studies have shown that industries have differences in knowledge base, actors involved, links and relationships among actors and relevant institutions [
124
]. Chatfield and co-workers' (2017) study shows that the sector in which a company operates may be an important influencing factor for the perceived drivers and obstacles of corporate responsibility [
53
]. They further suggest that for companies operating in sectors that have pervasive social impacts corporate responsibility and competitiveness are naturally aligned in driving innovation [
53
].
Responsibility always comes from individual values. Thus, the knowledge base in the ecosystem determines the ability of individuals to understand the impact of responsibility. Benefits of responsibility are not straightforward, which can easily result in undervaluation of its principles. If customers, employees, management or owners of the company do not understand or appreciate responsible values, it is difficult to capture the benefits of RRI. However, training, education and informing may solve the problem and enable the company or the ecosystem to harness a greater competitive advantage. Different industries have naturally different knowledge bases due to the differing educational and personality requirements of professionals in disparate fields. On the one hand, in low knowledge ecosystems or industries, responsibility has a potential to play a significant role in branding and process development. On the other hand, in high knowledge industries, responsibility may be a requirement of success or survival.
Ecosystemic thinking enhances the capability to utilise value co-creation with stakeholders. Understanding the links and relationships among actors enables the identification of value co-creation opportunities. However, seizing the opportunity requires managing the relationship with the relevant stakeholders. Anitha's [
54
] research (2014) has shown that co-worker relationships are one of the key determinants of employee engagement. The causal loop diagram (
Figure 2
) presents motivation to manage internal relationships in the form of the outcomes of employee engagement. Furthermore, because co-worker relationships in a company have an impact on employee engagement, a reasonable assumption is that organisational relationships and cross-organisational co-worker relationships have an impact on organisational engagement in an ecosystem. Even though the previous assumption has some support [
137
], research is needed to confirm the assumption. Still, enhanced functioning of the ecosystem by fruitful relationships among agents is an attractive incentive for organisations to consider and adopt RRI principles.
6. Limitations of the Research
We are aware that our research may have some limitations. Although most of this research is quantitative in nature, it is not standardised and the concepts and methods used vary greatly, so it has not been feasible to do a formal meta-analysis of the results. It should be noted that the question of incentives is immensely complex due to substantial conceptual overlap and lack of precision in the empirical research. We were unable to investigate a whole range of factors that may play a role in choosing the right incentive, for example, the significant relationships between the type of incentives and location of a company. Further data collection would be needed to determine in what circumstances different types of incentives are likely to be effective.
7. Conclusions
In this research, we examined incentives that can stimulate the industry to conduct research and innovation in an ethical, responsible and sustainable way. To conceptualise our analysis, we developed a matrix of incentives that have a potential to motivate and stimulate the RRI implementation in industry. The matrix is based on two layers of the analysis: incentives for the uptake of RRI by industry and factors that can affect this process. We categorised incentives into three categories: (1) focusing on external and internal stakeholder incentives; (2) instrumental and non-instrumental incentives; and (3) direct and indirect incentives, hence financial or non-financial incentives. To demonstrate the benefit of investing in RRI from a business perspective, we developed a causal loop diagram that illustrates the relationships and interconnections between incentives and a company's performance. We provided examples of potential incentives that can be used to enhance RRI among companies.
However, these incentives can function as effective means to do so only if they are designed and applied in specific conditions. Critical consumerism requires innovative smart approaches to help consumers to learn about products and services provided by companies, such as product ratings and mobile applications for product scanning. One of the tools that can signal consumers to whether a product conforms to RRI principles is certification. Certification also improves recognition of a company among consumers and potential business partners. Nevertheless, to serve as an effective incentive, we argued that certification should be designed as a flexible tool tailored to the needs of each company, created in cooperation with industry and RRI researchers and built as a community with a strong brand that is attractive for companies and recognisable for consumers. Companies can also be encouraged to introduce RRI to their organisation by showing them the importance of employee well-being and employee engagement. Employees who are physically and mentally capable and feel that their work is meaningful improve companies' performance in terms of productivity, profitability, lower turnover, and customer loyalty. The success of enhancing RRI among companies also depends on governance of RRI within a company as well as at the external political level. At the same time, we argued that the effectiveness of the voluntary RRI governance tools depends on the multi-stakeholder approach and the process of institutionalisation of RRI. However, overall, the successful governance of RRI in industry lies in the recognition of RRI as an investment, and not as a cost.
Finally, we identified factors that can affect the successful implementation of RRI among companies and therefore should be considered when applying incentives for a particular company or industry. The size of a company matters. Incentives for SMEs, which lack resources, publicly traded equity, formalised management structure and relatively small share of markets, should take a form of supporting SMEs' financial and human resources as well as brand creation. Moreover, incentives should be adapted to the type of industry and ecosystems that can enhance the capability to utilise value co-creation with stakeholders.
Acknowledgments
The research leading to these results received funding from the European Community's Seventh Framework Programme (FP7/2007-2013) under grant agreement No. 609817 (Responsible-Industry) and under grant agreement No. 612231 (SATORI). The authors would like to acknowledge the contribution of all projects participants and all projects activities to the ideas that underpin this paper, particularly the authors of Responsible-Industry Deliverable 3.3 Models of RRI in Industry, Deliverable—Gauttier, S., Søraker, J.H., Arora, C., Brey, P.A.E., and Mäkinen, M. Available online:
https://docs.google.com/viewer?a=v&pid=sites&srcid=ZGVmYXVsdGRvbWFpbnxyZXNwb25zaWJsZWluZHVzdHJ5d2Vic2l0ZXxneDo2YTQwZDc4Y2YxYTFhNmFm
. Finally, the authors are deeply grateful to the reviewers for providing valuable comments and suggestions.
Conflicts of Interest
The authors declare no conflict of interest.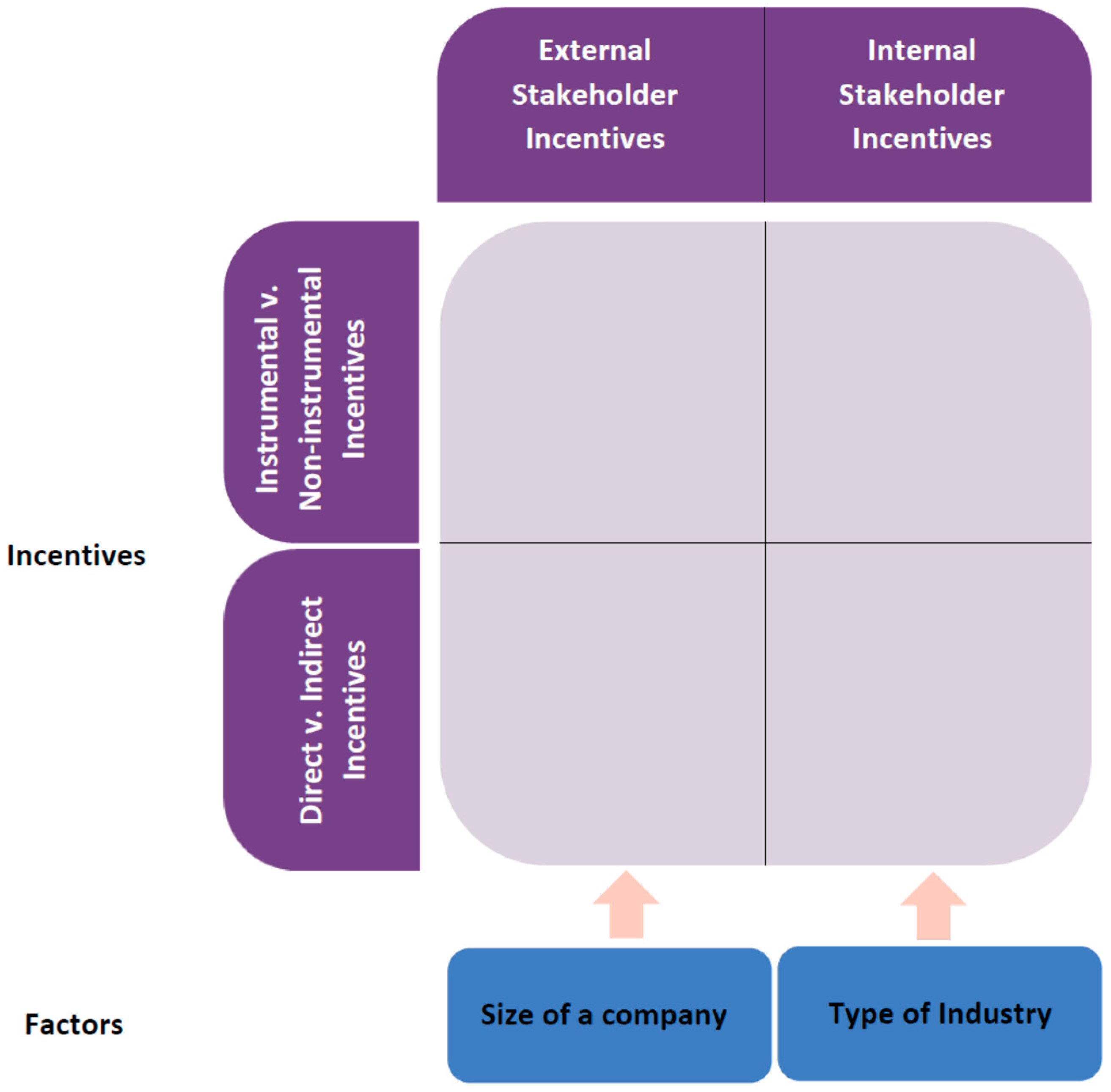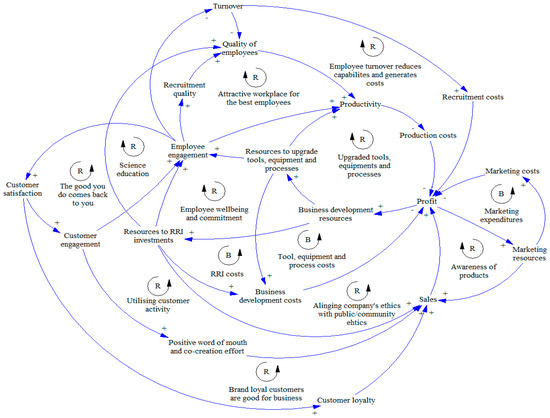 Figure 2. Causal loop diagram for internal RRI incentives. Blue arrows represent an influence from one variable to another. The plus sign at the head of an arrow represents a positive influence and a minus sign a negative influence. B represents a balancing feedback behaviour and R represents a self-reinforcing feedback behaviour. Balancing feedback behaviour tries to keep the system in equilibrium (e.g., in mechanics, after compressing or stretching a spring, it will generate an opposing force to return the spring to its resting position). Self-reinforcing feedback behaviour instead tries to amplify the change in the system (e.g., a snowball falling from the top of the mountain will have continuously increasing size and velocity).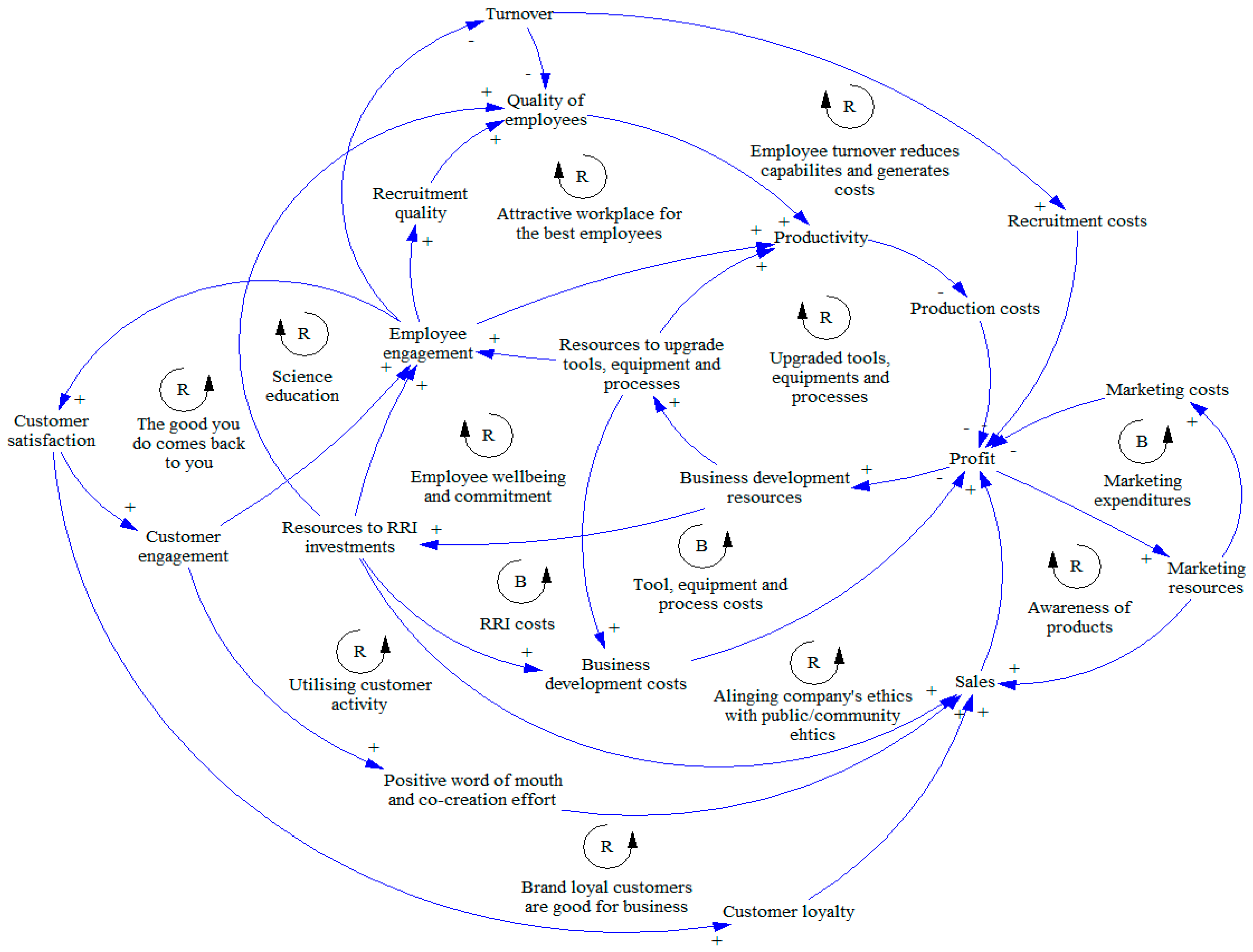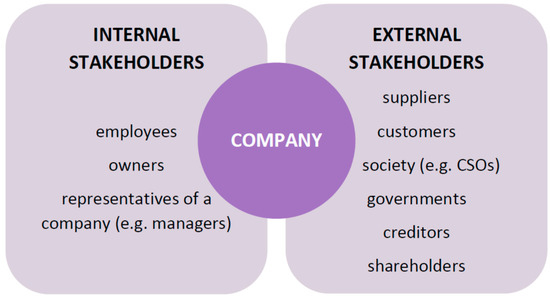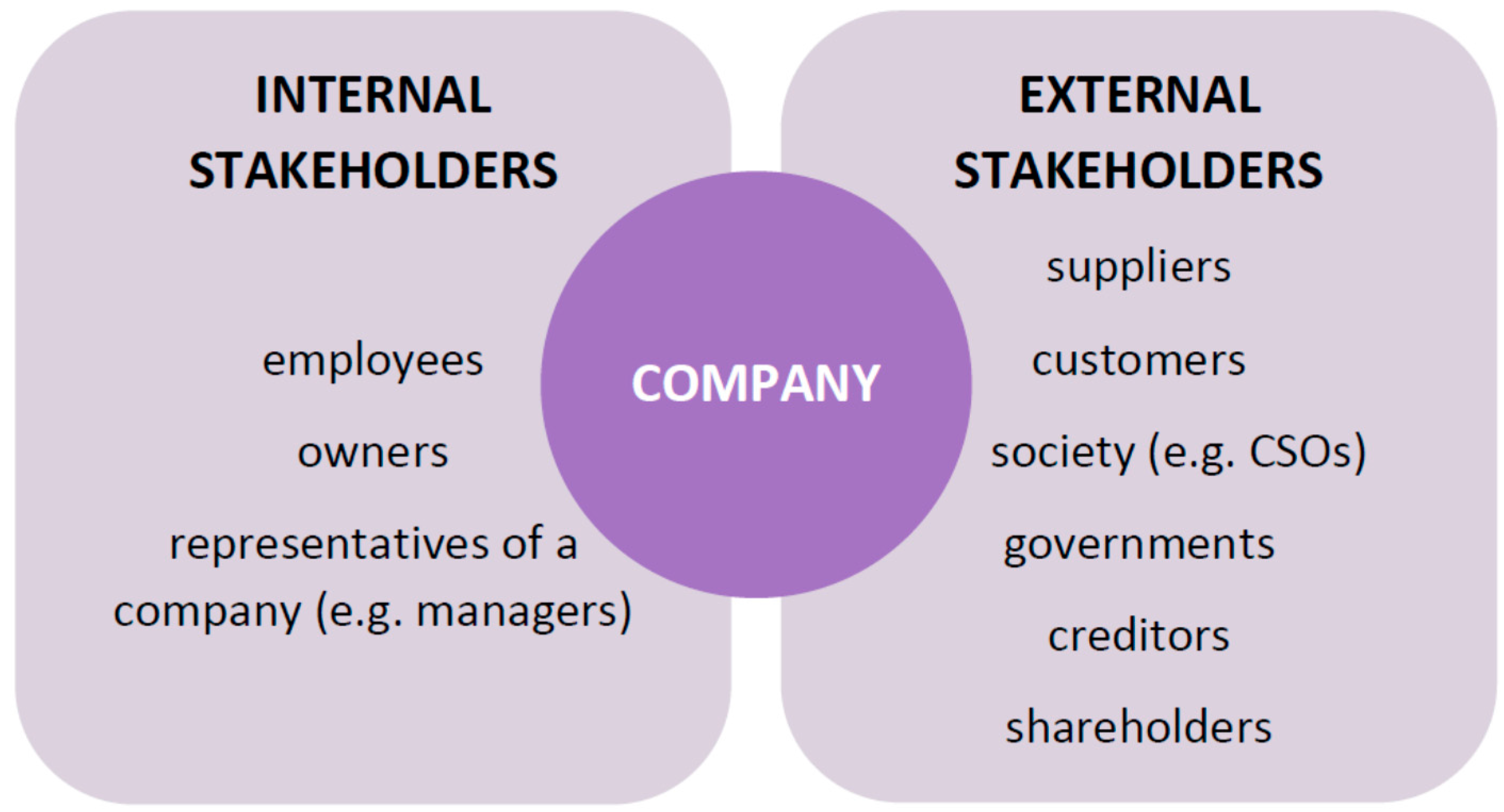 Table 1. Incentives for small to medium sized enterprises (SMEs) to adopt responsible research and innovation (RRI) principles.
Table 1. Incentives for small to medium sized enterprises (SMEs) to adopt responsible research and innovation (RRI) principles.
Problem in SMEs
Attractive Incentive
Lack of financial resources
Setting responsibility as a criterion for public funding or funding from foundations
Financial benefits of RRI
Lack of human resources
Reputation among professionals
Engaged employees have motivation to work harder for the company
Skilled employees have knowledge to perform at high level
Brand creation
Responsibility awards
Positive media attention
© 2017 by the authors. Licensee MDPI, Basel, Switzerland. This article is an open access article distributed under the terms and conditions of the Creative Commons Attribution (CC BY) license (http://creativecommons.org/licenses/by/4.0/).