Self-Emulsifying Granules and Pellets: Composition and Formation Mechanisms for Instant or Controlled Release
Department of Pharmaceutical Technology, School of Pharmacy, Faculty of Health Sciences, Aristotle University of Thessaloniki, 54124 Thessaloniki, Greece
*
Author to whom correspondence should be addressed.
Received: 4 October 2017 / Revised: 27 October 2017 / Accepted: 27 October 2017 / Published: 3 November 2017
Abstract
Many articles have been published in the last two decades demonstrating improvement in the dissolution and absorption of low solubility drugs when formulated into self-emulsifying drug delivery systems (SEDDS). Several such pharmaceutical products have appeared in the market for medium dose (Neoral
®
for Cyclsoprin A, Kaletra
®
for Lopinavir and Ritonavir), or low dose medications (Rocaltrol
®
for Calcitriol and Avodart
®
for Dutasteride). However, these are in the form of viscous liquids or semisolid presentations, characterized by the disadvantages of high production cost, stability problems and the requirement of large quantities of surfactants. Solid SEDDS (S-SEDDS), as coarse powders, granules or pellets, besides solubility improvement, can be filled easily into capsules or processed into tablets providing a handy dosage form with instant release, which can be further developed into controlled release by mixing with suitable polymers or coating with polymeric films. In this review, the materials used for the preparation of S-SEDDS, their properties and role in the formulations are detailed. Factors affecting the physical characteristics, mechanical properties of S-SEDDS as well as their in vitro release and in vivo absorption are discussed. The mechanisms involved in the formation of instant and sustained release self-emulsifying granules or pellets are elucidated. Relationships are demonstrated between the characteristics of S-SEDDS units (size, shape, mechanical properties, re-emulsification ability, drug migration and drug release) and the properties of the submicron emulsions used as massing liquids, with the aim to further elucidate the formation mechanisms. The influence of the composition of the powdered ingredients forming the granule or pellet on the properties of S-SEDDS is also examined. Examples of formulations of S-SEDDS that have been reported in the literature in the last thirteen years (2004–2017) are presented.
View Full-Text
►

▼

Figures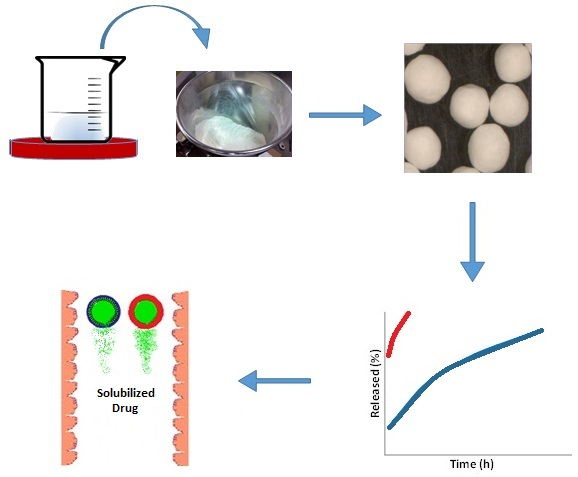 This is an open access article distributed under the
Creative Commons Attribution License
which permits unrestricted use, distribution, and reproduction in any medium, provided the original work is properly cited. (CC BY 4.0).
Share & Cite This Article
MDPI and ACS Style
Nikolakakis, I.; Partheniadis, I. Self-Emulsifying Granules and Pellets: Composition and Formation Mechanisms for Instant or Controlled Release. Pharmaceutics 2017, 9, 50.
Note that from the first issue of 2016, MDPI journals use article numbers instead of page numbers. See further details here.
Related Articles
Comments
[Return to top]