Deletion of A44L, A46R and C12L Vaccinia Virus Genes from the MVA Genome Improved the Vector Immunogenicity by Modifying the Innate Immune Response Generating Enhanced and Optimized Specific T-Cell Responses
1
Instituto de Investigaciones Biomédicas en Retrovirus y SIDA (INBIRS), Universidad de Buenos Aires-CONICET, Facultad de Medicina, Ciudad de Buenos Aires 1121, Argentina
2
Unidad de Microanálisis y Métodos Físicos Aplicados a Química Orgánica (UMYMFOR), Departamento de Química Orgánica, Facultad de Ciencias Exactas y Naturales, Universidad de Buenos Aires, Buenos Aires 1428, Argentina
3
Instituto de Biotecnología, CICVyA-INTA Castelar, Buenos Aires 1686, Argentina
†
Present address: Sanquin Research, Department of Hematopoiesis, Amsterdam 1066CX, The Netherlands
*
Author to whom correspondence should be addressed.
Academic Editor: Kenneth Lundstrom
Received: 17 March 2016 / Revised: 2 May 2016 / Accepted: 11 May 2016 / Published: 23 May 2016
Abstract
MVA is an attenuated vector that still retains immunomodulatory genes. We have previously reported its optimization after deleting the
C12L
gene, coding for the IL-18 binding-protein. Here, we analyzed the immunogenicity of MVA vectors harboring the simultaneous deletion of
A44L
, related to steroid synthesis and
A46R
, a TLR-signaling inhibitor (MVAΔA44L-A46R); or also including a deletion of
C12L
(MVAΔC12L/ΔA44L-A46R). The absence of biological activities of the deleted genes in the MVA vectors was demonstrated. Adaptive T-cell responses against VACV epitopes, evaluated in spleen and draining lymph-nodes of C57Bl/6 mice at acute/memory phases, were of higher magnitude in those animals that received deleted MVAs compared to MVAwt. MVAΔC12L/ΔA44L-A46R generated cellular specific memory responses of higher quality characterized by bifunctionality (CD107
a/b
+
/IFN-γ
+
) and proliferation capacity. Deletion of selected genes from MVA generated innate immune responses with higher levels of determining cytokines related to T-cell response generation, such as IL-12, IFN-γ, as well as IL-1β and IFN-β. This study describes for the first time that simultaneous deletion of the
A44L
,
A46R
and
C12L
genes from MVA improved its immunogenicity by enhancing the host adaptive and innate immune responses, suggesting that this approach comprises an appropriate strategy to increase the MVA vaccine potential.
View Full-Text
►

▼

Figures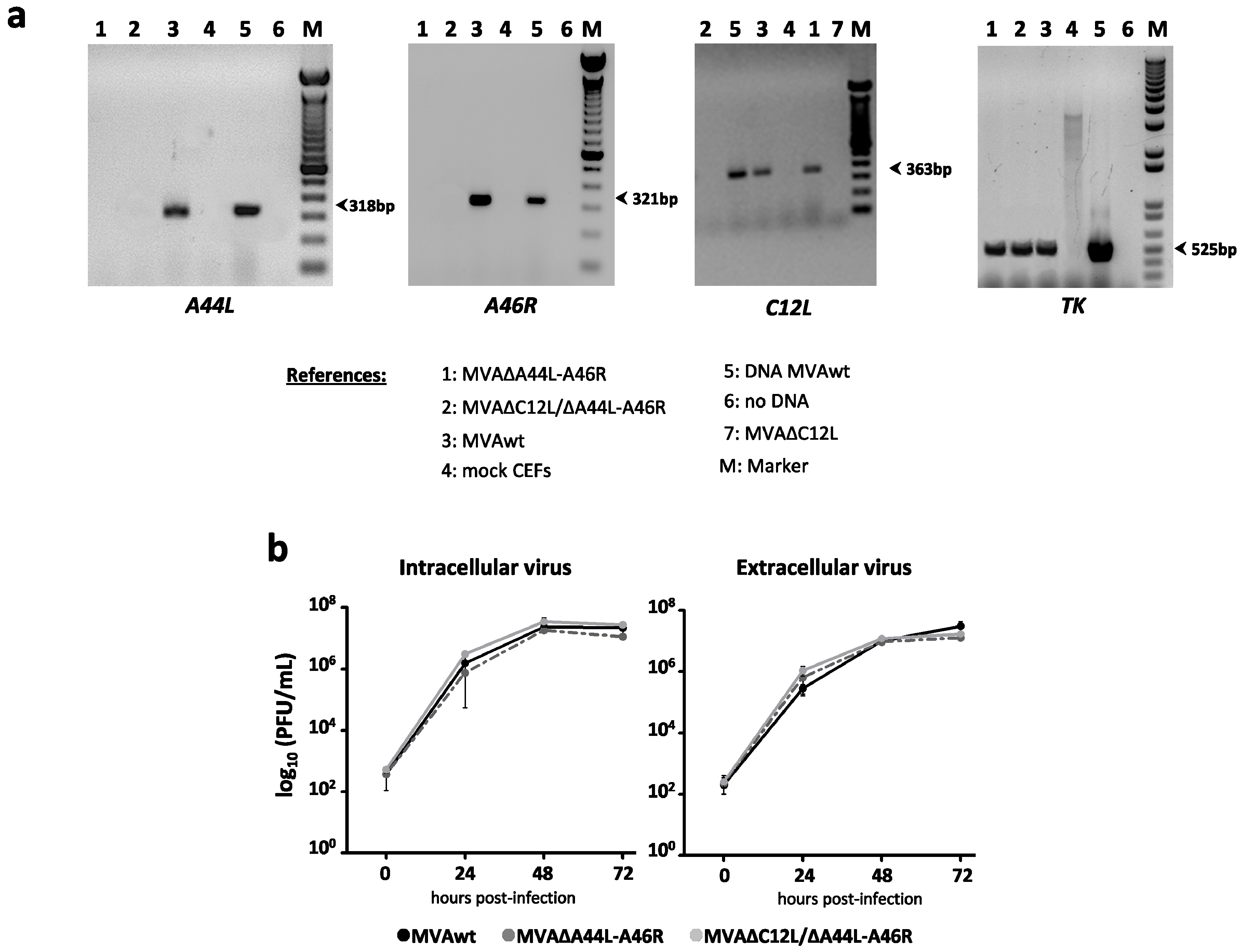 Figure 1
This is an open access article distributed under the
Creative Commons Attribution License
which permits unrestricted use, distribution, and reproduction in any medium, provided the original work is properly cited. (CC BY 4.0).
Share & Cite This Article
MDPI and ACS Style
Holgado, M.P.; Falivene, J.; Maeto, C.; Amigo, M.; Pascutti, M.F.; Vecchione, M.B.; Bruttomesso, A.; Calamante, G.; del Médico-Zajac, M.P.; Gherardi, M.M. Deletion of A44L, A46R and C12L Vaccinia Virus Genes from the MVA Genome Improved the Vector Immunogenicity by Modifying the Innate Immune Response Generating Enhanced and Optimized Specific T-Cell Responses. Viruses 2016, 8, 139.
Note that from the first issue of 2016, MDPI journals use article numbers instead of page numbers. See further details here.
Related Articles
Comments
[Return to top]