Genetic Diversity and Selective Pressure in Hepatitis C Virus Genotypes 1–6: Significance for Direct-Acting Antiviral Treatment and Drug Resistance
1
KU Leuven - University of Leuven, Department of Microbiology and Immunology, Rega Institute for Medical Research, Clinical and Epidemiological Virology, Minderbroedersstraat 10, Leuven 3000, Belgium
2
Metabolic Syndrome Research Center, the Second Xiangya Hospital, Central South University, Changsha 410011, China
3
Artificial Intelligence Lab, Vrije Universiteit Brussel, Pleinlaan 2, Brussels 1050, Belgium
4
Department of Electrical Engineering ESAT, STADIUS Center for Dynamical Systems, Signal Processing and Data Analytics, KU Leuven, University of Leuven, Kasteelpark Arenberg 10, Heverlee 3001, Belgium
5
Center for Global Health and Tropical Medicine, Microbiology Unit, Institute for Hygiene and Tropical Medicine, University Nova of Lisboa, Rua da Junqueira 100, Lisbon 1349-008, Portugal
†
These authors contributed equally to this work.
*
Author to whom correspondence should be addressed.
Academic Editor: Viktor Müller
Received: 1 June 2015 / Revised: 22 August 2015 / Accepted: 1 September 2015 / Published: 16 September 2015
Abstract
Treatment with pan-genotypic direct-acting antivirals, targeting different viral proteins, is the best option for clearing hepatitis C virus (HCV) infection in chronically infected patients. However, the diversity of the HCV genome is a major obstacle for the development of antiviral drugs, vaccines, and genotyping assays. In this large-scale analysis, genome-wide diversity and selective pressure was mapped, focusing on positions important for treatment, drug resistance, and resistance testing. A dataset of 1415 full-genome sequences, including genotypes 1–6 from the Los Alamos database, was analyzed. In 44% of all full-genome positions, the consensus amino acid was different for at least one genotype. Focusing on positions sharing the same consensus amino acid in all genotypes revealed that only 15% was defined as pan-genotypic highly conserved (≥99% amino acid identity) and an additional 24% as pan-genotypic conserved (≥95%). Despite its large genetic diversity, across all genotypes, codon positions were rarely identified to be positively selected (0.23%–0.46%) and predominantly found to be under negative selective pressure, suggesting mainly neutral evolution. For NS3, NS5A, and NS5B, respectively, 40% (6/15), 33% (3/9), and 14% (2/14) of the resistance-related positions harbored as consensus the amino acid variant related to resistance, potentially impeding treatment. For example, the NS3 variant 80K, conferring resistance to simeprevir used for treatment of HCV1 infected patients, was present in 39.3% of the HCV1a strains and 0.25% of HCV1b strains. Both NS5A variants 28M and 30S, known to be associated with resistance to the pan-genotypic drug daclatasvir, were found in a significant proportion of HCV4 strains (10.7%). NS5B variant 556G, known to confer resistance to non-nucleoside inhibitor dasabuvir, was observed in 8.4% of the HCV1b strains. Given the large HCV genetic diversity, sequencing efforts for resistance testing purposes may need to be genotype-specific or geographically tailored.
View Full-Text
►

▼

Figures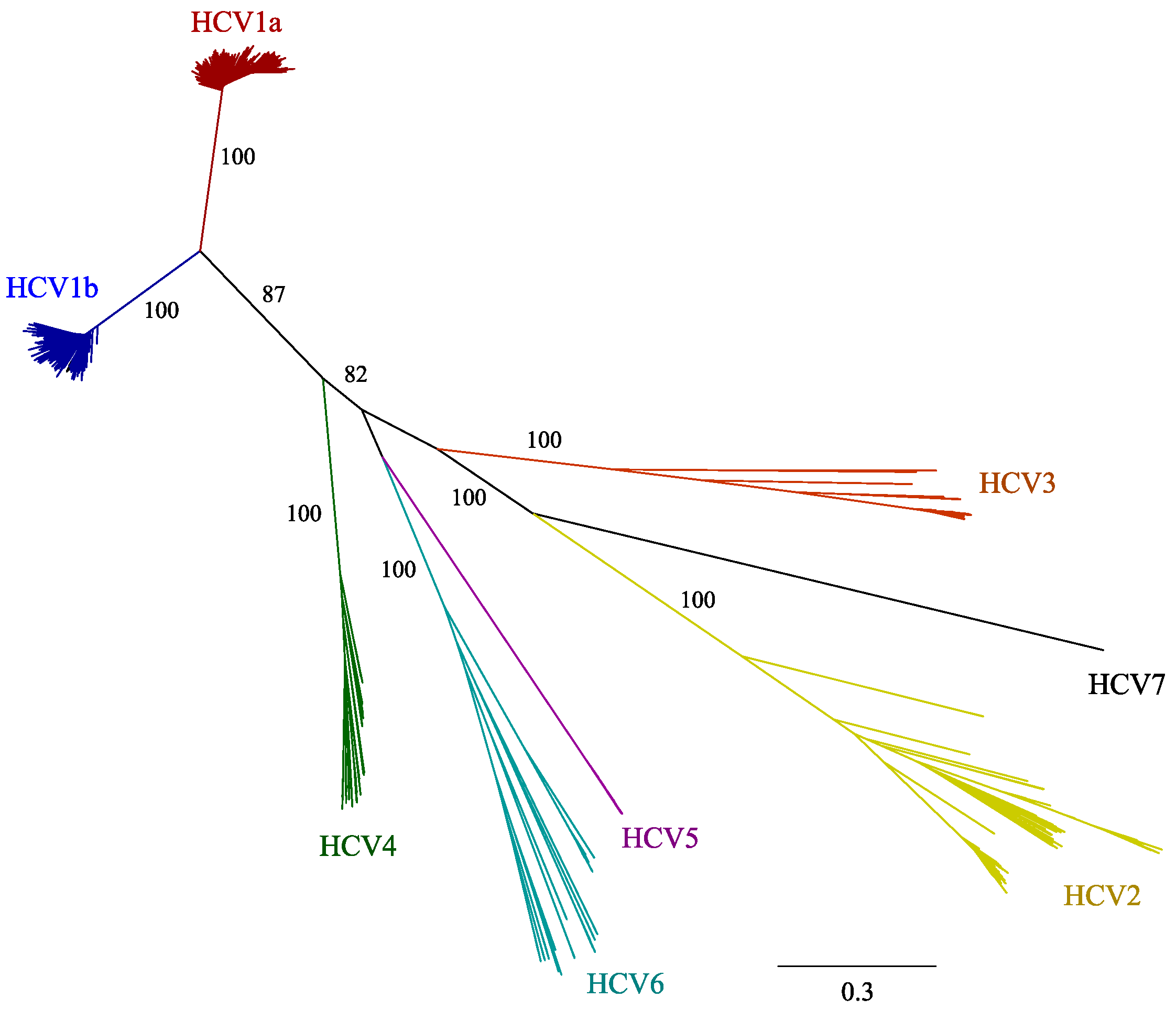 Figure 1
This is an open access article distributed under the
Creative Commons Attribution License
which permits unrestricted use, distribution, and reproduction in any medium, provided the original work is properly cited. (CC BY 4.0).
Share & Cite This Article
MDPI and ACS Style
Cuypers, L.; Li, G.; Libin, P.; Piampongsant, S.; Vandamme, A.-M.; Theys, K. Genetic Diversity and Selective Pressure in Hepatitis C Virus Genotypes 1–6: Significance for Direct-Acting Antiviral Treatment and Drug Resistance. Viruses 2015, 7, 5018-5039.
Related Articles
Comments
[Return to top]