Rapid Shifts in Soil Nutrients and Decomposition Enzyme Activity in Early Succession Following Forest Fire
1
Institute of Arctic and Alpine Research, University of Colorado Boulder, 450 UCB, Boulder, CO 80309, USA
2
Biological Sciences Division, Pacific Northwest National Laboratory, P.O. Box 999, Richland, WA 99352, USA
3
Department of Biology, New Mexico State University, MSC 3AF, P.O. Box 30001, Las Cruces, NM 88003, USA
4
Université de Bretagne Occidentale, UFR Sciences et Techniques, 6 Avenue Victor Le Gorgeu, 29238 Brest, France
5
Department of Geological Sciences, The University of Texas at El Paso, 500 W University, El Paso, TX 79902, USA
6
Department of Ecology and Evolutionary Biology, University of Colorado at Boulder, 334 UCB, Boulder, CO 80309, USA
7
Biology Department, Duke University, 125 Science Drive, Durham, NC 27708, USA
†
Deceased on 31 December 2015.
*
Author to whom correspondence should be addressed.
Received: 3 August 2017 / Revised: 12 September 2017 / Accepted: 13 September 2017 / Published: 15 September 2017
Abstract
While past research has studied forest succession on decadal timescales, ecosystem responses to rapid shifts in nutrient dynamics within the first months to years of succession after fire (e.g., carbon (C) burn-off, a pulse in inorganic nitrogen (N), accumulation of organic matter, etc.) have been less well documented. This work reveals how rapid shifts in nutrient availability associated with fire disturbance may drive changes in soil enzyme activity on short timescales in forest secondary succession. In this study, we evaluate soil chemistry and decomposition extracellular enzyme activity (EEA) across time to determine whether rapid shifts in nutrient availability (1–29 months after fire) might control microbial enzyme activity. We found that, with advancing succession, soil nutrients correlate with C-targeting β-1,4-glucosidase (BG) EEA four months after the fire, and with N-targeting β-1,4-
N
-acetylglucosaminidase (NAG) EEA at 29 months after the fire, indicating shifting nutrient limitation and decomposition dynamics. We also observed increases in BG:NAG ratios over 29 months in these recently burned soils, suggesting relative increases in microbial activity around C-cycling and C-acquisition. These successional dynamics were unique from seasonal changes we observed in unburned, forested reference soils. Our work demonstrates how EEA may shift even within the first months to years of ecosystem succession alongside common patterns of post-fire nutrient availability. Thus, this work emphasizes that nutrient dynamics in the earliest stages of forest secondary succession are important for understanding rates of C and N cycling and ecosystem development.
View Full-Text
►

▼

Figures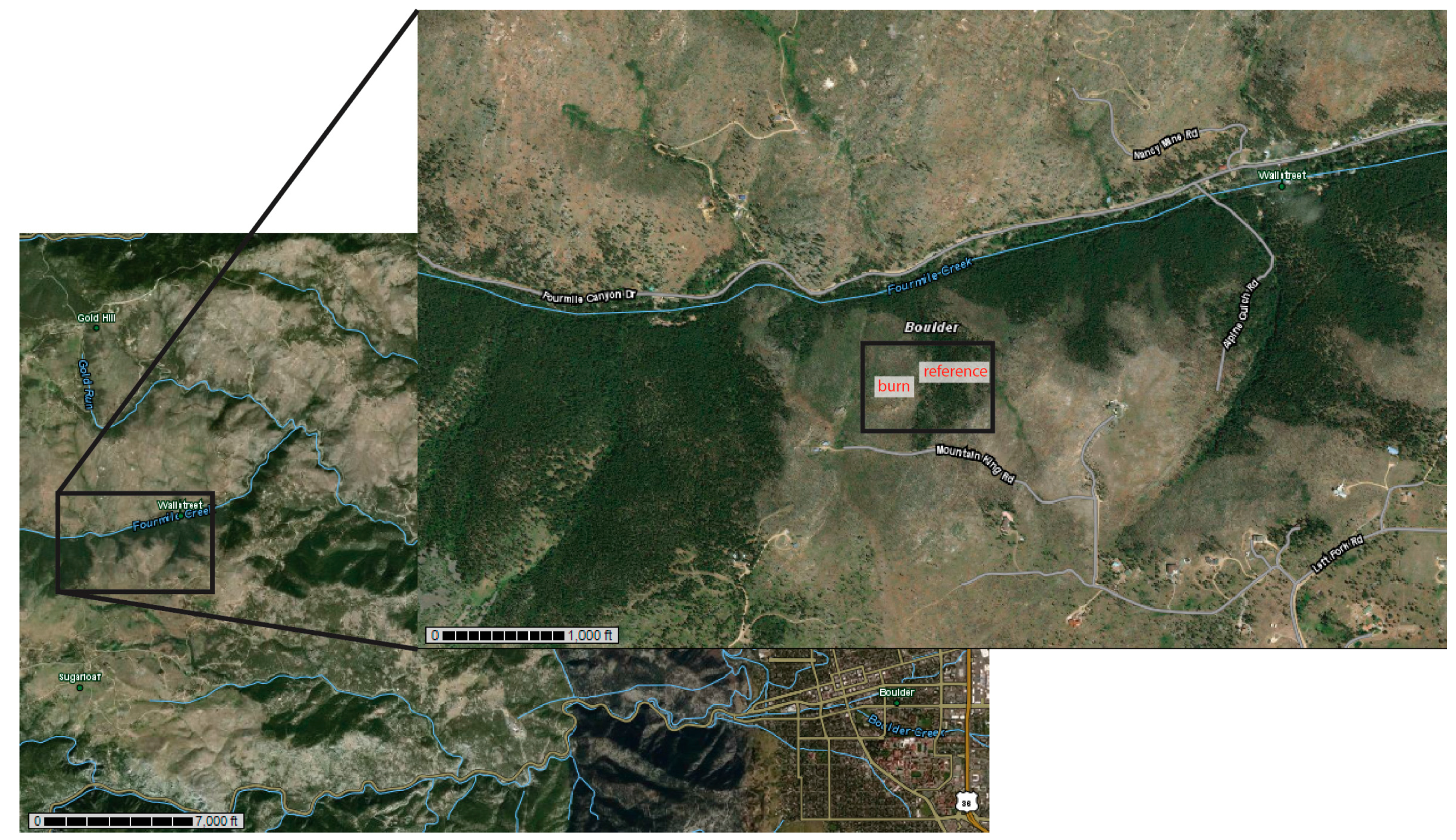 Figure 1
This is an open access article distributed under the
Creative Commons Attribution License
which permits unrestricted use, distribution, and reproduction in any medium, provided the original work is properly cited. (CC BY 4.0).
Share & Cite This Article
MDPI and ACS Style
Knelman, J.E.; Graham, E.B.; Ferrenberg, S.; Lecoeuvre, A.; Labrado, A.; Darcy, J.L.; Nemergut, D.R.; Schmidt, S.K. Rapid Shifts in Soil Nutrients and Decomposition Enzyme Activity in Early Succession Following Forest Fire. Forests 2017, 8, 347.
Note that from the first issue of 2016, MDPI journals use article numbers instead of page numbers. See further details here.
Related Articles
Comments
[Return to top]