Effects of Drought on Xylem Anatomy and Water-Use Efficiency of Two Co-Occurring Pine Species
1
Forest Research Centre, (INIA-CIFOR), Ctra. La Coruña km 7.5, 28040 Madrid, Spain
2
Forest Ecology, Department of Environmental Sciences, Swiss Federal Institute of Technology, ETH Zurich, Universitätstrasse 16, 8092 Zürich, Switzerland
3
Tree-ring Laboratory, Lamont-Doherty Earth Observatory of Columbia University, 61 Route 9 W, Palisades, NY 10964, USA
4
School of Geography and Development & Laboratory of Tree-Ring Research, University of Arizona, Tucson, AZ 85721, USA
5
Department of Geology and Earth System Science Interdisciplinary Center, University of Maryland, College Park, MD 20742, USA
6
Sustainable Forest Management Research Institute, University of Valladolid, INIA Avda, Madrid, s/n, 34004 Palencia, Spain
7
Service of Wood Biology, Royal Museum for Central Africa, Leuvensesteenweg 13, 3080 Tervuren, Belgium
*
Author to whom correspondence should be addressed.
Academic Editor: Giovanna Battipaglia
Received: 4 August 2017 / Revised: 28 August 2017 / Accepted: 30 August 2017 / Published: 8 September 2017
Abstract
Exploring how drought influences growth, performance, and survival in different species is crucial to understanding the impacts of climate change on forest ecosystems. Here, we investigate the responses of two co-occurring pines (
Pinus nigra
and
Pinus sylvestris
) to interannual drought in east-central Spain by dendrochronological and wood anatomical features integrated with isotopic ratios of carbon (δ
13
C) and oxygen (δ
18
O) in tree rings. Our results showed that drought induces both species to allocate less carbon to build tracheid cell-walls but increases tracheid lumen diameters, particularly in the transition wood between early and latewood, potentially maximizing hydraulic conductivity but reducing resistance to embolism at a critical phase during the growing season. The thicker cell-wall-to-lumen ratio in
P. nigra
could imply that its xylem may be more resistant to bending stress and drought-induced cavitation than
P. sylvestris
. In contrast, the higher intrinsic water-use efficiency (iWUE) in
P. sylvestris
suggests that it relies more on a water-saving strategy. Our results suggest that narrower cell-walls and reduced growth under drought are not necessarily linked to increased iWUE. At our site
P. nigra
showed a higher growth plasticity, grew faster and was more competitive than
P. sylvestris
. In the long term, these sustained differences in iWUE and anatomical characters could affect forest species performance and composition, particularly under increased drought stress.
View Full-Text
►

▼

Figures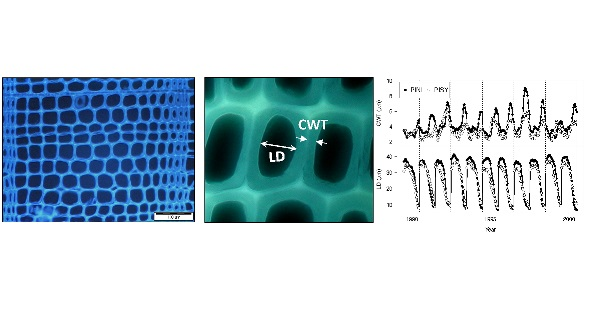 This is an open access article distributed under the
Creative Commons Attribution License
which permits unrestricted use, distribution, and reproduction in any medium, provided the original work is properly cited. (CC BY 4.0).
Share & Cite This Article
MDPI and ACS Style
Martin-Benito, D.; Anchukaitis, K.J.; Evans, M.N.; del Río, M.; Beeckman, H.; Cañellas, I. Effects of Drought on Xylem Anatomy and Water-Use Efficiency of Two Co-Occurring Pine Species. Forests 2017, 8, 332.
Note that from the first issue of 2016, MDPI journals use article numbers instead of page numbers. See further details here.
Related Articles
Comments
[Return to top]