Impact of Sulfuric Acid Treatment of Halloysite on Physico-Chemic Property Modification
1
Department of Mechanical & Materials Engineering, Faculty of Engineering & Built Environment, University Kebangsaan Malaysia, Bangi, Selangor 43600, Malaysia
2
Department of Machinery Equipment Engineering Techniques, Technical College Al-Musaib, Al-Furat Al-Awsat Technical University, Al-Musaib, Babil 51009, Iraq
3
Department of Chemical & Process Engineering, Faculty of Engineering & Built Environment, Universiti Kebangsaan Malaysia, Bangi, Selangor 43600, Malaysia
4
Program of Chemical Engineering, Taylor's University-Lakeside Campus, Subang Jaya, Selangor 47500, Malaysia
*
Authors to whom correspondence should be addressed.
Academic Editor: Klara Hernadi
Received: 14 June 2016 / Revised: 1 July 2016 / Accepted: 7 July 2016 / Published: 26 July 2016
Abstract
Halloysite (HNT) is treated with sulfuric acid and the physico-chemical properties of its morphology, surface activity, physical and chemical properties have been investigated when HNT is exposed to sulfuric acid with treatment periods of 1 h (H1), 3 h (H3), 8 h (H8), and 21 h (H21). The significance of this and similar work lies in the importance of using HNT as a functional material in nanocomposites. The chemical structure was characterized by Fourier transform infrared spectroscopy (FTIR). The spectrum demonstrates that the hydroxyl groups were active for grafting modification using sulfuric acid, promoting a promising potential use for halloysite in ceramic applications as filler for novel clay-polymer nanocomposites. From the X-ray diffraction (XRD) spectrum, it can be seen that the sulfuric acid breaks down the HNT crystal structure and alters it into amorphous silica. In addition, the FESEM images reveal that the sulfuric acid treatment dissolves the AlO
6
octahedral layers and induces the disintegration of SiO
4
tetrahedral layers, resulting in porous nanorods. The Bruncher-Emmett-Teller (BET) surface area and total pore volume of HNTs showed an increase. The reaction of the acid with both the outer and inner surfaces of the nanotubes causes the AlO
6
octahedral layers to dissolve, which leads to the breakdown and collapse of the tetrahedral layers of SiO
4
. The multi-fold results presented in this paper serve as a guide for further HNT functional treatment for producing new and advanced nanocomposites.
View Full-Text
►

▼

Figures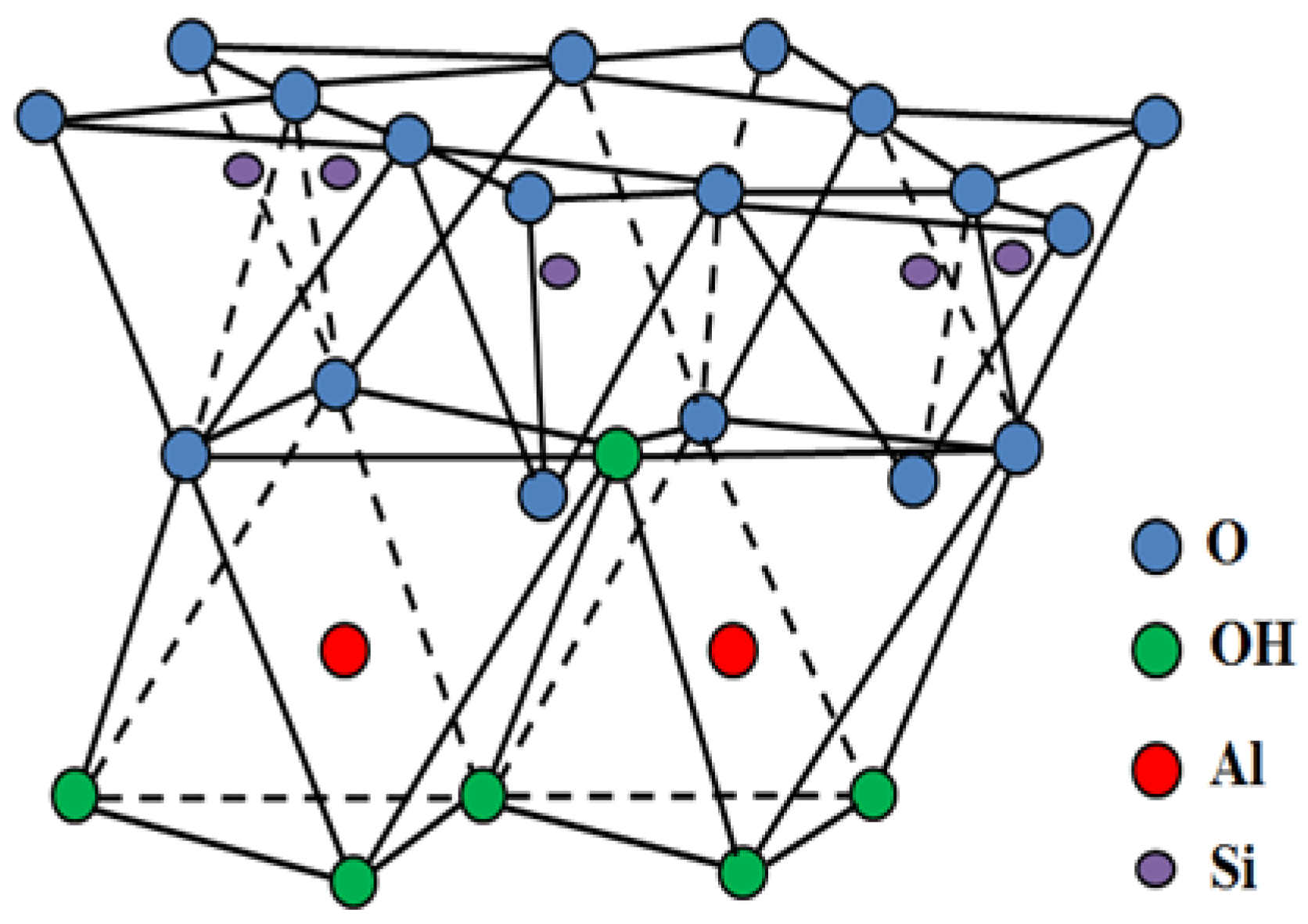 Figure 1
This is an open access article distributed under the
Creative Commons Attribution License
which permits unrestricted use, distribution, and reproduction in any medium, provided the original work is properly cited. (CC BY 4.0).
Share & Cite This Article
MDPI and ACS Style
Gaaz, T.S.; Sulong, A.B.; Kadhum, A.A.H.; Nassir, M.H.; Al-Amiery, A.A. Impact of Sulfuric Acid Treatment of Halloysite on Physico-Chemic Property Modification. Materials 2016, 9, 620.
Note that from the first issue of 2016, MDPI journals use article numbers instead of page numbers. See further details here.
Related Articles
Comments
[Return to top]