Open Access This article is
freely available
re-usable
Article
Nanotextured Shrink Wrap Superhydrophobic Surfaces by Argon Plasma Etching
1
Department of Biomedical Engineering, Samueli School of Engineering, University of California, Irvine; Irvine, CA 92697, USA
2
Department of Chemical Engineering and Material Sciences, Samueli School of Engineering, University of California, Irvine; Irvine, CA 92697, USA
3
Department of Biology, Ayala School of Biological Sciences, University of California, Irvine; Irvine, CA 92697, USA
*
Correspondence: Tel.: +1-949-824-4051
†
These authors contributed equally to the work.
Academic Editor: Frank A. Müller
Received: 11 January 2016 / Accepted: 3 March 2016 / Published: 14 March 2016
Abstract
: We present a rapid, simple, and scalable approach to achieve superhydrophobic (SH) substrates directly in commodity shrink wrap film utilizing Argon (Ar) plasma. Ar plasma treatment creates a stiff skin layer on the surface of the shrink film. When the film shrinks, the mismatch in stiffness between the stiff skin layer and bulk shrink film causes the formation of multiscale hierarchical wrinkles with nano-textured features. Scanning electron microscopy (SEM) images confirm the presence of these biomimetic structures. Contact angle (CA) and contact angle hysteresis (CAH) measurements, respectively, defined as values greater than 150° and less than 10°, verified the SH nature of the substrates. Furthermore, we demonstrate the ability to reliably pattern hydrophilic regions onto the SH substrates, allowing precise capture and detection of proteins in urine. Finally, we achieved self-driven microfluidics via patterning contrasting superhydrophilic microchannels on the SH Ar substrates to induce flow for biosensing.
Keywords:
bioinspired material; argon plasma treatment; superhydrophobic; protein capture; detection; wicking; microfluidics; shrink film; fabrication
1. Introduction
Here, we present a simple, inexpensive method to create structural SH surfaces that obviates the need for metal deposition or multiple feature transplantations. In this approach, multi-scale wrinkled SH structures were created directly in commodity shrink film by simply treating the film with Ar plasma and subsequently heating the substrate past its glass transition temperature to shrink it. We demonstrate feasibility of patterning the SH substrates with hydrophilic regions to capture protein in urine with a wide range of detectable protein concentrations. Furthermore, open-channel, self-wicking microfluidic flow can also be achieved via patterning superhydrophilic regions on the SH substrates. This drives fluid flow due to a high surface energy differential accomplished between a SH and superhydrophilic interface.
2. Materials and Methods
2.1. Fabrication of SH Surfaces via Ar Gas Plasma Treatment
A 4.5" × 4.5" polyolefin (PO) film (seven layer polyethylene/polypropylene blend, Sealed Air Corp., Renton, WA, USA) was cut and clamped securely onto a 5" × 5" glass slide and placed into a plasma cleaning system (South Bay Technology Plasma Cleaner PC-2000, South Bay Technology Inc., San Clemente, CA, USA). The PO film was plasma treated with Ar for 1, 5, 10, 20, 30, 40, and 60 min (at 200 mTorr and 60 W). After plasma treatment, the PO films were shrunk to induce the multiscale, hierarchical wrinkling. Briefly, the PO films were sandwiched between two glass slides and two sheets of parchment paper with 1 mm rubber spacers. Four 0.5" binder clips were added to apply pressure to the sandwich. The films were then heated to 120 °C in a conventional convection oven (Black & Decker TO3250XSB Toaster Oven, Black & Decker, Townson, MD, USA), allowing the PO film to shrink within the constraints of the glass slides.
2.2. Surface Characterization
The surface topology of the shrunk Ar-treated substrates were observed using a high-resolution scanning electron microscope (SEM) (FEI Magellan 400 XHR SEM, FEI, Hillsboro, OR, USA). Prior to imaging, 4 nm of iridium was sputtered on top of the substrates to prevent charging. For each sample, the distribution of wrinkle wavenumber, defined as the inverse wavelength, was found by applying a 2D Fast Fourier Transform (2D FFT) on the SEM images using Matlab
®
(MathWorks Inc. R2015a, Natick, MA, USA) [
28
,
29
]. The absolute value of the 2D FFT output was centered at 0 wavenumber. The wavelength distribution was calculated by integrating the intensities radially for each wavenumber, resulting in a plot of intensity
versus
wavenumber. A running average of the intensity and wave number was taken, and each plot was normalized to its maximum value. The average noise summed for each wavenumber was estimated and subtracted out [
28
,
29
].
Additionally, roughness measurements were taken using a red laser scanning microscope (Keyence VK-X100, Keyence, Osaka, Japan). The root mean square (RMS) was taken to compare microscale roughness of the features on the shrunk surfaces for different treatment times. Experimentally, such optical measurements using our imaging system are limited in resolution compared to a scanning microscope and, thus, microscale rougness resolution is comparable to FFT data corresponding to 5 µm and greater (
i.e.
, cannot definitely determine submicron features). Therefore, coupled with the nanoscale FFT measurements, microscale roughness data from the laser scanning microscope was used to characterize the SH nature of our substrates.
2.3. Contact Angle and Contact Angle Hysteresis
Contact angle (CA) and contact angle hysteresis (CAH) measurements were taken using a droplet shape analyzer (DSA-30, KRÜSS Optronic GmbH, Hamburg, Germany). For the CA measurements, shrunk Ar-treated samples were cut and mounted onto standard microscope slides with double-sided tape. The samples were placed on the DSA-30, and CA values of 5 μL of water were measured via tangent analysis with ADVANCE software (KRÜSS ADVANCE v1.2, KRÜSS Optronic GmbH, Hamburg, Germany). The mean CA for each independent substrate was calculated by averaging the CA over three individual spots on each sample.
CAH values were evaluated by depositing 10 µL of water at a constant rate of 0.16 µL·min
−1
to record advancing CA. The droplet was then retracted at a constant rate of 0.16 µL·min
−1
to measure receding CA. CAH was calculated by taking the difference of advancing and receding CA [
13
,
30
]. The mean CAH for each independent substrate was also calculated by averaging over three individual spots on each sample.
2.4. Hydrophilic Patterning
Non-Ar-treated PO film was shrunk in the same manner as the Ar-treated films as a control surface. The non-Ar-treated substrates and the SH Ar-treated substrates were patterned with hydrophilic regions using a negative mask and air gas plasma treatment. A mask with 2, 1, and 0.5 mm holes (with 5 mm spacing) was created by cutting the design into a paraffin film substrate (Parafilm-M® Laboratory Sealing Film, Bemis Co., Neenah, WI, USA) with a CO2 laser (Universal Versa Laser Systems 2.30, Universal Laser Systems, Scottsdale, AZ, USA). The laser cut Parafilm mask was adhered to a non-Ar-treated substrate or a SH Ar-treated substrate by applying minimal pressure. The substrates were subsequently treated with air plasma (Plasma Etch PE-50 XL, Structure Probe Inc., West Chester, PA, USA) for 1 min at 75% power to achieve hydrophilic anchor points. Droplets of diluted green food dye (30, 15, and 5 µL, Kroger Food Colors, Kroger, Cincinnati, OH, USA) were deposited on the patterned substrates (2, 1, and 0.5 mm spots, respectively). Top view and side view images were taken with a DLSR camera (Canon EOS 5D, Canon USA Inc., Melville, NY, USA) using a 100 mm lens (Canon Macro Lens EF 100 mm, Canon USA Inc., Melville, NY, USA).
2.5. Protein Capture and Detection
A standard colorimetric Bradford protein assay (Bio-Rad Protein Assay) was used to detect protein concentrations. Urine was collected from voluntary subjects (in accordance with UC Irvine Institutional Review Board—Health Sciences #9012-9022), and the baseline urine protein concentration was calculated using absorbance values from a ultraviolet-visible (UV-VIS) spectrophotometer (Thermo Scientific Nanodrop 2000C Spectrophotometer, NanoDrop products, Wilmington, DE, USA) compared to a standard curve derived with bovine serum albumin (BSA) (Sigma-Aldrich, St. Louis, MO, USA). Urine samples were then diluted with DI (deionized water) water or spiked with BSA to achieve final protein concentrations of 0, 20, 40, 80, 150, 200, and 250 µg·mL−1. Using a Parafilm mask and air plasma treatment (Plasma Etch PE-50 XL, Plasma Etch, Carson City, NV, USA) at 1 min, 75% power respectively, a 3 × 3 array of 500 µm diameter hydrophilic spots with 5 mm spacing was patterned onto the SH Ar substrates. 10 µL of adjusted urine was deposited on each spot and allowed to evaporate for 2 h. After evaporation, 10 µL of diluted protein assay dye reagent was added and incubated for 5 min. The reactants were then removed from the substrates, and the absorbance values were measured at 595 nm on the Nanodrop. Reported values are the signal minus the 0 µg·mL−1 control.
2.6. Microfluidic Wicking in Superhydrophilic Channels
Similar to the patterning and protein detection, a laser cut Parafilm mask and air plasma treatment (Plasma Etch PE-50 XL, 3 min and 75% power) was used to create self-driven, open-channel microfluidic flow. The mask consisted of 400 µm wide channels. To demonstrate self-wicking, 5 µL of diluted green food dye was added to the inlet of the microchannel, and self-driven fluid flow was recorded using a high speed camera (Sony Alpha 7s, Sony, Tokyo, Japan) at 120 fps and a macro lens (Canon Macro Photo MP-E 65 mm, Canon USA Inc., Melville, NY, USA).
3. Results and Discussion
4. Conclusions
In summary, we have demonstrated that Ar plasma can be used to etch pre-stressed PO films, thus creating a stiff layer that generates SH surfaces directly in the PO film upon shrinking. In contrast to previous studies, our method directly achieves SH surfaces without the need for post-processing and complex chemical additions. We further show that such SH surfaces can be selectively patterned by air plasma to create hydrophilic regions to capture protein in urine for molecular diagnostics. The contrast in wettability between the SH and superhydrophilic regime generated fluid flow along microchannels to achieve self-driven, open-channel microfluidics, negating the need for external equipment and eliminating the problems associated with closed-channel microfluidics. In particular, the ability to selectively pattern these SH surfaces through our method could be useful for low energy transport of fluids in molecular diagnostics, thus making our surfaces feasible for broad applications such as point-of-care diagnostics.
Supplementary Materials
The following are available online at
www.mdpi.com/1996-1944/9/3/196/s1
. Figure S1: Microscale Roughness, Video S1: Wicking video on a flat patterned surface, Video S2: Wicking video on a SH patterened surafce.
Acknowledgments
The National Institute of Health (NIH) Director's New Innovator Award Program (1DP2OD007283). Argon Plasma Treatment, Ion Beam Sputtering and SEM work was performed at the Laboratory for Electron and X-ray Instrumentation (LEXI) at UC Irvine.
Author Contributions
Himanshu Sharma, Roger Tu, Jolie M. Nokes, and Michelle Khine conceived and designed the initial idea. Jolie M. Nokes, Himanshu Sharma, Roger Tu, Monica Y. Kim, Michael Chu, and Ali Siddiqui collected and assembled data. Jolie M. Nokes, Himanshu Sharma, Roger Tu, Monica Y. Kim, Michael Chu, and Michelle Khine analyzed and interpreted data. Jolie M. Nokes and Monica Y. Kim achieved the proof of concept experiments. Jolie M. Nokes, Himanshu Sharma, Roger Tu, Monica Y. Kim, and Michael Chu wrote and Michelle Khine edited the manuscript.
Conflicts of Interest
The authors have no conflict of interest.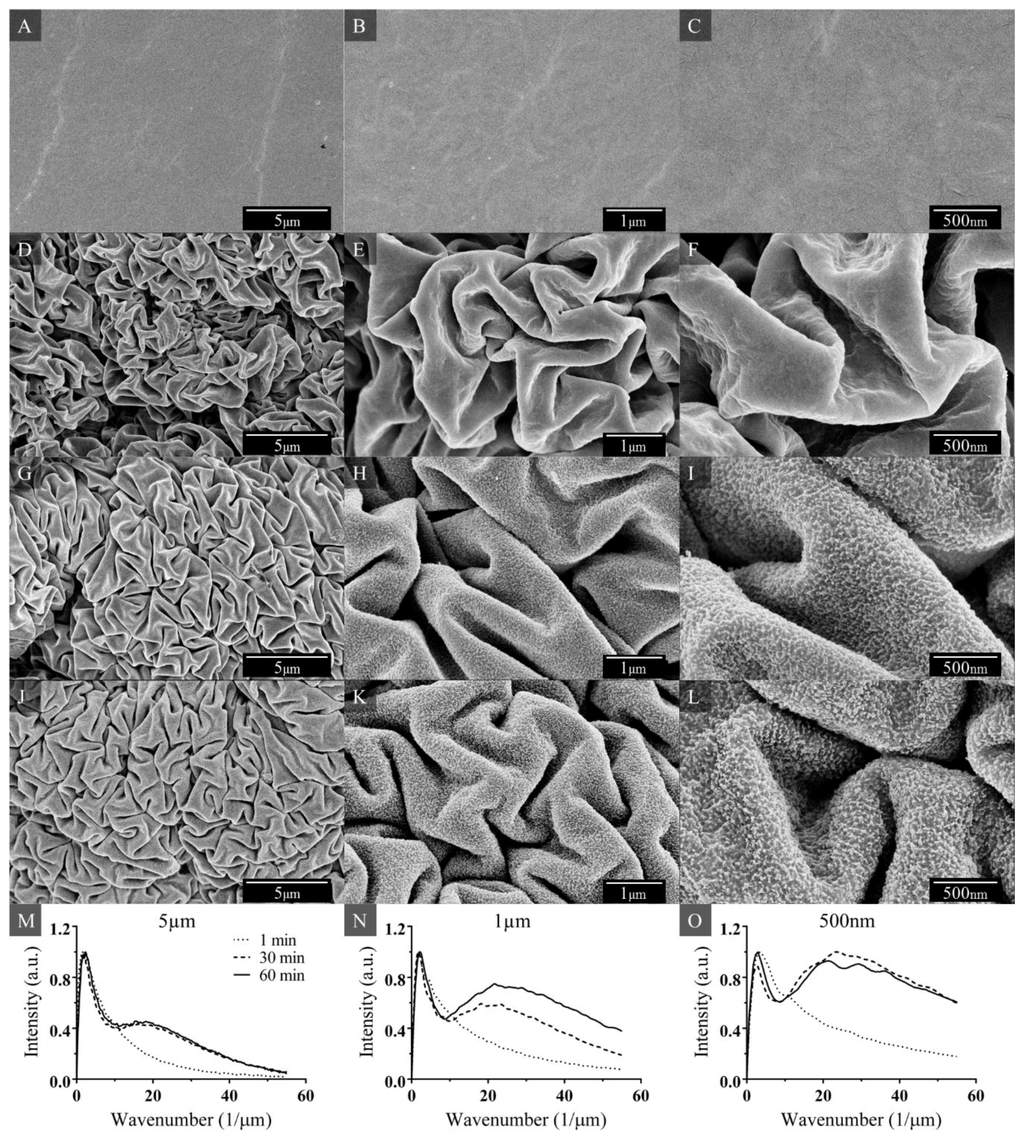 Figure 1. SEM images of shrunk surfaces that were not Ar-treated (A–C); and Ar-treated for (D–F) 1 min; (G–I) 30 min; and (J–L) 60 min. FFT graphs showing spatial frequency of the hierarchical features for shrunk Ar-treated samples at 1, 30, and 60 min (M–O).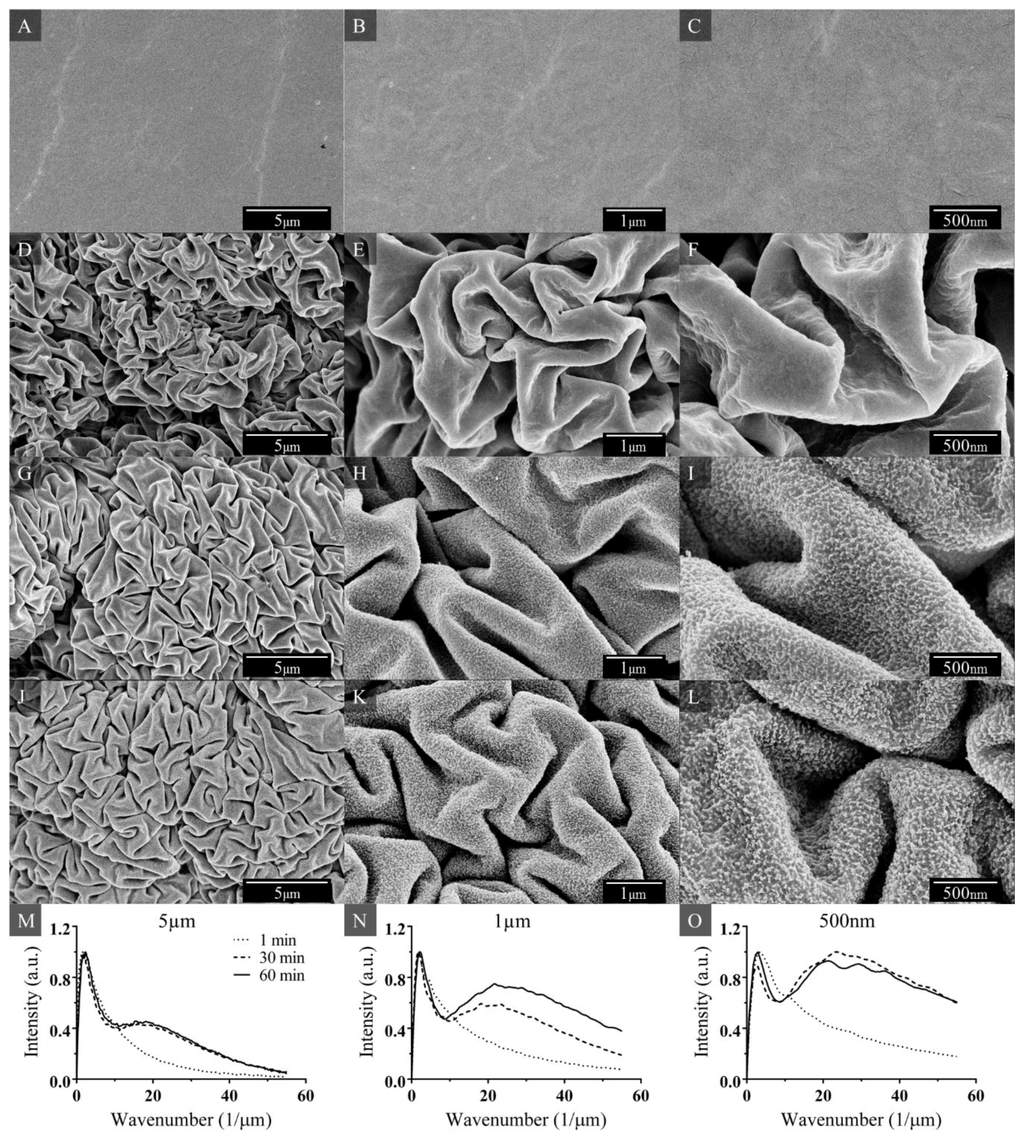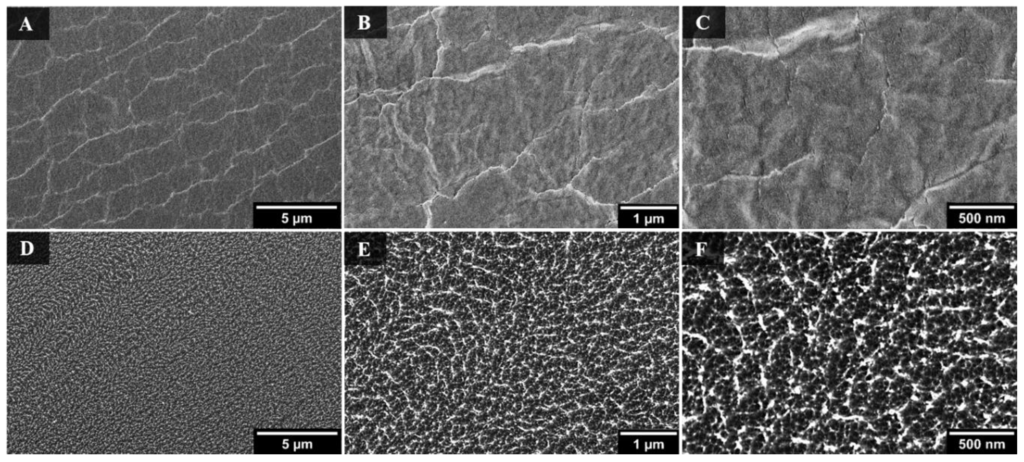 Figure 2. SEM images of flat PO film without Ar treatment (A–C); and with 30 min Ar treatment (D–F).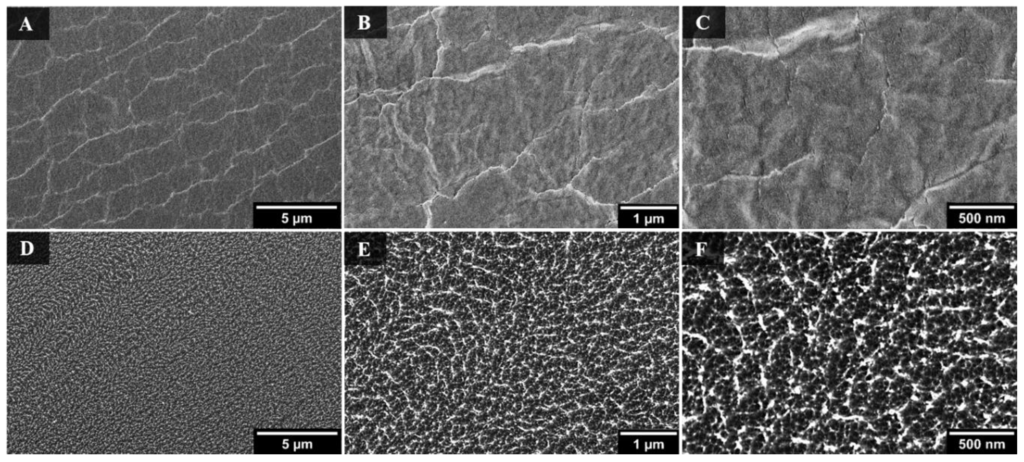 Figure 3. Longer Ar plasma treatment times correspond to superhydrophobicity. (A) Water CA; and (B) CAH as a function of Ar plasma treatment time on shrunk PO substrates. Error bars correspond to standard error, and the dashed lines correspond to superhydrophobicity.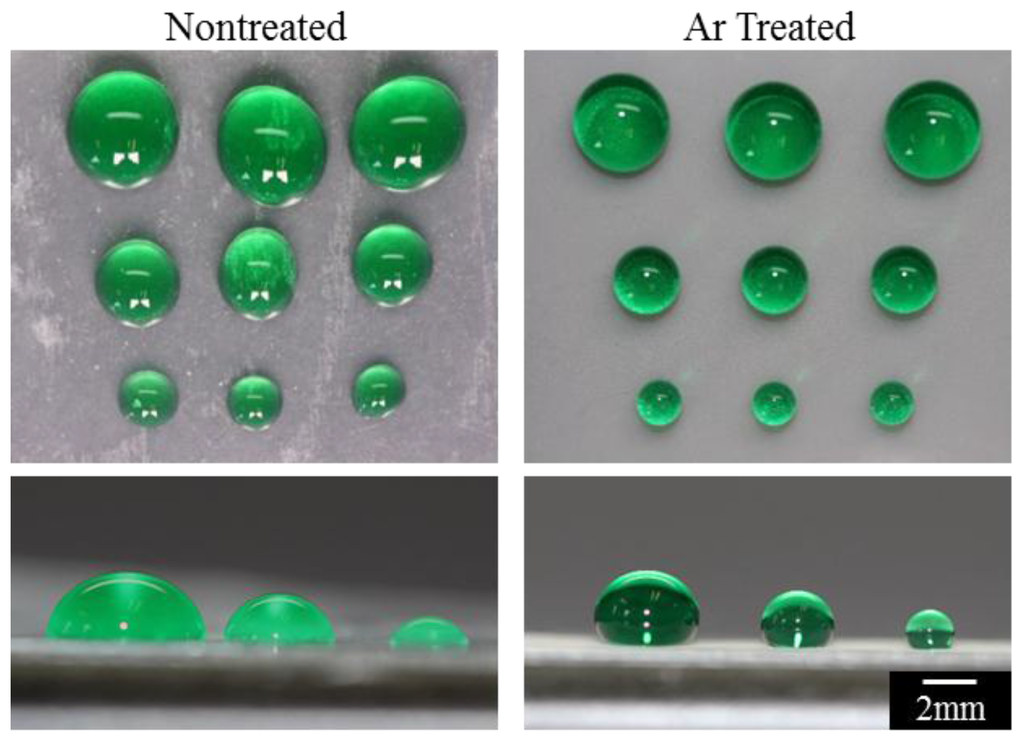 Figure 4. Air plasma was used to chemically pattern an array of hydrophilic anchor points (of sizes 2, 1, and 0.5 mm from top to bottom) from 2, 1, and 0.5 mm) on both non-treated and Ar-treated substrates. On the non-treated surface (left, top, and bottom) fluid (30, 15, and 5 µL) was not confined to the specified footprint. Conversely, on the SH Ar-treated surface (right, top, and bottom), the fluid remained within the patterned anchor point. The top images represent a top-down view of the droplets while the bottom images illustrate the side-view.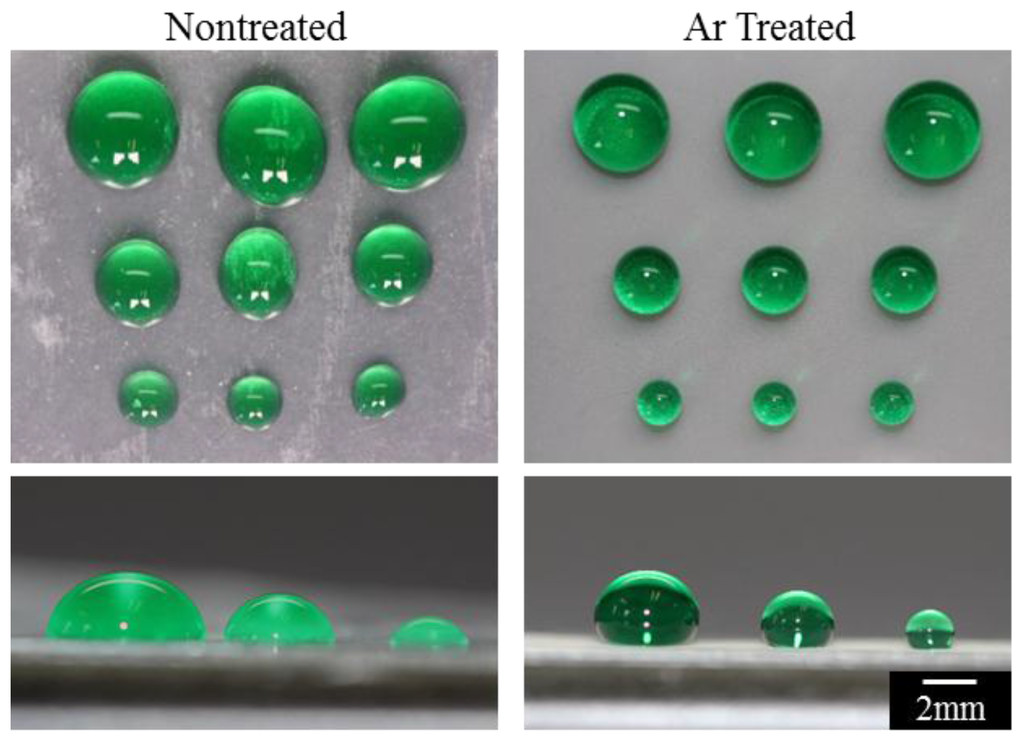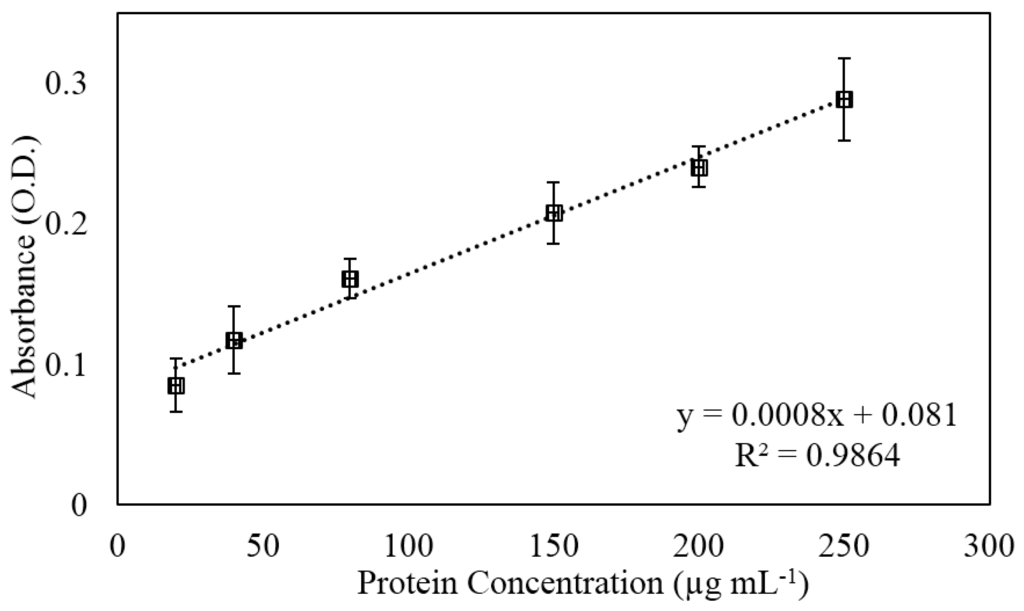 Figure 5. Urine spiked with BSA is detected by patterning the Ar plasma-treated samples for capture.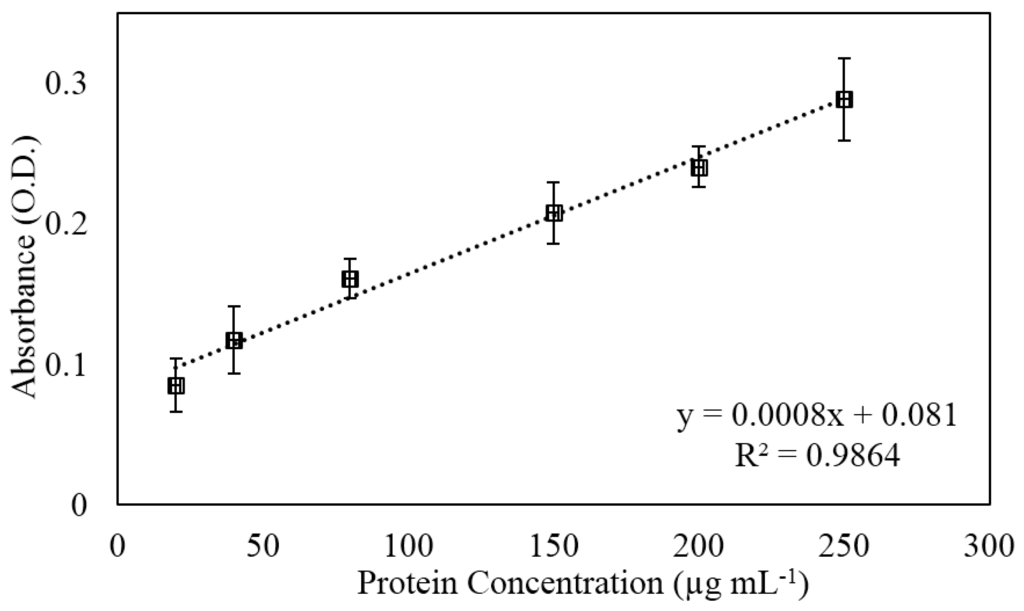 Figure 6. Superhydrophilic patterned channels allow fluid to wick along microchannels on the SH Ar-treated (bottom) samples but not along the flat, non-treated samples (top).

© 2016 by the authors; licensee MDPI, Basel, Switzerland. This article is an open access article distributed under the terms and conditions of the Creative Commons by Attribution (CC-BY) license (http://creativecommons.org/licenses/by/4.0/).