Integrated Effects of Two Additives on the Enhanced Performance of PTB7:PC71BM Polymer Solar Cells
1
Key Laboratory of Luminescence and Optical Information, Beijing Jiaotong University, Ministry of Education, Beijing 100044, China
2
Institute of Optoelectronic Technology, Beijing Jiaotong University, Beijing 100044, China
*
Author to whom correspondence should be addressed.
Academic Editor: Joshua M. Pearce
Received: 19 January 2016 / Revised: 20 February 2016 / Accepted: 24 February 2016 / Published: 5 March 2016
Abstract
Organic photovoltaics (OPVs) are fabricated with blended active layers of poly [[4,8-bis[(2-ethylhexyl)oxy]benzo[1,2-b:4,5-b']dithiophene-2,6-diyl][3-fluoro-2-[(2-ethylhexyl)carbonyl] thieno[3,4-b]thiophenediyl]]: [6,6]-phenylC71-butyric acid methyl ester (PTB7:PC
71
BM). The active layers are prepared in chlorobenzene (CB) added different additives of 1, 8-Diiodooctane (DIO) and polystyrene (PS) with different concentrations by spin coating. A small addition, 0.5%–5% by weight relative to the BHJ components, of inert high molecular weight PS is used to increase the solution viscosity and film thickness without sacrificing desirable phase separation and structural order. The effects of the PS are studied with respect of photovoltaic parameters such as fill factor, short circuit current density, and power conversion efficiency. Together with DIO, the device with 3.0 v% DIO and 1 wt % PS shows a high power conversion efficiency (PCE) of 8.92% along with an open-circuit voltage (
Voc
) of 0.76 V, a short-circuit current (
Jsc
) of 16.37 mA/cm
2
, and a fill factor (FF) of 71.68%. The absorption and surface morphology of the active layers are investigated by UV-visible spectroscopy, atomic force microscopy (AFM) respectively. The positive effect of DIO and PS additives on the performance of the OPVs is attributed to the increased absorption and the charge carrier transport and collection.
View Full-Text
►

▼

Figures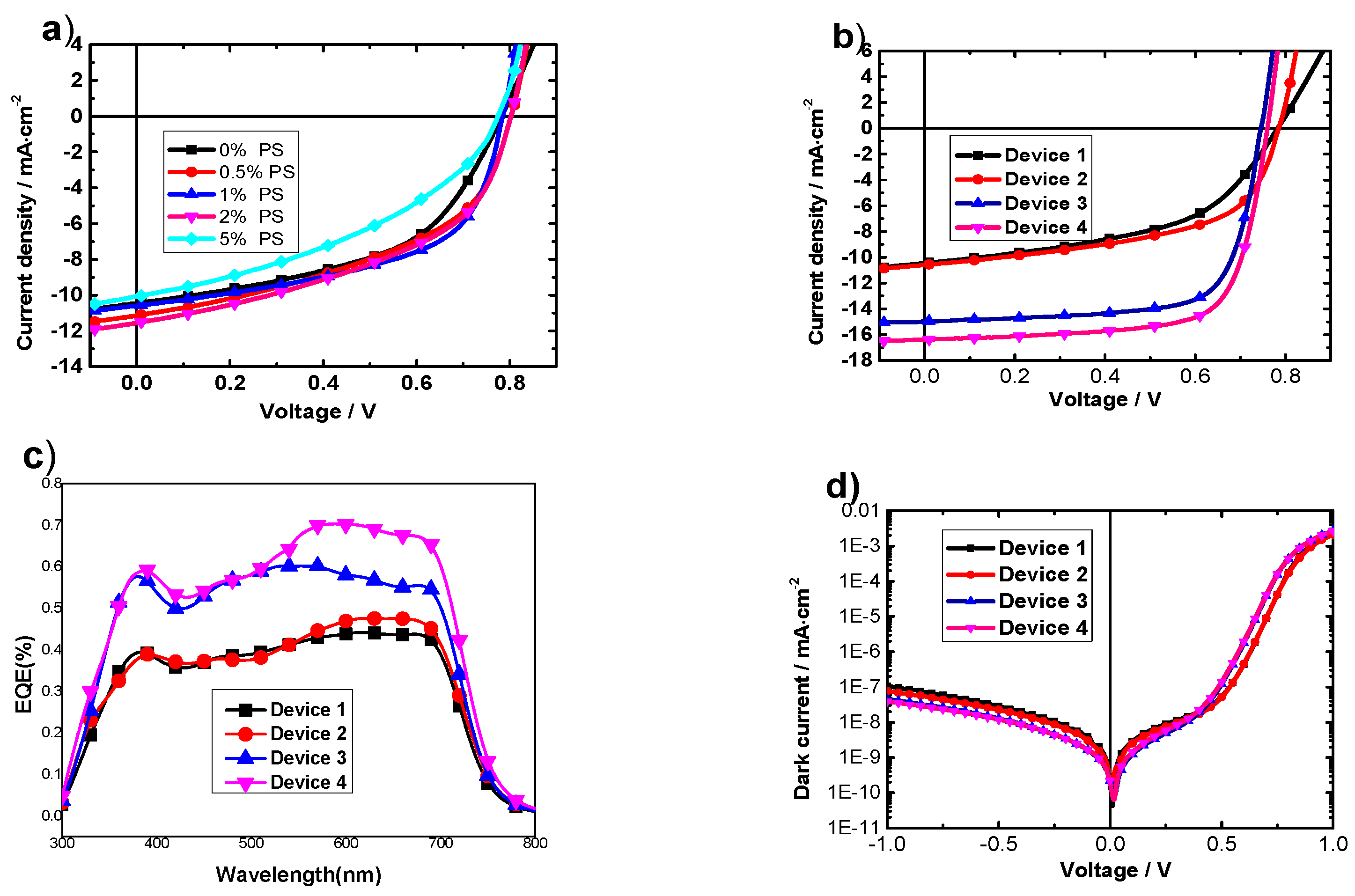 Figure 1
This is an open access article distributed under the
Creative Commons Attribution License
which permits unrestricted use, distribution, and reproduction in any medium, provided the original work is properly cited. (CC BY 4.0).
Share & Cite This Article
MDPI and ACS Style
Wang, L.; Zhao, S.; Xu, Z.; Zhao, J.; Huang, D.; Zhao, L. Integrated Effects of Two Additives on the Enhanced Performance of PTB7:PC71BM Polymer Solar Cells. Materials 2016, 9, 171.
Note that from the first issue of 2016, MDPI journals use article numbers instead of page numbers. See further details here.
Related Articles
Comments
[Return to top]