Synthesis and Characterization of N-Doped Porous TiO2 Hollow Spheres and Their Photocatalytic and Optical Properties
1
Institute of Materials for Energy and Environment, Qingdao University, Qingdao 266071, China
2
Laboratory of New Fiber Materials and Modern Textile, Growing Basis for State Key Laboratory, College of Materials Science and Engineering, Qingdao University, Qingdao 266071, China
3
State Key Laboratory of Inorganic Synthesis and Preparative Chemistry, College of Chemistry, Jilin University, Changchun 130012, China
4
School of Chemical Engineering, The University of Queensland, St Lucia, Brisbane QLD 4072, Australia
*
Authors to whom correspondence should be addressed.
Academic Editor: George Zhao
Received: 28 August 2016 / Revised: 4 October 2016 / Accepted: 11 October 2016 / Published: 19 October 2016
Abstract
Three kinds of N-doped mesoporous TiO
2
hollow spheres with different N-doping contents, surface area, and pore size distributions were prepared based on a sol–gel synthesis and combined with a calcination process. Melamine formaldehyde (MF) microspheres have been used as sacrificial template and cetyltrimethyl ammonium bromide (CTAB) or polyvinylpyrrolidone (PVP) was selected as pore-directing agent. Core–shell intermediate spheres of titania-coated MF with diameters of 1.2–1.6 μm were fabricated by varying the volume concentration of TiO
2
precursor from 1 to 3 vol %. By calcining the core–shell composite spheres at 500 °C for 3 h in air, an in situ N-doping process occurred upon the decomposition of the MF template and CTAB or PVP pore-directing surfactant. N-doped mesoporous TiO
2
hollow spheres with sizes in the range of 0.4–1.2 μm and shell thickness from 40 to 110 nm were obtained. The composition and N-doping content, thermal stability, morphology, surface area and pore size distribution, wall thickness, photocatalytic activities, and optical properties of the mesoporous TiO
2
hollow spheres derived from different conditions were investigated and compared based on Fourier-transformation infrared (FTIR), SEM, TEM, thermogravimetric analysis (TGA), nitrogen adsorption–desorption, and UV–vis spectrophotoscopy techniques. The influences of particle size, N-doping, porous, and hollow characteristics of the TiO
2
hollow spheres on their photocatalytic activities and optical properties have been studied and discussed based on the composition analysis, structure characterization, and optical property investigation of these hollow spherical TiO
2
matrices.
View Full-Text
►

▼

Figures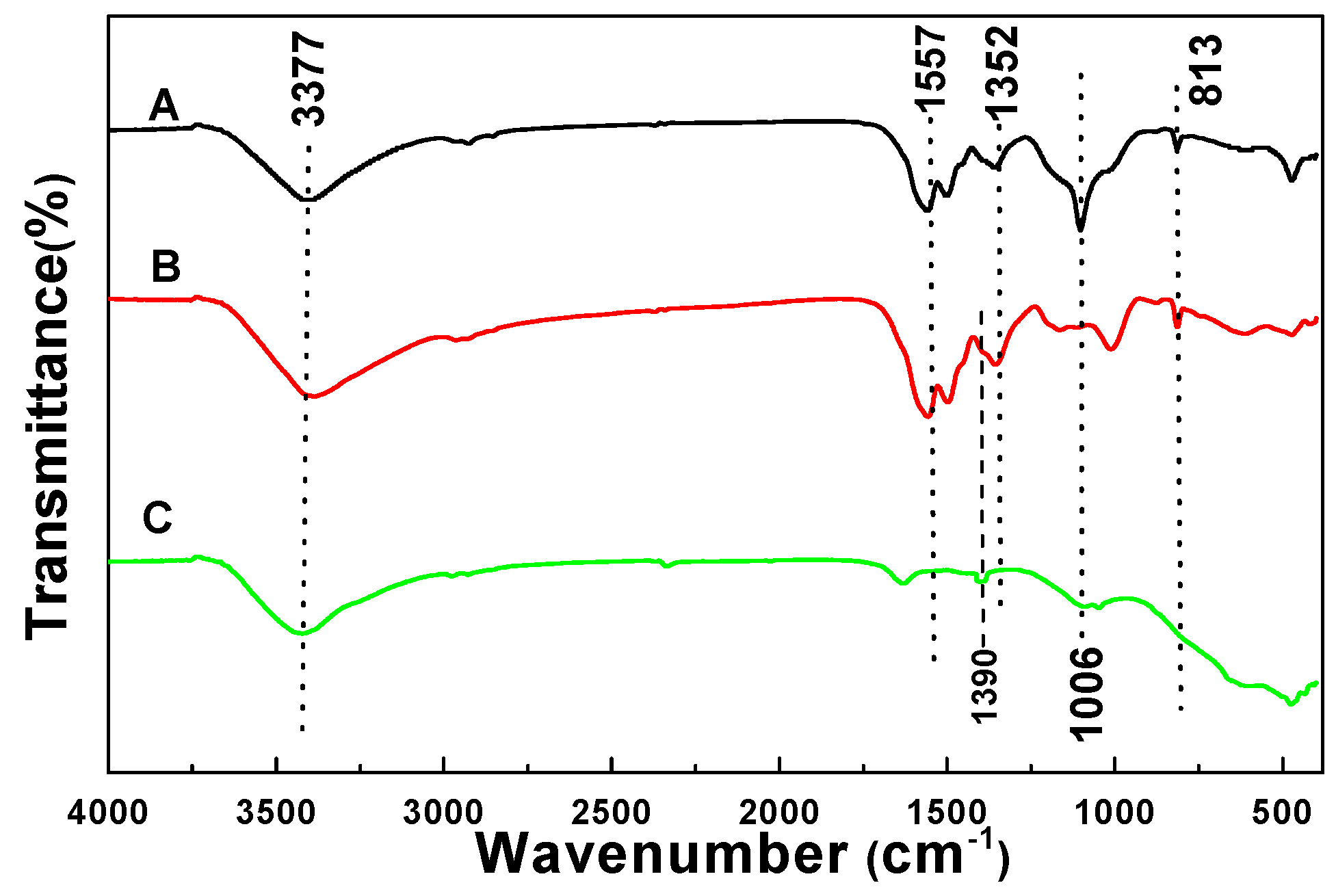 Figure 1
This is an open access article distributed under the
Creative Commons Attribution License
which permits unrestricted use, distribution, and reproduction in any medium, provided the original work is properly cited. (CC BY 4.0).
Share & Cite This Article
MDPI and ACS Style
Li, H.; Liu, H.; Fu, A.; Wu, G.; Xu, M.; Pang, G.; Guo, P.; Liu, J.; Zhao, X.S. Synthesis and Characterization of N-Doped Porous TiO2 Hollow Spheres and Their Photocatalytic and Optical Properties. Materials 2016, 9, 849.
Note that from the first issue of 2016, MDPI journals use article numbers instead of page numbers. See further details here.
Related Articles
Comments
[Return to top]