Inhibition of Mild Steel Corrosion in Hydrochloric Acid Solution by New Coumarin
1
Department of Chemical and Process Engineering, Faculty of Engineering and Built Environment, Universiti Kebangsaan Malaysia, Bangi, Selangor 43600, Malaysia
2
Environmental Research Center, University of Technology, Baghdad 10066, Iraq
3
Department of Chemistry, Western University, London, ON N6A 5B7, Canada
*
Author to whom correspondence should be addressed.
Received: 21 October 2013 / Revised: 5 December 2013 / Accepted: 10 April 2014 / Published: 5 June 2014
Abstract
A new coumarin derivative,
N
,
N
′-((2E,2′E)-2,2′-(1,4-phenylenebis (methanylylidene))bis(hydrazinecarbonothioyl))bis(2-oxo-2H-chromene-3-carboxamide) PMBH, was synthesized and its chemical structure was elucidated and confirmed using spectroscopic techniques (Infrared spectroscopy IR, Proton nuclear magnetic resonance,
1
H-NMR and carbon-13 nuclear magnetic resonance
13
C-NMR). The corrosion inhibition effect of PMBH on mild steel in 1.0 M HCl was investigated using corrosion potential (
E
CORR
), potentiodynamic polarization, electrochemical impedance spectroscopy (EIS), and electrochemical frequency modulation (EFM) measurements. The obtained results indicated that PMBH has promising inhibitive effects on the corrosion of mild steel in 1.0 M HCl across all of the conditions examined. Scanning electron microscopy (SEM) was used to investigate the morphology of the mild steel before and after immersion in 1.0 M HCl solution containing 0.5 mM of PMBH. Surface analysis revealed improvement of corrosion resistance in presence of PMBH.
View Full-Text
►

▼

Figures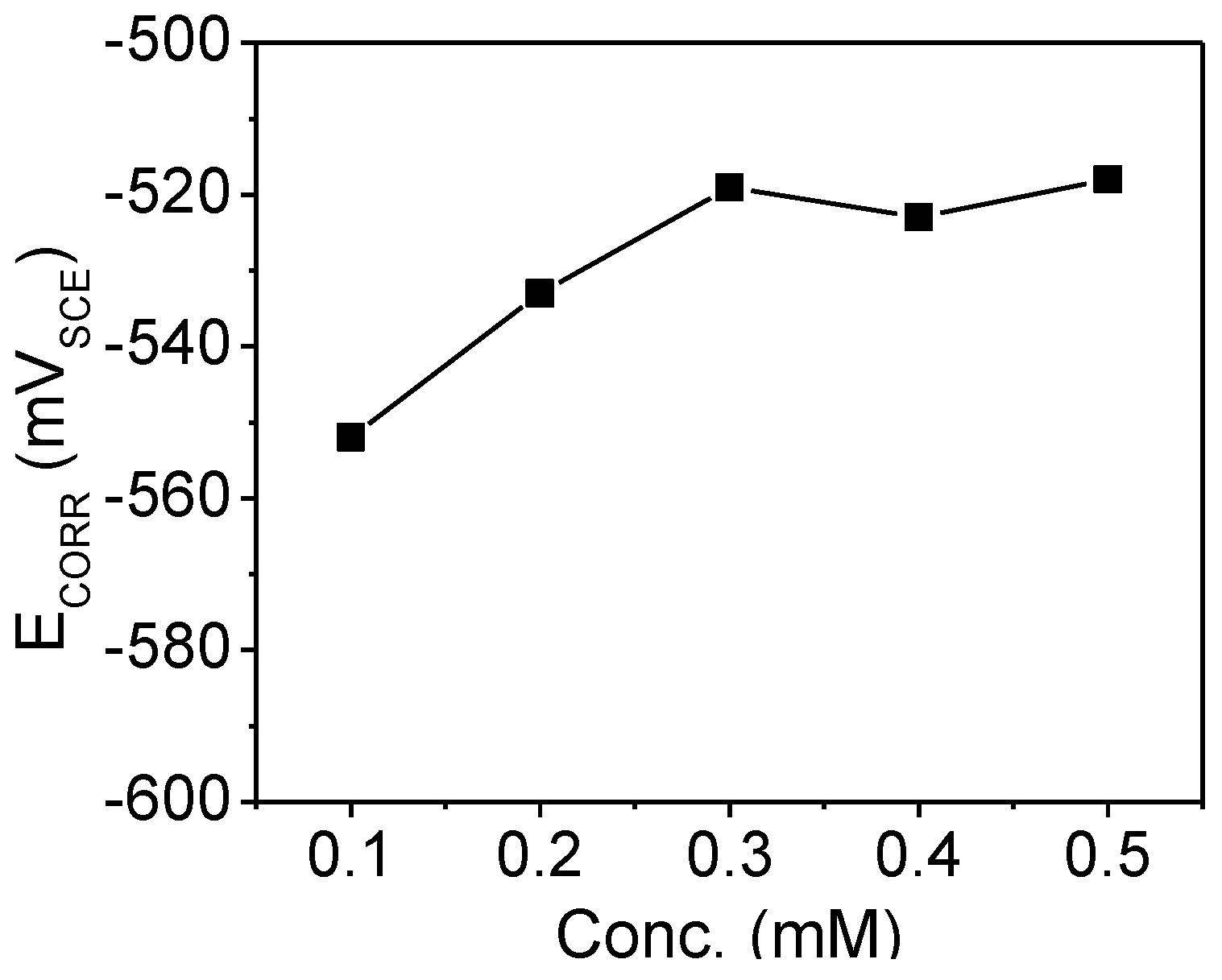 Figure 1
Share & Cite This Article
MDPI and ACS Style
Kadhum, A.A.H.; Mohamad, A.B.; Hammed, L.A.; Al-Amiery, A.A.; San, N.H.; Musa, A.Y. Inhibition of Mild Steel Corrosion in Hydrochloric Acid Solution by New Coumarin. Materials 2014, 7, 4335-4348.
Related Articles
Comments
[Return to top]