Rapid Microwave Synthesis, Characterization and Reactivity of Lithium Nitride Hydride, Li4NH
1
WestCHEM, School of Chemistry, University of Glasgow, Glasgow G12 8QQ, UK
2
Ecole Nationale Supérieure de Chimie de Clermont-Ferrand, Université Blaise Pascal, BP 187, Aubière Cedex 63174, France
*
Author to whom correspondence should be addressed.
Received: 8 October 2013 / Revised: 23 October 2013 / Accepted: 11 November 2013 / Published: 21 November 2013
Abstract
Lithium nitride hydride, Li
4
NH, was synthesised from lithium nitride and lithium hydride over minute timescales, using microwave synthesis methods in the solid state for the first time. The structure of the microwave-synthesised powders was confirmed by powder X-ray diffraction [tetragonal space group
I
4
1
/a
;
a
= 4.8864(1) Å,
c
= 9.9183(2) Å] and the nitride hydride reacts with moist air under ambient conditions to produce lithium hydroxide and subsequently lithium carbonate. Li
4
NH undergoes no dehydrogenation or decomposition [under Ar
(g)
] below 773 K. A tetragonal–cubic phase transition, however, occurs for the compound at
ca
. 770 K. The new high temperature (HT) phase adopts an
anti
-fluorite structure (space group
Fm 3̅ m
;
a
= 4.9462(3) Å) with N
3−
and H
−
ions disordered on the 4
a
sites. Thermal treatment of Li
4
NH under nitrogen yields a stoichiometric mixture of lithium nitride and lithium imide (Li
3
N and Li
2
NH respectively).
View Full-Text
►

▼

Figures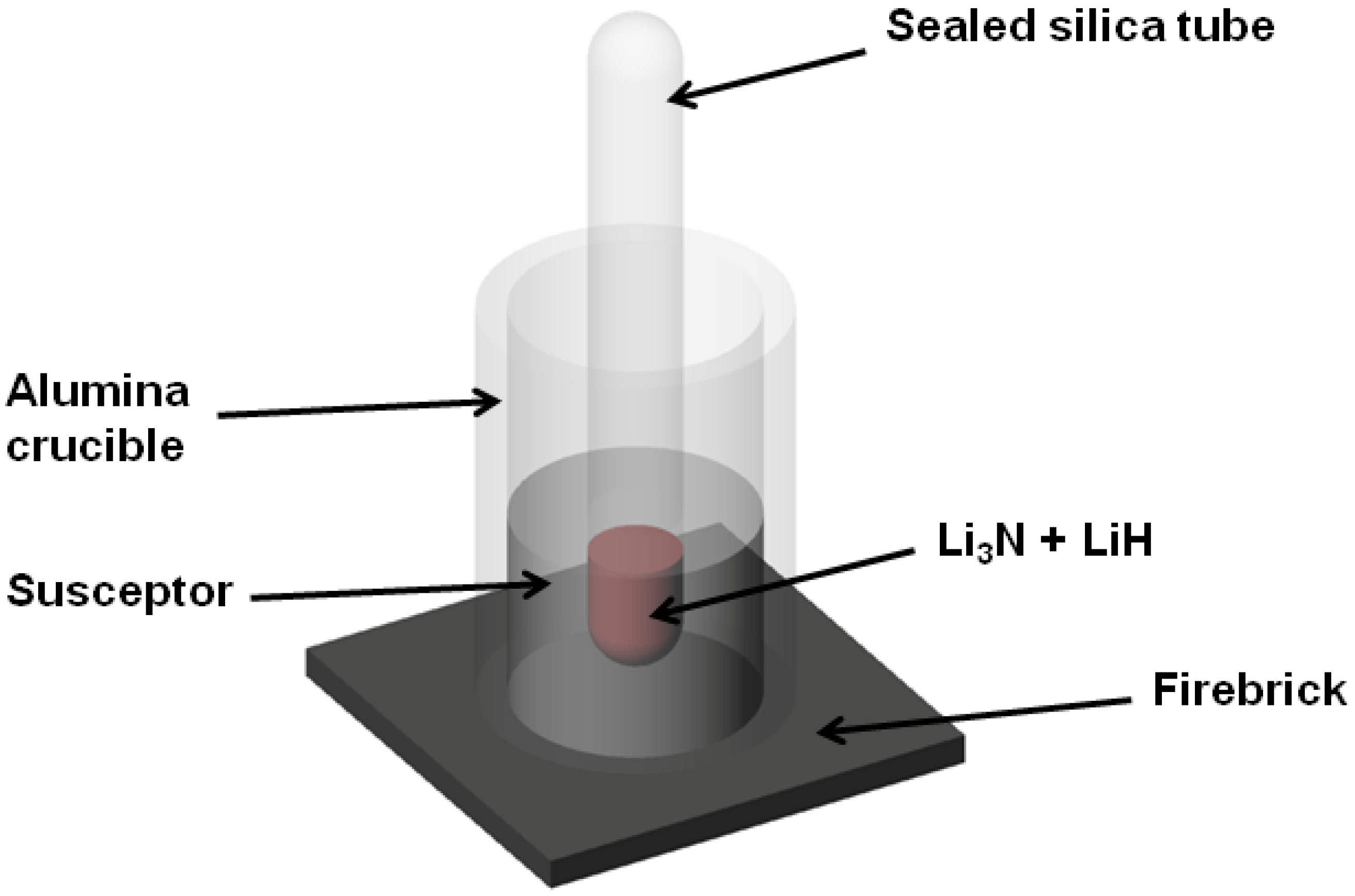 Figure 1
Share & Cite This Article
MDPI and ACS Style
Tapia-Ruiz, N.; Sorbie, N.; Vaché, N.; Hoang, T.K.A.; Gregory, D.H. Rapid Microwave Synthesis, Characterization and Reactivity of Lithium Nitride Hydride, Li4NH. Materials 2013, 6, 5410-5426.
Related Articles
Comments
[Return to top]