Hydrazine-Assisted Formation of Indium Phosphide (InP)-Based Nanowires and Core-Shell Composites
1
Institute of Inorganic Chemistry, University of Zurich, Winterthurerstr. 190, Zurich CH-8057, Switzerland
2
Institute of Cybernetics, Georgian Technical University, Euli Str. 5, Tbilisi 0186, Georgia
*
Authors to whom correspondence should be addressed.
Received: 9 November 2012 / Revised: 19 December 2012 / Accepted: 20 December 2012 / Published: 27 December 2012
Abstract
Indium phosphide nanowires (InP NWs) are accessible at 440 °C from a novel vapor phase deposition approach from crystalline InP sources in hydrazine atmospheres containing 3 mol % H
2
O. Uniform zinc blende (ZB) InP NWs with diameters around 20 nm and lengths up to several tens of micrometers are preferably deposited on Si substrates. InP particle sizes further increase with the deposition temperature. The straightforward protocol was extended on the one-step formation of new core-shell InP–Ga NWs from mixed InP/Ga source materials. Composite nanocables with diameters below 20 nm and shells of amorphous gallium oxide are obtained at low deposition temperatures around 350 °C. Furthermore, InP/Zn sources afford InP NWs with amorphous Zn/P/O-coatings at slightly higher temperatures (400 °C) from analogous setups. At 450 °C, the smooth outer layer of InP-Zn NWs is transformed into bead-shaped coatings. The novel combinations of the key semiconductor InP with isotropic insulator shell materials open up interesting application perspectives in nanoelectronics.
View Full-Text
►

▼

Figures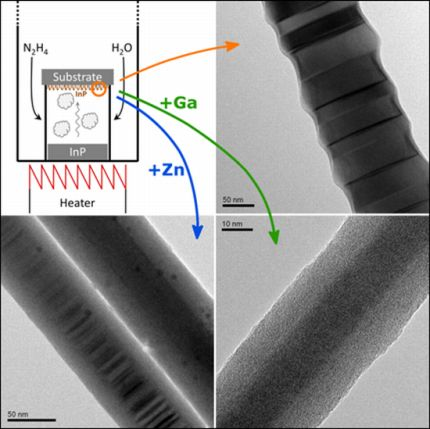 Share & Cite This Article
MDPI and ACS Style
Patzke, G.R.; Kontic, R.; Shiolashvili, Z.; Makhatadze, N.; Jishiashvili, D. Hydrazine-Assisted Formation of Indium Phosphide (InP)-Based Nanowires and Core-Shell Composites. Materials 2013, 6, 85-100.
Related Articles
Comments
[Return to top]