Preparation of Novel Banana-Shaped Triple Helical Liquid Crystals by Metal Coordination
1
School of Chemistry, The University of Birmingham, Birmingham, Edgbaston, B15 2TT, UK
2
Department of Chemistry, University of Warwick, Coventry, CV4 7AL, UK
*
Author to whom correspondence should be addressed.
Received: 2 February 2009 / Revised: 25 February 2009 / Accepted: 11 March 2009 / Published: 13 March 2009
Abstract
The synthesis of a series of banana-shaped structures has been carried out, in which the bend unit is formed by a 4,4'-methylenedianiline or 3,3'-methylenedianiline core bearing two symmetric pyridylimine linkages to di- and tri- alkoxyphenylester moieties on the side arms. The molecules, in addition to providing an elongated aromatic central core associated with liquid crystal (LC) molecules, also provide binding sites for metals. The methylenedianiline spacer incorporates phenylene groups that sterically prevent the two binding sites from co-ordinating to a single metal centre and the central methylene unit introduces enhanced flexibility into the ligand backbone. Furthermore, complexes have been formed by the co-ordination between 3, 3'-methylenedianiline containing ligands and Cu (I) ions [Cu
2
(3a-c)
2
][PF
6
]
2
. Electrospray Mass Spectrometry (ESMS) and Fast Atom Bombardment Mass Spectrometry (FABMS) showed the formation of dimeric species; [Cu (L)
2
][PF
6
]
2
. Finally,thermal analysis of the ligands (1a-d, 2a-d, 3a-c and 4a-d) andCu complexes [Cu
2
(3a-c)
2
][PF
6
]
2
has been carried out in order to investigate the phase properties of these materials. None of the banana-shaped ligands and the metal complexes [Cu
2
(3a-c)
2
][PF
6
]
2
showed any mesophases.
View Full-Text
►

▼

Figures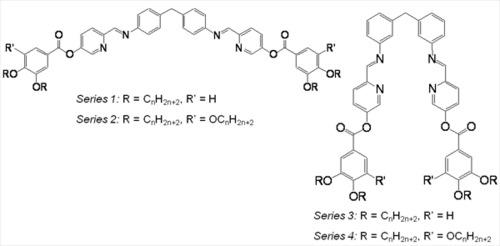 Share & Cite This Article
MDPI and ACS Style
Iqbal, P.; Mayanditheuar, M.; Childs, L.J.; Hannon, M.J.; Spencer, N.; Ashton, P.R.; Preece, J.A. Preparation of Novel Banana-Shaped Triple Helical Liquid Crystals by Metal Coordination. Materials 2009, 2, 146-168.
Related Articles
Comments
[Return to top]