Influence of Equal Channel Angular Pressing Passes on the Microstructures and Tensile Properties of Mg-8Sn-6Zn-2Al Alloy
1
School of Materials Science and Engineering, Taiyuan University of Technology, Taiyuan 030024, China
2
Shanxi Key Laboratory of Advanced Magnesium-Based Materials, Taiyuan University of Technology, Taiyuan 030024, China
3
Key Laboratory of Interface Science and Engineering in Advanced Materials, Ministry of Education, Taiyuan University of Technology, Taiyuan 030024, China
*
Author to whom correspondence should be addressed.
Received: 5 May 2017 / Revised: 20 June 2017 / Accepted: 23 June 2017 / Published: 27 June 2017
Abstract
An I-phase containing Mg-8Sn-6Zn-2Al (wt %; TZA862) alloy was fabricated and subjected to different number of passes of equal channel angular pressing (ECAP) processing at 300 °C. The results showed that the alloys exhibited a bimodal microstructure, which consisted of fine dynamically recrystallized (DRX) grains and coarse non-DRX grains. When increasing the number of ECAP passes from 2 to 6, the fraction of DRX grains and the dispersed second phase particles subsequently increase. However, the fraction and particles then decrease once the number of ECAP passes increases to 8. After 6 ECAP passes, remarkable grain refinement was achieved and increasing the number of passes to 8 cannot further refine the microstructure. Furthermore, the alloys having undergone ECAP exhibited a strong ED-tilted texture, the intensity of which increased with an increase in the number of ECAP passes. The ultimate tensile strength (UTS; 338 MPa) and elongation (El.; 14.2%) of the alloy processed with 6 ECAP passes were considerably higher compared to those of the other materials that had undergone ECAP. These significant enhancements were attributed to extensive grain boundary strengthening, precipitation strengthening and a higher work-hardening capacity.
View Full-Text
►

▼

Figures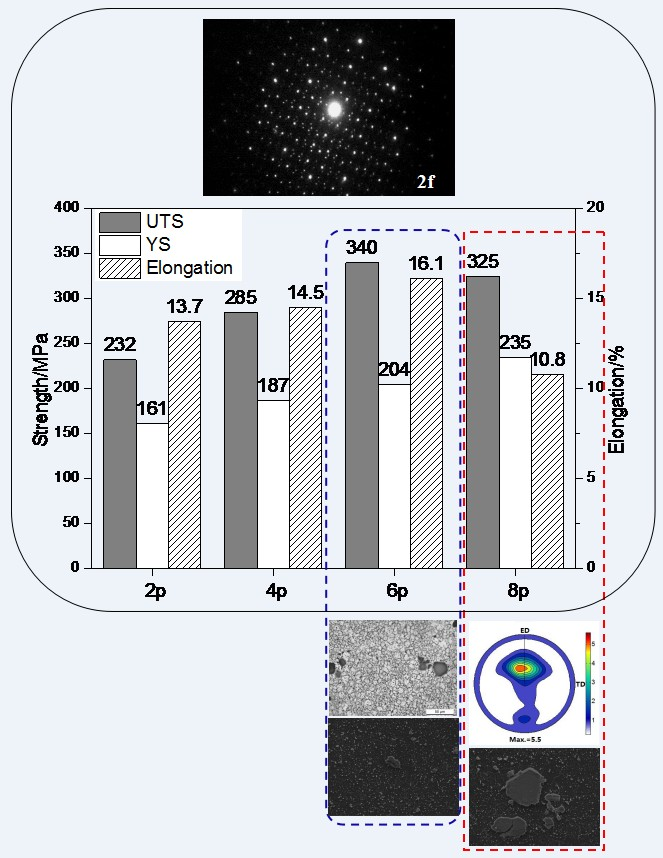 This is an open access article distributed under the
Creative Commons Attribution License
which permits unrestricted use, distribution, and reproduction in any medium, provided the original work is properly cited. (CC BY 4.0).
Share & Cite This Article
MDPI and ACS Style
Cheng, W.; Tian, L.; Ma, S.; Bai, Y.; Wang, H. Influence of Equal Channel Angular Pressing Passes on the Microstructures and Tensile Properties of Mg-8Sn-6Zn-2Al Alloy. Materials 2017, 10, 708.
Note that from the first issue of 2016, MDPI journals use article numbers instead of page numbers. See further details here.
Related Articles
Comments
[Return to top]