High Performances of Artificial Nacre-Like Graphene Oxide-Carrageenan Bio-Nanocomposite Films
1
State Key Laboratory Cultivation Base for Nonmetal Composites and Functional Materials, Southwest University of Science and Technology, Mianyang 621010, China
2
Engineering Research Center of Biomass Materials, Ministry of Education, Mianyang 621010, China
*
Authors to whom correspondence should be addressed.
Academic Editor: Biqiong Chen
Received: 15 February 2017 / Revised: 1 May 2017 / Accepted: 4 May 2017 / Published: 16 May 2017
Abstract
This study was inspired by the unique multi-scale and multi-level 'brick-and-mortar' (B&M) structure of nacre layers. We prepared the B&M, environmentally-friendly graphene oxide-carrageenan (GO-Car) nanocomposite films using the following steps. A natural polyhydroxy polymer, carrageenan, was absorbed on the surface of monolayer GO nanosheets through hydrogen-bond interactions. Following this, a GO-Car hybridized film was produced through a natural drying process. We conducted structural characterization in addition to analyzing mechanical properties and cytotoxicity of the films. Scanning electron microscope (SEM) and X-ray diffraction (XRD) analyses showed that the nanocomposite films had a similar morphology and structure to nacre. Furthermore, the results from Fourier transform infrared spectroscopy (FT-IR), Raman spectroscopy, X-ray photoelectron spectroscopy (XPS) and Thermogravimetric (TG/DTG) were used to explain the GO-Car interaction. Analysis from static mechanical testers showed that GO-Car had enhanced Young's modulus, maximum tensile strength and breaking elongation compared to pure GO. The GO-Car nanocomposite films, containing 5% wt. of Car, was able to reach a tensile strength of 117 MPa. The biocompatibility was demonstrated using a RAW264.7 cell test, with no significant alteration found in cellular morphology and cytotoxicity. The preparation process for GO-Car films is simple and requires little time, with GO-Car films also having favorable biocompatibility and mechanical properties. These advantages make GO-Car nanocomposite films promising materials in replacing traditional petroleum-based plastics and tissue engineering-oriented support materials.
View Full-Text
►

▼

Figures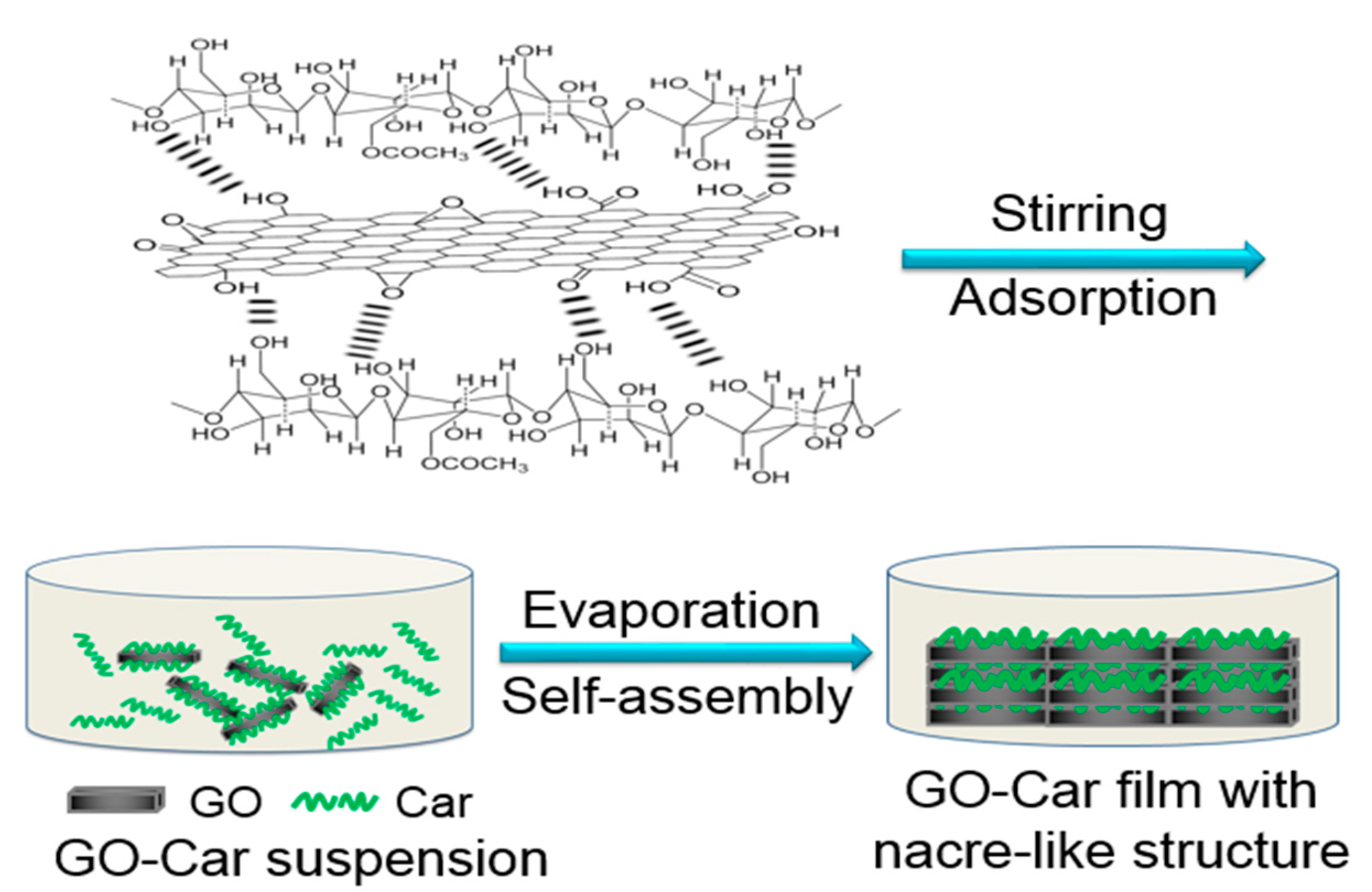 Figure 1
This is an open access article distributed under the
Creative Commons Attribution License
which permits unrestricted use, distribution, and reproduction in any medium, provided the original work is properly cited. (CC BY 4.0).
Share & Cite This Article
MDPI and ACS Style
Zhu, W.; Chen, T.; Li, Y.; Lei, J.; Chen, X.; Yao, W.; Duan, T. High Performances of Artificial Nacre-Like Graphene Oxide-Carrageenan Bio-Nanocomposite Films. Materials 2017, 10, 536.
Note that from the first issue of 2016, MDPI journals use article numbers instead of page numbers. See further details here.
Related Articles
Comments
[Return to top]