Characterization and Bone Response of Carbonate-Containing Apatite-Coated Titanium Implants Using an Aqueous Spray Coating
1
Department of Removable Prosthodontics, Tsurumi University School of Dental Medicine, 2-1-3, Tsurumi, Yokohama, Kanagawa 230-8501, Japan
2
Division of Liberal Arts, Center for Promotion of High Education, Kogakuin University, 2665-1, Nakano, Hachioji, Tokyo 192-0015, Japan
3
Department of Applied Physics, School of Advanced Engineering, Kogakuin University, 2665-1, Nakano, Hachioji, Tokyo 192-0015, Japan
4
Department of Materials and Applied Chemistry, College of Science and Technology, Nihon University, 1-8-14, Surugadai, Kanda, Chiyoda, Tokyo 101-8308, Japan
5
Department of Dental Engineering, Tsurumi University School of Dental Medicine, 2-1-3, Tsurumi, Yokohama, Kanagawa 230-8501, Japan
*
Author to whom correspondence should be addressed.
Received: 7 November 2017 / Revised: 8 December 2017 / Accepted: 8 December 2017 / Published: 11 December 2017
Abstract
We performed thin carbonate-containing apatite (CA) coating on titanium (Ti) by an aqueous spray coating (ASC) method that consisted of a Ca-CO
3
-PO
4
complex. Two different CA coatings were produced by two different spray amounts and were heat-treated after spraying. We evaluated three-dimensional structures, adhesiveness to Ti, and durability of the CA film. In addition, we performed immersion experiments in simulated body fluid (SBF), and bone responses were evaluated after implantation into a femoral bone defect in rats. The bonding ability of ASC-coated implant into the bone was examined by push-in tests. Unique network structures with small particles were identified on CA coatings. Although heat treatment produced no significant difference in surface morphology, scratch tests revealed that heat treatment improved the adhesion of CA coatings to Ti. Crystal formation progressed on CA-coated specimens, and the sample placement direction influenced crystal formation and growth in SBF immersion. Animal implantation experiments revealed significantly greater bone-to-implant contact ratio and bone mass in both cortical and bone marrow, respectively, four weeks after implantation. Push-in tests suggested that the bonding of the CA coating to Ti is clinically acceptable. Therefore, we conclude that CA coating to Ti by the ASC method would be possible for clinical applications, including dentistry.
View Full-Text
►

▼

Figures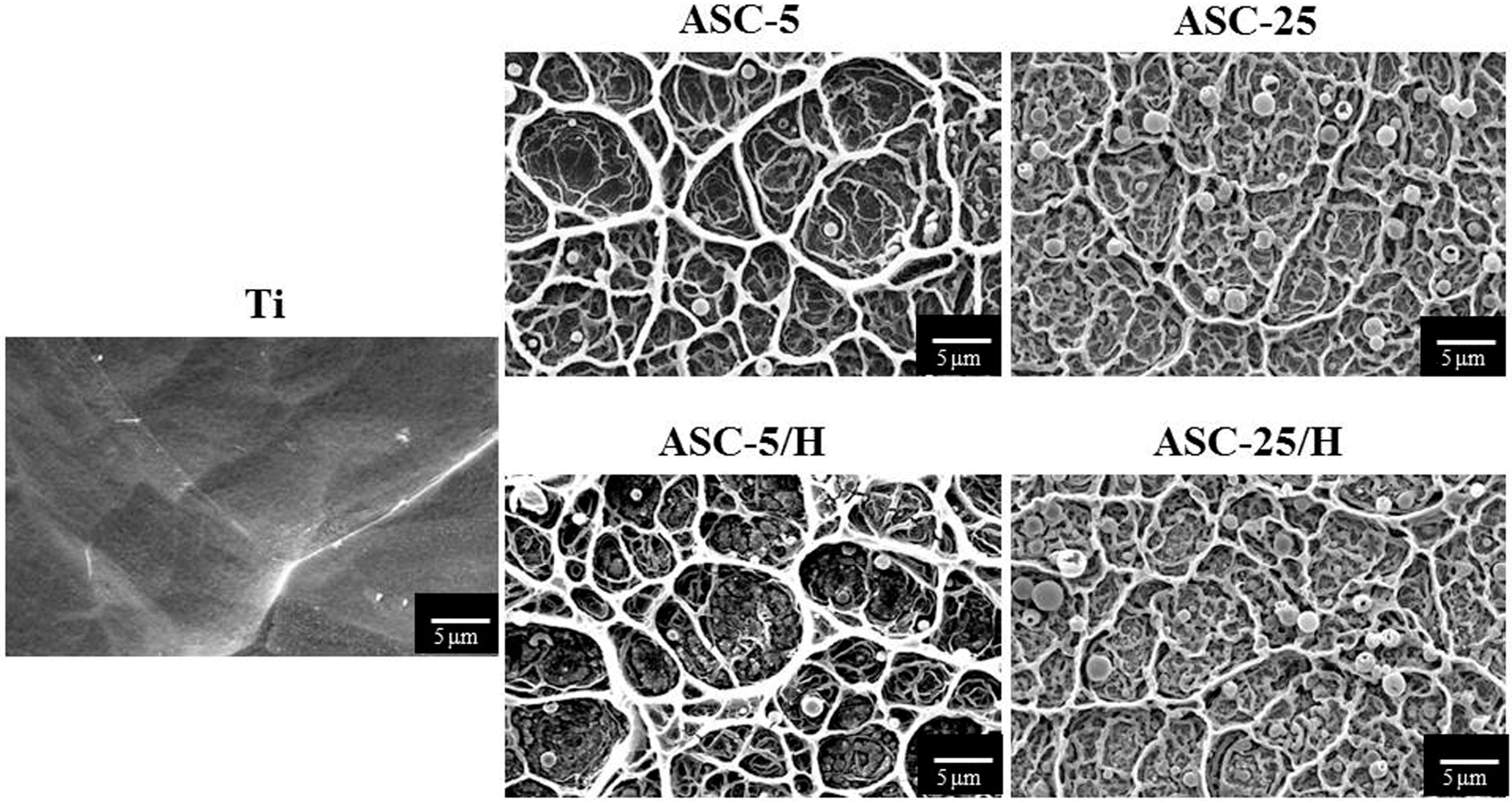 Figure 1
This is an open access article distributed under the
Creative Commons Attribution License
which permits unrestricted use, distribution, and reproduction in any medium, provided the original work is properly cited. (CC BY 4.0).
Share & Cite This Article
MDPI and ACS Style
Yagi, R.; Mochizuki, C.; Sato, M.; Toyama, T.; Hirota, M.; Hayakawa, T.; Ohkubo, C. Characterization and Bone Response of Carbonate-Containing Apatite-Coated Titanium Implants Using an Aqueous Spray Coating. Materials 2017, 10, 1416.
Note that from the first issue of 2016, MDPI journals use article numbers instead of page numbers. See further details here.
Related Articles
Comments
[Return to top]