A Nature-Inspired Optimization-Based Optimum Fuzzy Logic Photovoltaic Inverter Controller Utilizing an eZdsp F28335 Board
1
Department of Electrical, Electronic and Systems Engineering, Faculty of Engineering and Built Environment, Universiti Kebangsaan Malaysia, 43600 Bangi, Selangor, Malaysia
2
College of Electrical and Electronic Engineering Techniques, Middle Technical University, 10022 Baghdad, Iraq
3
Department of Electrical Engineering, United Arab Emirates University, 15551 Al-Ain, UAE
*
Author to whom correspondence should be addressed.
Academic Editor: Peter J S Foot
Received: 9 December 2015 / Revised: 19 January 2016 / Accepted: 5 February 2016 / Published: 23 February 2016
Abstract
Photovoltaic (PV) inverters essentially convert DC quantities, such as voltage and current, to AC quantities whose magnitude and frequency are controlled to obtain the desired output. Thus, the performance of an inverter depends on its controller. Therefore, an optimum fuzzy logic controller (FLC) design technique for PV inverters using a lightning search algorithm (LSA) is presented in this study. In a conventional FLC, the procedure for obtaining membership functions (MFs) is usually implemented using trial and error, which does not lead to satisfactory solutions in many cases. Therefore, this study presents a technique for obtaining MFs that avoids the exhaustive traditional trial-and-error procedure. This technique is implemented during the inverter design phase by generating adaptive MFs based on the evaluation results of the objective function formulated with LSA. The mean squared error (MSE) of the inverter output voltage is used as an objective function in this study. LSA optimizes the MFs such that the inverter provides the lowest MSE for the output voltage, and the performance of the PV inverter output is improved in terms of amplitude and frequency. First, the design procedure and accuracy of the optimum FLC are illustrated and investigated through simulations conducted in a MATLAB environment. The LSA-based FLC (LSA-FL) are compared with differential search algorithm (DSA)-based FLC (DSA-FL) and particle swarm optimization (PSO)-based FLC (PSO-FL). Finally, the robustness of the LSA-FL is further investigated with a hardware that is operated via an eZdsp F28335 control board. Simulation and experimental results show that the proposed controller can successfully obtain the desired output when different loads are connected to the system. The inverter also has a reasonably low steady-state error and fast response to reference variation.
View Full-Text
►

▼

Figures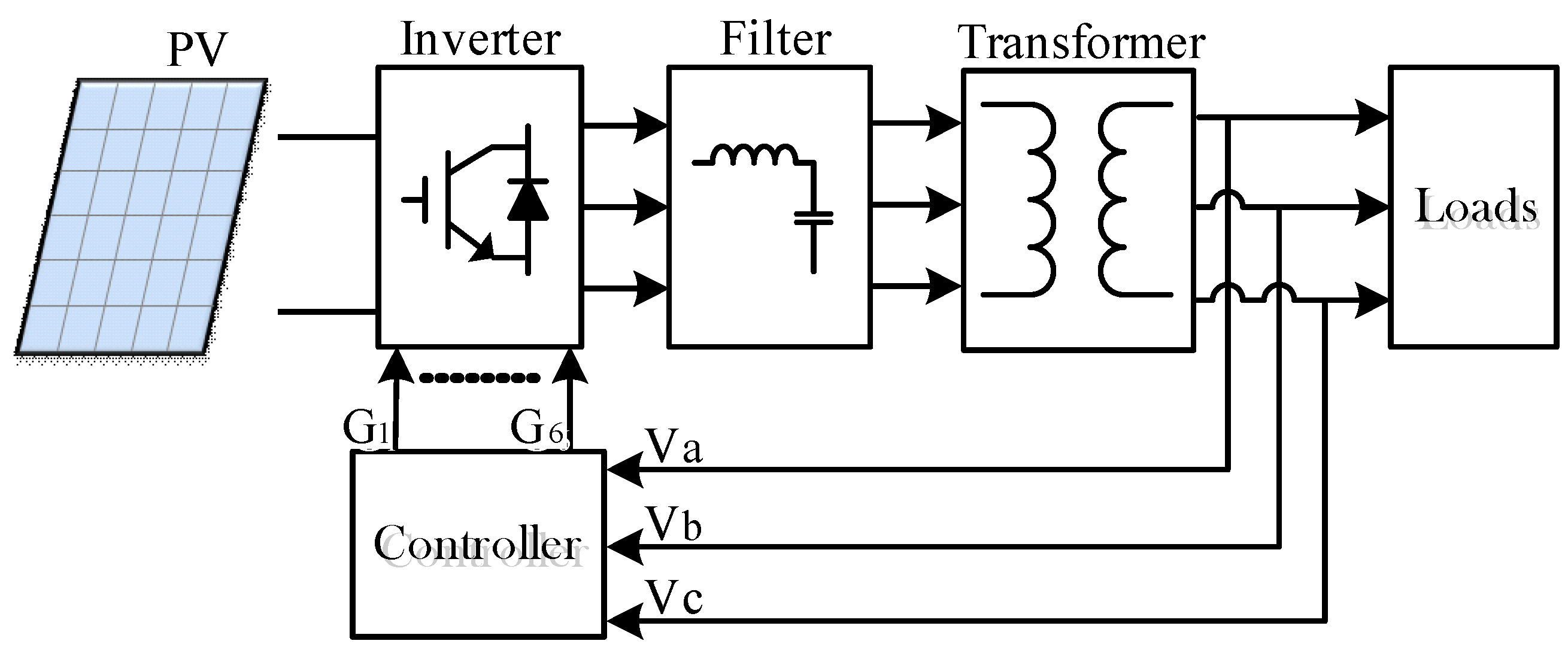 Figure 1
This is an open access article distributed under the
Creative Commons Attribution License
which permits unrestricted use, distribution, and reproduction in any medium, provided the original work is properly cited. (CC BY 4.0).
Share & Cite This Article
MDPI and ACS Style
Mutlag, A.H.; Mohamed, A.; Shareef, H. A Nature-Inspired Optimization-Based Optimum Fuzzy Logic Photovoltaic Inverter Controller Utilizing an eZdsp F28335 Board. Energies 2016, 9, 120.
Note that from the first issue of 2016, MDPI journals use article numbers instead of page numbers. See further details here.
Related Articles
Comments
[Return to top]